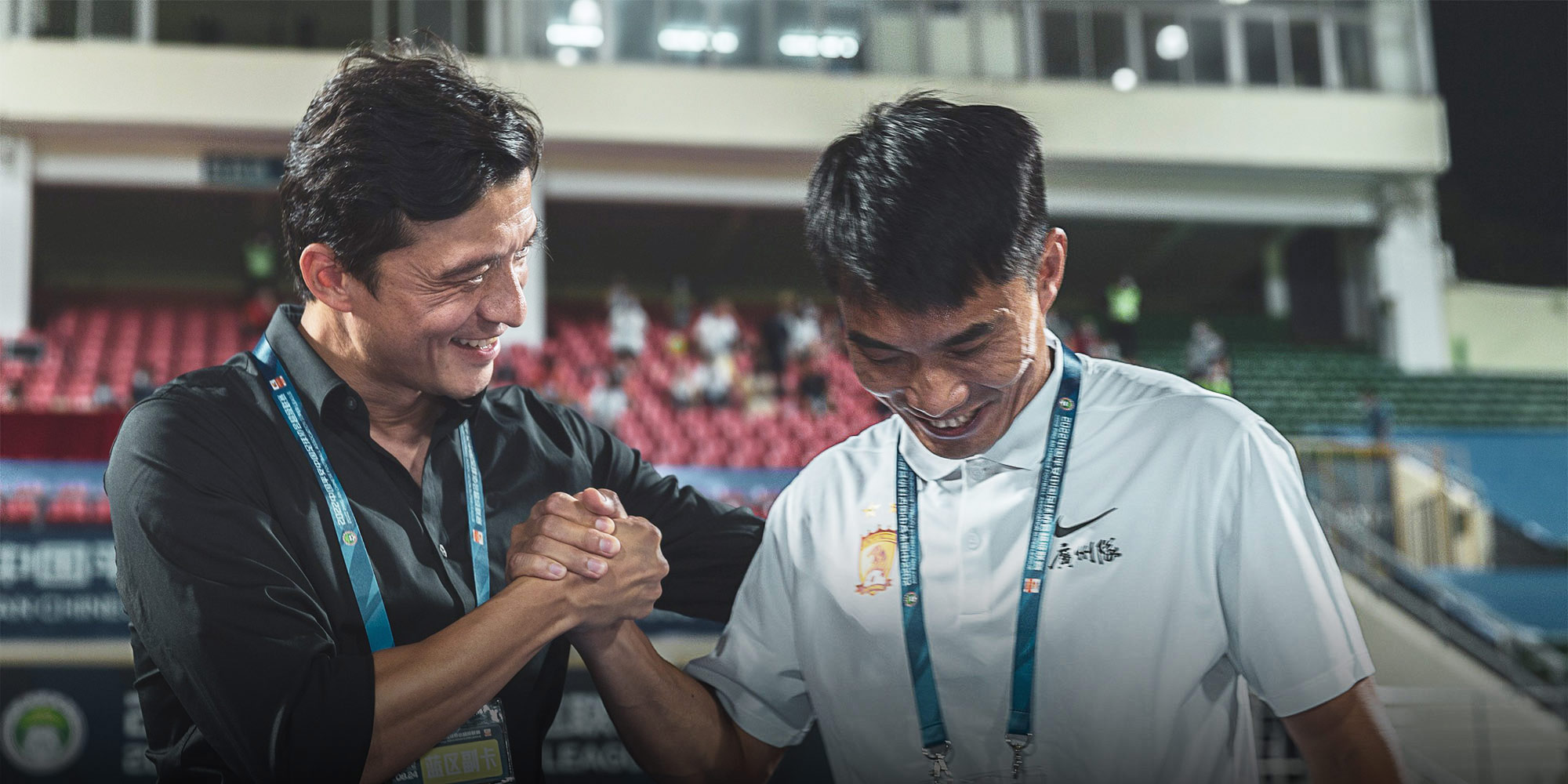 VOICES & OPINION
Can Ex-Stars Save China's Soccer Dreams?
For former stars like Zheng Zhi and Xie Hui, coaching offers a second chance to build a first-class soccer program.
Earlier this month, ex-Guangzhou FC star Zheng Zhi gave up his associate professor post at Guangzhou Sport University for a job managing his old team. The move marked Zheng's second stint as Guangzhou FC's manager in a span of just 13 months: He briefly took over as player-coach last September, when the cash-strapped club — then still known as Guangzhou Evergrande Taobao Football Club — terminated its contract with Italian coach Fabio Cannavaro.
In his abbreviated first stint as manager, Zheng oversaw an audacious youth movement that helped his otherwise flailing side secure a surprise qualification for the Asian Champions League. This time, the challenge is arguably greater. Still under the nominal control of the beleaguered Evergrande Real Estate Group, Guangzhou FC's budget for the 2022-2023 season is a reported 15 million yuan ($2.2 million) — or roughly three times what the club used to pay out in bonuses for a single win. After a decade spent firmly entrenched at the top of the table, they are stuck firmly in the relegation zone.
Nevertheless, reactions to the 42-year-old Zheng's hiring have been enthusiastic. Still just 42 years old, Zheng is popular in China from his time captaining both Guangzhou FC and the national team. On the field, Zheng's stint with Team China coincided with a disappointing era for Chinese soccer, one that eventually culminated with its humiliating defeat to Vietnam in World Cup qualifiers early this year. Now, Zheng and a number of other ex-players from that lost generation are quietly moving to the manager's chair, hoping to accomplish from the sidelines what they failed to do on the pitch: build an internationally competitive soccer program.
In contrast to its strict stance on foreign players, Chinese soccer has a long history of importing coaching talent from abroad. The most famous example is probably Serbian Bora Milutinović, who led the Chinese men's team on its first and still only World Cup adventure in 2002. As the professionalization of the Chinese Super League accelerated, clubs, flush with cash from investments by real estate tycoons and other business giants, lured bigger and bigger names to China, including World Cup winners Marcello Lippi, Luis Scolari, and Fabio Cannavaro.
The success of these experiments varied. Clashes with club and state bureaucrats, respectively, ended Cannavaro and Lippi's time in China. Scolari fared better, leaving the country in 2017 on a relative high note.
Further down the pecking order, lower profile managers from Western Europe, like Gary White, often displayed an idealism bordering on naivete that was ill-suited to the realities of Chinese soccer. By comparison, coaches brought in from South Korea and the former Yugoslavia generally fared better with club and bureaucratic politics, but few saw their jobs in China as permanent. Even Milutinović spent less than two years in the country.
With teams facing a cash crunch, the majority of these coaches have now left, giving retired players like Zheng a chance. Among them is Yu Genwei, a household name in the early 2000s and a pride of the northern city of Tianjin. Yu scored the key goal against Oman in 2001 that sent China to the World Cup; he's now CEO and head coach of Tianjin Jinmen Tiger FC. Sun Jihai, Yu's teammate on the national team and a former player for Crystal Palace and Manchester City, made his debut as an assistant coach for the national team last March.
The real trendsetter here is Shui Qingxia, a cornerstone of China's women's national team throughout the 1990s and early 2000s. After being hired as head coach in 2021, Shui rebuilt the team's morale and brought the AFC Women's Asian Cup championship back to China for the first time in 16 years.
Back in the men's game, rising domestic coaches such as Zheng, Yu, and Sun have benefitted from their personal ties to their clubs. After years of contributing on the field, their transitions from the dressing room into the board room have been relatively smooth. Their knowledge of how to kick a soccer aside, they also possess an important combination of traits: an understanding of how successful clubs are run, and the linguistic and cultural fluency to navigate between the Chinese and international games.
Many members of this generation played in top European leagues, experiences that helped them not only in terms of acquiring the language skills to navigate international soccer, but also by teaching them first-hand the importance of everything from new training techniques to nutritional science in the modern game.
Perhaps no one has embodied the strengths of China's players-turned-coaches – or excited its soccer fans – more than Xie Hui. Born into a Shanghainese family of athletes, the 47-year-old ex-striker enjoyed a successful career with Shanghai Shenhua before going on to be a prolific scorer in the second tier of the German league.
After retiring in 2008, Xie honed his coaching skills at a lower league team before joining the well-financed Shanghai SIPG, where he assisted — in fluent English — then head coach André Villas-Boas. In 2020, Xie was hired to manage a senior squad in the neighboring city of Nantong. His habitual touchline shout, yazhe da! — "apply pressure!" — has been turned into a meme online by fans tired of passive, lazy, and overly defensive play.
But domestic coaches are not immune to politics, any more than their international peers were. In August 2021, a video surfaced online showing an apparently inebriated Xie at a private dinner, blasting a number of China's most popular clubs for paying "billions" of yuan for mediocre results, while his side was overperforming on a scant 10 million-yuan annual budget. Wanting to maintain good relations with other teams, Xie's club suspended him. He resigned within a week.
If there's an upside to the collapse of China's real estate bubble-backed clubs, it's the creative destruction it has wrought on the Chinese soccer system — destruction unseen since an anti-corruption crackdown in 2009. Xie, for example, was recently given another chance to coach, this time with Chinese Super League side Dalian Professional FC, in part because the club had just terminated its contract with a foreign coach.
Zheng and Xie were on opposite sidelines this week, as Dalian played Guangzhou to a scoreless and somewhat disappointing draw. Whether Xie and Zheng can breathe new life into Chinese soccer remains to be seen. But after the country wasted their athletic primes, it would be a mistake — more so, a crime — to squander their hard-fought knowledge, too.
Editors: Cai Yineng and Kilian O'Donnell.

(Header image: Zheng Zhi (right) shakes hands with Xie Hui ahead of a Chinese Super League match between Guangzhou and Dalian in Guangzhou, Guangdong province, Aug. 24, 2022. IC)