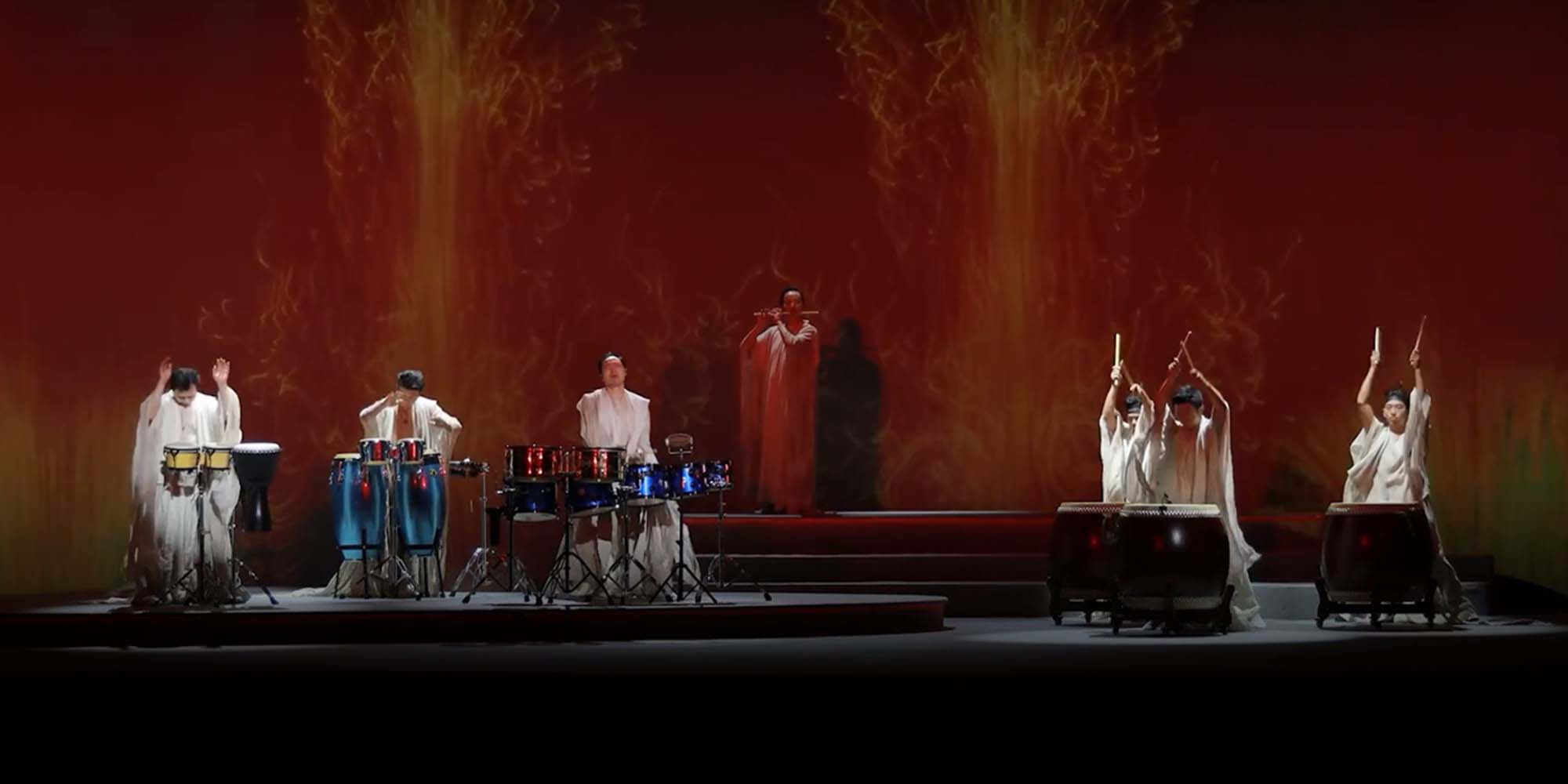 NEWS
Shanghai Orchestra Fuses Folk Music With Contemporary Sounds
The second season of the traditional Chinese music concert will run through early September.
SHANGHAI — For the past two months, Li Chenxiao has spent an hour every day practicing the zhongruan, a traditional Chinese plucked string instrument, at a speed of over 200 beats per minute. On Aug. 19, it was show time.
Li is among the five musicians who performed the "Flying Bees," which is adapted from the fast-paced classical orchestral interlude "Flight of the Bumblebee" but using Chinese folk musical instruments. The sounds of the erhu, shaoqin, zhongruan, drum, and sheng aim to reflect the chaotic flying pattern of a bumblebee.
"It was tiring to practice basic skills offstage," Li told Sixth Tone. "I could play it well to the audience at 200 beats per minute only if I practiced at a higher speed. It's a pleasure to play on stage."
"Flying Bees" is the eighth part of a nine-episode concert presented by the Shanghai Chinese Orchestra titled "New Oriental Chinese Music Scene." The show premiered as the Cadillac Shanghai Concert Hall's residency performance in 2021 and attracted nearly 15,000 viewers that year.
The second season of the traditional Chinese music concert was initially scheduled for March this year but was postponed due to Shanghai's COVID-19 outbreak. It kicked off on Aug. 19 and will run through Sept. 2.
The latest performance features nearly 20 different musical instruments, fusing traditional Chinese ones with modern instruments. One of the pieces titled "The Path of Water" is inspired by Tao philosophy and is performed using a hang drum, a UFO-shaped percussion instrument developed in 2000 in Switzerland, and the shakuhachi, an end-blown flute played in China as early as the 7th century.
Another solo show using the zheng, a traditional Chinese plucked stringed instrument, displays the spirit of Chinese calligraphy with projections of ancient calligraphy masterworks displayed.
Li, who has been playing the zhongruan for 12 years, said she was both nervous and excited for the "Flying Bees" show. Before playing in a group, the five musicians will have a solo performance.
"It gives the audience more time to get to know an instrument that they are encountering for the first time," Li said. "People can learn about the intrinsic charm of a folk music instrument first, and then realize it combines very well with different elements and sounds."
Wang Xueqi, who spent 200 yuan ($30) on Tuesday's show, told Sixth Tone that the performance gave her a new understanding of Chinese folk music, which she previously associated with the ancient times.
"After watching the show, I want to learn the pipa (a Chinese plucked string instrument), as it's cool to play it," said the 29-year-old who mostly listens to pop music. "I never used to regard a traditional Chinese instrument as cool or trendy."
Luo Xiaoci, the orchestra head, said many may see traditional Chinese music as strongly correlated with folk customs. For example, the suona, with a double-reed horn, is often played at weddings or funerals, but the performances at the concert — including a piece blending the piercing sound of the suona with electronic and rock music — aims to deliver a contemporary twist.
"Some creative development and impulsive changes are needed to give traditional art more vitality, which can help pass it on," Luo said.
(Header image: A still for the Shanghai Chinese Orchestra titled "New Oriental Chinese Music Scene," Shanghai, Aug. 18, 2022. From The Paper )