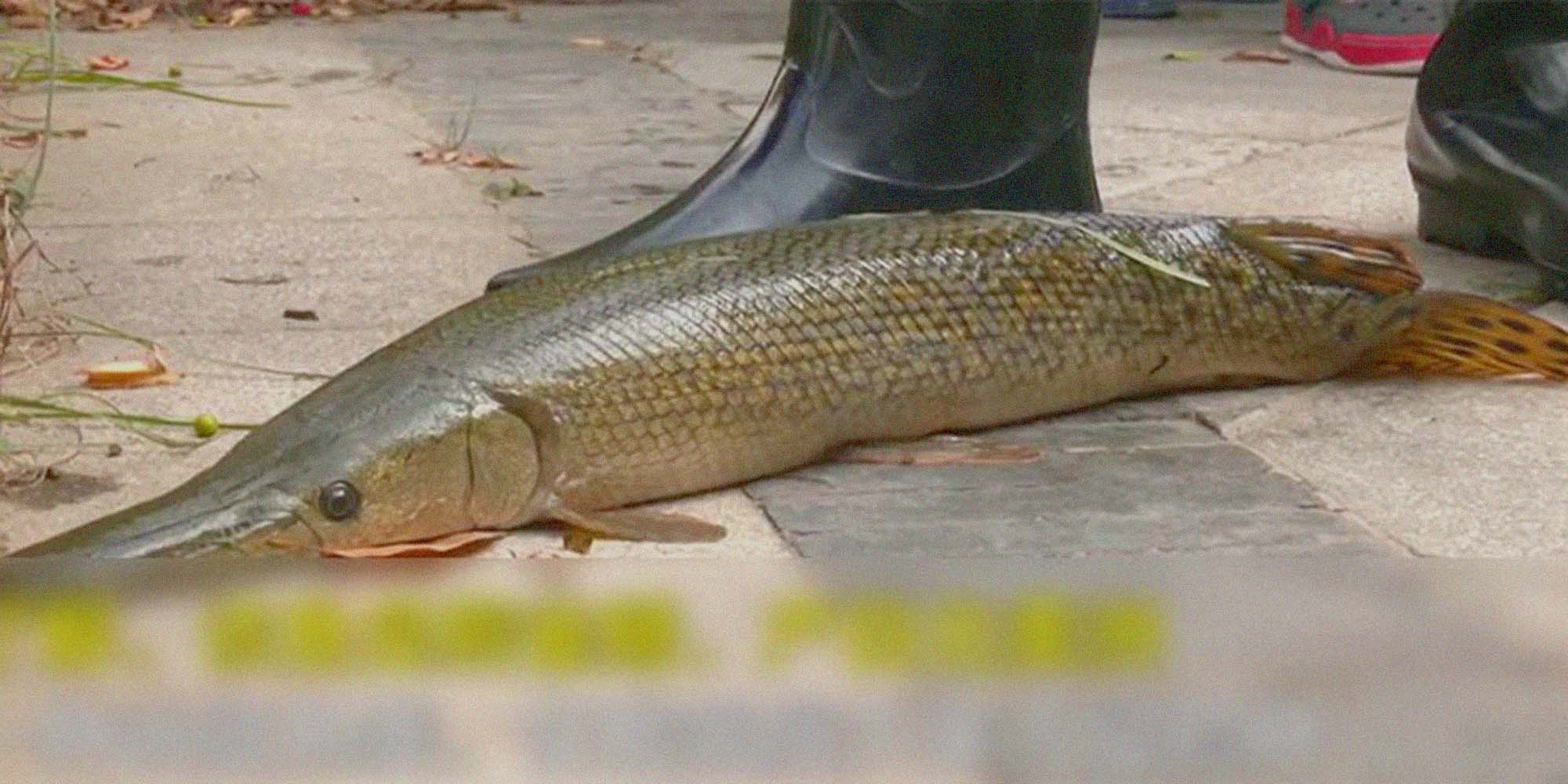 NEWS
A Lake in Henan Is Drained to Catch an At-Large 'Monster' Fish
The mission has caught public attention, triggering widespread curiosity and anger.
A ferocious fish at a man-made lake in the central province of Henan has drawn widespread public attention after local authorities spent a month drying up the water to capture the aquatic animal.
Residents in the city of Ruzhou first discovered the giant torpedo-shaped, sharp-toothed, black and yellow-patterned "monster fish" at the city's Central Park in July, according to China National Radio. Experts and local authorities have identified the fish as an alligator gar, a species originally from America with around 100 million years of history.
The local government decided to drain the lake containing around 300,000 cubic meters of water after park employees had been unsuccessful in catching the fish since July 15 due to the complex aquatic landscape, the media report said. A professional search team in Ruzhou entered the bottom of the Central Park lake on Thursday to capture the fish but haven't been successful yet.
Thursday's capture mission was livestreamed to millions of viewers who tuned in hoping to catch a glimpse of the alligator gar. Many of them voiced concerns over the costs involved in catching the fish while others were worried about the adverse effects to the local ecosystem.
The alligator gar was first introduced in China as an ornamental fish. A search on e-commerce site Taobao showed prices for each fish ranged from 14 to 160 yuan ($2-23) and it was being promoted as an easy-to-raise pet.
But experts have warned of its severe threat to the ecosystem and potential danger to humans due to the alligator gar's predatory nature. In August, domestic media reported that a 28-inch escaped alligator gar bit a boy, resulting in him suffering from finger injuries, in the eastern Jiangsu province.
Gu Dang'en, an aquatic ecosystem expert specializing in invasive fish species, told local media that the alligator gar is a "highly dangerous" species. He suggested authorities include the fish in the national list of key invasive species to better control them.
"Alligator gars are good at reproducing and grow quickly. They could kill all the creatures in the water once introduced to the field, and even kill each other in the event of a food shortage," Gu said.
Amid a growing number of incidents, China passed national guidelines on managing foreign species this year, stipulating a ban on introducing, releasing, and dumping such creatures without official permission. A breach could lead to criminal punishments, the guidelines said.
Editor: Bibek Bhandari.
(Header image: Alligator gar belongs to alien species in China. From @江苏新闻 on Weibo)