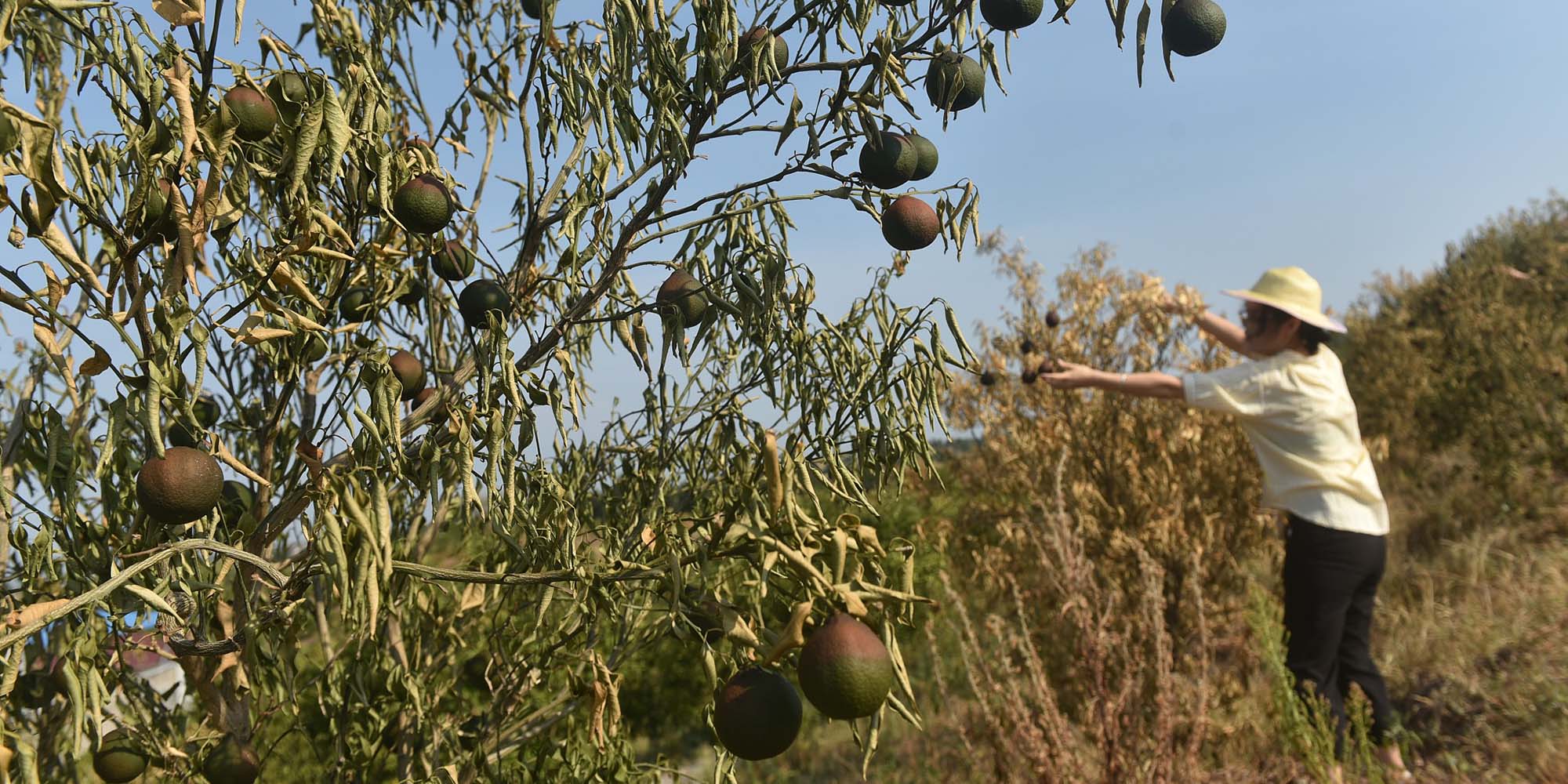 NEWS
China's Heat Wave Is Hitting Its Agricultural Sector Hard
Farmers in the worst-affected areas say they've lost crops and money — and they're worried about future extreme weather.
Rain finally fell on Li Benguo's parched peach farm on Thursday after almost a month. But it arrived a little too late.
For many farmers like Li, the record-breaking heat wave that has baked southwest China has already taken its toll. The summer drought has cost him at least 100,000 yuan ($14,600) as soaring temperatures sizzled his peach trees sprawling over 30 mu (2 hectares) in the suburbs of Deyang, Sichuan province.
"Peaches are the star product in Deyang and always easy to sell, but the high temperatures have damaged almost one-third of them," Li told Sixth Tone.
In Deyang, like other places in the southwest, the country's worst heat wave in over 60 years has plagued locals, disrupting power supplies and resulting in a severe drought that has wreaked havoc on agriculture. Parts of the hydropower-dependent Sichuan province have announced rolling electricity cuts and rationed water supply, while wilting leaves, dried river beds, and parched crops have become a common sight in the usually water-rich province.
Now, future food production has become an increasing concern, too.
Drought is the largest contributor to crop loss in China, which has now been aggravated by risks posed by climate change. In early July, authorities had warned that high temperatures were likely to affect the country's rice and cotton production, with experts estimating that it could reduce the spring corn harvest by 30% this year.
As China heightens the importance of ensuring food self-sufficiency, the grim agricultural outlook has also worried policymakers at the highest levels. On Thursday, four central government departments, including the Ministry of Agriculture and Rural Affairs and the Ministry of Water Resources, stressed the need to protect the fall harvest, which accounts for three-fourths of the annual food production but is now under "severe threat."
The joint notice asked local governments to formulate tailored measures to evaluate and address the damage, divert water to where it's needed, and "use every square of water carefully." More rain-generating rockets carrying silver iodide will also be deployed in drought-stricken regions to make it rain.
But in places that have already used the technology, farmers say the artificially-induced rain isn't enough to save their crops.
Song Kaixiong, who grows sorghum, rice, corn, and soybeans in Sichuan's mountainous Jiange County, said the local government had used artificial rain twice already during the past month. But he is pessimistic about the outcome and predicted that his rice production in the 120 mu of farmland might drop by 30% to 40%.
"It's not a question of whether they can be sold or not, there's just no produce … the corn that survives now has no kernels, and the soybeans have no pods," Song told Sixth Tone.
Analysts say the disruption to China's crop production could have ripple effects through the supply chain and hurt livestock. Earlier this year, COVID-19 lockdowns in parts of China had already hurt corn plantation and production in major agricultural hubs such as the northeastern province of Jilin.
Even Pay, an analyst at Trivium China who specializes in agriculture, told Sixth Tone that she expects the effects of extreme weather events on agriculture would mainly be felt in China's domestic and local markets, and it may "moderately increase" local food prices in the short term. However, the impacts wouldn't largely affect staple crops, as "heat and drought regions account for just 4% of China's corn crop" and the country could use stockpiles from its national rice reserve.
"I would expect the very high temperatures and very low water availability to be having a noticeable impact on fresh produce supply and prices," Pay said.
The interruptions have already driven up prices for certain food items. Prices of some leafy vegetables, including broccoli and bok choy, have already risen by between 10% and 30% at one big supermarket in Chengdu, local media reported Wednesday.
To relieve agriculture losses, China's Ministry of Finance in mid-August allocated 300 million yuan in disaster relief funds to 13 provinces, including Sichuan. The money will be used to buy seeds, pesticides, and other materials, while authorities in Sichuan are also pushing for agricultural insurance to help farmers claim for crop losses.
Meanwhile, the provincial meteorological service on Thursday forecasted rain and isolated thunderstorms for several locations across Sichuan. The flood prevention authorities warned cities of potential flash floods, as parched ground lacks the ability to absorb water and is more vulnerable to floods.
But the prediction of the much-needed rain hasn't been able to address the woes of many farmers. Li, who traded his city job for orchard farming in 2016, says extreme weather is one of his top concerns in agriculture.
In the spring, he saw his orange trees bear very few flowers and fruit due to the heavy rainfall from the previous year. Come summer, his peaches were damaged by scorching temperatures. And the future seasons are just as unpredictable under the impact of climate change.
"There is really no solution," Li said. "In farming, you just have to deal with these issues."
Editor: Bibek Bhandari.
(Header image: A woman checks dried orange trees in Qingrong Village, Neijiang, Sichuan province, Aug. 24, 2022)