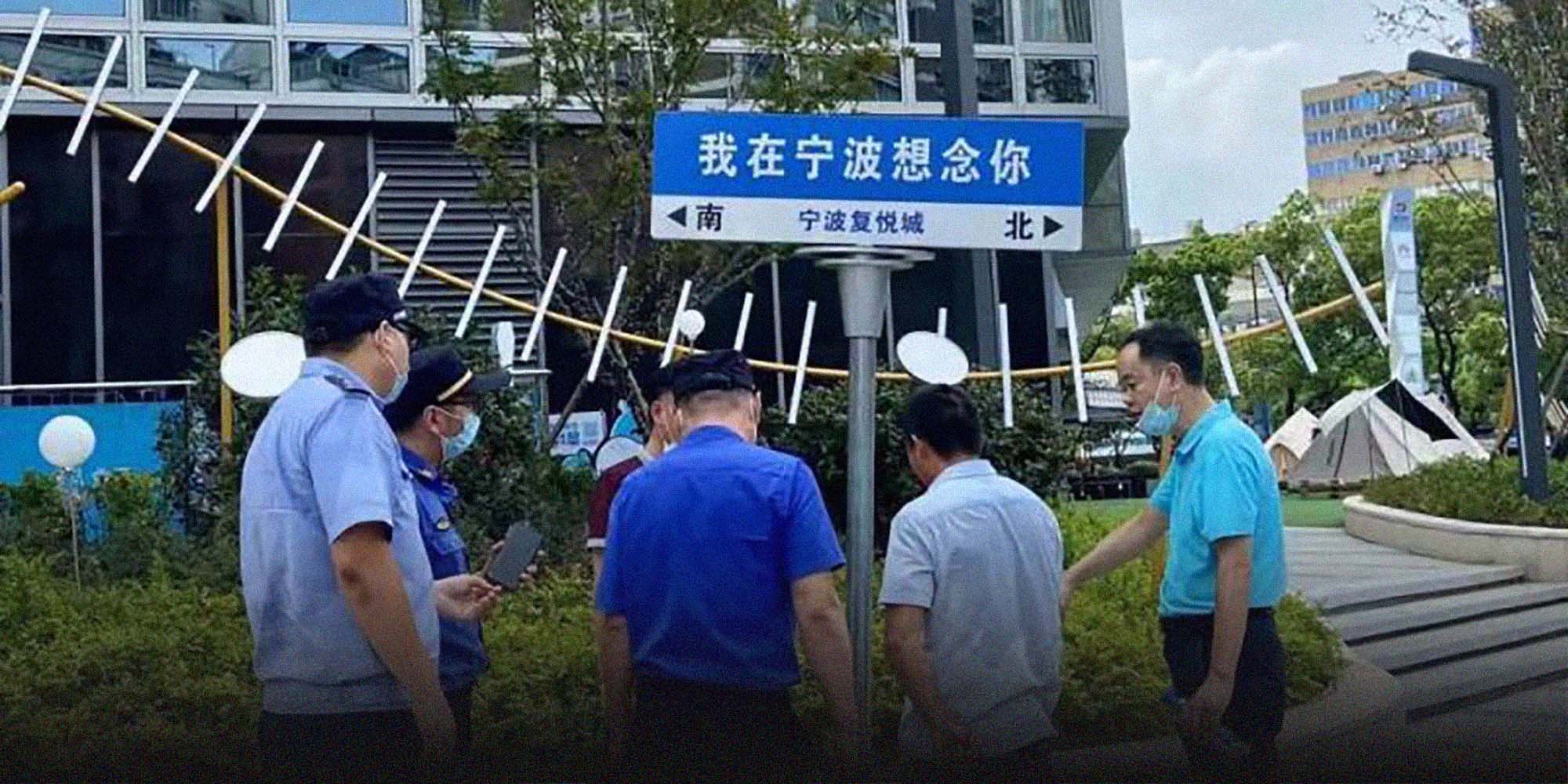 NEWS
Chinese Cities Target Made-Up Street Names Attracting Influencers
Authorities say unapproved road signs cause confusion when giving directions and use inaccurate location names.
There are streets with real names, and there are those created just for tourists who like to pose in front of them and take a selfie. Authorities are now coming after the latter.
The eastern cities of Ningbo and Shaoxing in Zhejiang province have become the latest to crack down on those unofficially erected signposts that try to attract visitors with their catchy names, according to media reports. Shaoxing's Shangyu District launched an inspection campaign on Aug. 16, urging four beverage shop owners to remove the signs, and vowed to "improve the civilized image" of the streets.
Urban management departments in several cities — including Shanghai, Nanning, Liuzhou, and Xianning — have taken action against unapproved street signs for violating regulations by giving confusing directions and using inaccurate location names, according to the media report.
Businesses have used eye-catching slogans — for example, one of them reads "I'm missing you in Chongqing" — on traditional signposts against blue or green backgrounds outside their shops to attract mostly young visitors. A search on lifestyle platform Xiaohongshu showed over 50,000 posts with such signs, with some touting them as "beautiful and romantic" tourist spots.
"It creates more interest in visiting a strange place and satisfies people's desire for self-expression," a Chongqing-based coffeehouse owner surnamed Hu, told Sixth Tone, adding that she set up a road sign near the shop so that youngsters would pose for photos.
However, recent media coverage has triggered a rebuke against the trend, with many online users arguing that such activities designed for online influencers were "vulgar and embarrassing." The criticisms of those taking selfies and so-called digital influencers come days after a flash flood killed seven visitors in a remote hiking spot popularized on social media.
Wang Yanhui, an architecture professor at Southeast University, told local media that such unofficial signs could instead serve a purpose in attracting more youngsters to the countryside and promote tourism.
Hu, the coffee shop owner, said that the self-created street name has attracted more customers to the shop. She said that the shop, however, removes the signpost during non-business hours.
"Otherwise, the noisy tourists would disturb the neighborhood," Hu said.
Editor: Bibek Bhandari.

(Header image: City officials crack down on an illegal street sign in Ningbo, Zhejiang province, August 2022. From The Paper)