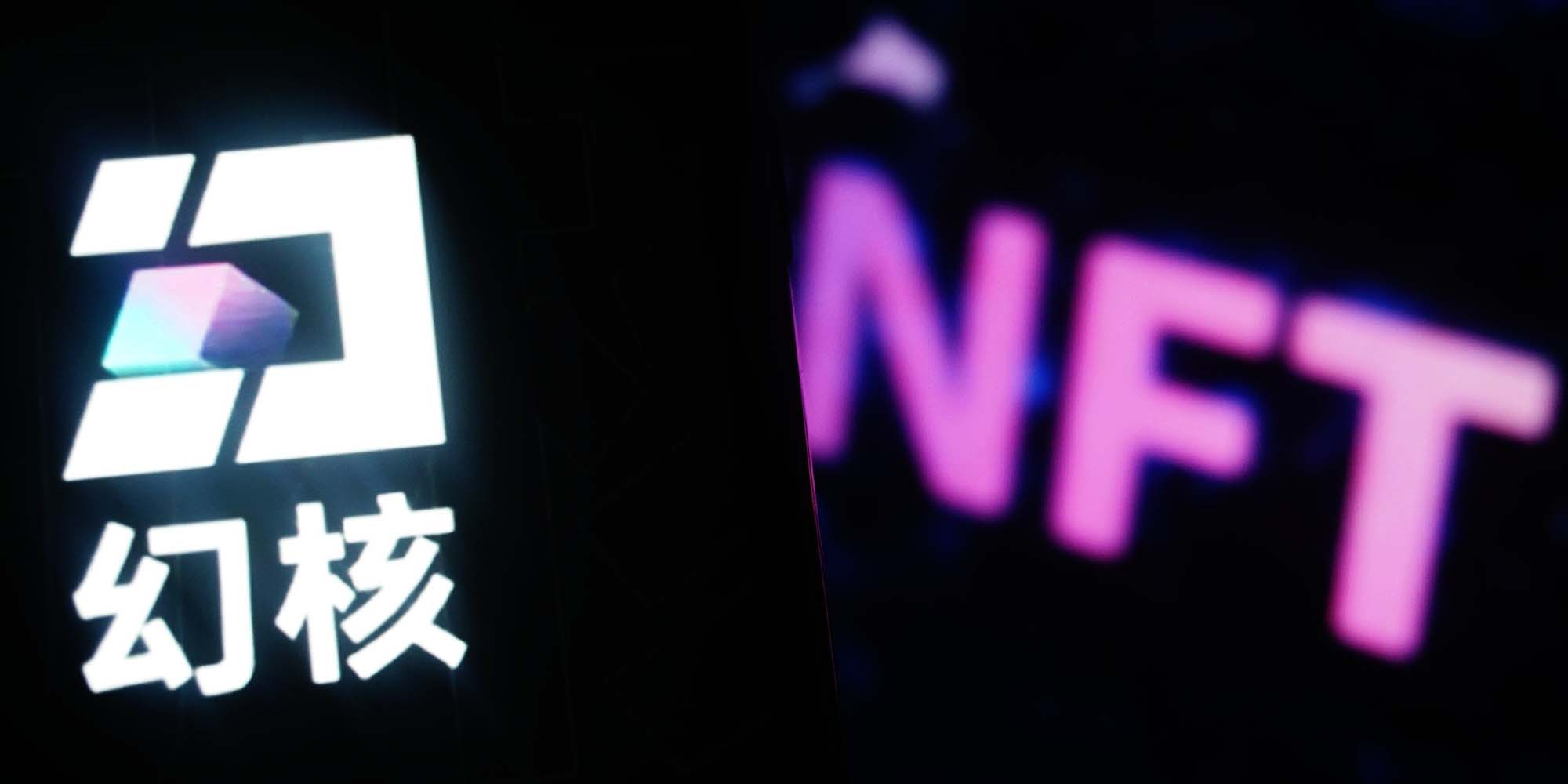 NEWS
Tencent's NFT Platform Halts Primary Services Amid Regulatory Concerns
Buyers are getting refunds, though not everyone is ready to give up on their digital assets.
When China's tech majors started selling non-fungible tokens, they said the products weren't investment opportunities. This week, fans had to face a disappointing reality: the products really aren't investment opportunities.
Chinese tech giant Tencent, the owner of WeChat, offered refunds to NFT owners on its Huanhe platform Tuesday, almost a month after it suspended sales.
In a country that has banned all cryptocurrency trading since last year, perhaps it shouldn't come as a surprise.
But buyers who looked forward to profits from flipping digital art are disappointed.
When the shutdown was first rumored on July 21, NFT WeChat groups lit up with shocked messages. "None of us could believe what had happened," Zhang Yeli, a 20-year-old university student who had spent 5,000 yuan ($740) on the platform, told Sixth Tone earlier this month. "Tencent can't just shut down the platform like some small sketchy firms do. At the end of the day, it's the largest tech company in China."
Huanhe's digital collectibles were never marketed as investments, in order to comply with strict Chinese rules forbidding speculation on digital assets, which include bans on cryptocurrency. In fact, there was no way for Huanhe buyers to resell their purchases. Once purchased, products are permanently tied to the buyer's account. But that didn't stop speculators from betting that the platform would one day allow resales.
It appears that Huanhe will continue to exist in some form without an NFT market. In a statement provided to Sixth Tone, Tencent said that Huanhe is making "business adjustments," and that "according to internal sources, these adjustments do not involve a headcount reduction."
Some view the ongoing incident as an alarming signal to the whole industry. "It will set back interest in the sector as collectors see that even a Tencent-backed platform could close its core businesses all of a sudden," said Xiao Gao, founder of Flame DAO and member of the Conflux Network. "The impact, I believe, is still somewhat limited because the digital collectible market in China is still pretty small, not even comparable to the NFT markets abroad."
Xiao is a crypto community organizer who has managed multiple high-profile NFT projects that connect digital assets to real-life physical activities.
Buy low, sell never
NFTs are a controversial spin-off from the world of cryptocurrency. In essence, an NFT is a certificate of ownership, identifying the holder as the owner of an associated thing, often a digital object anyone can view.
To advocates, they're the future of art collecting, among other things. People have sold NFTs associated with artwork, trading card-like cartoons of apes (and lions, and cats, and so on), and still more intangible concepts such as the destruction of a diamond. To skeptics, they're Beanie Babies without the practical uses, a pretend record of ownership that gives the owner no special rights.
Last year, enthusiasm for the new technology spurred prices for NFTs to record heights, allowing early buyers to profit. But most Chinese investors were left out, as local regulations forbid trading in cryptocurrency, which is needed to buy most NFTs, as well as "speculation" on digital assets.
Chinese buyers wanted in on NFTs, and a number of Chinese companies found a way: Tencent created a closed platform for "digital collectibles" — a term used in China to refer to NFTs — that could never be resold. Without the possibility of flipping the token for a profit, it could hardly be speculation.
Most Chinese digital collectibles are built upon permissioned blockchains, meaning users can only access the blockchain via permission given by the network owners. According to Tencent's terms and conditions, all collectibles on the platform are only for "research, study, appreciation, and personal collections." In addition to not supporting any form of trading and asset exchanges, the company reserved the right to suspend all or part of its services at any time without taking responsibility for users' losses.
Ant Group, the Alibaba-linked financial services company that owns Alipay, offered only marginally more permissive rules on its competing platform, Jingtan. Jingtan allows users who have held a collectible for at least 180 days to gift it to another user, as long as the other user doesn't pay. Only after holding an asset for two years can recipients transfer them again, and still only as a gift.
In April, the Gen Z-favorite video platform Bilibili announced plans to release 10,000 NFTs on the Ethereum blockchain — but only for overseas users.
Huanhe was an instant hit. Its first sale, a 300-item collection based on the well-known talk show Shisan Yao last year was so popular that the platform accidentally accepted more orders than it had stock, and had to compensate buyers.
Many buyers assumed it was only a matter of time until the platform would change its policies to allow resales.
"When I purchased collectibles on Huanhe, I aimed to keep them for at least ten years," said Zhang. "If I put the money in some other, sketchy platform, they could have just taken my money and run away, but Tencent definitely would not because of its credibility. Believe it or not, the people who came to Huanhe were actually long-term value investors." Zhang said that the 5,000 yuan he spent on Huanhe was about 10% of the money he invested in NFTs.
In a release shared with Sixth Tone, Tencent reiterated that Huanhe had said that it would never open up a secondary market for users to transfer digital collectibles, "nor support any illegal activity related to cryptocurrency."
Ma Ximing, 26, an insurance agent who paid over 10,000 yuan to purchase a series of digital versions of Monet paintings in April, said he expected that competition would eventually force Huanhe to allow resales.
"Huanhe had to catch up to attract traffic, I thought, by opening secondary markets," Ma said on Aug. 7. "After seeing collectibles on other platforms going up over ten times within a few days, I thought that could happen on Huanhe one day too. It's all about timing and getting in early."
That's no moon
It didn't work out that way.
By May, Huanhe's sales were drying up, with unsold images crowding the digital shelves.
One big problem was competition from smaller platforms that encouraged resales and speculation. From February to June this year, the number of such platforms grew fivefold to over 500.
Of course, they weren't all on the level. Several collapsed or ran off with customers' money. "TT Digital Collectibles" vanished in a single terse WeChat post that read: "Our boss has appropriated a one-million yuan worth of seed fund to invest in the digital collectible platform IBOX. Due to volatile market conditions, the investment is now worth only 100,000 yuan. Our platform is suspending operations and the tech team has already been dismissed."
Scandals like these attracted the attention of regulators. In a joint statement, China's banking, securities, and internet finance associations vowed to curb "the financialization of NFTs," but did not directly address yuan-denominated digital collectibles.
With poor sales and looming legal trouble, Tencent began pulling the plug in May. It closed several sales ahead of schedule, declaring the collections "sold out." On July 21, Chinese media Jiemian reported that Tencent was in the process of shutting down Huanhe, citing internal sources familiar with the matter.
Some vented and cursed in the group chats for a few days after the news broke, Zhang said, but as time passed, they began accepting reality. Tech outlet 36Kr reported that a collector offered to sell an account on which he'd spent 150,000 yuan for 100,000 yuan to someone willing to bet the services would resume and secondary markets would go live one day.
On Tuesday, Tencent confirmed that it will end sales, and announced that users can apply for refunds for purchased collectibles. Android and IOS users could expect to receive their refunds within seven and 20 days, respectively, the platform said.
At press time, all existing collections on the platform are marked either "closed" or "sold out." Tencent's statement reads, "Users' ownership won't be affected by the business adjustment because all the metadata of digital collectibles are already recorded on the blockchain."
The announcement also stated that Huanhe would destroy all the collectibles on its blockchain after users have received their refunds. Soon after the news made headlines, Huanhe's forum on Tieba, a Chinese Reddit-like platform, was instantly revitalized with a flood of comments from once-disappointed users who cheered the official announcement as "the end of the drama."
The Huanhe HODL
Some die-hards say they have no plans to return their NFTs — just in case the platform backtracks and opens a secondary market one day. "I'm gonna keep all five of my collectibles, worth 460 yuan. The worst is that I will lose them all. Let's see," a Tieba user wrote.
Zhang says he'll try again. "Of course I'm disappointed that Huanhe terminated its services," he noted. "But Huanhe quitting from digital collectibles does not indicate a failure of the whole industry. I'll move the refund simply to other promising platforms."
Ma, however, admitted that the announcement left him relieved. Unwilling to reveal the total amount he had spent on collectibles, Ma said that he is perturbed by the fact that even giants like Tencent could be subject to unexpected turbulence due to policy changes.
"The market in China is still a gray area, and policy isn't on our side. Tencent could have just walked away without compensating us, and we couldn't have done anything about it. …"
Zhang and Ma both said they felt a bit like they'd been in a cult, and they tried to keep away from the topic from their family and offline friends.
"I am not even sure if I can make a profit out of it. Why would I drag the people around me into this?" Zhang said. "To be honest, I have no friends in real life to talk to about digital collectibles."
Editor: David Cohen.
(Header image: VCG)