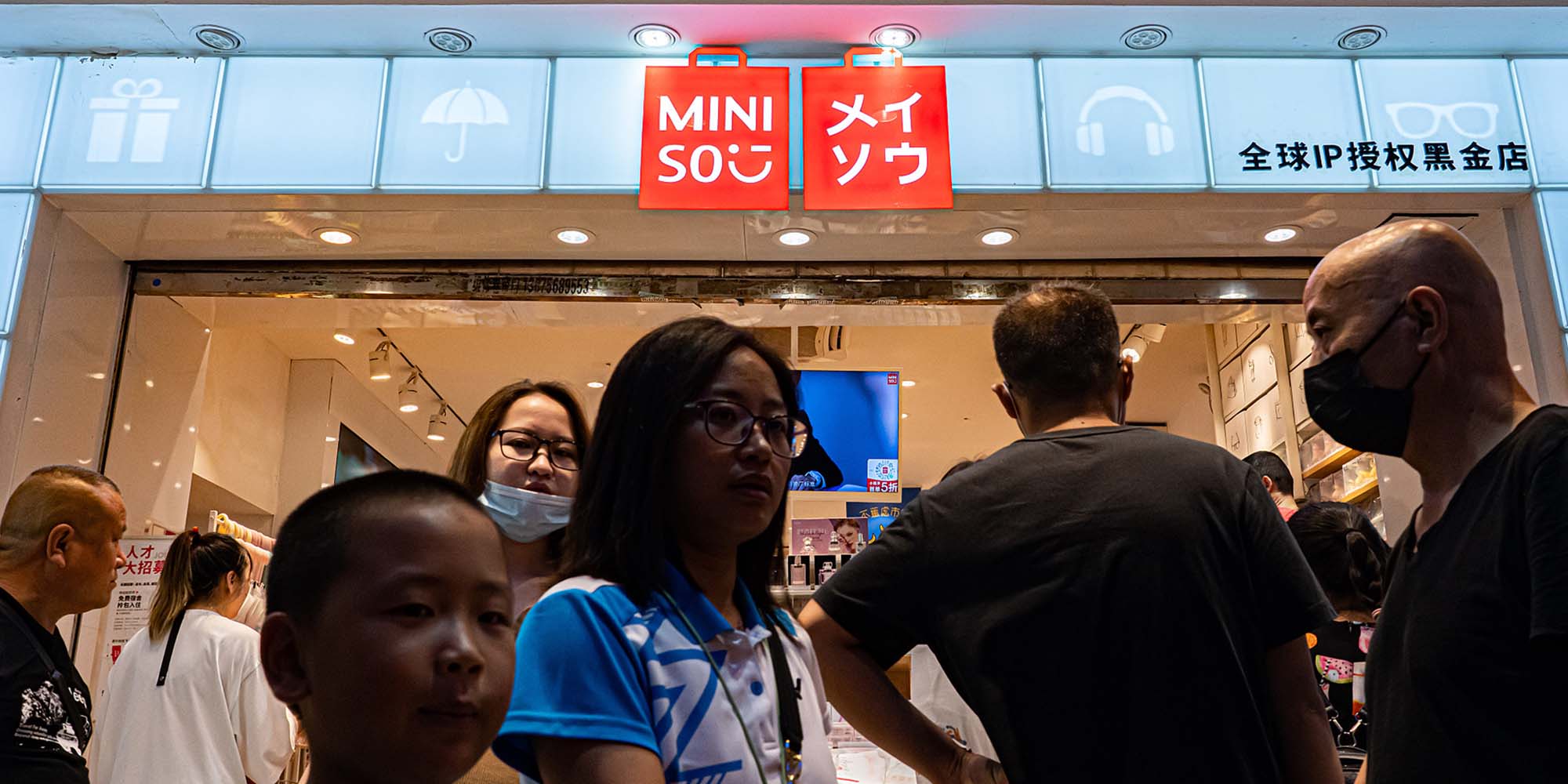 NEWS
Amid Nationalistic Outcry, A Chinese Brand Vows 'De-Japanification'
Lifestyle retailer Miniso apologized for promoting itself as a Japanese brand after its marketing practices ignited widespread fury on social media.
Many of China's best-loved brands are Japanese imports. Others feel Japanese, but turn out to be homegrown.
It's a marketing strategy that has helped several major Chinese companies get off the ground, but it's becoming a liability as consumers ask if they're embarrassed to be Chinese.
Miniso, a Muji-like budget lifestyle retailer from Guangzhou, is the latest to apologize after online nationalists found it seemingly trying to pass for Japanese in overseas markets.
The company came under fire after netizens noticed an Aug. 9 Spanish-language Instagram post in which the company identified Disney princess dolls wearing qipaos, a Chinese traditional dress, as "en mode de geishas." The company apologized the same day and deleted the post, but was then met with an even stronger backlash after photos surfaced showing the company has brought Japanese flags to signing ceremonies for contracts with partners from countries including Greece and Romania.
"We apologize for hurting consumers' feelings by positioning ourselves as a Japanese designer brand in an early stage of development," Miniso said in a statement on Thursday. It promised to remove all the Japanese elements from its promotional materials and shop decorations by March 2023.
The company also punished related senior executives internally and removed outside operators from its overseas social media accounts, according to Thursday's statement. It said the company has been making "de-Japanification" efforts since 2019, including adopting a new Chinese logo and removing Japanese elements from interior design and product labels in its offline stores.
Japanese style is widely considered to play a vital role in Miniso's success since its foundation in 2013. Co-founder and original chief designer Miyake Junya is a Japanese national, and was prominent in the company's early marketing. With a red-and-white logo similar to the apparel brand Uniqlo, the retailer also adopts the minimalistic style in its store layout and product design, evoking Japanese brands like Uniqlo and Muji.
Previously, trendy bottled drinks brand Genki Forest apologized for a similar Japanese-ish look. It used a Japanese form of the character qi, referring to air, on its packaging. The milk tea retailer Nayuki Tea began emphasizing the Mandarin name Naixue Cha, while keeping a Japanese possessive particle in its logo.

The criticisms against Miniso come at a time when the country's young consumers have grown more interested in domestic goods.

As Miniso operates most of its business within the country, the retailer followed the trend by cooperating with Chinese cultural sites like the Forbidden City for new products. The company appears to be having trouble placating unforgiving internet users, and discussion on social media centered around whether the company was willing to change.
"It's all about money and I don't see any credits in this commitment," one user commented under a media post.
Editor: David Cohen.
(Header image: Customers at the gate of a Miniso store in Shanghai, July 17, 2021. VCG)