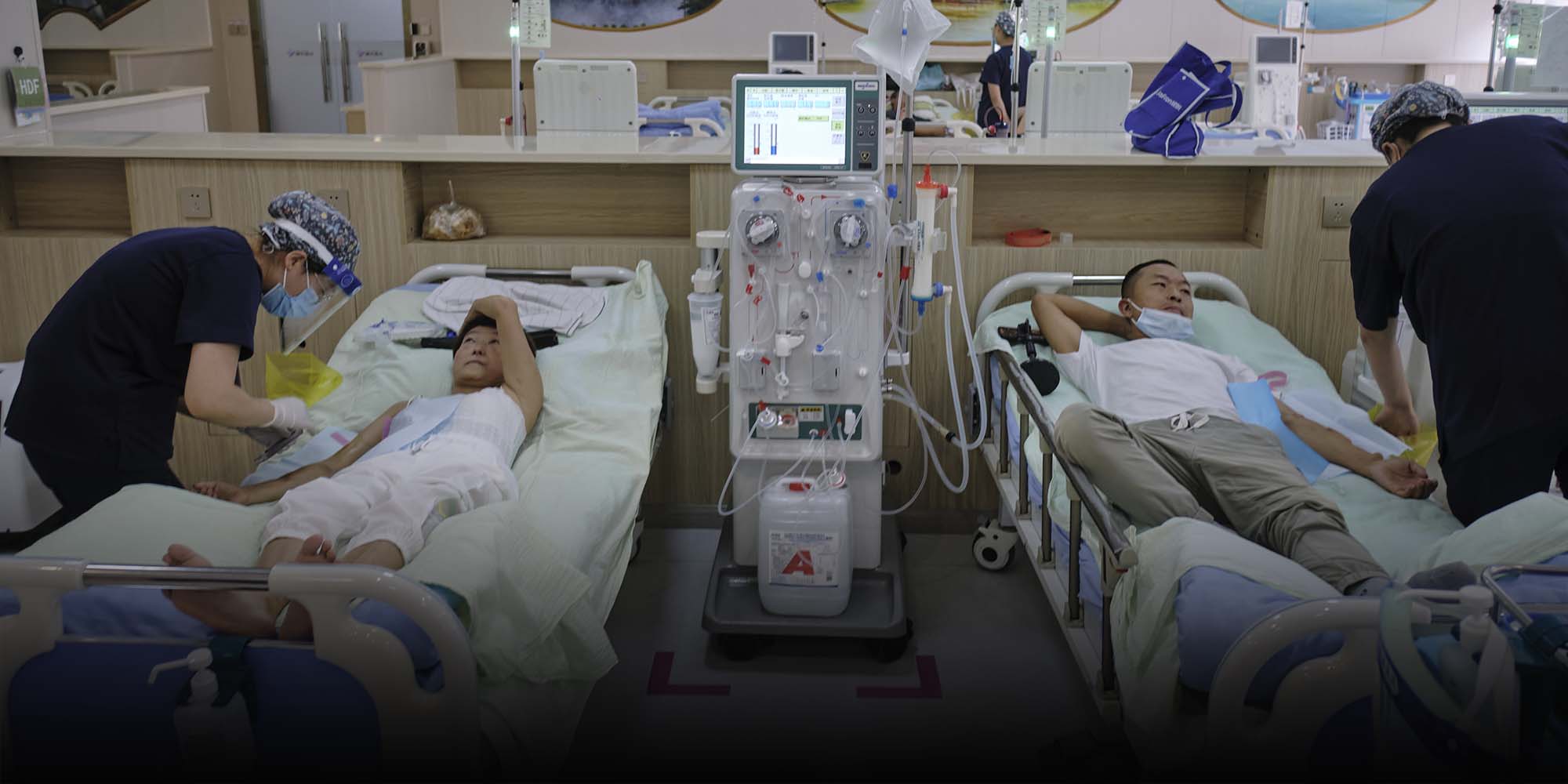 FEATURES
On Dialysis in China? Pray There Isn't a Lockdown.
Across China, kidney disease patients still routinely have to travel long distances to access hemodialysis. For many, the lack of treatment options can be fatal — especially during an era of sudden lockdowns.
SHAANXI, Northwest China — Every Tuesday, Thursday, and Saturday, Hou Jun spends an hour on her moped traveling to a private hemodialysis center 30 kilometers away from her home in the northwestern city of Xi'an. The 34-year-old was diagnosed with kidney failure 11 years ago and relies on the treatment to survive. 
At the Xinkangle center, it's a familiar routine. Hou lies down in a hospital bed, and a nurse places an IV in her arm. It's connected to a white machine about the size of a convenience store ATM. The machine goes to work, doing the job her damaged kidneys no longer can, removing waste and extra fluid from her blood.
It's a grinding schedule for Hou. Three times a week, she spends over two hours on the road, plus up to five hours hooked up to the hemodialysis machine. But she feels she has no choice. Her only other option is to visit a local hospital, which is so overwhelmed that it limits patients to four hours of hemodialysis per session — not enough to provide a good quality of life.
"With quality dialysis treatment, I can work and live just like everyone else," said Hou, who makes a living as a street peddler.
Many in China face a similar dilemma. At least 750,000 people in the country receive dialysis, but a large number have to travel a long way to do so. There just aren't enough treatment centers, and those that exist are concentrated in top hospitals in major cities.
This poor availability can have deadly consequences. The mortality rate among Chinese kidney disease patients is sky-high by international standards, and the risks of being cut off from dialysis treatment have grown during the pandemic. Local authorities can impose a snap lockdown at any moment, making long-distance travel impossible.
Though cities put systems in place to ensure patients can continue receiving dialysis, many patients have slipped through the net. And when this happens, it can be fatal.
"The mortality rate of COVID-19 is extremely low, but the chances of death for patients with kidney failure if they don't receive dialysis treatment are almost 100%," said Yu Xiang, the founder of the Xinkangle dialysis center in Xi'an.
Private, community-based clinics like Yu's aim to make it easier for patients to access treatment. They say they can help relieve the pressure on public hospitals and ensure that fewer people get cut off from dialysis due to the "zero-COVID" policies. Public health experts agree with them.
Yet, despite policy support, private providers like Yu's are struggling to grow, held back by a toxic combination of red tape, NIMBYism, and suspicion from patients.
"A matter of life and death"
When Zhang, a native of the Inner Mongolia Autonomous Region, was diagnosed with kidney disease in 2005 in the remote city of Bayan Nur, she could only find two dialysis machines in the entire prefecture of 1.5 million people. Based on the prevalence rate of the disease, a city that size would be expected to have 1,600 people in need of dialysis.
Zhang was forced to move to Yinchuan, Ningxia Hui Autonomous Region, more than 300 kilometers away from her home, to access the treatment. She now lives in a rented apartment in Yinchuan, a 10-minute walk away from the public hospital where she gets treated regularly. In the same building, a few other tenants are in the exact same situation.
Although China has recorded more than 1.5 million end-stage renal disease patients, only about 750,000 people are registered as receiving the treatment regularly, according to the Chinese Research Data Services.
The lack of access to dialysis is the main reason why China has ended up with such a high mortality rate for kidney disease. Around 450,000 people die of kidney failure in the country every year, according to Chen Meixiang, the director of the Chinese Society of Nephrology. This is equivalent to nearly one-third of China's end-stage renal disease patients. In Japan, by contrast, around 10% of renal disease patients — just over 34,000 people — died in 2020.
The pandemic has only made things worse. When Shanghai shut down in April, many of its 20,000 kidney disease patients were cut off from their regular dialysis providers. The city's medical services are concentrated in Puxi, the west side of the Huangpu River, and all cross-river traffic was suspended. Hospitals in Pudong were shut down repeatedly by COVID scares. Only the Shanghai Pudong Hospital offered constant dialysis service throughout the lockdown.
Without dialysis, kidney failure patients face a grim prognosis. As waste builds up in the blood, people become tired, and fluid buildup can make it difficult to breathe. According to the US National Kidney Foundation, death comes within weeks. 
"Without treatment, patients will develop swelling, and then die from electrolyte disorders, heart failure, or other complications," Jin Huimin, the director of the nephrology department at Shanghai Pudong Hospital, told Sixth Tone. 
"Every morning, hundreds of patients waited outside the hospital building, all for the dialysis service," Jin recalled. "Other departments can stop operating, but not our service because it's a matter of life or death."
With 80 dialysis machines, Jin's team cut treatments by half an hour and worked four shifts a day to support the lives of over 600 patients, 50% more than their usual load. During the lockdown, 20 of their regular patients died, many of whom had been with the department for years.
Jin estimates that about half of Shanghai's dialysis patients live in Pudong, so despite Pudong Hospital's heroic efforts, the district had thousands of people they couldn't help. The city scrambled to bring dialysis to them, recruiting volunteers — including Yu, from Xi'an — to open temporary clinics nearby residential areas, allowing many patients to access the treatment within a short walk from their home.
The temporary clinics were a success, but they raise a question: why can't it be that convenient all the time?
Friendly neighborhood nephrologist
In Japan, with a population of 125 million, there were nearly 340,000 people who needed dialysis by the end of 2018. Nearly all of them — 334,505 patients — were receiving dialysis treatment by 2017. The result is that the country has among the world's highest life expectancies for end-stage renal disease (ESRD) patients. One major factor in Japan's success is easy access to dialysis facilities: by 2017, over 4,400 such services had been built in the country.
When Yu visited hemodialysis centers in Japan, he learned local patients typically only had to walk 10 minutes to reach the service. "But it's common in China for our patients to travel long distances to access this essential and regular treatment," he said.
As of 2021, China, with over 10 times the population, had just 6,302 hemodialysis services, 90% at public hospitals, according to the dialysis committee of the Chinese Non-Government Medical Institutions Association.
China's national health authority first approved private dialysis in 2016, issuing a document that encouraged the establishment of independent hemodialysis centers.
"The purpose is very clear — the authority wants more community-based hemodialysis centers to ease the burden on public hospitals, which were struggling to provide enough beds for patients," said Wang Jiusheng, secretary-general of the dialysis committee of the Chinese Non-Government Medical Institutions Association.
It also encouraged public hospitals to expand the service.
If Zhang were diagnosed today, she probably would not have to move. Bayan Nur Hospital, the city's largest, has over 60 dialysis machines and treats over 200 patients. The service is also available in a few other hospitals in the city. For instance, the Traditional Chinese Medicine Hospital of Bayan Nur also has 10 dialysis machines.
Public medical insurance also keeps costs in check, whether patients use public or private clinics. "It costs me a bit over 500 yuan ($75) each month no matter if I use public or private services," said Hou. Reimbursements vary between cities, but in Xi'an they cover 90% of the cost.
But many patients remain out of reach of the public health system. Private clinics could also improve quality of life for patients like Hou, cutting travel times and providing more hours of treatment per week.
Public hospitals limit patients to four hours per session, which is not enough for all patients. At Yu's clinic, Hou gets an extra hour, improving her health and energy. 
"It matters a lot and that's why I'm willing to travel hours to the private clinic," Hou said. "Four hours, three times a week is enough to keep us alive. But the additional hour has improved the quality of my life. I can live a normal life and even travel a bit like other people."
Barriers to entry
After the state authority greenlighted independent dialysis centers, many investors entered the market. "Many such services were built between 2016 and 2018. It was not until 2019 that the market entered a rational period," Wang from the dialysis committee told Sixth Tone.
In the three years until 2018, nearly 600 independent dialysis centers were built. But investors were soon disappointed by steep start-up costs, low returns, and challenges with licensing and local opposition.
The first big hurdle is licensing: in order to start a private clinic, investors need support from hospitals that often see them as competitors.
Regulations on private dialysis clinics require that they have an agreement with a comprehensive hospital within 10 km to take patients in case of emergency. 
Wang said public hospitals can be reluctant to sign such deals. "Hemodialysis is a profitable sector. Are public hospitals willing to simply share it with others? Should public hospitals and private centers work together or compete against each other? This is all still being debated," Wang said.
Liu Bin, a specialist from the nephrology department at the Hainan Provincial Hospital of Traditional Chinese Medicine, argued private dialysis centers are usually incapable of handling emergencies.
"Dialysis treatment itself is not technically demanding. But we're dealing with ESRD patients and their conditions can be complicated and require the assistance from internal medicine or surgical departments," he told Sixth Tone. "It's very hard for private capital to get things done perfectly."
Jin from the Pudong hospital told Sixth Tone that his department had found patients with collapsed veins after they received dialysis treatment at smaller facilities. Although he believes medical workers at private clinics still need more training, Jin welcomes their help. His team is overworked, taking care of 400 patients.
"My team works three shifts to cope with the need," Jin said. "For each shift, one doctor is responsible for keeping an eye on around 50 patients. The medical workers are under a lot of stress and there's no weekend or holiday breaks for them."
Ideally, he said, patients in stable condition should be treated at community-based health facilities while his team only cares for the severely ill. "Under that scenario, my team could work just two shifts — they deserve more time to rest."
As far as Jin can tell, there's at least one private dialysis service in Pudong, but patients tend to avoid it in favor of nearby public hospitals.
Jin said the loss of patients would mean lower incomes for his department and the staff. "But I consulted my team and they don't mind. They just want a more balanced life," he added.
The specialist argued that the health authority should take the initiative to offer preferential policies to private resources or simply mobilize public resources to build community hemodialysis services. 
"Otherwise, it's hard to advance such easily accessible services to patients in need," he said. "There's deep-rooted prejudice against privately-run medical services in China. The public don't trust private health services. They're worried about the qualifications of the medical staff there."
Not in my backyard
Once a potential clinic finds a sponsor, it can run into trouble with the neighbors.
Kidney disease is stigmatized in China, Zhang said. "I feel self-contemptuous," she said. "Whenever I need to meet someone, I wear long-sleeved clothes to cover my right arm, which is swollen and bulging because of regular dialysis."
In late 2020, thousands of residents in the southern city of Shenzhen demonstrated to oppose the opening of a private hemodialysis center in their neighborhood. The center was fully licensed and decorated, but neighbors said they were afraid of blood-transmitted diseases such as hepatitis, and that medical waste could contaminate drinking water. The backlash forced it to close.
Similar cases have been reported in at least another seven Chinese cities.
Wang, who has visited over 100 hemodialysis centers around the country, said most facilities don't encounter such barriers, but some residents fear them. "The general public lacks a basic understanding of the disease," he said. "Kidney failure itself is not an infectious disease. There are strict requirements on the treatment of waste produced during the dialysis process."
Yu said he worked on raising public awareness and providing free medical consultation services for nearby residents before he launched the service. "We connected with representatives of nearby residential buildings, shared with them what our service is, who we're treating, what could be the potential risks and how we'll work to eliminate these possibilities," he said.
"It's important you inform nearby residents in advance instead of hiding the truth from them. Heart-to-heart communications help," Yu believes.
He said previous media coverage of hepatitis infections during dialysis treatment has led to worries among the public. In 2019, 69 patients contracted hepatitis C during dialysis treatment at a badly managed public hospital in the eastern province of Jiangsu. Similar infection cases were also reported in a public hospital in Shaanxi in 2016 and in a private hospital in Anhui province in 2013.
"The risk of infection was exaggerated by media reports," says Yu, explaining that it can be properly controlled with standard practices.
Elusive profits
Patients tend to be wary of private clinics, too. Despite the lack of hemodialysis services nationwide, private providers often struggle to attract customers and sit half-empty.
Yu has invested over 10 million yuan into his clinic, setting up 15 machines. That's enough to serve 60 regular patients, but so far he's seeing only 30 a week, not enough to clear a profit.
Most patients Sixth Tone spoke to prefer public services. They say they would only turn to community-based private centers after they're fully convinced that their medical workers are as well-trained and experienced as those in public hospitals.
"The expertise at private clinics is not guaranteed. What if the patients develop complications and require emergency treatment?" said a patient surnamed Kang from Sichuan province. "Even though these are routine treatments, the presence of experienced specialists makes us feel safe," she told Sixth Tone.
A Shanghai patient surnamed Lin said even though she knew some private centers hire experienced doctors who had retired from public hospitals, she's not convinced the medical team will be stable there. 
"The treatment can go on for decades," Lin, who is in her 50s and has been on dialysis for 12 years, told Sixth Tone. "A private clinic could shut down overnight and their staff can easily quit. For us, a familiar team of medical workers, who know our health conditions well enough, matters a lot. It gives me a sense of security."
As private clinics are required to be located within 10 kilometers of a major hospital, they are unable to take dialysis services to unserved markets, where patients might welcome them more eagerly.
With the rising survival rate of ESRD patients, Yu still says that community-based private centers can survive harmoniously with big public hospitals. "The need will only grow, and very rapidly — the total number of hemodialysis patients has tripled in the past 10 years," he said. "Ideally, these patients should be able to access hemodialysis treatment within a 10-minute walking distance in the future."
Although Yu's center does not have enough patients, he has already planned to purchase another 15 machines. "I'm optimistic that the reputation of the service will spread if our patients share their feedback after treatment."
Yu is yet to earn profit, but he says he can already see the significance of his investment.
"We have a patient, a 72-year-old lady. She was hospitalized six times within a single month last year," he said. "She became our patient in January and we offered her prolonged dialysis treatment for free. Two months later, her daughter told us her mother is now able to prepare meals and she's overjoyed to find the meaning of her existence in the family."
"That's also the meaning of our job," Yu added.
Years ago, Yu came across the cover of a Japanese magazine featuring two seniors — the caption said the two had been together for 40 years: one was an ESRD patient, the other was his dialysis treatment doctor.
"Life on dialysis treatment should not be gray," Yu said. "These patients deserve a good life just like everyone else. I hope my patients can stay with me until my retirement."
Contributions: Wu Huiyuan; editor: David Cohen.
(Header image: Hou Jun (left) and her husband Bai Qiaorui (right) receive hemodialysis at a community-based dialysis treatment center in Xi'an, Shaanxi province, August, 2022. Wu Huiyuan/Sixth Tone)