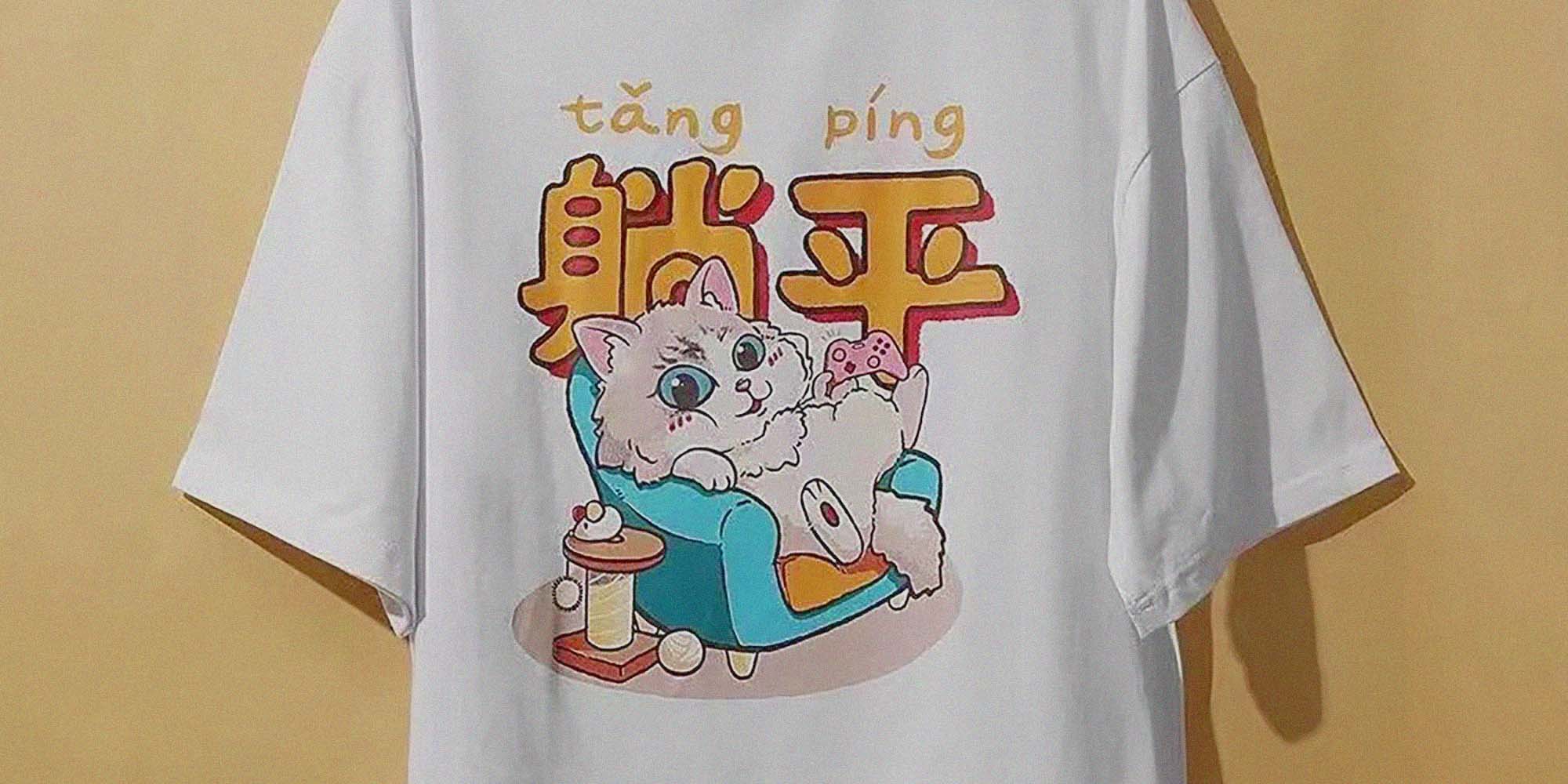 NEWS
Taobao Bans 'Lie Flat' Cat Cartoon
A Shanghai cat shelter raised money with slacker-themed T-shirts. China's biggest e-commerce platform says they threatened "public order and morality."
Does this cat look subversive to you? It does to Chinese major e-commerce platform Taobao, who banned products featuring the image from sale for promoting the "lying flat" and "let it rot" ideas used by young people revolting against an oppressive work culture and social expectations.
RHR Shanghai Adoption Home, a private animal shelter, said on Wednesday that its lying flat-themed merchandise was removed from virtual shelves by Taobao earlier that day. A screenshotted message from the platform posted by the organization said the products violated "public order and morality" and multiple platform rules, asking the shelter to stop selling "shirts with content related to lying flat."
"Lying flat" merchandise appears to be widely banned: A Sixth Tone search for "lying flat" on the shopping site yields results mostly about deck chairs, and several books with similar names but unrelated themes.
The removed products — including canvas bags, key chains, and T-shirts — feature two original cat characters inspired by abandoned cats helped by the organization. One cat is seen sinking into a yellow lazy sofa holding a drumstick, while the other lies on a couch with a gaming machine in its claws. All goods in the series highlight the Chinese characters tang ping, or lying flat, and bai lan, or let it rot.
The shelter has relisted the products on the e-commerce section of Douyin, the Chinese version of TikTok, and held a livestream fundraiser Wednesday night to take advantage of interest driven by the ban.
"We regard 'lying flat' as positive. No one can strive all the time … (We can) rest well before starting off, and adjust ourselves well before fighting," wrote the shelter.
Taobao did not reply to a request for comment by press time.
The lying flat idea caught on last year as a reaction against competitive, overwork-driven culture. One of its early advocates was a factory worker who began blogging about his efforts to avoid work by living cheaply, eating instant noodles, and staying at home. Few have gone as far as he did, but many youngsters have taken it as permission to strive less.
Bai lan, a more recent buzzword that went popular earlier this year, means letting a bad situation deteriorate rather than taking the initiative to fix it, a more cynical attitude that's gained appeal as unemployment has continued to worsen.
In July, the jobless rate for Chinese urban youths aged 16 to 24 rose to 19.9%, the highest figure since records began in 2018, and the fourth consecutive month that China has logged a new youth unemployment record.
State media has condemned the lying flat fad, urging the young to cheer up.
He Junke, an official at the Central Committee of Communist Youth League of China, said at an April press conference that "most" Chinese youth are working hard and their talk about lying flat is more of "a joke to relieve pressure and an expression of their feelings."
"The two words express the feeling of relaxation, and I mainly wear the T-shirts at home," said Zhang Sisi, a 33-year-old marketing manager who bought two shirts from the shelter forat around 200 yuan ($29) in mid-July. "We are all burdened with a lot of pressure nowadays."
Editor: David Cohen.
(Header image: Lie-flat cat T-shirt. From @RHR上海领养之家 on WeChat public account)