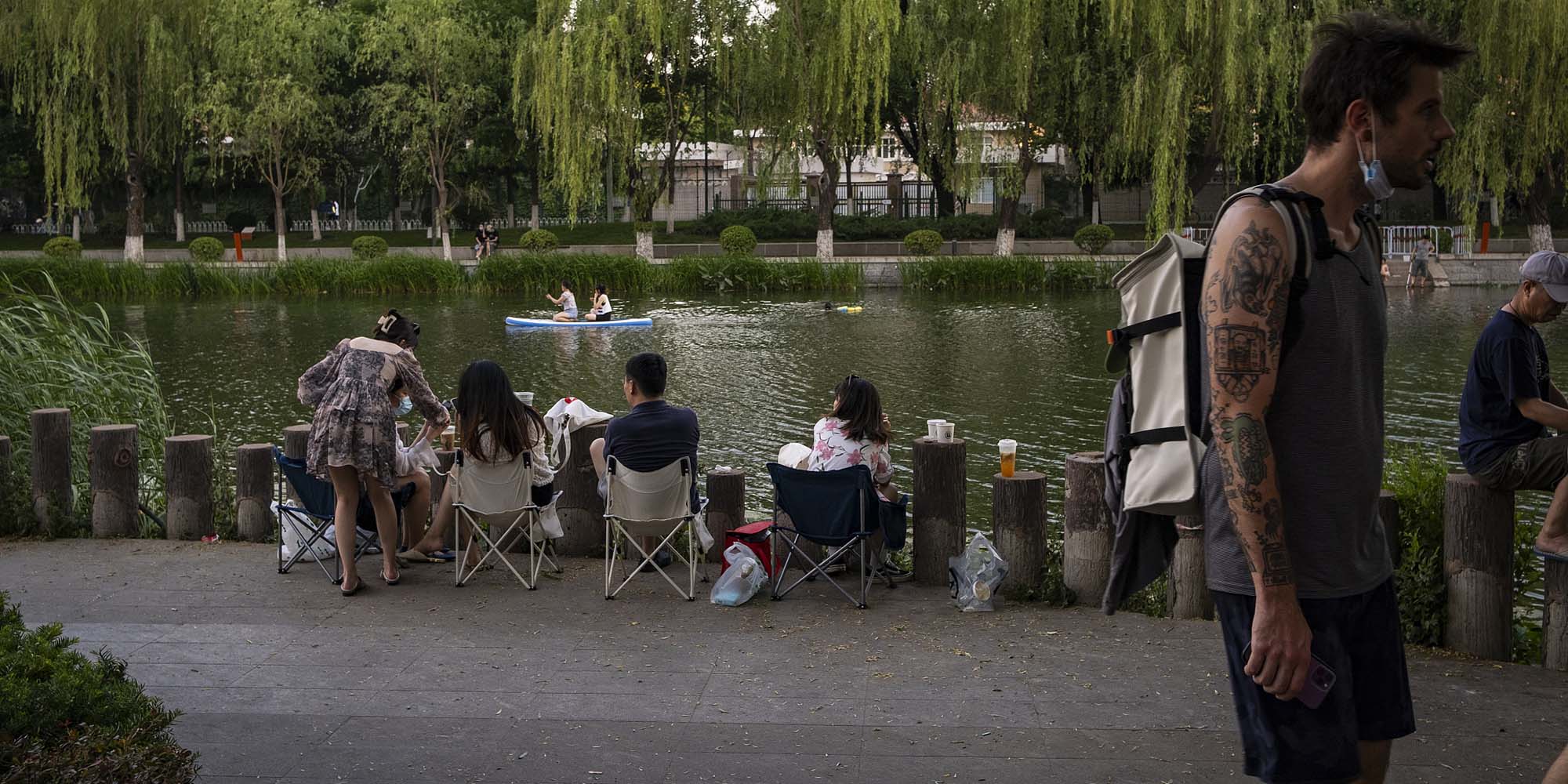 VOICES & OPINION
The Key to Reviving Urban Rivers? Recreation, Not Regulation
Long neglected, Beijing's Liangma River has made a comeback over the past year, thanks in no small part to an uncharacteristically lax approach to urban management.
Unlike Shanghai, London, or Paris, Beijing isn't built on the banks of a world-famous body of water. The closest the city has to a Seine or Thames is probably the Liangma, a short, long-neglected river that flows from downtown Dongzhimen out into the suburbs. For years, the city paid little attention to its rivers, and I used to wonder how anyone could see them as a place to spend time, much less swim in their green-tinged waters.
My impression changed one fall evening in 2021 when I was taking a stroll near my office. As I passed its banks, I felt as if I'd been transported: Birds were swimming on the water, people were lounging along the riverbanks, and vendors — strictly policed in much of the capital — had put out stools for customers, seemingly unworried about incurring the wrath of the chengguan, or city management officers.
This transformation didn't take place overnight. Government campaigns to clean up the river date back at least to 2016, and that particular section had been walled off for improvements for much of last year. Although the stated focus was improving the river's water quality, the Beijing Water Authority has also teamed with nongovernment organizations to plan and build 5.5 kilometers of riverside paths, joining previously disjointed walkways to create a riverside environment better suited for recreation.
Still, I was struck by scale of the change. How did the Liangma become a hotspot for recreation and consumption so quickly? In order to answer this question, it's necessary to first consider a different one: Why was it so forlorn in the first place? After all, the Liangma flows through some of Beijing's more bustling areas, including the embassy district, business zones, residential areas, and Chaoyang Park. Yet it had never really won the favor of the public.
Water quality and poor walkability were serious issues, but key to the Liangma's renewed popularity in recent months was a change in the approach of the city's urban management bureaucracy. As China's capital, Beijing has traditionally placed an emphasis on security. Traffic police, chengguan, and other disciplinary officers are omnipresent. The administrative departments these officers belong to see urban spaces differently from professional urban planners: Whereas the latter emphasize people's everyday habits, the former is more concerned with public security and whether streetside businesses affect the city's appearance.
A good example is the 2015 campaign to "clean up" Beijing's traditional hutong neighborhoods. In their ardor to demolish illegally built structures and close unlicensed shops, city authorities wiped out many small businesses. Although officials trumpeted the campaign as "giving the city a new look," researchers have found many of the city's most vibrant public spaces vanished after the cleanup, and with them the vitality of hutong life.
By contrast, administrative departments have been a minor factor along the newly redeveloped Liangma riverfront, at least publicly. City management officials have so far adopted a relatively tolerant attitude toward those who gather here to fish, barbecue, and drink, as well as the vendors who put out tables and chairs. The result is a comprehensive slice of Beijing life, from the city center to the suburbs. The sections near Dongzhimen receive few outside visitors, and are mainly frequented by residents out walking, exercising, or entertaining their children. Further east, the point where the river meets the Third Ring Road has become a popular sightseeing and consumption spot. There, people meet to paddleboard, drink, take photos by the river, and shop. Even further east are residential areas, parks, and shopping malls. And you can see all of it in the span of just an hour's walk.
As more Chinese cities gradually shift their development strategies from teardowns to renovation and civic improvement, the value of now scarce public spaces has come into sharper focus. The million-dollar question facing today's urban planners is: Should resources like urban rivers be sectioned off for the exclusive enjoyment of those who can pay? Or should they be thought of as public resources, and access to them expanded?
Although the answer may seem self-evident, it's not an idle question. The restoration of the Cheonggyecheon River in Seoul, South Korea, at the beginning of the 21st century served as a reference point for the Liangma redevelopment project. The Cheonggyecheon project saw the government tear down an elevated highway, increasing accessibility, attracting high levels of private investment, and boosting local businesses, all of which offered valuable lessons for Liangma's development team. But the Cheonggyecheon River's redevelopment was not without problems: The restoration caused a spike in land prices nearby, squeezing out longtime residents as the wealthy monopolized the newly beautified area for their own use.
Beijing has no shortage of experience on this matter: The Summer Palace, an imperial garden in the northwestern part of the city, has largely developed into a playground for tourists. It remains popular, but I don't get the sense that it is a part of everyday life for Beijingers.
In an interview with Renwu magazine, one of the lead designers on the Liangma River redevelopment project claimed Beijing is looking to move away from creating tourist-friendly scenic spots and instead attempting to "embed them (water bodies) in people's everyday lives."
Similar trends are emerging elsewhere in China, although progress has been halting. While more and more cities have created riverside walking paths like those at Liangma River, many urban bureaucrats still regard them as luxuries rather than an integral and coequal part of urban life, resulting in residents often needing to wait long times at traffic lights to cross wide roads and rejoin the path.
From this perspective, the redevelopment of the Liangma River could become an opportunity for changing the norms of urban management and development in Beijing and elsewhere by shifting toward a more people-focused approach. This spring, as Beijing experienced a surge in COVID-19 cases and the city's shopping malls were shut down, the Liangma riverfront became even more popular among the city's residents. On one visit to the river, I found over 100 children in a small square, playing. As an urban planning researcher, it was a rare time when I looked at Beijing and thought: This is what urban planners mean when they use the term "child-friendly city."
The core of a city is its people, and one of people's core demands is for social interaction. Only by creating public spaces and allowing people to communicate face-to-face can a city be revitalized. We should see the successful redevelopment of the Liangma River as an opportunity, not just to update urban spaces, but also to promote the cultural and commercial prosperity of everyone who lives in them.
Translator: David Ball; editors: Cai Yineng and Kilian O'Donnell.
(Header image: People sit along the Liangma River in Beijing, May 21, 2022. VCG)