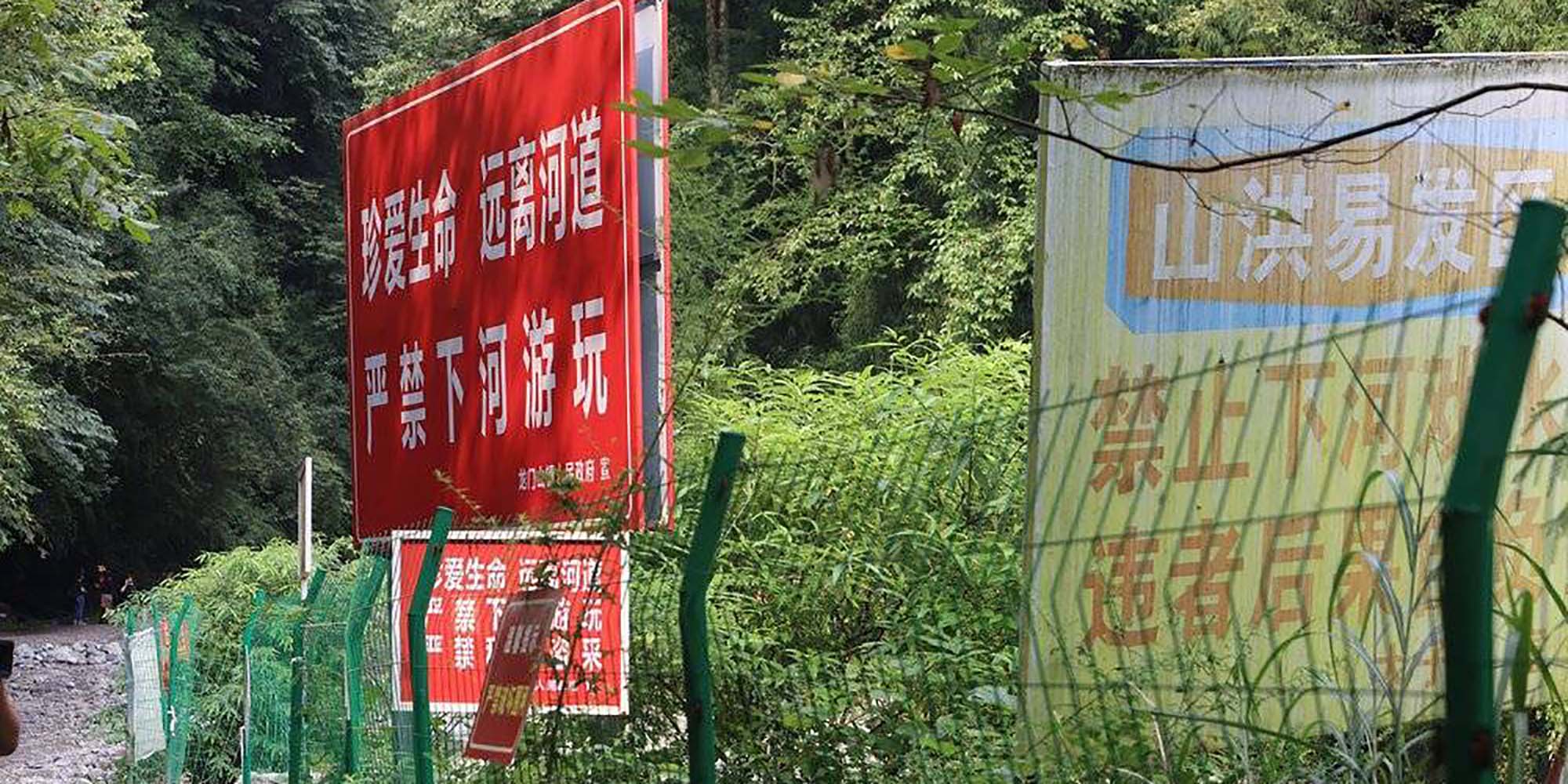 NEWS
Deadly Flood Sparks Debate Over 'Wild' Tourism Sites
Experts say platforms bear no legal responsibility for promoting unofficial tourism sites in flood zones — but users aren't letting them off the hook.
A deadly flash flood at a social media-famous "wild" tourism site in the southwestern province of Sichuan has raised safety concerns — and cast a spotlight on how popular platforms are drawing tourists off the beaten path and into potential danger.
The flood, which swept through a stream in the Longcao Valley on Saturday, killed seven and injured eight. Although not an officially designated tourist site, Longcao has become a popular destination in recent years thanks in part to viral social media posts and influencer recommendations on platforms like Xiaohongshu and Douyin.
Prior to the flood, Longcao was one of TikTok-like Douyin's top recommended attractions for the Sichuan provincial capital of Chengdu, according to a report by Sixth Tone's sister publication, The Paper.
The growing popularity of camping and other forms of outdoor recreation in China has led to a boom in "wild" tourist sites — an umbrella term for unofficial and undeveloped tourism destinations. These sites, which are typically promoted on social media via word of mouth, generally lack the infrastructure and safety regulations found at officially sanctioned and developed resorts.
In the case of Longcao, the local government has sought to discourage tourists from entering the water. Villagers told Sixth Tone that officials set up barbed wire at most entrances to the stream prior to the flood, but the barriers were taken apart by tourists. The local emergency management bureau also said it sent staff to the stream to warn tourists of an impending storm just prior to the flood Saturday.
The Longcao area also experienced floods in 2015 and 2017, according to The Paper.
News of the deaths sparked a heated debate on Chinese social media, with much of the criticism focused on the role of social media platforms in promoting wild tourism.
"(People) are now flocking to 'check in' at Instagram-style hotspots, and internet celebrities are fueling the flames and making the situation out of control," reads one highly upvoted post on microblogging platform Weibo. "In the end, that social media traffic hurt people."
Photos from the site show flood warning signs posted near the stream. At least one sign also cautions that social media depictions of the valley only show its "gentle, quiet" side.
A Sixth Tone search of Douyin and Xiaohongshu on Tuesday found many previously visible posts on traveling and camping in Longcao Valley have disappeared. It is unclear whether users deleted their posts or if they were removed by the platforms. Searching "Longcao Valley" on the two platforms now returns a travel warning. Neither platform responded to Sixth Tone's request for comment.
Ding Jinkun, a lawyer with the Shanghai Dabang Law Firm, told The Paper that it is unlikely the platforms can be held legally responsible for user-made posts, provided none of them were paid promotions.
Longcao is not the only wild tourism site with safety risks. This May, 13 campers were trapped by heavy rains near the Zhegu Dam in the Guangxi Zhuang Autonomous Region. And in June, nine campers spent a night waiting for rescue after being stranded by rising waters in the central province of Hunan. As of publication, searches for the two locations do not return warnings on either Douyin or Xiaohongshu.
Editor: Kilian O'Donnell.
(Header image: Warning signs posted at Longcao Valley, Pengzhou, Sichuan province, Aug. 13, 2022. From @新浪新闻 on Weibo)