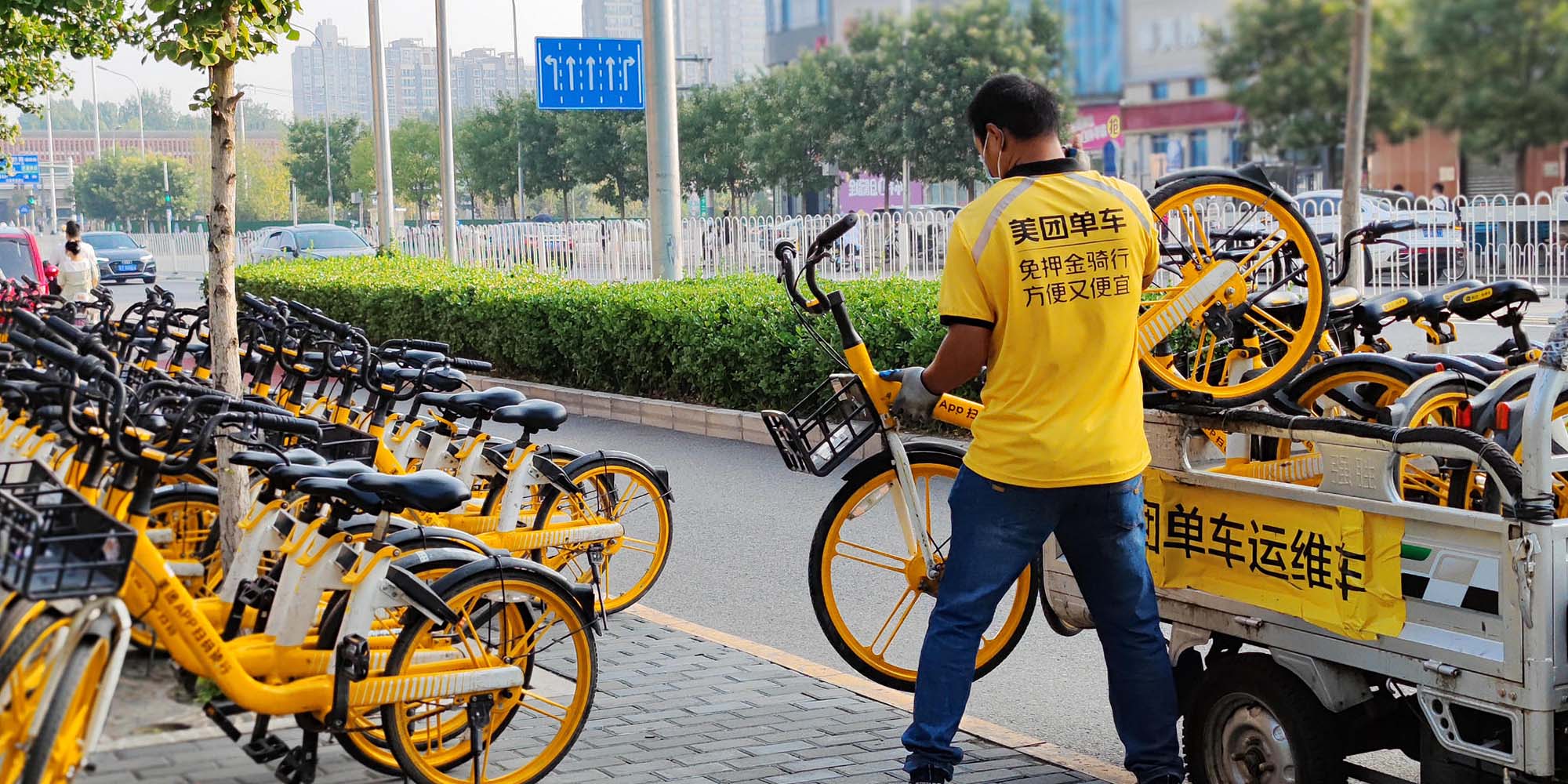 NEWS
Inflation Hits China's 'Sharing Economy' as Bills Come Due
Without VC money, Chinese bike rental survivors are seeking ways to make ends meet.
Candy-colored bikes on every corner, three kinds of cell phone chargers in every restaurant, coffee delivered to your office, a single carrot delivered to your doorstep in under 30 minutes. Just about everything in contemporary Chinese urban life comes from an app (or a "mini-app" that runs in a "super app" like WeChat), most of it relying on an iceberg of extremely offline hidden infrastructure.
These operations aren't cheap, and so-called "sharing economy" companies relied for years on deep-pocketed venture capitalists to pick up the tab for their operations. Now, many VCs are tired of paying, and companies are sending the bill to someone new: you.
China's top two bike rental services, Meituan Bike and Ant Group-backed Hello Inc., have increased their rental fees for membership services by between 40% and 50% since the beginning of this year, our sister site The Paper reported.
Rental power bank companies have also been raising prices. Grocery delivery platform MissFresh took another approach to high costs, shuttering almost all its operations earlier this month. 
China's main bike rental companies are the survivors of the "bike wars." Ofo, an early pioneer whose name was almost synonymous with the market, collapsed in 2018. Hello, Meituan Bike, and Qingju are all backed by major Chinese tech firms.
They've been increasing per-ride prices for years, in an effort to make money. The price of a short ride went from 1 yuan ($.15) to between 2.5 and 4 yuan in 2019. Now, prices in the city range from 4.5 to 6 yuan, with more increases expected this year. That's about 50% inflation on an annual basis.
Meituan's bike rental service raised the fares for its weekly, monthly, and quarterly memberships by between 5 yuan and 30 yuan since August 10. For example, the 90-day membership will cost 90 yuan, up from 60 yuan. The move comes months after the Alibaba-backed Hello Inc. levied a similar fare hike in January.
The current fare increase reignited complaints from riders who have already been grumbling about the rising bike fees. The rate for riding rental bikes on a one-off basis could go up to 6.5 yuan per hour in Shanghai, more than double the starting price of around 2 yuan for a bus and 3 yuan for the metro.

"I will not choose rental bikes if it's pricier than a bus. It's not that convenient since the parking spot for rental bikes isn't always very close to my destinations," a Weibo user using the handle "Wushi" commented on the Weibo tag "bike rental assassin," a play on the recent buzzword "ice cream assassin."

Despite online user complaints, experts predict the current price adjustment won't affect usage significantly, because it's mainly an adjustment for the membership service, one kind of discounted service where riders could ride for an unlimited time for a flat fee. "Membership buyers are usually loyal users who have a "rigid demand,'" internet market watcher Dingdaoshi told The Paper.

The companies cited rising costs in hardware, operation, and maintenance as the reason for the price adjustment. In the first quarter of this year, the production cost of bikes increased by 10% year on year due to a shortage of raw materials, including steel, plastic, and tires, according to data from the China Bicycle Association. Meanwhile, an oversupply of shared bikes has created lots of "bicycle graveyards," where thousands of used bikes are piled up in suburban parking lots.
Editor: David Cohen
(Header image: A man maintains Meituan sharing bikes in Beijing, Aug. 12, 2022. VCG)