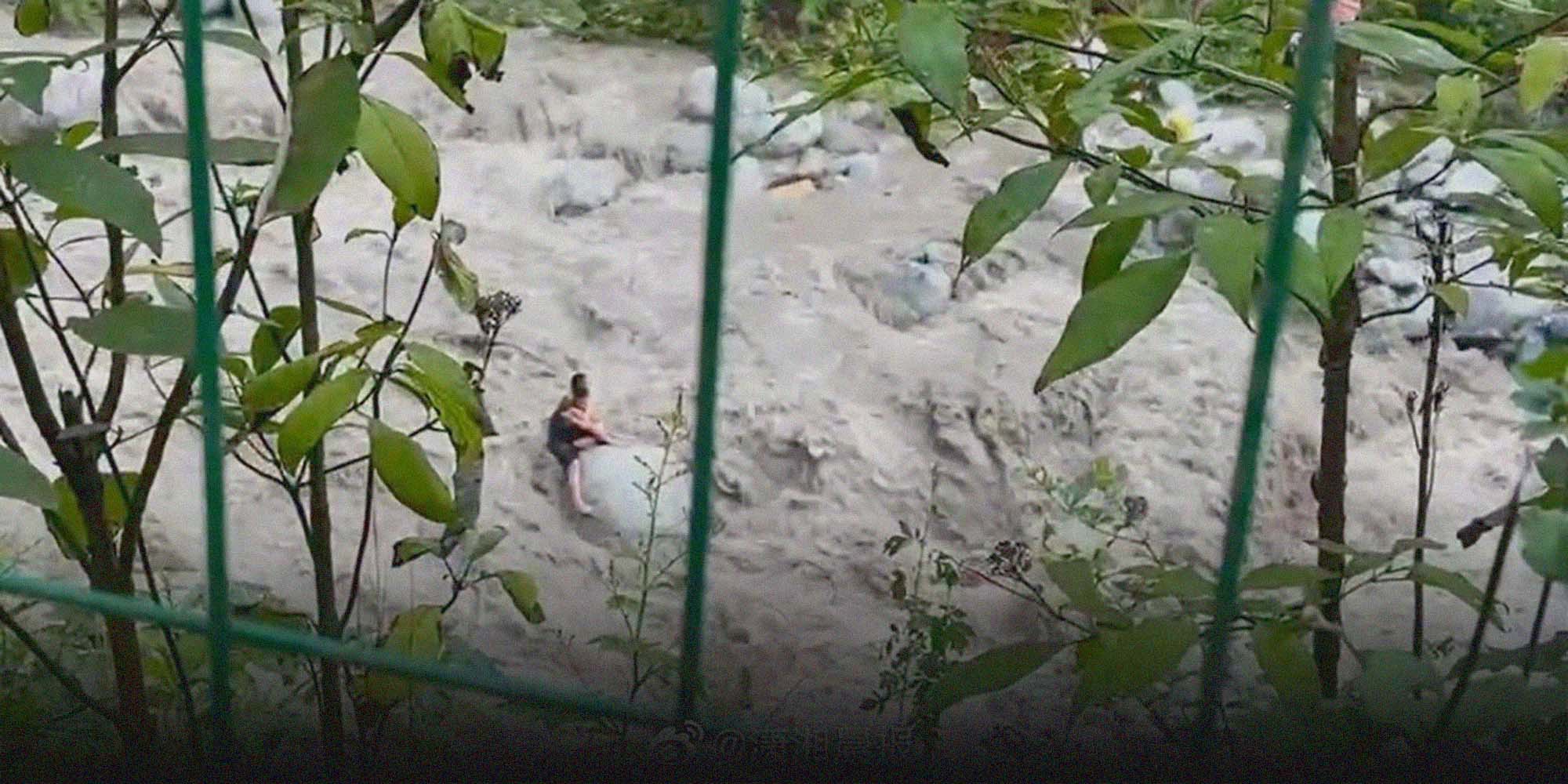 NEWS
Flash Flood Kills Seven in Southwest China
A flash flood turned a social media-friendly valley into a death trap. Local authorities say they saw it coming.
A flash flood in the southwestern province of Sichuan caused seven deaths and eight injuries on Saturday, local officials said, as tourists flocked to a popular off-road camping spot.
A video on social media showed a torrent gushing into a shallow stream in Longcao Valley, Pengzhou, rising from ankle-deep to waist height in seconds. As people ran out of the camps and scrambled to reach the riverbank, another heart-wrenching video clip recorded a father and his child trapped on a boulder and getting swept away by the rushing current.
"The flood came all of a sudden and caught most of us off guard," a tourist surnamed Ji told Sixth Tone. She left the site minutes before the flood because of the rain, and heard huge rumbles and screams when the flood stormed in.
Ji saw three young women were stranded in the middle, and others far from the bank came to the mountainside. She said the loose stones of the riverbed made it harder to escape, and no one dared to attempt a rescue because of the fast-flowing current.
The emergency management bureau in Pengzhou reported the flood Saturday night, saying local officials sent people to the site to warn tourists to leave after they received warning of a cloudburst from the local meteorological station an hour before the accident happened.
The city has sent at least 15 professional rescue teams, together with civil soldiers and police, to search for survivors in the valleys and rivers over the past weekend. The rescue was "close to an end," according to the latest official release on Sunday afternoon.
The district saw similar floods in 2015 and 2017, causing 1.5 million yuan ($220,000) in economic losses.
Local authorities have tried to stop off-trail hiking. A restaurant owner surnamed Lü told Sixth Tone that villagers would usually remind visitors of the potential risks in the wild, and officials have set up barbed wire and established patrols.
"But a lot of tourists take the reminders as a joke," Lü said.
The site got popular with camping and hiking enthusiasts in nearby cities as influencers touted it as a "niche" spot. Social media users have criticized platforms and content creators following the tragic incident for promoting a dangerous site.
Most of the barbed wire has fallen apart or been torn apart by tourists, Ji said. The barista from the neighboring city of Chengdu didn't notice any warning signs and slogans amid her hiking tour, and said the site of the accident was not fenced off.
The flash flood came as China is grappling with blistering heat waves and other extreme weather, which has brought about more natural disasters. The national Emergency Management Ministry said in July that natural hazards have displaced millions of people and caused financial losses of nearly 90 billion yuan in the first half of this year.
In the wake of the incident, provincial authorities on Saturday night launched an inspection campaign of popular tourist spots.
"Human beings are so powerless and vulnerable in front of nature," Ji said. "It's an unforgettable lesson to be learned, but safety is everything."
Editor: David Cohen.

(Header image: A screenshot shows a father and a son stuck in the floodings, Pengzhou, Sichuan province, Aug. 13, 2022. From @潇湘晨报 on Weibo)