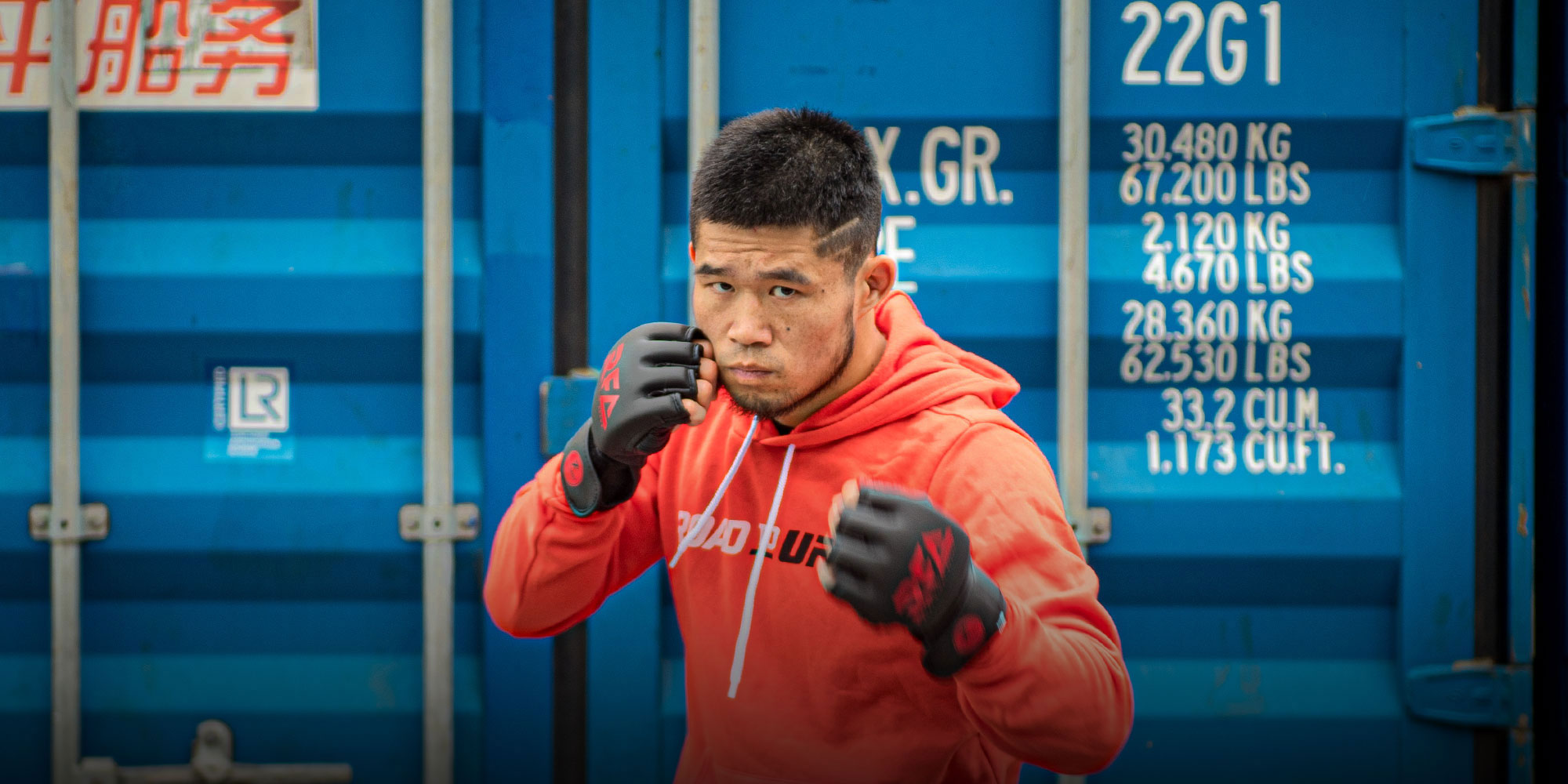 FEATURES
How China Is Nurturing a New Generation of Future UFC Stars
For years, the Ultimate Fighting Championship has been working to tap into China's vast pool of fighting talent. Now, those efforts are starting to pay off with a vengeance.
SINGAPORE — Competing in the Ultimate Fighting Championship was once beyond the imagination of Chinese fighters like Lu Kai.
The 28-year-old grew up in a village on the picture-perfect Huangshan mountain range in eastern China's Anhui province — about as far from the bright lights of the UFC's Las Vegas home as it's possible to get. His fighting career began as a boy on the village streets, where he won a reputation for beating up anyone who tried to bully him, no matter how big.
Later, after Lu began martial arts training, he'd watch clips of UFC fights online: "It looked exciting, but scary as hell," he recalled. But joining the ranks of the world's biggest mixed martial arts promotion seemed impossible; at the time, a Chinese fighter had never fought inside the octagon.
Yet times have changed. In June, Lu flew into Singapore for the start of a series of fights that could finally lead him to a UFC contract. But first, he'd need to get past a clutch of other Asian contenders — including several of his friends from Shanghai.
"To fight in the UFC is the ultimate dream for every MMA fighter," said Lu. "The door to the UFC is open, and now it's up to me to do my best and make my dream come true."
For China's MMA fighters, signing with the UFC has become not only a goal, but a realistic ambition as the promotion expands its reach across Asia. The UFC has long viewed Asia-Pacific — and China above all — as a key growth market, and has been working to open up new pathways for talented fighters from the region. Now, those efforts are starting to make a visible impact on China's MMA scene — and the UFC itself.
Lu was in Singapore to compete in the Road to UFC tournament — part of a new talent search the promotion is rolling out across the year to identify up-and-coming Asian fighters. The event would feature 32 contestants from around the continent competing over two days of first-round action. The winners of each of the four weight divisions would move into the semi-finals — which sources tell Sixth Tone will be held in October — and with UFC deals promised to those who eventually walk away as champions.
It was just the latest move in a long-term strategy. The UFC signed its first Chinese fighter in 2010, and began hosting events on the Chinese mainland in 2017. Two years later, it invested $14 million to open a state-of-the-art Performance Institute in Shanghai to nurture Chinese MMA talent. Within weeks, the sport's profile in the country exploded when Zhang Weili became China's first UFC champion, knocking out Brazilian strawweight Jessica Andrade in front of a rapturous crowd in Shenzhen.
That high point was followed by two years of retrenchment, as the COVID-19 pandemic made it all but impossible for the UFC to hold events in Asia. But the easing of travel restrictions in much of the region from early 2022 has allowed the UFC to make a comeback.
The Road to UFC tournament was being staged in the run-up to the UFC 275 event at the Singapore Indoor Stadium, which featured two world title fights and Zhang's much-hyped rematch against Poland's Joanna Jedrzejczyk — after their "Fight of the Year" in 2020. When Zhang won in spectacular style with a spinning backfist knockout blow, it sent her and the UFC soaring back to the top of the trending charts on Chinese social media.
All of this has led to a surge in the number of young Chinese fighters trying to make it to the UFC. China now has 13 athletes competing in the promotion, though no one has yet matched Zhang's title-winning success. For Dana White, the UFC's president, events like Road to UFC are designed to help identify the next Chinese champion.
"Our goal is to cultivate and build the sport," White told Sixth Tone in the lead-up to the tournament. "It's a good way to get these kids some experience, put them in a little bit of a pressure cooker situation and see how they do. If you take just India and China, billions of people, there has to be some incredible, incredible talent in there somewhere."
Lu hopes that person will be him. He was one of eight Chinese fighters to enter the Road to UFC tournament. Like many from the Chinese contingent, he comes from humble origins. He grew up splitting his time between Anhui province and Shanghai as his parents — his father a delivery truck driver, his mother a nanny — sought opportunities to improve their livelihoods in the city.
Lu was an energetic kid, to put it mildly, and he eventually found an outlet for his aggression in judo, rising to become a national champion before deciding he needed a fresh challenge. That's when he came to MMA. For the uninitiated, the sport does exactly what it says on the label — it combines a mix of combat sports, from Brazilian jiujitsu to Muay Thai kickboxing and judo.
"I think that martial arts suit my personality," said Lu. "I strive to be better, stronger, tougher, smarter than the others, and in the cage, I can prove myself. What I like about mixed martial arts is the complexity — there is much more freedom and creativity. Also, it resembles street fights a bit more. There aren't that many rules."
Bantamweight Xie Bin was among the younger Chinese hopefuls. The 24-year-old fought on Asia's regional circuit before the UFC gave him a spot on Dana White's Contender Series — another global feeder promotion for its main roster of fighters. Xie lost by a slender margin, with his American opponent getting a decision that split the judges 2-1.
Born in central China's Hunan province, Xie's parents worked in the garment industry and sent him off to a local sports academy when he showed an aptitude for wrestling. But Xie was drawn to MMA because it challenged him to expand his skillset. He hoped the Road to UFC would give him a chance of redemption following his Contender Series loss.
"I prefer mixed martial arts because it's diverse and versatile: it has all kinds of martial arts included," Xie said. "I think the Road to UFC is a big challenge. There are eight fighters in each division, but only one gets a UFC contract ... This is a chance for Chinese athletes like me to be known by the world."
For Lu, however, the presence of so many Chinese fighters in Singapore was disconcerting. Many of his potential opponents were people he trained with week-in, week-out at Shanghai's Performance Institute.
"The good thing is that we have the chance to fight with the best fighters from Asia, get more fights, more experience, and grow," he said. "The bad thing is that if the Chinese fighters win in the first round, we'll have to fight each other in the second round … We all feel weird about fighting our friends."
They might have to get used to it. The number of Chinese MMA fighters competing on the world stage is only like to grow in the coming years, as the UFC is still working to deepen its ties with China's MMA scene. In addition to organizing the Road to UFC tournament, the promotion recently announced that UFC Fight Pass — the organization's subscription streaming platform — had signed its first deal to broadcast live Chinese MMA events.
Joe Qiao Bo is the director of international development at Chinese fight promotion JCK MMA, a domestic promotion that hosts annual tournaments across five weight divisions. For him, the deal will make it easier for China's fighters to make the step up to the UFC.
"We want to help get Chinese fighters ready for the UFC," he told Sixth Tone. "It's like going to high school before college."
Qiao has been involved in Chinese MMA since it first got off the ground in the mid-2000s, working as a coach, a commentator, and now an executive. The development since then has been remarkable, he said, with Zhang Weili's title victory in 2019 attracting hordes of young Chinese athletes to the sport.
"When Weili won the title, I no longer had to explain to people in China what MMA was — that was a big change," said Qiao. "Later that year, JCK MMA started. This year, we had 500 fighters apply to be part of our tournaments, representing around 100 gyms from all over China."
The next step, Qiao said, would be to raise the levels in China to the point where Chinese fighters are not only signing with the UFC, but thriving there. Of China's 13 UFC stars, only Zhang — who is the second-ranked strawweight — and rising star Song Yadong — ranked 10th as a bantamweight — are currently challenging at the top of their divisions.
"Weili built her record in China before she moved to the UFC, and Chinese fighters now know … how important local promotions are," said Qiao. "We don't want to just be a feeder for the UFC. We want the fighters who go to the UFC to do well. We want to prepare them in every way, not only in terms of fighting skills, but in all the skills you need, including aspects of the sport such as dealing with the media."
For Qiao, it's just a matter of time before more local fighters start making it into the UFC, and then competing for titles.
"Weili really showed what is possible, and her success has opened the eyes of Chinese fighters who can now see how far they can go in the sport," he said.
Xie, however, didn't get nearly as far as he'd hoped in Singapore. In the first round of the tournament, he was matched up against South Korea's Lee Jeong-Yeong, a former champion in his homeland. The fight was scheduled to take place over three five-minute rounds. It lasted 36 seconds.
From the bell, Xie rushed his opponent and grabbed his right leg, looking for a takedown. But that opened his head up to an elbow attack — and Lee duly obliged. Xie persisted and even managed to flip Lee onto his back, but the Korean shifted, squirmed, and latched onto a loose left arm, bending it at an absurd angle and forcing Xie to tap out.
The young Chinese rose from the canvas looking battered and thoroughly beaten. He'll now need to shake off the loss and look for another chance to impress the UFC scouts.
No such worries for Lu. He came out for his first-round bout against Indonesia's Angga Hans throwing heavy punches and body kicks throughout the first round. In the second, he leaned more toward his judo background, getting Hans down on the ground and tangling him up in all sorts of locks around his neck and arm. From that position of control, Lu quickly pivoted, rising up above his opponent and raining down right hands until the referee stopped the fight with 4:33 gone on the clock.
Now, Lu is waiting for the second round in October, where he'll hope to take another step toward his UFC dream.
"The first round I made some mistakes. I tried to finish him so I rushed," Lu said after the fight. "The second round I waited, I looked for a chance to take him down, then I finished him. I saw his eyes and they were empty, so I just continued to punch."
Lu parted Singapore with a message to MMA fans and fighters back in China, a mantra that reveals why he feels he's destined to make it to Las Vegas one day.
"Be patient and never give up," said Lu. "If you do your job well, you can get everything you want."
Editor: Dominic Morgan.
(Header image: Lu Kai poses for a photo in Singapore, June 2022. David Ash for Sixth Tone)