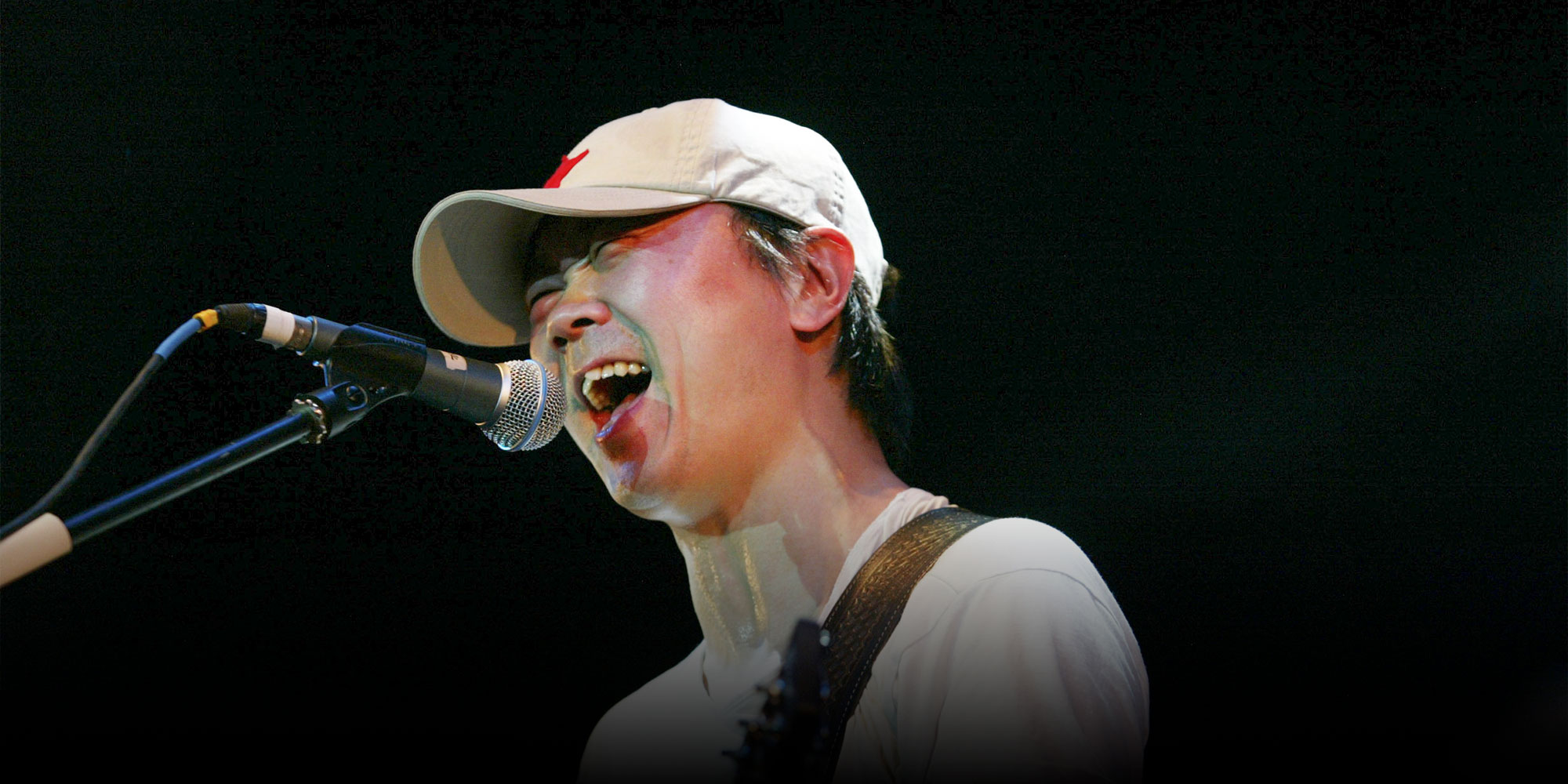 VOICES & OPINION
Did 'God Songs' Kill China's God of Rock?
Quick, catchy, and inane, short video-optimized "god songs" have taken over Chinese music. Does anyone still have the patience for an old-school album?
Last August, legendary rocker Cui Jian released his first album in six years to a largely indifferent response. "Flying Dogs" won Cui the "Best Male Singer" prize at the Golden Melody Awards in Taiwan — a first for a mainland singer — but 35 years after his iconic live performance of "Nothing to My Name" at Beijing's Workers' Stadium, his new music barely registered as a blip on the Chinese mainland.
The album's lukewarm reception stood in sharp contrast to Cui's virtual concert in April, which was viewed live by over 40 million people. With regular tours all but impossible due to China's strict COVID-19 protocols, livestreamed concerts have become a rare bright spot for the industry over the past three years. In addition to Cui, millions have logged in to streaming platforms to see performances by pop pioneer Lo Ta-yu, early 2000s idols like Stefanie Sun and Jay Chou, and boy bands like Westlife and the Backstreet Boys.
Perhaps inevitably, the most popular of these shows have leaned heavily on viewers' nostalgia for earlier eras of Chinese music, whether the heady, intellectual rock of the 1980s or the pop idols of the '90s and '00s. Although this nostalgia has helped artists weather the storm of COVID-19, it's also laid bare some brutal truths about China's music business, which even before the pandemic was growing increasingly dependent on partnerships with tech companies for survival. What does it say about the traditional music-making and marketing model when audiences are more willing to spend multiple hours watching ad-laced virtual concerts than listening to short, cohesive albums by the same artist?
In contrast to the United States or United Kingdom, where rock music was born out of working class culture, the early Chinese rock scene, at least on the mainland, was largely dominated by the political and cultural elite. As China's economy and politics became increasingly liberal in the 1980s, a wave of cultural change took place both within and outside the system. Cui himself is a representative example: His father was a trumpet player for the People's Liberation Army Air Force; his mother was a professional dancer. Passionate about literature and music from a young age, he became enchanted with Western musical styles such as jazz and rock after they were reintroduced into China in the late 1970s.
Cui's ability to mix these diverse influences propelled him to stardom in the mid-1980s; his 1986 performance at the Workers' Stadium is considered a seminal moment in the history of Chinese rock and helped set the template for a generation of literary-minded rockers. Although wildly popular, Cui and other members of the 1980s rock scene like He Yong sought to present themselves as poets and polemicists, rather than merely commercial acts.
This elitist model of cultural production came under sustained challenge in the 1990s. To start, the Chinese government began reasserting more forceful control of the arts: Cui's nationwide tour in 1990 was called off halfway; He Yong was quietly blocked from performing to large audiences for over a decade after 1996. Meanwhile, and perhaps more fundamentally, the music industry, fueled by the craze for pop music from Hong Kong and Taiwan, became increasingly commercialized.
This mirrored trends in other sectors of pop culture on the Chinese mainland throughout the 1990s. As economic liberalization took root and spread, the "culture fever" of the 1980s receded, giving way to a market frenzy. In music, there was the rise of pop; in film, Hollywood-style blockbusters ruled the box office; and on TV screens, melodramatic Taiwanese dramas competed for eyeballs with locally produced shows.
At the time, the commercialization of Chinese music was hailed as a sign of the "democratization" of culture, if not Chinese society. Key to this narrative was the rise in the 2000s of reality shows like 2004's Super Girl, where TV viewers across China could vote for their favorite contestant via phone.
Rather than fight back, the heirs to Chinese rock retreated into ever smaller subcultures. An oft-quoted 2001 declaration by Wu Tun, lead singer of the band Tongue, sums up the prevailing attitude: "Seeds must be planted underground." Distancing themselves from both officialdom and capital, rock musicians mocked their contemporaries for attending bureaucratic forums or performing at state-backed events. Cui Jian himself turned down an invitation to perform at the 2014 Spring Festival Gala.
Meanwhile, the "democratization" of Chinese pop music accelerated with the rise of short-video apps like Douyin, the mainland Chinese version of TikTok. A 2021 survey found that, in December 2020, mobile internet users in China spent an average of two hours a day on short-video apps, compared to just 28 minutes a day listening to music online.
As users migrate to addictive short-video apps, contemporary pop artists have been forced to adapt their approach to music creation and marketing. With only 15-second blocks to work with, artists in the short-video era eschew traditional song structures in favor of simple, cheaply made melodies that influencers can dance to and listeners can memorize quickly. These shenqu — or "god songs" — have replaced singles as the dominant form of music consumption among young Chinese. Even Douyin itself has been unable to steer users back to more traditionally produced tunes.
Unsurprisingly, breaking songs down into 15-second bites does not make for meaningful music. Critic Li Wan sums up the predicament faced by the music industry in China and abroad as a kind of unbearable "lightness": Distracted by inane melodies and shallow sentiments, people have gradually lost their concern for the human condition. "The kind of intense soulfulness that music demonstrated in the past is now nowhere to be found," he bemoans. Even rock music has become "inarticulate."
That's not to say all is lost. Somewhat optimistically, Li believes "Flying Dogs" represents a return to form for Chinese rock. He also cites Omnipotent Youth Society's 2020 album "Inside the Cable Temple," which deftly evokes social issues such as pollution, corruption, and declining class mobility. Crucially, unlike "Flying Dogs," "Inside the Cable Temple" was a hit, selling hundreds of thousands of digital copies in a matter of days and proving that there's an audience for carefully crafted albums — though bassist Ji Geng still felt the need to thank fans for their patience in listening to the whole album in the liner notes.
There's no particular reason to hope that Chinese music will return to the elite-centric model of production and consumption that reigned in the 1980s, but that doesn't mean accepting the fast-food approach to music being pushed on us by tech companies, record firms, and the cultural authorities. "Flying Dogs" might not have been a commercial hit, but there's something appealing about an artist who, after nearly 40 years of making music, insists on making music their way. As Cui himself puts it in the lyrics to "The B-Side of Time": "I haven't changed at all."
Translator: Lewis Wright; editor: Kilian O'Donnell.
(Header image: Cui Jian gives a performance in Wuhan, Hubei province, 2005. Huang Feng/VCG)