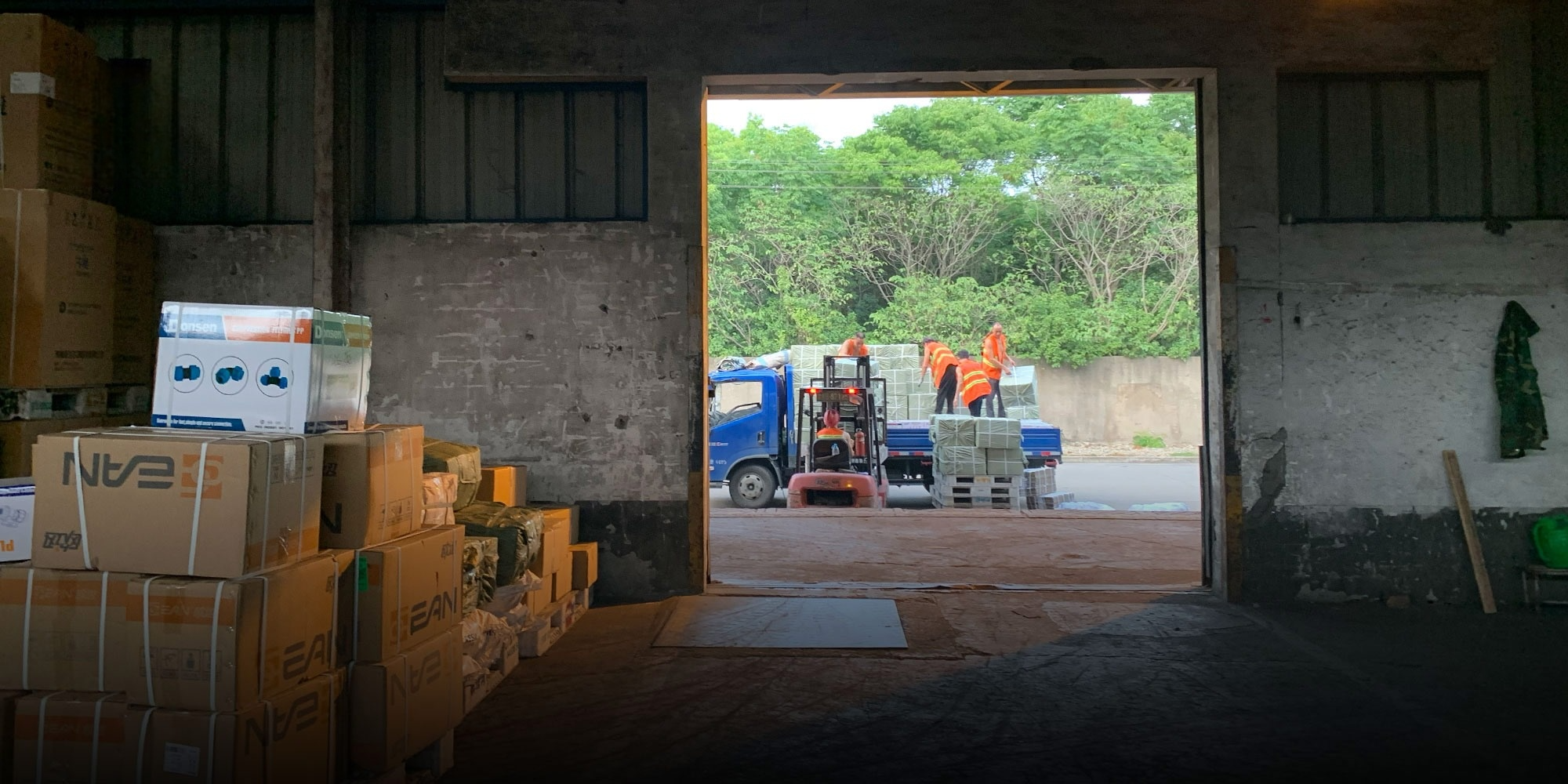 FEATURES
Heat Death at a Freight Depot
Climate change-fueled extreme heat is challenging China's labor protections.
ZHEJIANG, East China – On July 14, a scorching hot day, the sunshine seemed to bounce off the Yuyao freight depot's concrete pavement as harshly as it bore down from the sky. During Zhang Gongqian's long shift loading heavy cargo into train carriages, he became increasingly pale, sweat-soaked, and listless. Usually an upbeat person, he didn't respond to jokes from his colleagues.
Afterward, 34-year-old Zhang went straight home. Intent on living frugally to support his family back in his village, he had rented a tiny lodging in a nearby village. This jampacked and poorly ventilated room had just enough space to fit a bed, an electric bike, a small fridge, and a fan. An air conditioner was too expensive of a luxury.
The next morning, Liu Tao, who lived next door, found Zhang dead in his bed. "I saw him naked through the open window and joked, 'Hey, you should wear your clothes, there are many women around,'" says Liu, a forklift driver and fellow migrant worker in Yuyao, a city in the affluent coastal province Zhejiang. "I didn't realize he had died."
Soon after arriving from the countryside of northern Anhui, a neighboring inland province, Zhang's wife and relatives grew convinced the otherwise healthy Zhang had died from heat exhaustion. A hospital's occupational disease diagnosis specialist to whom they described his case concurred. This year's summer heat in eastern China has been historic. On July 14, Yuyao's temperature topped 41 degrees Celsius.
As climate change is pushing up temperatures in China almost twice as fast as the global average, heat-related mortality is on the rise. In 2019, heat waves killed around 26,800 people in China, according to scientific journal The Lancet Public Health, which noted that mortality rates have been rising by 1,000 deaths every one to two years over the past decade and that this trend is likely to continue.
Zhang's death underlines how China will have to rethink its labor laws and how strictly they are enforced if it wants to curb this trend and protect the country's least powerful workers. While China is one of the countries most affected by heat waves, experts argue their public health implications have long gone ignored. Work at the freight depot hadn't stopped despite Yuyao announcing a red heat alert — the highest warning level that carries the recommendation to suspend all outdoor work.
When conditions are too hot and humid for sweating to keep the human body at 37 degrees Celsius, hyperthermia sets in. If a person's core body temperature continues to warm up to beyond 40 degrees Celsius, this leads to heatstroke, a life-threatening condition that can damage the brain and other organs, and cause death. Outdoor laborers are among the groups most vulnerable to heat exhaustion, says Chen Haihua, an emergency doctor at Zhongnan Hospital in the central Chinese city Wuhan.
Chinese regulations say employers should pay outside workers "high temperature subsidies" — 300 yuan (about $44) per month in Zhejiang — when temperatures exceed 35 degrees Celsius. On such days, shifts can be at most six hours long, and employers should pay full salaries. When the heat goes beyond 40 degrees, as it did on the day Zhang died, all outdoor work should stop.
But such stipulations often go ignored. The freight depot where Zhang worked, a state-owned collection of rail tracks and corrugated metal warehouses, is home to many private companies that in turn hire their laborers through dispatch agencies — often without formal contracts. This makes it hard for workers to get the protection they are entitled to. Four workers, including Liu, tell Sixth Tone that they have never received heat wave subsidies despite working full days in sweltering conditions.
"On the hottest days, the temperature inside (the carriages) is at least 50 degrees," says Yu Yedong, a worker from Jiangxi, another inland province. "It feels like you're on fire standing here around noon." His employer, an outsourcing agency, hands out heatstroke prevention drugs, which he takes twice a day. At the freight depot, managers sit in air-conditioned rooms, but workers like him rest under trees. "The office is not for us," Yu says.
During the evening of July 14, Yu thought Zhang looked pale and urged him to rest. Workers overheating is a common occurrence at the depot, Yu says, so he worried about Zhang, who never wanted to harm his income by taking a break. Even though the government stipulates heat-related breaks should be paid, in reality they rarely are. For Zhang and his colleagues, incomes depended on how many trucks they could unload into train carriages. Liu, his neighbor, says Zhang also collected recyclables to earn some extra cash.
Zhang earned about 7,000 yuan a month in total, the main income for his family in Liuji village, in northern Anhui. Back home, his wife, Liu Hongxia (no relation to Liu Tao), takes care of their 8-year-old daughter and her hearing-impaired mother, while also working at a local grocery store for not much more than just 1,000 yuan a month. For the young couple, money has always been tight.
When Liu Hongxia heard about her husband's death, it was as if the world had caved in. But an all-consuming tug of war over financial compensation left her little opportunity to grieve.
To help families whose main breadwinner is seriously injured or killed, Chinese law says that "work-related death" entitles the affected worker's family to a funeral allowance, stipends for close relatives, and a one-off compensation of 948,240 yuan. But Zhang's family would soon learn that this kind of labor protection, too, is less clear-cut in reality when it involves heatstroke.
On July 15, Liu Hongxia, her brothers, and her in-laws drove 550 kilometers to Yuyao, and went straight to the local police station. The death certificate police issued didn't specify a cause of death apart from excluding homicide. Zhang had died at home and had not been diagnosed by a doctor prior to his death. As such, there was no evidence that proved his case constituted a "work-related death," local authorities told the family.
Forensic pathologist Zhang Yuecan (no relation to Zhang Gongqian) tells Sixth Tone that a cause of death is particularly difficult to determine when it involves heatstroke. It is a gradual process whose symptoms, like organ failure, could be caused by a myriad of other conditions. A postmortem examination needs to be a "comprehensive judgment" that takes into account the weather conditions the person was exposed to, says Zhang Yuecan, who works at Zhejiang Zhonghe Judicial Authentication Center in Ningbo.
No matter how the family argued that Zhang Gongqian's death was work-related, 10 days of negotiations with Huasheng Loading & Unloading Service, the agency that dispatched Zhang to work at the freight depot, went nowhere. They did not want to do an autopsy because of the high cost, the traditional Chinese notion of not "disturbing the dead," and experts' advice that it could not be used as proof anyway, Liu Huafa, Hongxia's brother, tells Sixth Tone.
China's labor laws have a strict definition of work-related injury or death that often puts workers at a disadvantage, says Liu Yufang (no relation to Liu Tao and Liu Hongxia), a lawyer at Beijing Jotai Law Firm who specializes in labor law. "Death on the way from getting off work or in one's rented apartment does not actually meet the legal standard for work-related deaths, only a sudden onset of disease while at work that causes death within 48 hours does." She adds that shady hiring practices in manual labor industries exacerbate the issue.
In June, a 54-year-old employee of a commercial dishwashing company fainted after a long shift in the stuffy workshop. She was sent to hospital, diagnosed with heatstroke, and died two weeks later. Still, her family could not claim "work-related death" compensation because the woman hadn't signed a contract, allowing her employer to skirt responsibility.
Addressing cases like this, Workers' Daily — the official newspaper of the All-China Federation of Trade Unions, the state organization seen as representing all workers — published an article in July explaining why it is rare for heatstroke to be acknowledged as a "work-related injury or death." It interviewed legal experts who called for reforms.
Wang Ting, a Beijing-based lawyer who specializes in labor cases, told Beijing Youth Daily in a recent interview that courts, too, don't always support heatstroke victims' claims for full compensation. In a case in which he represented a client in central China's Hunan province, the court decided that his client was partly to blame because the worker "hadn't paid attention to rest."
For about two weeks in Yuyao, the Liu and Zhang family stayed in a hotel near the freight depot. Every day, they traveled across the city, trying to talk to possible witnesses who might tell them about Zhang's health status before he died. But they were unable to find the kind of proof that would meet legal standards.
Eventually, through mediation by the local authorities, the family signed a settlement agreement in which they received close to 150,000 yuan, with 83,000 yuan coming from Zhang Gongqian's employer and the remainder being paid by the local government.
Over a week after the family arrived in Yuyao, police finally allowed them to see the freight depot's security footage from Zhang Gongqian's final day. Liu Hongxia and Liu Huafa, Zhang Gongqian's wife and brother-in-law, saw him holding his waist while moving cargo, constantly pausing for short moments of rest. That day, he worked from 8:30 in the morning until past 10 in the evening.
For a while, in the evening, he slumped on the ground for about one minute, then got up and kept working for another 20 minutes. He was the last one of his team to leave the freight depot that day. At a few minutes past 10, he finally finished all his work, and a camera inside the train carriage captured him closing the train door. As the view of the outside narrowed, Zhang Gongqian disappeared behind the darkness.
Editor: Kevin Schoenmakers.
(Header image: Workers unload cargo at the freight depot in Yuyao, Zhejiang province, July 25, 2022. Yuan Ye/Sixth Tone)