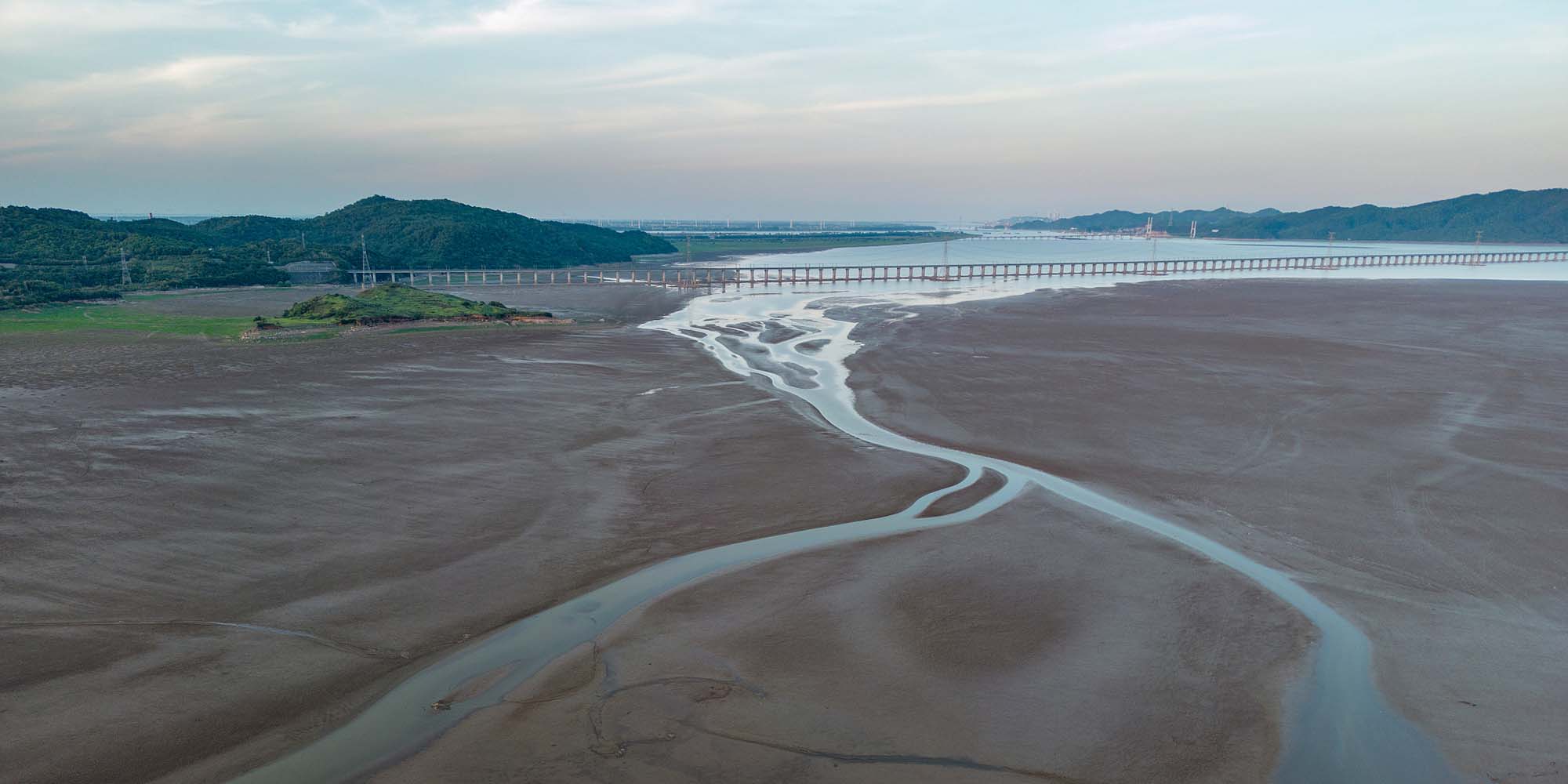 NEWS
China's Largest Freshwater Lake Sees Record Early Dry Season
Authorities have warned against the negative impact of Lake Poyang's decreasing water level on the ecology and livelihoods.
China's largest freshwater lake in the eastern province of Jiangxi has entered its dry season at the earliest date since records began in 1951, as heat waves continue to grip large parts of the country.
The water level at Poyang Lake's Xingzi hydrological station fell to 11.99 meters at 2 a.m. Saturday, the lowest for the same period on record and marked the end of the lake's wet season for 2022, according to the provincial hydrological monitor center. The dry season arrived 16 days earlier than the previous record in 2006, and over two months earlier than average from the last 19 years.
"The water level of Poyang Lake dropped rapidly due to continuously high temperatures and little rain, and relatively less water inflow from the Yangtze River," the hydrological monitor center said, warning against the negative impact of the decreasing water level on production, life, and ecology around the lake.
Poyang Lake is fed by Jiangxi's five tributaries and connects to the Yangtze River. Since July, the province's rainfall dropped nearly half compared to the same period in previous years, which led to the lake's water level dropping day by day after mid-July, domestic media reported.
The lake's water level and area fluctuate notably between the wet and dry seasons. But the dry season has been arriving earlier — it usually starts from November — and the lake has seen worsening winter droughts over recent years.
Research by an institute at the state-backed Chinese Academy of Sciences released earlier this year found that while the overall low water level of Poyang Lake in recent years was largely due to climate change in the Yangtze River basin, the water storage in the Three Gorges Dam and sand mining in the lake were the main reasons behind the early dry periods.
Provincial emergency management authorities have urged local departments to strengthen drought monitoring and increase water sources through water diversion and artificial rainfall, among other methods, in order to minimize losses from the drought, according to a notice published Saturday.
In 2019, the water level at the Xingzi station receded to 8 meters in late November, nearly 3 meters lower than the same period in previous years. Official data showed around 845,000 people in Jiangxi faced difficulties sourcing drinking water due to drought as of early November that year.
Local authorities have mulled over a Poyang Lake dam project that would aim to better manage its water levels during the dry season for over a decade. However, the controversial project has raised doubts over its potential damage to the local ecosystem and encountered fierce opposition from environmentalists in recent years.
Editor: Bibek Bhandari.
(Header image: The bed of Poyang Lake is exposed in Jiujiang, Jiangxi province, Aug. 8, 2022. VCG)