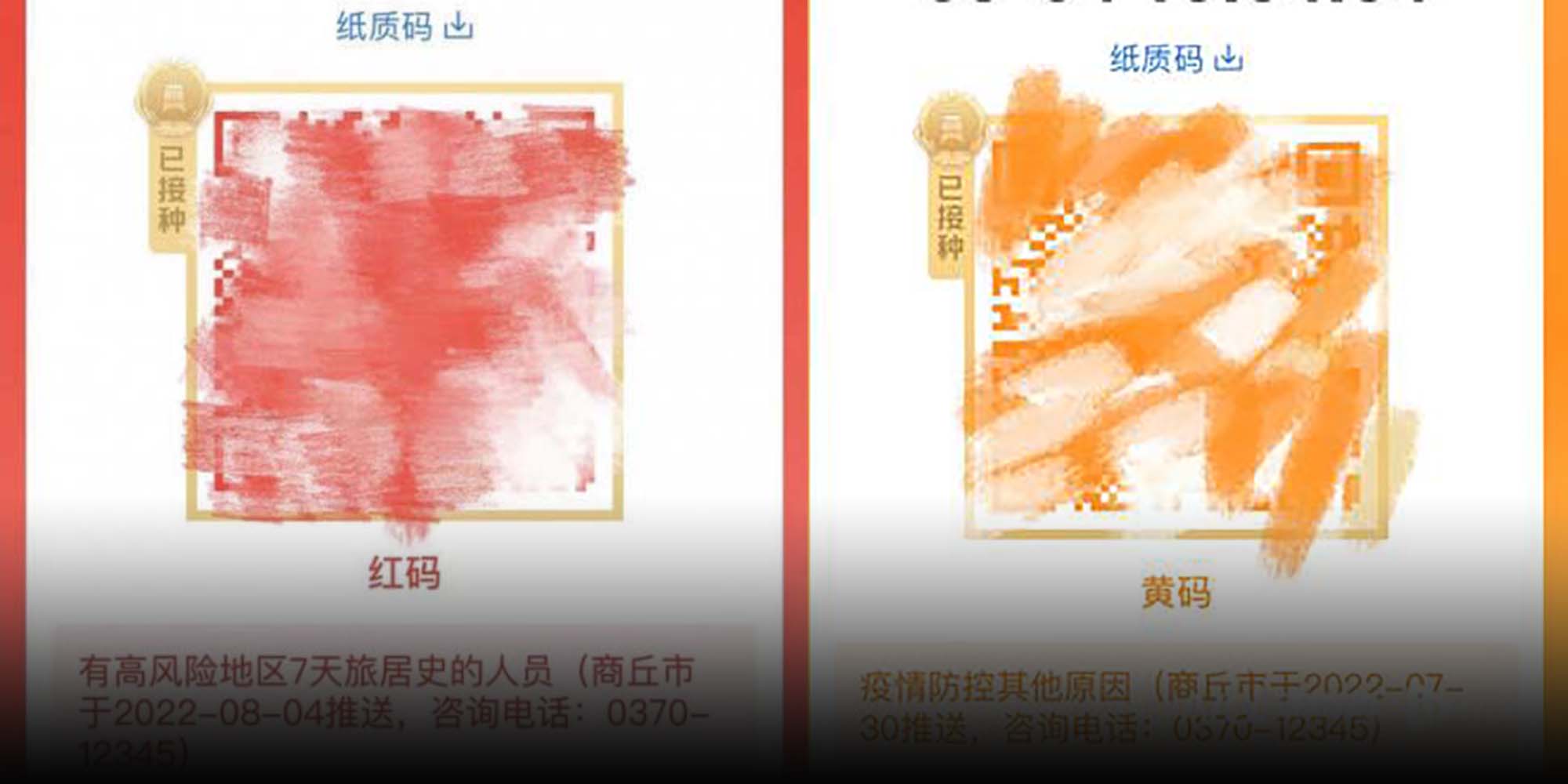 NEWS
Mass Red, Yellow Health Codes Confuse Henan County Residents
Authorities said they have "corrected" the actions intended to curb COVID-19 cases in Minquan County.
Authorities in central China have backtracked on a controversial policy that allowed a county government to arbitrarily change the health code status of residents and curtail their movements following an online backlash over harsh COVID-19 control measures.
Minquan, a county with 700,000 people in Henan province, put its entire population under a "health code-based management" system and gave them either red or yellow codes depending on the coronavirus hotspots, according to a social media post by the state-owned Shangqiu Daily that has since been deleted. The traffic light-like health codes are China's integral COVID control tool, with a red code only given to those infected with the virus or their close contacts, while a yellow code is reserved for those in quarantine or who have missed several nucleic acid tests, also known as PCR tests, in a row.
A day after the post, authorities in Shangqiu, a larger city that administers Minquan, said on Thursday they have "corrected" the local policy that "temporarily" changed the health code color of people with a travel history to local coronavirus hotspots. The initial idea in Minquan, they added, was to "ensure that the risk of the epidemic does not spill over and that no one is missed in the nucleic acid testing."
It's unclear whether the initial policy gave yellow or red health codes to all residents in the county. A woman living in the downtown area, which is not identified as a local COVID hotspot, told Sixth Tone that her health code turned red Wednesday even though she hadn't left home and switched back to green Thursday night.
"Many people experienced this," said the woman over the phone, adding that there were no COVID cases in her residential complex, and she still isn't able to move freely.
Sixth Tone's request for comments on the health code policy to Minquan's publicity office Friday was referred to the government-run hotline. The hotline number remained busy by the time of publication.
Meanwhile, residents in Minquan said they have been asked to stay put for over a week as the government tries to stamp out the virus by halting the movement of people. Since a local outbreak started in late July, the county has logged 233 local infections as of Thursday.
Xu Benjun, a resident of Nan Village in the county, which is identified as a local COVID-19 hotspot, said his health code remains yellow because there were still COVID cases in his area. Over 1,000 people in his village have been asked to stay at home, undergo a daily PCR test, and are prohibited from doing their farm work.
But it's not just Minquan residents who have been baffled by the sudden change in their health code status.
A resident from the provincial capital Zhengzhou told Southern Metropolis Daily that she found her health code turned yellow Saturday after a train ride through Minquan in mid-July. She said the yellow code has restricted her mobility and affected her work, and repeated calls to the local disease control and prevention office have failed to result in her code turning green again.
Health codes have become the dominant tool to control COVID, but its widespread deployment has raised concerns over the abuse of such technology. In June, thousands of depositors from the province's struggling rural banks found their health code turned red, restricting their movement as they planned to seek answers from the regulators and withdraw their savings.
The provincial authorities eventually punished local officials for giving red health codes "without authorization." But legal experts have called for more accountability over the misuse of the public health tool.
Editor: Bibek Bhandari.
(Header image: Screenshots show red and yellow health codes in Minquan County, Henan province. From Weibo)