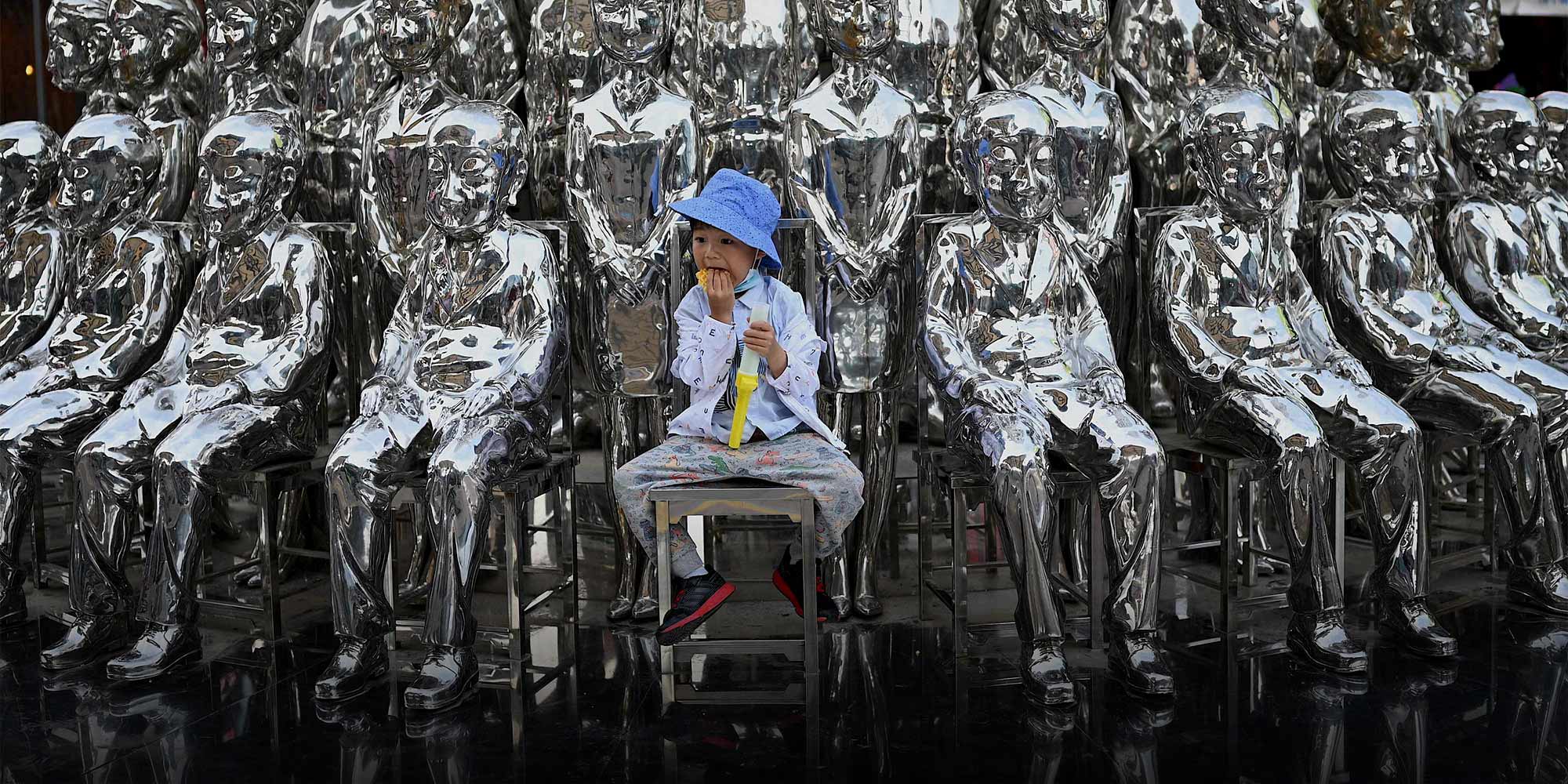 FEATURES
China Is Pushing for a Baby Boom. It's Getting a Baby Bust.
After China's birth rate plunged to a record low last year, authorities introduced a slew of measures to encourage couples to have more kids. They haven't worked.
SHANGHAI — Julia Li has spent much of the past few years wrestling with a dilemma: She was married, in her late 30s, and still undecided about whether to start a family.
Li had been putting off having children for years, but now she was running out of time — and excuses. Her family and friends were urging her to have a baby on an almost daily basis. Even the government was seemingly trying to convince her, offering a slew of new incentives including extended maternity leave.
Last August, however, Li and her husband made a choice that's becoming increasingly common in China: to remain a DINK — "double income, no kids" — couple.
In the end, Li felt that the costs of having a child outweighed any benefits, especially as recovering from childbirth at her age would be a "huge challenge." 
"I would face a high risk of accelerated aging, getting out of shape, and losing energy," Li tells Sixth Tone. "It would significantly affect my career development and competitiveness."
China is struggling to overcome young people's growing reluctance to start families. Over the past year, the government has launched an unprecedented drive to push couples to have more kids, raising the birth limit and introducing a range of policies to support new parents. So far, however, the measures appear to be having almost no effect.
The country's birth and marriage rates have plunged to record lows in recent years, threatening to trigger a demographic crisis. China already has one of the fastest-aging societies in the world, and the population may begin shrinking as early as this year. Unless something changes, experts predict that the nation will get sucked into a "fertility trap" of stagnant growth and skyrocketing social care costs that could last decades.
In a bid to boost the birth rate, the government scrapped the two-child policy — which had been in place since 2015 — for a three-child limit last July. Since then, it has introduced a number of other policies to encourage families to have more kids, including offering new financial incentives, improving access to kindergartens, and extending parental leave. It also said that couples who violated the birth limit would no longer face punishment, overturning 40 years of policy.
Some local governments have gone further. Beijing has added assisted reproductive technologies to its public medical insurance scheme, which will give couples an 11,000 yuan ($1,600) discount on in-vitro fertilization. Panzhihua, a city in southwest China's Sichuan province, is paying families who have a second or third child 500 yuan per month for each infant until they reach the age of 3. Hangzhou, the capital of east China's Zhejiang province, has even given families with three children a rare exemption from its strict housing rules, allowing them to buy a second property.
But the policies haven't worked as expected. In April, China's National Bureau of Statistics revealed that the nation's birth rate had fallen yet again in 2021 — reaching its lowest level since 1949. Several provinces also confirmed that their birth rates had dropped to record lows.
Data for 2022 is scarce, but the early signs aren't promising. An estimated 372,000 newborns were registered in the central Henan province during the first half of this year, down 9.5% compared with the same period last year. In Jiaozhou, a city in the eastern Shandong province, the number of birth certificates issued was down 25.5% year-over-year.
Public enthusiasm for the new policies appears to be tepid at best. On the day the government announced the three-child policy, state-run news agency Xinhua ran a poll on the social platform Weibo asking users if they were ready to have a third child. Over 90% of respondents said they "wouldn't consider it at all." Xinhua deleted the poll later that day.
Other surveys have produced similar results. In December 2021, 90% of respondents to an online poll of 50,000 people said they weren't willing to have three children. When a user on the social platform Xiaohongshu asked their followers whether the new policies had made them more open to having children, the three highest upvoted comments read: "the policies are like a drop in the ocean," "it won't help at all," and "it's just empty talk without offering cash."
The main issue is that the policies haven't gone far enough, experts say. China is one of the most expensive countries in the world to raise a child, and the measures so far have done little to change this. In February, a survey found that the average cost of raising a first child in China was nearly 500,000 yuan, which is even higher than wealthy nations such as the United States, Germany, and Japan.
A study by scholars at Renmin University of China, meanwhile, concluded that the cost of getting married and raising children was the biggest factor putting off Chinese graduates from starting families, alongside the country's highly competitive work culture.
Ren Yuan, a professor at Fudan University's Population Research Institute in Shanghai, echoes this view. Studies have found that Chinese couples' willingness to have children is "not very low" in principle, he says. But there is a substantial gap between the number of couples saying they'd like to have children and the number of people actually having them in reality.
"That is to say, some people who are willing to have children may eventually give up on the idea due to work pressure of lack of access to childcare services," says Ren.
Supportive policies can help narrow this gap, Ren says, but the specific measures China has implemented so far haven't moved the dial. The introduction of paternity leave is a positive step, but won't affect families' decision making. Similarly, the tax rebates offered to parents will barely affect the household budgets of couples in expensive major cities like Beijing and Shanghai.
For Ren, the most effective measure China could take to boost the birth rate would be to further improve access to nurseries and child care services for infants and children under 3 years old.
"It's not that such support should be provided only to encourage people to have second and third children; it's about providing more inclusive and high-quality reproductive services to all families with children or who intend to have a child," he says.
But the reality is that China's birth rate will probably fall again this year — and the country's population is highly likely to experience negative growth, Ren says. 
A nationwide Omicron outbreak has led to prolonged lockdowns in cities across China in recent months, which has triggered an economic slowdown, rising unemployment, and a growing sense of uncertainty about the future. All of this "is likely to adversely affect fertility intentions and decisions," Ren says.
Li says the pandemic — and especially the Shanghai lockdown earlier this year — was another major reason why she decided against having kids. "Since we don't have children, our lives weren't significantly affected, but some families with children that we know suffered materially and emotionally," she says.
In some cases, policies designed to support parents have also had unintended side effects, which could lead people to reconsider having more children. The decision by most Chinese provinces to extend parental leave is one example. Many women have complained that the policy is exacerbating gender discrimination in the workplace, as employers are unwilling to bear the extra cost.
Liu Qin, a former sales manager in Shanghai, had to resign from her job just two months after returning from maternity leave last year. During her absence, a colleague had filled her role at the company, and her manager would no longer assign Liu any "meaningful and challenging" projects, she says.
"My income was reduced by half without all the bonuses I used to make," the 29-year-old says.
According to Liu, several other new mothers that she knows are also under pressure to quit their jobs. "It's not just the employers; other colleagues have complained that we often take leave to take care of our babies, or that we aren't as devoted as they are to work after we become mothers," she says.
The extension of maternity leave also appears to be making it harder for women to get hired. Liu says she has been asked about her marital status during job interviews — a question that nearly 60% of female applicants in China face, according to a 2021 report. Several recruiters in Shanghai have told Sixth Tone that the new policy has made them reconsider hiring women with children, particularly young children.
For most couples, meanwhile, the subsidies on offer are still barely a consideration when it comes to having children. Camellia He, a mother of three living in the eastern city of Suzhou, says she chose to have three kids because she wanted to — and because she could afford it. 
"I was pregnant, so I gave birth," He says. "It just happened naturally."
Zhao, a new mother living in the eastern city of Nanjing, also says that the new policies were barely a factor when she decided to get pregnant. "Those who don't want more children won't change their minds because of the policies," she says.
The 29-year-old just had her baby in July, but she says she plans to stop at one child. The couple, who both graduated from top Chinese universities and have decent white-collar jobs, are struggling to save up for a deposit to buy a home in Nanjing.
"Because of the financial pressure, I wouldn't consider having a second child for the time being," Zhao says.
Editor: Dominic Morgan.
(Header image: A boy sits on a chair among a group of sculptures at a shopping mall in Beijing, June 1, 2021. Noel Celis/AFP via VCG)