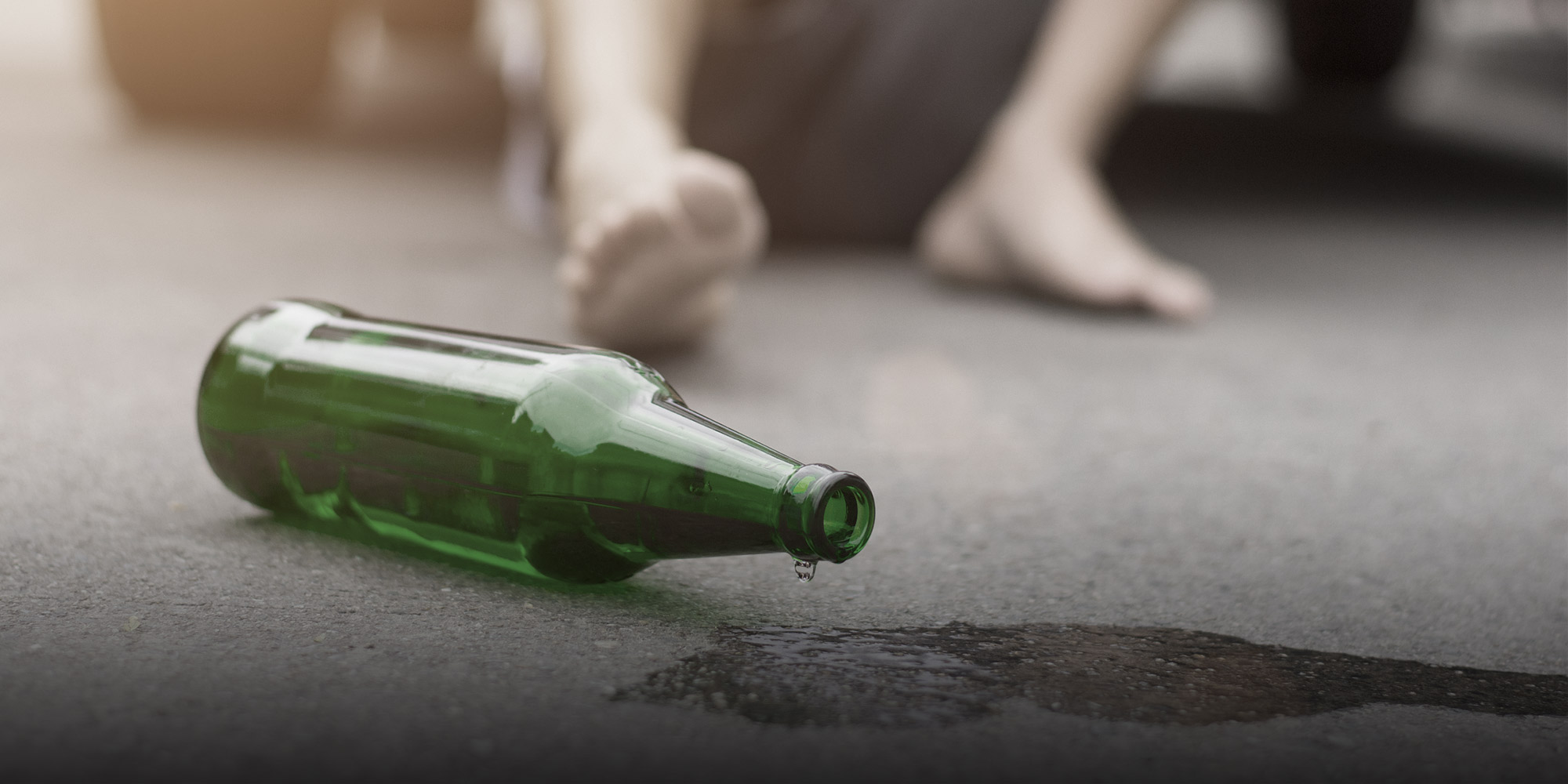 SIXTH TONE ×
For Alcoholics in Rural China, At-Home Rehab is a Hard Swallow
With little access to AA or support groups, getting sober is often a test of will.
After Spring Festival this year, Shuzhi issued a diktat to her 55-year-old husband Liu Ming — it was a "prohibition decree." And so began his third serious attempt at getting sober in over 30 years of hitting the bottle.
This time, the withdrawal symptoms began on the third day. While eating lunch at home in Bayan County, in the northeastern Heilongjiang province, he was unable to see the food on his plate clearly, and his hands trembled to the point that he couldn't hold his chopsticks.
After a few futile attempts, he angrily threw himself back onto his kang — a heatable brick or adobe bed commonly found in rural dwellings throughout northern China. It was a routine Shuzhi had seen play out many times before.
It's also a sight that haunts families across rural China, where getting sober often means staying at home and waiting for withdrawal symptoms to subside. Often, the only help for addicts enduring the agony is support and encouragement from family.
According to Li Bing, an alcohol rehabilitation expert at the Peking University Sixth Hospital, the phenomenon signals a dangerous trend. Without proper treatment, an alcoholic can easily die during withdrawal, and for many in rural China trying to break the habit, professional help is limited.
The bottle
For Shuzhi, the final straw was Liu accidentally setting fire to the kitchen while she was out running errands. He suffered burns too but, luckily, a neighbor noticed the blaze and came to the rescue.
Apart from two brief relapses, which his wife nipped in the bud, Liu has now successfully stayed away from alcohol for more than 100 days.
Through short videos, she documented how his body, once rendered completely listless by his addiction, gradually came back to life. Slowly but surely, he went back to doing daily chores, like sweeping or planting vegetables in the yard.
Shuzhi is the same age as her husband. They had just turned 20 when they got married. Even back then he liked a drink, which in their little town in northeastern China was hardly exceptional. What's more, under his father's watchful gaze, Liu rarely got seriously drunk: he was a caring and duty-bound family man.
But nine days into their marriage, Liu began to unravel after his mother suddenly died after a brief illness. Less than a year later, his father remarried and had another child with his new wife, who was only a few years older than Liu. The second marriage shattered Liu.
Shuzhi underscores that her husband refused to speak about his father's new family, and turned instead to the bottle to soothe the pain.
About seven or eight years ago, Liu was at a point where he would no longer drink with others, such as at weddings and funerals. He preferred drinking only by himself at home.
At first, he took to the bottle only in the evenings; soon, noon as well. At rock bottom, no meal of the day was complete unless accompanied by a flask of baijiu, a fiery Chinese spirit.
The hurt
"You feel as though you can't speak up, but staying silent is uncomfortable, too." This is how Shuzhi describes life at home with an alcoholic.
And as Liu's addiction worsened, he became violent. On one occasion, he threatened her with a kitchen knife. His distraught children managed to hold him back and got him to relinquish the weapon, which fell blade-first into the ground.
Though he never assaulted her again, Shuzhi was reminded of the incident every time she swept the house and saw the gash on the floor where the knife fell. That memory faded only after they sold that house.
Shuzhi recalls the terror those days. "The children lived in fear every day. Every time he began to drink, they got anxious," she says.
Around 1998, she even made plans to divorce him, but on the day she was to file official proceedings, she fell off her bicycle and broke her ankle. During her recovery, Liu tended to her every need. He broke down in front of her for the first time, and vowed repeatedly to never drink again and even put his promise into writing.
But, as one misfortune followed hard on the tail of another, Liu ultimately broke his word. In 2003, they mortgaged all their family assets to run a business supplying plants for urban landscaping initiatives.
After a few years, as it ran into the red, they racked up more debt. In 2013, Liu's youngest brother died from a brain hemorrhage. "After his mother passed away, he felt responsible for his brother, and that he'd failed to look after him," says Shuzhi.
He dove headfirst back into the bottle. He was hooked on the euphoria, the heady rush that alcohol provided. When drunk, he'd go looking for trouble — harassing strangers and cursing them.
Before his elder son's wedding, he quit drinking in the days leading up to the event to avoid making a scene; but without alcohol, it was as if he'd lost his soul.
When it was his turn to give a speech at the wedding, he looked into the distance absentmindedly, arms limp at his sides, not bothering to take or even acknowledge the microphone handed to him.
In addition to wreaking havoc on his internal organs, long-term alcohol abuse had dulled his senses. He constantly bumped into things and tripped over himself, and the wounds from this lack of coordination took an unusually long time to heal.
"It was common for him to scrape off some skin, which did not heal even after six months. In fact, it often began to fester. We gave him medicine, but he said that it felt like he had sandbags tied around his legs all the time," says Shuzhi.
Two years ago, during the harsh Heilongjiang winter, a blackout drunk Liu placed his feet into a pot of freshly boiled water. He didn't even flinch.
By the time Shuzhi found him, his feet were covered with blisters and dripping with blood. Subsequently, he was in and out of hospital. The lifeforce drained from his body like air leaving a balloon.
The withdrawal
Initially, Shuzhi took her ailing husband to the hospital for specific conditions: nerve damage and hepatic encephalopathy — a neurological disorder resulting from liver disease.
He even suffered hallucinations. Once he pushed open a hospital window on the fourth floor, began talking to the sky, and seemed like he was about to jump. "He was giggling as he pointed around at things that weren't there, like he was immersed in a whole other universe," she recalls.
In 2015, when the couple traveled to see a doctor in Harbin, they were told for the first time that, rather than a physician, Liu needed a psychiatrist. "His hallucinations and other physical symptoms are the result of AWS (alcohol withdrawal syndrome)," the doctor told them.
But they couldn't afford professional help. "In the last decade, he hasn't been able to do any manual labor and spent a lot of time in hospital. Our family is under serious financial strain with outstanding debts. So all he can do is grit his teeth and suffer through this illness at home. We don't have the money to treat him," says Shuzhi.
At home, rehab often devolved into a game of cat and mouse. He had developed a knack for stashing booze. She got in touch with the corner stores in their town and forbade them from selling him alcohol, and requested family and friends not to drink around him.
Such measures are common across the region, where families of alcoholics know the danger it poses. In the neighboring Jilin province, Li You says that for as long as he can remember, his father was always drunk. He confesses that not only did almost everyone in his village drink but that many did so to an excessive degree.
What's more, Li's father only ever drank baijiu with more than 60% alcohol — usually half a liter a day. "He used to say that 'anything short of that is like water. It's boring.'" says Li.
In just a few years, the alcohol abuse sank the family's restaurant business. And on several occasions, it could well have left his father freezing to death on the sidewalk.
So desperate was he to indulge at all times of the day that he would only smoke tobacco soaked in baijiu and dried on a kang, which he rolled into long cigarettes using newspaper. "He often smoked that way," says Li.
But to the people of Li's town, alcoholism isn't an illness; it merely leads the sufferer to lose motivation and the respect of their neighbors.
"There's an old man in our village who drinks year-round. He's 90 and can still chop wood," says Li. Every time anyone brings up the health hazards that alcohol poses, this nonagenarian is trotted out as proof that there's just no connection.
When Li was 14, his father passed away from cancer. A few years ago, his uncle — the third of his father's five brothers and also an alcoholic — suffered a brain hemorrhage. Li is sure these events were both linked to alcohol. "My paternal grandmother was also a drinker." So is his fifth uncle.
AA in the countryside
In 2000, Li Bing learned about Alcoholics Anonymous in the U.S., and how such groups helped many kick the habit and return to a normal life.
"Like high blood pressure and diabetes, addictions can become life-long afflictions. Although doctors can prescribe certain medications, support from fellow sufferers is extremely important in terms of preventing relapses. These support groups are a type of therapy," says Li Bing.
But in rural China, such groups are nonexistent, simply because there's no awareness about alcohol addiction. Li Bing says that in contrast, AA groups emerged across urban China from around two decades ago. "Now the practice is relatively mature, with more and more patients self-organizing," she says.
For Shuzhi, over all the years she's supported and helped her husband, she has felt lonely and helpless, and often the only tool she trusts to straighten him out is simply "get the booze out of his sight as much as possible."
A few months ago, she began to document this process in short videos. More than 20,000 followers have witnessed his gradual recovery. Supporters have even reached out to her online; some are alcoholics themselves, while others are loved ones for whom life at home has become just as unbearable.
Once they lift the lid on their feelings, it's hard to put it back on; sometimes they'd talk until the early hours of the morning. An idea gradually took root in Shuzhi's mind: to form a community and "to bring everyone together."
Li Bing encourages alcoholics in rural China to form family support groups that emulate AA. "Life at home with an alcoholic can be so oppressive. It's important that family members have an outlet to vent their feelings, and support one another. That way, they can be of greater assistance in their loved ones' recovery," she says.
Many years of clinical experience have given Li a strong sense of the limitations of alcohol rehabilitation in China. Having helped at hospitals all throughout the country, in places such as Yunnan, Inner Mongolia, and Shandong, she has discovered that there's much room for improvement.
"Many doctors have never undergone professional training for clinical alcohol rehabilitation, and the state of treatment leaves a lot to be desired," Li says.
Shuzhi, Liu Ming, and Li You are pseudonyms.
Reporter: Tong Xiaoyu.
A version of this article originally appeared in Beijing Youth Daily. It has been translated and edited for brevity and clarity, and published with permission.
Translator: Lewis Wright; editors: Zhi Yu and Apurva.
(Header image: Seksan Mongkhonkhamsao/VCG)