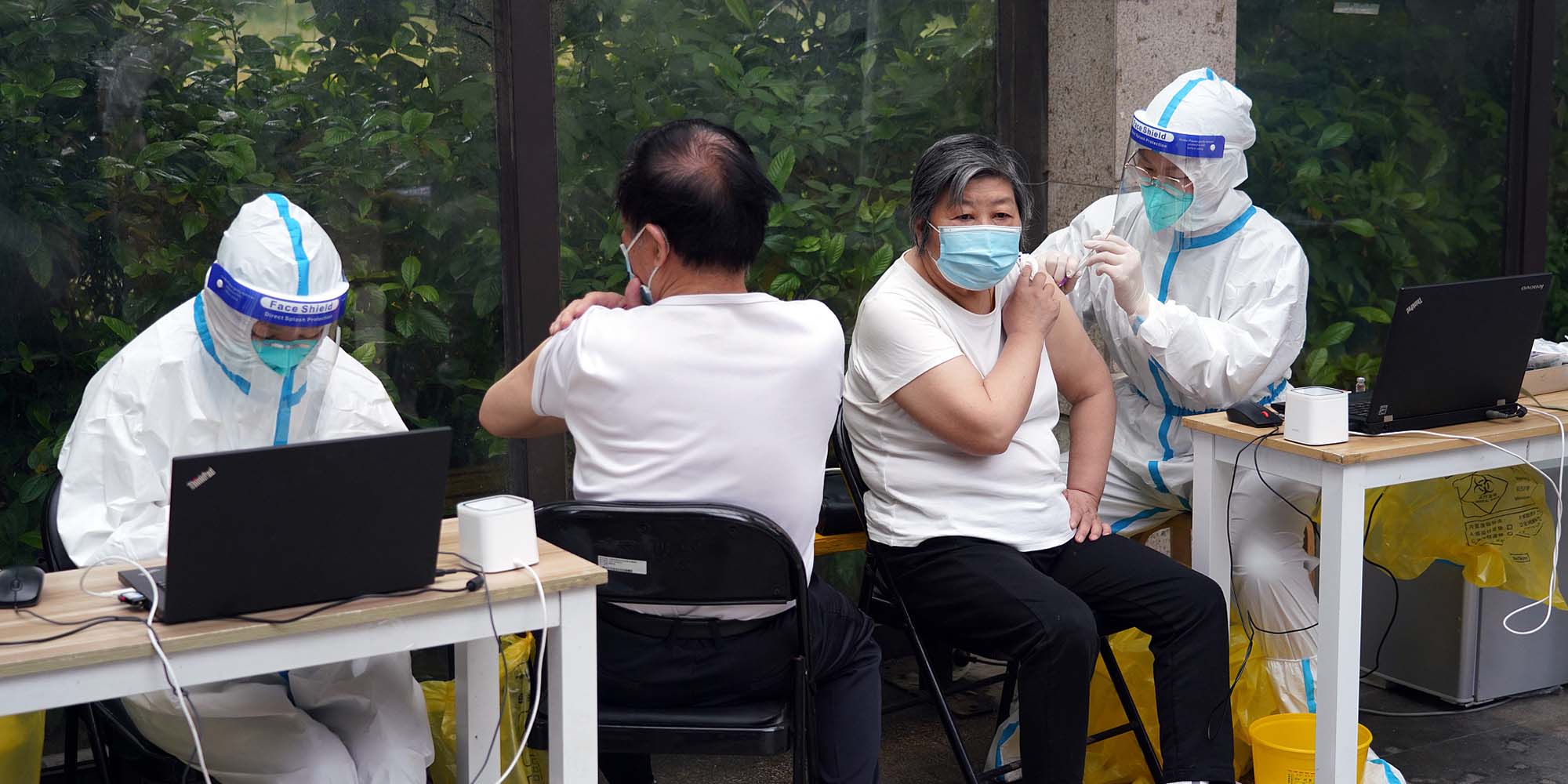 NEWS
Chinese Experts Refute 'Wrong' Claims on Domestic COVID Vaccines
Experts rejected online claims that say the shots caused cancer and diabetes.
Chinese COVID-19 vaccines will not lead to health risks such as leukemia or diabetes, a top Chinese expert said, dismissing claims made online that people were diagnosed with blood cancer and children developed diabetes after receiving the shots.
Wang Fusheng, an academician with the Chinese Academy of Sciences, said that such claims were "irresponsible and wrong" at a time when disinformation on the country's homemade vaccines has made many hesitant about receiving the shots. While the country has vaccinated over 90% of the population using various domestic shots, many parents of young children and older residents are still skeptical of COVID vaccines.
"If the vaccines do trigger diabetes or leukemia, the number of people affected would have significantly increased," Wang said at a press conference Saturday. "But based on clinical data, this didn't happen."
In 2021 and 2021, leukemia patients accounted for 0.13% of all hospitalized cases, similar to the levels seen in 2018 and 2019, respectively, according to clinical monitoring data released at the press conference. The proportion of diabetic patients stood at 2.2% during the past two years, increasing slightly by 0.1% from 2018 and 2019.
However, many parents have long harbored doubts. At the end of May, a group of parents published a joint letter online, claiming over 600 kids across 26 provinces had been diagnosed with Type 1 diabetes after receiving COVID-19 vaccines, mostly produced by the Beijing-based pharmaceutical company Sinovac.
Parents said their children developed symptoms, including an increased feeling of thirst and hunger, one to three months after receiving the shots, and were later diagnosed with Type 1 diabetes. Type 1 diabetes is rarer than the commonly seen Type 2 and is usually diagnosed in childhood or adolescence. 
Zeng Xifeng, who organizes a major online community for Type 1 diabetes patients in China, told Sixth Tone that there is no scientific evidence from elsewhere in the world that has used Chinese vaccines to support the claims made by those families.
"It's just parents making assumptions," he added.
Likewise, another group of people, aged between 3 and 70, have also claimed in May that they were diagnosed with leukemia after receiving domestically made vaccines. It's widely believed that leukemia develops from a combination of genetic and environmental factors.
Chang Rongshan, a virologist at Shantou University, told a domestic media outlet specializing in health that such a possibility was almost non-existent. Referring to the Chinese inactivated vaccines, which includes the Sinovac shot, he said that they don't contain anything that can cause diseases as claimed by some people.

"The difference between inactivated vaccines and the real COVID-19 virus is that the former has no capacity to cause a disease," Chang said. "The inactivated vaccines soon get cleared by the immunity system and don't have long-term effects."
As of early April, about 85% of those aged 60 and above had received COVID-19 vaccines, according to the top health authority. However, some 40% of people aged 80 and above, who are most vulnerable to COVID-19, are yet to be vaccinated.
Zeng Yixin, vice director of the National Health Commission, encouraged people to get vaccinated during Saturday's press conference. To strengthen public confidence, he said that all party and state officials have been vaccinated, publicly acknowledging the vaccination status of the country's leaders for the first time.
"This shows the great attention our leaders pay to the pandemic control work and the full trust they hold in the domestically produced vaccines," Zeng said.
Editor: Bibek Bhandari.
(Header image: Residents receive COVID-19 vaccines in Shanghai, May 26, 2022. VCG)