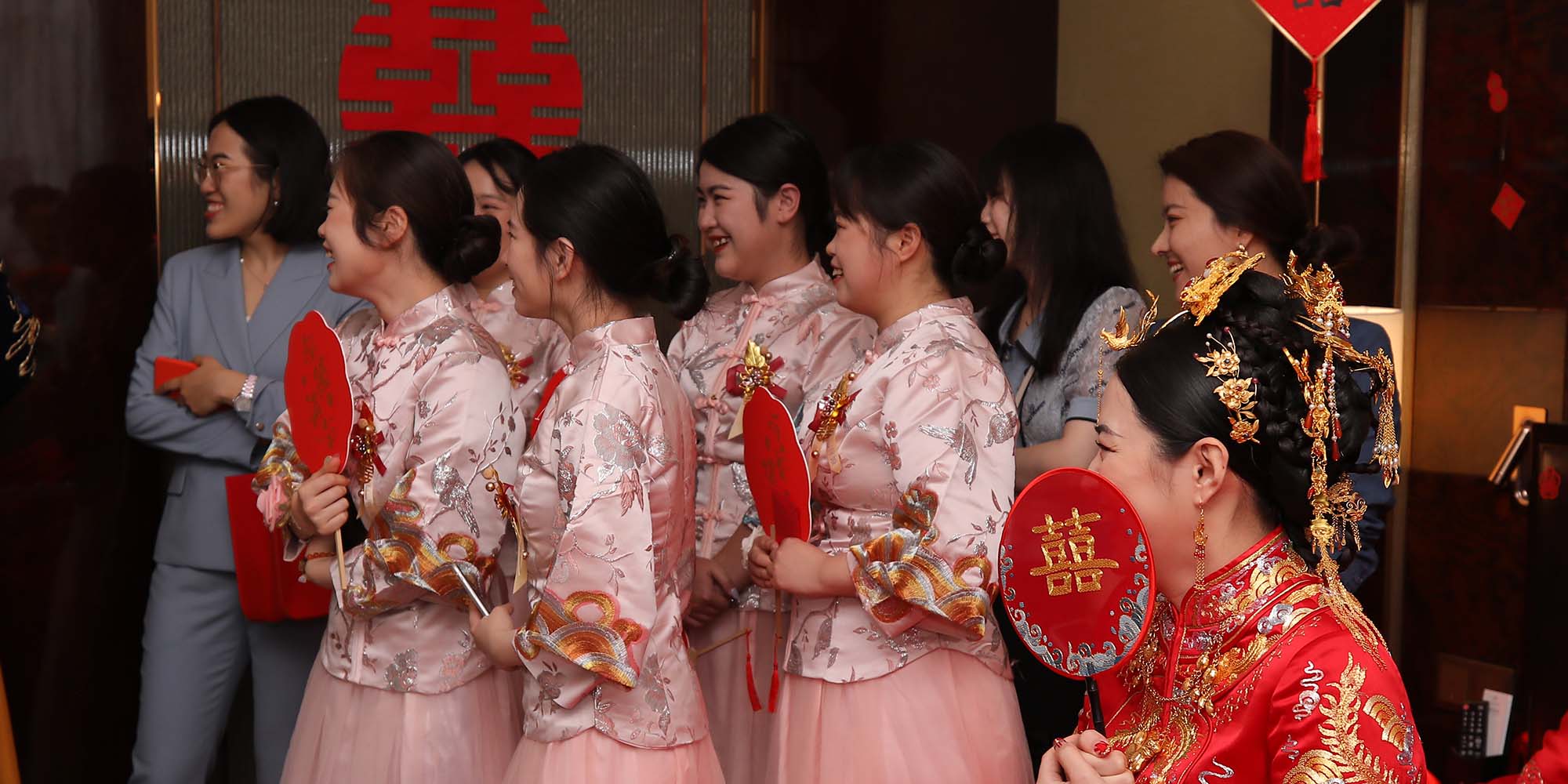 NEWS
Bridesmaids Go Professional
If you're single, shorter than the typical bride, and enjoy frequent travel, there's a growth industry looking to hire.
Xie Yuke has attended over 40 weddings in the past two years and is now making a living from it.
The 22-year-old has flown more than 140,000 kilometers and traveled around China working as a professional bridesmaid. 
It's a fast-growing industry in China and is "expected to grow by 25% to 30% a year," Cao Zhonghua, an expert at the Chinese Traditional Culture Promotion Council, told state broadcaster CCTV Wednesday.
COVID-19 travel restrictions have made it hard to find friends able to travel to weddings, while some couples complain they can't find friends that are up to the standard.
A bridesmaid needs to be unmarried, Xie told Sixth Tone on Monday, and it's important not to be taller than the bride. For aspiring professionals, 155 cm-173 cm is a good height, she said.
"The epidemic is a double-edged sword," Xie said. "On the one hand, some couples are delaying their weddings, and on the other, many brides' friends cannot travel due to the epidemic," she added. Overall, it's helped the industry.
It's currently the off-season due to the hot weather in many parts of the country, and she expects the peak season to occur during the National Day holiday in October.
Before becoming a professional, Xie was a bridesmaid for relatives three times. She's critical of her performance as an amateur: she didn't know the process, and she didn't know how to organize games to set the mood.
A couple of years ago, however, she saw an ad for professional bridesmaids and decided to give it a try.
At a wedding, Xie usually pretends to be the bride's best friend or a classmate. The couple generally cover the travel and accommodation costs. A typical daily rate is between 500 and 2,000 yuan ($74-$296).
When she's working, Xie gets up at 4:30 a.m., gets dressed, and does light makeup for herself. Then she goes with the bride to take photos, change clothes, provide entertainment, and toast guests until the banquet ends at around 8 p.m.
Professional bridesmaid and groomsman agencies have emerged as a result of the growing demand. The founder of a rental bridesmaid and groomsman service company based in Hangzhou said that the number of registered members on its platform had grown from a few thousand in February when it was just established to some 50,000 at present, state broadcaster CCTV reported Wednesday. On average, the platform has received 10-20 orders per day during the past month.
Xie met her current boyfriend at a wedding, where they were working as a professional bridesmaid and best man. He's promised to make her the happiest bride. "We will hire 24 groomsmen and bridesmaids," Xie told Sixth Tone.
Editor: David Cohen.
(Header image: Xie Yuke (fourth from the left) serves as a bridesmaid at a wedding in Hainan province, 2022, Courtesy of Xie Yuke)