Pop sensation Jay Chou is taking fans on a journey through time, all the way back to the first half of the 20th century.
The singer's music video for the latest single "Greatest Works of Art" is a homage to some of the most acclaimed artists and their works in modern art. And many of his admirers in the Chinese mainland, who have missed out on international travel due to COVID-19 border restrictions, are feeling nostalgic about European art and culture.
In the video, which has been viewed 1.5 billion times on microblogging site Weibo since being released on July 6, the Taiwanese singer starts his journey from the Samaritaine department store in Paris, as he sings, "I pass through the timeless 1920s with my piano." He then meets and interacts with artists who appear to be Catalan surrealist Salvador Dalí, Chinese-French modernist Sanyu, and the French impressionist Claude Monet.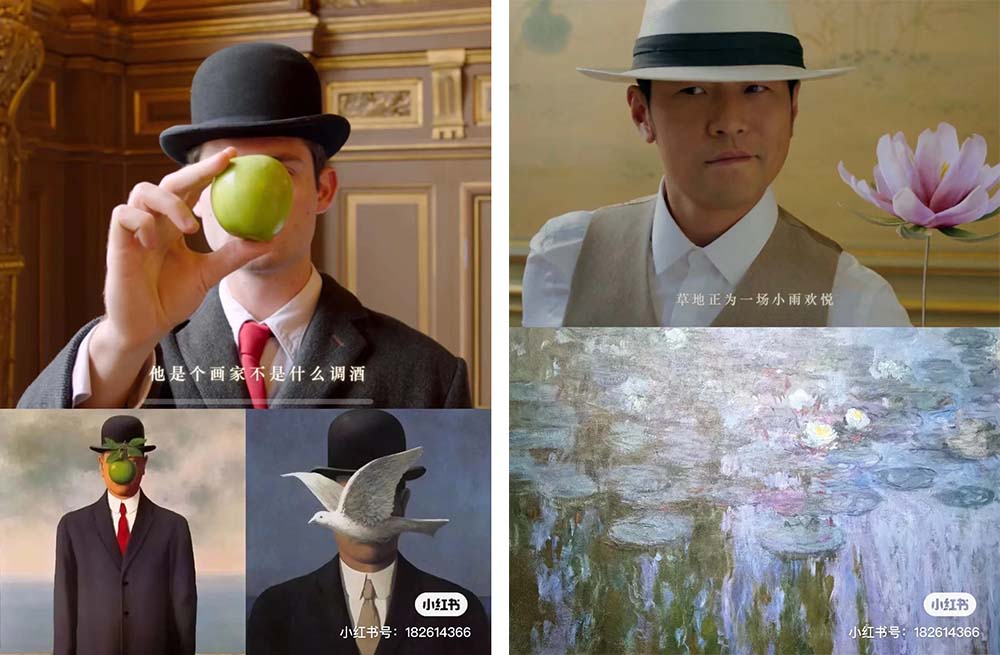 Left: A screenshot from Jay Chou's new music video shows famous painting by René Magritte; right: A screenshot from Jay Chou's music video shows famous painting by Claude Monet. From @善美sammi on Xiaohongshu
Chou has arguably become one of the most popular singers in the Chinese-speaking world since the release of his album "Jay" in 2000. "Greatest Works of Art" is the first single from the album with the same name that will be released on Friday, his first since 2016.
The single was released nine days before the album launch and has captivated fans. Many said the song evoked their long-forgotten love for Western art and memories of visiting art museums abroad.
But critics argued that songs should not foster such "nostalgia" and said Chou was trying to use reverence for art history to promote his own work.
"Woody Allen used 'Midnight in Paris' to consider whether there is no golden age (anymore), while Jay roams around Paris to compare himself to Monet, Van Gogh, and Matisse," one Weibo user wrote, referring to the surnames of famed artists.
Chou has incorporated elements of Western music, history, and culture in his previous music videos, too.
The video of his 2003 song "In the Name of the Father" adapted the plot of famous Italian novel "The Godfather," and "November's Chopin" in 2005 was shot in front of ancient European buildings. His 2006 song "Twilight's Chapter Seven" has echoes of medieval European music and tells the story of the fictional British detective Sherlock Holmes.
"When I was very young, his work introduced a lot of different types of culture that we hadn't been exposed to," Ni Anqi, a Shanghai-based curator, told Sixth Tone. "Using Chinese pop music as a medium, he conveyed to us a lot of the legendary exotic imagination of Europe."
Ni said many contemporary art professionals in China admire Chou, not only because many of them had been inspired by him when they were younger, but also because he became an art collector after becoming famous.
In 2021, Sotheby's collaborated with Chou to launch an auction in Hong Kong, with works selected by the singer. They sold over 100 pieces of art from famed Western and Asian artists and raised $9 million in total.
"He has a unique taste in art," Ni said. "He is an important promoter of art, and has been using his influence to promote what he thinks is beautiful."
Editor: Bibek Bhandari.
(Header image: A screenshot from Jay Chou's new music video pays tribute to Salvador Dalí. From Weibo)