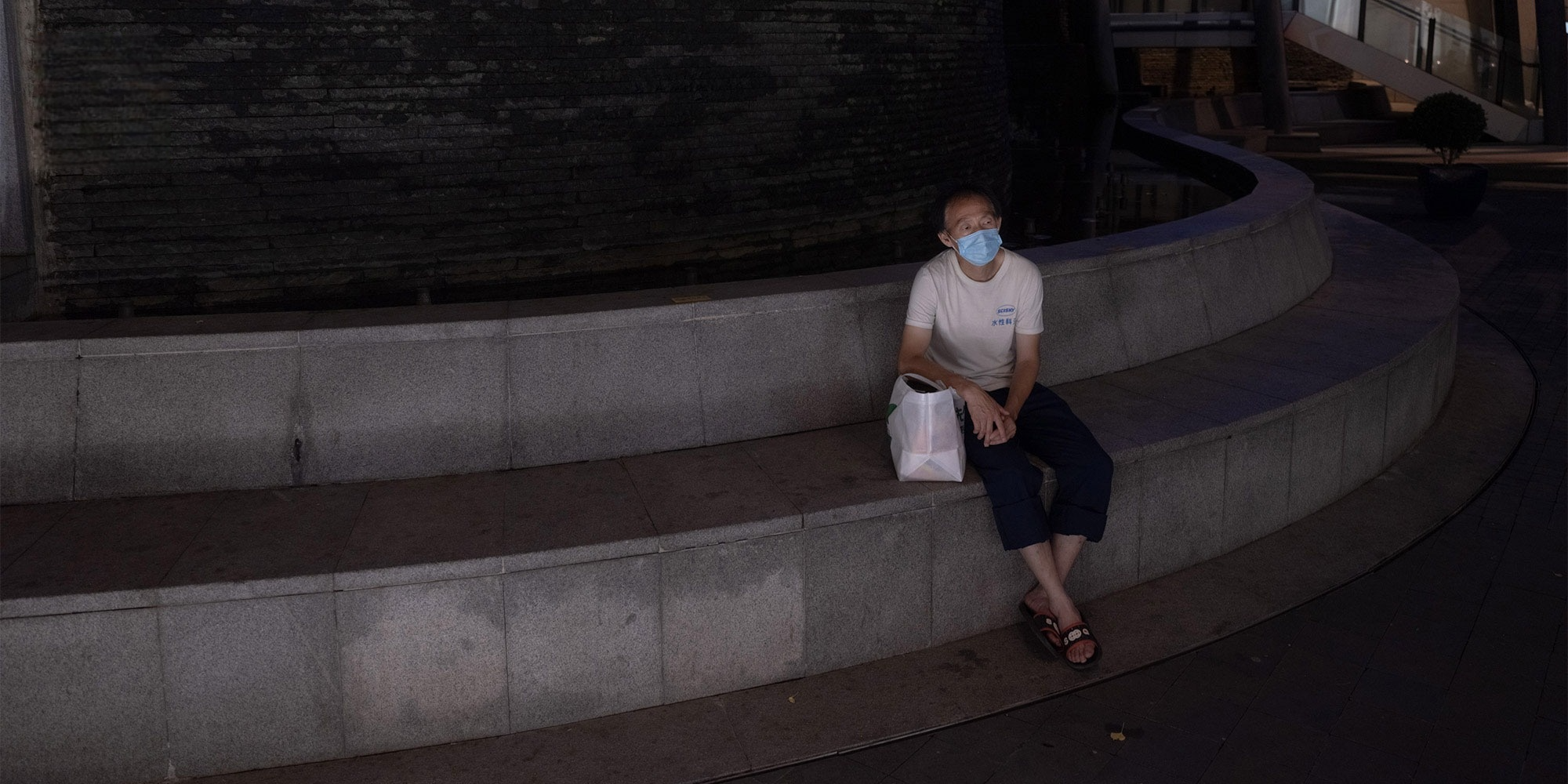 NEWS
He Can't Find Work Due to Prior COVID Infection. He's Not Alone.
Though authorities have warned against discriminatory hiring practices for people who have recovered from COVID, job seekers are skeptical.
SHANGHAI — For Ren Shu, battling COVID-19 was relatively easier than fighting against discrimination after his recovery.
It's been two months since the 47-year-old was cleared of the coronavirus, but his history of the disease made it nearly impossible for him to get back on his feet again. The migrant worker from the northwestern Gansu province has been jobless and homeless since testing positive for the virus early May, as stigma and fear against the disease still haunt large parts of Chinese society.
"People are afraid of getting infected by us, so they shun us," Ren told Sixth Tone. "It's like they are keeping away from a released criminal due to his previous mistakes, even though he has cleaned up his act in prison. They fear that he may commit crimes again and hurt them."
Ren has been camping near Shanghai's Hongqiao Railway Station since June 4, after leaving a COVID quarantine in mid-May, and then moving between cheap accommodation. He believed he could find more information about vacancies in the city's transport hub and chose to sleep at pedestrian overpasses or outside nearby shopping malls in record summer temperatures.
Ren's hardships are familiar to other migrant workers who have found it extremely difficult to get back to work after recovering from COVID — not because of ailing health conditions, but due to discriminatory hiring practises.
Earlier this month, job advertisements published by local recruitment agencies showed that some employers restricted not just people who had recovered from COVID but also those who had worked at centralized quarantine shelters from applying. They mostly feared that the virus could resurface in recovered patients and infect others despite there being enough evidence to contradict those claims.
Like many migrant workers, Ren hopped from one city to another for work and came to Shanghai on April 20. The city was already in lockdown then, but he had a job delivering meals and supplies to infected patients at one of the quarantine facilities. He then tested positive for the virus about two weeks later.
Following his recovery, Ren said he hasn't been able to send 5,000 yuan ($740) every month to his family as he often used to. His wife now has a low-paid job earning 2,000 yuan monthly in their hometown in Gansu, where she is also responsible for taking care of their child and his aging mother.
"I came out here to work but failed to earn a penny … My child needs tuition fees for college later this year," Ren said, adding he has only been able to work once, unloading cars for five hours, during which time he didn't reveal his prior COVID infection. "I was burning with anxiety."
Feeling the pinch, Ren spent just over 10 yuan a day on food, eating mostly instant noodles and boxed meals, and boiled tap water in his electric kettle for drinking. He brushed his teeth at public restrooms, used free hand sanitizer to wash his hair, and sometimes scrubbed his body inside a bathroom stall.
Others were found doing the same.
An article about job seekers who were unable to find work after recovering from COVID-19 and were then stranded in Hongqiao Railway Station has gone viral online since Sunday, sparking public outrage over discriminatory hiring practices for people who previously had the illness. Though the woman featured in the story reportedly secured a sorter position at a delivery company, not everyone has been as lucky.
While some people have complained of losing jobs due to being infected in the past, others said they even faced discrimination outside of work and places of residence, according to media reports. A survey conducted in 27 Chinese cities in May 2020 showed that about 80% of respondents displayed some level of discrimination against recovered COVID-19 patients.
Fan Wen, associate professor of sociology at Boston College, told Sixth Tone that while the fear of infectious diseases is part of human nature and seen elsewhere, China's strict COVID-19 control measures could fuel that sentiment.
"The relatively low infection rate in China would make those who had been infected stand out from the rest of the population," she said. "Meanwhile, China's 'zero-COVID' strategy means getting infected would bring much disruption to your family, neighborhood, and company, making people more alert to potential outcomes."
This has turned out to be true, said Shanghai-based labor service agent Zhang Hongtao, adding that employers didn't want to disrupt their operations in case of infections. However, he told Sixth Tone that the situation had improved recently from the previous week — while some employers were accepting those who had recovered from COVID or been put in central quarantine, others required a three-day "silent observation period" before starting work.
Lu Ming, a distinguished professor of economics at Shanghai Jiao Tong University, told domestic media that while it is discriminatory to reject recovered COVID-19 patients, employers shouldn't be blamed entirely. He said failing to treat COVID-related issues in an objective, scientific, and rational manner would "trigger a panic in society."
Earlier this month, Lu and Shanghai-based lawyer Wu Gang published a joint proposal, urging the Ministry of Industry and Information Technology to introduce rules so that information about nucleic acid test results from a month ago aren't shown in an individual's health code. Currently, Shanghai's health app shows nucleic acid records from the past three months.
"(The policies) should focus more on whether companies have fully followed virus control measures, rather than on the results (of virus transmission)," Lu said. "Simply punishing companies based on the results would push them to act accordingly to minimize their risk."
Responding to criticisms over such discriminatory hiring practises, Shanghai officials on Monday said that all local government departments and companies should treat recovered COVID patients "equally and without discrimination" as per laws and regulations. However, the city has yet to release specific measures to stop such incidents from taking place.
On Wednesday, the central government reiterated that authorities would "sternly deal with every case" involving discrimination against people recovered from COVID.
But many other job seekers like Ren are not optimistic about employers heeding the government's calls.
The same day, just before the central authorities announced their commitment to tackle discrimination, the Gansu native saw a recruitment ad for delivery workers in a WeChat group with over 200 members. The post said anyone who had previously been infected with COVID or were at quarantine sites would not be considered.
"I don't know whether employers can implement the government policy, as they have their own difficulties," he said.
On Thursday morning, Ren said he had received 2,000 yuan to leave Shanghai as promised by the agency that hired him to work at the quarantine site. He now plans to go to the neighboring city of Nanjing to find work.
But before that, Ren said he will call the local health authorities there to check if those coming from Shanghai would be quarantined. If so, it would leave him unemployed for even longer and drain him financially even more. 
Editor: Bibek Bhandari.
(Header image: Ren Shu sits by a fountain, while some workers sleep in the pool during the hot summer night, July 11, 2022. Ren says he would never sleep there for fear of catching a cold. Zhou Pinglang for Sixth Tone)