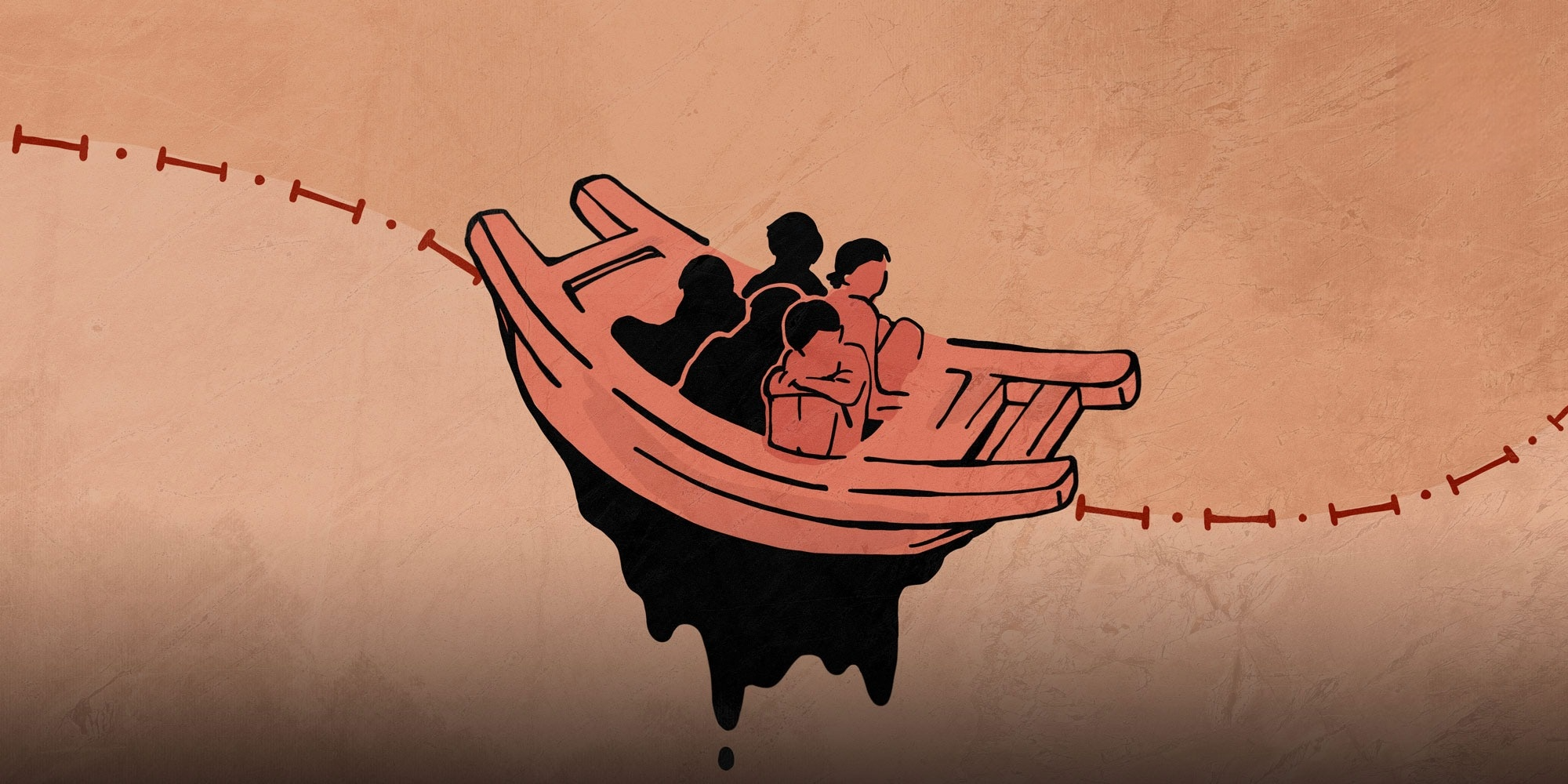 FEATURES
In Cambodia, a Network Rescuing Trafficked Chinese Teens Is Unraveling
Cyber criminals rely on forced labor. A recent scandal spurred authorities to crack down — not just on the gangs, but also on those trying to set their victims free.
GUANGXI, Southwest China — In December, Yun was smuggled out of China. A few days prior, a man had contacted the 14-year-old through a video app with an enticing job offer. Yun, a recent school dropout who was estranged from his family and who had been hopping between factory gigs, found the promised salary irresistible.
A handful of friends joined him. By the time the teenagers realized they had been misled, it was too late. Men they had never met took them on a journey that included riding in cars, trekking through mountains, and hiding in a boat. Suddenly, shop signs were in a foreign language.
At their destination, the six, all underage, were sold into a compound in the Cambodian city Sihanoukville. There, they were held captive and made to work scamming people over the internet.
"We added them on WeChat" — the messaging app — "and kept chatting with them to form a good relationship," says Yun, who, like other victims in this article, has been given a pseudonym to protect his identity. Then they'd convince their victims to join a fraudulent investment scheme.
Yun and his friends' ordeal is a common story. Sihanoukville, a coastal city buoyed by Chinese investments that are often less than legitimate, has become one of the biggest global hotspots for online scamming operations. The gangs need more workers than those who volunteer. They resort to luring jobseekers with false promises and then holding them captive. Though there are no official statistics, callow Chinese teenagers often fall for their ruses.
For years, a lifeline for victims like Yun has been a group of local Chinese business people who volunteer their time, resources, and connections to secure the freedom of trafficked compatriots. But a recent, high-profile case involving a Chinese man whose sensational claim of having been used as a "blood slave" has caused this network to come under government scrutiny and collapse, putting in doubt how future victims will manage to return home.
Butchering pigs
The compound where Yun and his friends ended up in some ways resembled an office. There were lots of computers and phones, managers would often belt out motivational slogans, and newcomers received training.
To avoid the watchful eyes of the Chinese authorities, the scammers communicated with their workers through the encrypted messaging app Telegram. Ming, a 15-year-old girl who was trafficked along with Yun, tells Sixth Tone that their captors would intimidate them by sending bloody videos into the Telegram work groups that supposedly showed the consequences of insubordination. "It was scary," Ming says.
Scamming strangers made Yun nervous. He didn't quite understand what he was doing and wasn't a willing participant, but he was also afraid to protest for fear of getting punished. At just 14, the boy was the youngest among the employees, but he was beaten twice for failing to bait anyone. At night, inside the shared dorm room he had been assigned, he cried while hiding under his covers. "If I was seen by those people, I would definitely be suspected (of wanting to escape)," Yun tells Sixth Tone.
The kind of telecom fraud the teenagers were forced to commit has become increasingly common. In Sihanoukville, Chinese gangs dominate, but operations aimed at other countries are on the rise. The Chinese government has moved to crack down on its citizens scamming from Cambodia, in 2019 setting up a joint enforcement office with their Cambodian counterparts in Phnom Penh, Cambodia's capital. Last year, more than 610 Chinese nationals suspected of telecom fraud were repatriated. But the networks still flourish, and have been spreading their operations to other countries, including Myanmar and Dubai.
An often-used scam is what's known as the "pig-butchering scheme." Scammers pose as attractive and successful people to develop a fake online romantic relationship with their targets before "butchering" them — getting them to pay into fraudulent schemes involving cryptocurrencies, stocks, and other types of assets.
Originally mostly seen in China, such organized financial fraud targeting lovelorn individuals is increasingly a global phenomenon, according to the Global Anti-Scam Organization (GASO), a non-profit organization founded in June 2021 by a Singaporean woman after she fell victim to such a scam. The Federal Trade Commission, in the United States, says that, since the start of the pandemic, online scams have exploded. In 2021, victims reported losing $547 million, a nearly 80% increase compared to 2020.
In Sihanoukville, the teenagers quickly decided they wanted no part of what they were forced to do. Hoping to escape, they contacted their families. Ming would switch between two WeChat accounts so she could hide her pleas for help from her captors. However, none of their relatives had any idea how to extract their children from a foreign country.
After about a week, Ming was finally able to find a helping hand. At the suggestion of a friend who was also held captive by a scamming operation in Sihanoukville, she contacted Chen Baorong, a Phnom Penh-based businessman and organizer of the China-Cambodia Charity Team, a group of volunteers who seek to rescue trafficking victims.
Chen reassured the teens and told them to make their parents report their situations to police back home. Through his connections, Chen got in touch with the teenagers' captor. He initially asked for a ransom payment, but later agreed to release the children. They had to delete everything related to the company from their phones.
They were sent to the Changcheng Hotel in Phnom Penh, a safe house for trafficked victims owned by Li Jie, a member of the Charity Team. In part due to pandemic-related travel restrictions, it took several months before the teenagers could go home. Chen helped them gain official permits at the Chinese Embassy in the absence of passports and visas. And the Chinese embassy in Vietnam helped arrange their return journey. (China and Cambodia don't share a border.)
They are the lucky ones. Another victim, a 17-year-old who tried becoming a tattooist in China before being lured into a compound in Sihanoukville, told Sixth Tone in February that his captors video called his mother and beat him on camera. They demanded a ransom of over 500,000 yuan (about $75,000) to get him and his girlfriend out. His captors beat him, and forced him to take ketamine. Though his family paid the money, he ended up being sold again to another company, before finally being rescued by Chen.
The "blood slave" saga
Chen has helped over 300 victims escape "cyber slavery" since 2020, he says. But in February, he was detained by Cambodian police and charged with incitement to discriminate and false declaration.
The charges stem from his rescue of a Chinese man, Li Yayuanlun. Li initially claimed he had been trafficked to Sihanoukville and forced to work for scammers, and that they harvested and sold his blood. Zhu Minxue, the dean of the Bethune Cambodia China First Hospital in Phnom Penh and the doctor who treated Li, told Sixth Tone in February that the man "lacked blood" when he was admitted. But police later determined that the man had fabricated this "blood slave" experience to cover up his illegal entry into Cambodia. Reportedly, Cambodian authorities thought Li's story had hurt the country's reputation.
Chen is now in jail in Sihanoukville, awaiting a trial that could land him in prison for up to three years. A doctor who treated Li — not Zhu — and another volunteer who helped take care of Li were also charged. Li himself, who remains seriously ill, was reportedly deported to China in late June, around the same time the Chinese embassy once more announced it would step up its efforts to combat online gambling and scamming.
When Sixth Tone sought Chen's comments about Li's case in February, Chen said they sent Li to a local Chinese hospital, assigned volunteers to look after him and organized a blood donation drive. "He is our compatriot, and we want to try our best to help him," Chen said at the time.
During the phone call, Chen also said that many of the scamming syndicates in Cambodia are operated by fugitives driven out of China following multiple crime crackdowns. The prohibition of online gambling announced by the Cambodian government in 2019 doesn't deter the scammers.
To fight them, Chen would frequently send evidence and witness testimonies to Chinese police and the joint office in Phnom Penh, but the crime networks prospered. He has received threats over his actions, because, he told Sixth Tone, he's "cutting off their income."
Dwindling operations
In March, a group of 35 Cambodian and international civil society groups, such as the International Justice Mission, released a joint statement calling for the Cambodian authorities to urgently address "gross human rights violations" inside "slave compounds," and to "fully investigate the abuses within its territory."
That same month, GASO, the U.S.-registered non-profit, released an open letter calling for Chen's release. Its founder, who goes by the nickname Xellos to avoid being targeted by criminals, tells Sixth Tone that they have been working with the China-Cambodia Charity Team. When receiving messages for help from potential victims, they would transfer workable cases to the team, who would then do the frontline work, such as arranging rescue vehicles and filing a police report for the victims.
For Malaysian and Thai victims, who usually entered Cambodia legally and can thus leave more easily, Xellos says notifying their embassies is enough to secure their freedom. "The Chinese people are the trickiest to rescue," she says, because they are more often smuggled into Cambodia. Often, the Chinese embassy would simply ask the victims to report their cases to local police first, but Xellos says they have worked on several cases where police tipped off scammers who then quickly sold their captives to another gang.
So far, they have managed to rescue some 20 victims out of over 50 people who called for help. There are so many factors that go into securing someone's freedom that, she comments, managing to escape "is up to an individual's luck."
The entire community volunteering to free trafficking victims — from China or elsewhere — has been taken aback by Chen's arrest. "Everyone is kind of scared now," Xellos says. "There are worries that if we continue with our rescue work, we may one day get arrested for no reason."
In the wake of Chen's arrest, WeChat removed the volunteer team's public account, which they used to raise awareness and reach out to victims. The Chinese business association in Cambodia, which sponsored the volunteers, has disbanded, according to Lu Xiangri, a 32-year-old man from China's Guangxi Zhuang Autonomous Region and the person who inherited Chen's role.
Lu does not want to reveal his current whereabouts, and says he does the work remotely. Going to the compounds in person had already gotten too dangerous anyway.
GASO has recruited Lu to join their organization and continue his work. They are working to submit more evidence to Chinese police and, because the crimes involve victims around the world, to the United States government.
Lu was once a captive himself. He originally came to Cambodia in 2020, looking to open a business selling a popular mixed fruits dessert. After the pandemic shut down the restaurant where he was hoping to learn the tricks of the trade, his job search led him into a trap. He was made to carry out fraudulent financial schemes. Lu says he eventually got himself out after appealing for help on the Facebook page of a Cambodian provincial governor. The short experience instilled a determination to fight for other victims.
"I think there is no other choice for me," says Lu, who decided to use his real name to raise public awareness about the scamming gangs. "When so many people are asking you for help, and they are dying, how can you not do something? As long as you have the capability, any Chinese will do it, right?"
The team's work has helped police arrest some human traffickers, and Lu is determined to make life difficult for those that remain in business. He hopes more media attention will lead to more support.
"I hope I can at least help arrest one scamming group," said Lu. "I've paid so much, and if I only managed to rescue victims, I wouldn't be at peace with that."
Editor: Kevin Schoenmakers; illustrator: Wang Zhenhao.