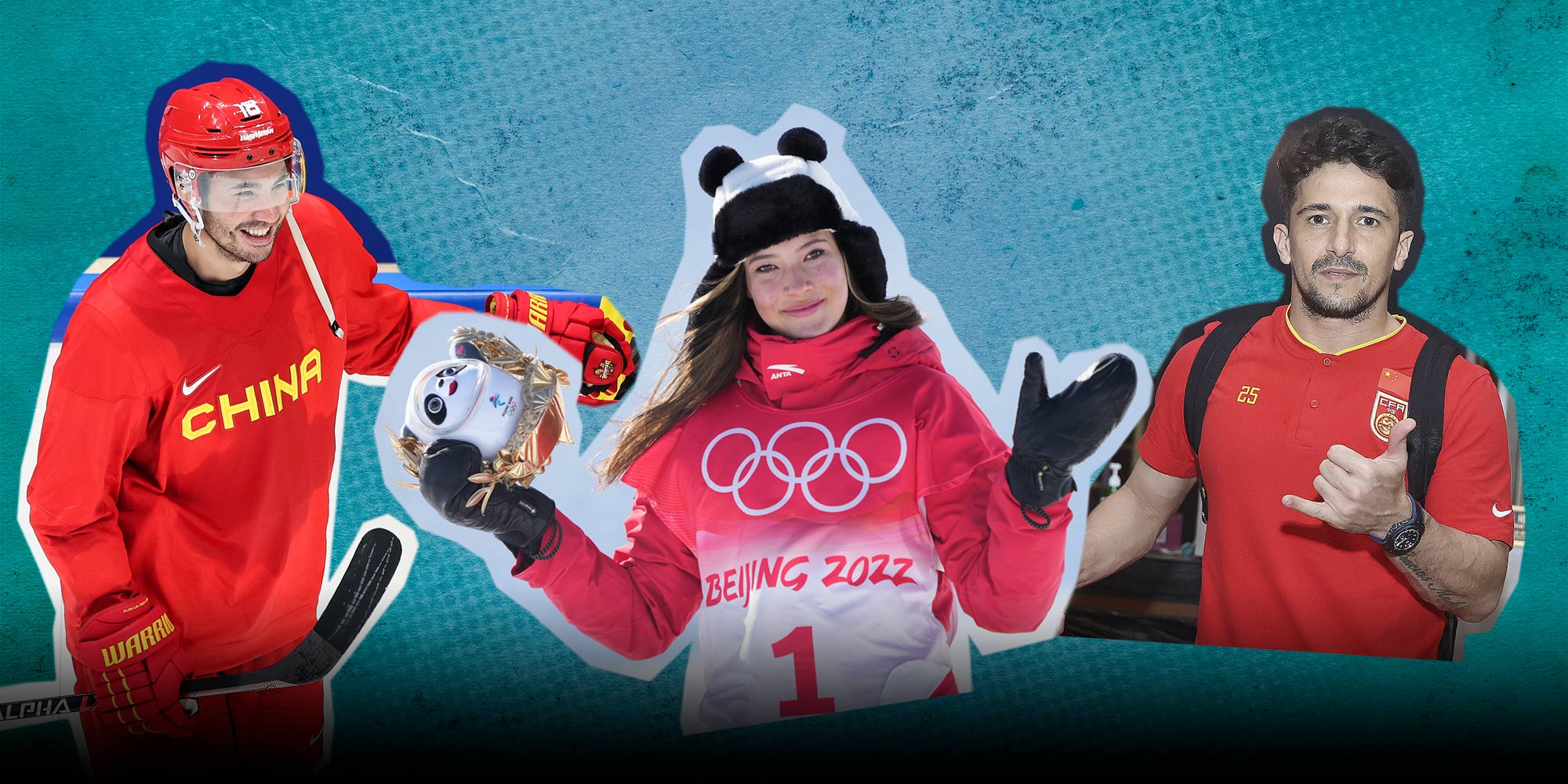 VOICES & OPINION
Chinese Fans Are Embracing Naturalized Athletes — On One Condition
A survey found positive fan attitudes toward naturalization, provided the athletes demonstrate sufficient loyalty to their new home.
When Eileen Gu won gold in the big air event at the Beijing Winter Olympics, she became not just the youngest gold medalist in freestyle skiing history, but also the first foreign-born naturalized athlete to win gold for Team China. Born in the United States to a Chinese mother and American father, the bilingual 18-year-old's success confirmed her status as a media darling, with Chinese President Xi Jinping singling her out for both her performances and her appreciation of Chinese culture.
Elsewhere in Beijing, a different narrative was developing around another of Team China's naturalized athletes, figure skater Beverly Zhu. After her performances on the ice did not live up to fans' expectations, Zhu came in for heavy criticism online. Disappointment with Zhu's performance quickly spread to scrutiny of her Chinese language skills and cultural fluency, while persistent, if unsubstantiated, rumors about the role family connections played in her selection to the national team only compounded Zhu's misery.
Athlete naturalization remains a contentious issue in many parts of the world. In China, where in-migration is difficult and conferral of citizenship a relatively rare and symbolic act, public attitudes towards athlete naturalization are diverse and occasionally ambivalent. The issue has become more salient, however, as officials turn to naturalization as an expedient response to the pressures they face to deliver respectable performances in international competitions, not least the Beijing Winter Olympics.
To date, China has fielded 42 naturalized athletes across eight Olympic sports, including soccer and ice hockey. Of these, 31 are foreign-born ethnic Chinese with family links to the country, but attempts to improve the country's performance in soccer, ice hockey, and ice skating have also resulted in 11 non-ethnic Chinese taking Chinese citizenship. Among Chinese naturalized athletes, all but one — equestrian Alex Hua Tian, who acquired Chinese citizenship in 2006 ahead of the Beijing Summer Olympics — changed their nationality in 2018 or later.
Some of China's most high-profile naturalized athletes are found on the soccer field, where, in an attempt to improve its chances to qualify for the Qatar World Cup later this year, China set aside longstanding official objections to naturalization and incorporated four Brazilian-born players into the squad. Curious how this decision sat with China's soccer fans, our research team conducted a survey of more than 800 Chinese supporters, the results of which were published in the open access academic journal Soccer and Society earlier this year.
Their relatively rapid increase in numbers in recent years does not mean an uncontrolled opening-up to foreign athletes. China's approach to naturalizing foreign talent remains highly utilitarian, case-by-case, and politicized. Naturalized athletes, who must give up their foreign passport to compete for China, find themselves under intense scrutiny from fans and officials alike. Misbehavior on and off the field, including inadvertent cultural or political faux pas, are picked up by the press and spread rapidly on social media.
In soccer, after several naturalization candidates made headlines for allegedly receiving special treatment or showing signs of mercenary behavior, China's sport authorities responded by instituting strict rules to regulate naturalization and teach naturalized players Chinese language and culture.
This focus on player conduct was mirrored by the fans we surveyed. When asked about their supportiveness towards certain issues related to athlete naturalization, 80% of respondents felt strongly that naturalized players should adhere to the rules and standards of conduct for national team players, higher than any other issue. Understanding Chinese culture (75%), showing love for China (69%), and being able to speak Chinese (66%) were also of significant importance to fans.
Meanwhile, just 49% of respondents said an athlete's ethnicity was important, and only 28% said they cared about athletes' place of birth. Although there was a clear preference for the authorities to pursue naturalizing players with Chinese ethnic lineage as opposed to athletes with no ethnic ties to the country — 90% to 64%, respectively — this did not preclude support for athletes without Chinese heritage, as long as they followed the rules and displayed respect for China.
A more nuanced picture appeared in the free-text comments available to respondents. Here cultural appreciation stimulated many passionate responses, with some noting that it was Chinese culture, rather than ethnicity, that was the "foundation of the nation." For many respondents, shows of cultural appreciation were a means for foreign players to demonstrate their commitment to China and assuage suspicions about their "mercenary" or monetary motives.
Many respondents suggested that Chinese people would accept any player if they showed their love for China and demonstrated "patriotic heart." In this regard, the Brazil-born non-ethnic Chinese striker Elkeson — known in China as Ai Kesen — was often mentioned as someone whose conduct and effort demonstrated "passion and respect for China." Players like Elkeson, Aloísio (Luo Guofu) and Alan (A Lan) have been celebrated on social media for their fighting spirit during China's recent unsuccessful World Cup qualification campaign. They have also been praised for their appreciation for the country and its culture, as evidenced by their Chinese language skills, affinity for local food, or ability to sing the national anthem.
Some comments evinced a cosmopolitan world view, promoting diversification and tolerance as indicative of the "big country" — daguo — status that China possesses and aspires to be recognized for. Others suggested that foreign players wanting to naturalize represented an affirmation of China's attractiveness as a country and its market for sports. Some depicted naturalization as a common global practice and took it as a given that China should also engage in it. Historical precedents were also invoked, including the legendary tolerance of the Tang Dynasty (618-907), which appointed foreigners as dynastic officials.
Against these positive interpretations, many respondents also expressed concern at the long-term impact of the naturalization program on China's soccer development. For example, some pointed to the possibility that an overreliance on foreign talent would lead to stagnation among local players. Many could accept naturalization as an expedient strategy or temporary fix, but emphasized that, in the long run, the key was to develop local talent. More caustic responses decried naturalization as a hit to national pride and a loss of face, sometimes referencing humiliating historical themes that are salient in contemporary Chinese nationalism.
The naturalization of athletes is rarely easy, and naturalized athletes are often criticized by people in the leaving and receiving countries alike. Even exceptional talents like Eileen Gu have endured vitriolic criticism and been accused of disloyalty or treachery — in both the U.S. and China. While this may reflect the sensitized state of China-U.S. relations, it also underlines the fact that athlete naturalization touches on hyper-sensitive issues of national identity and pride. Given this fact, we were encouraged that so many of our survey respondents showed a relatively open mind on the issue.
This tolerance could prove crucial as Chinese soccer and its naturalization program face an uncertain future. With key naturalized players having left the sinking Chinese Super League in search of stability in Brazil or elsewhere, their ability to perform Chinese patriotism and cultural fluency — and win over Chinese fans — will be contine to be tested.
Jonathan Sullivan, a China specialist and political scientist at the University of Nottingham, made an equal contribution to this article.
Editors: Cai Yineng and Kilian O'Donnell.
(Header image: From left to right, Brandon Yip, Eileen Gu, and Aloísio. Visual elements from VCG, reedited by Sixth Tone)