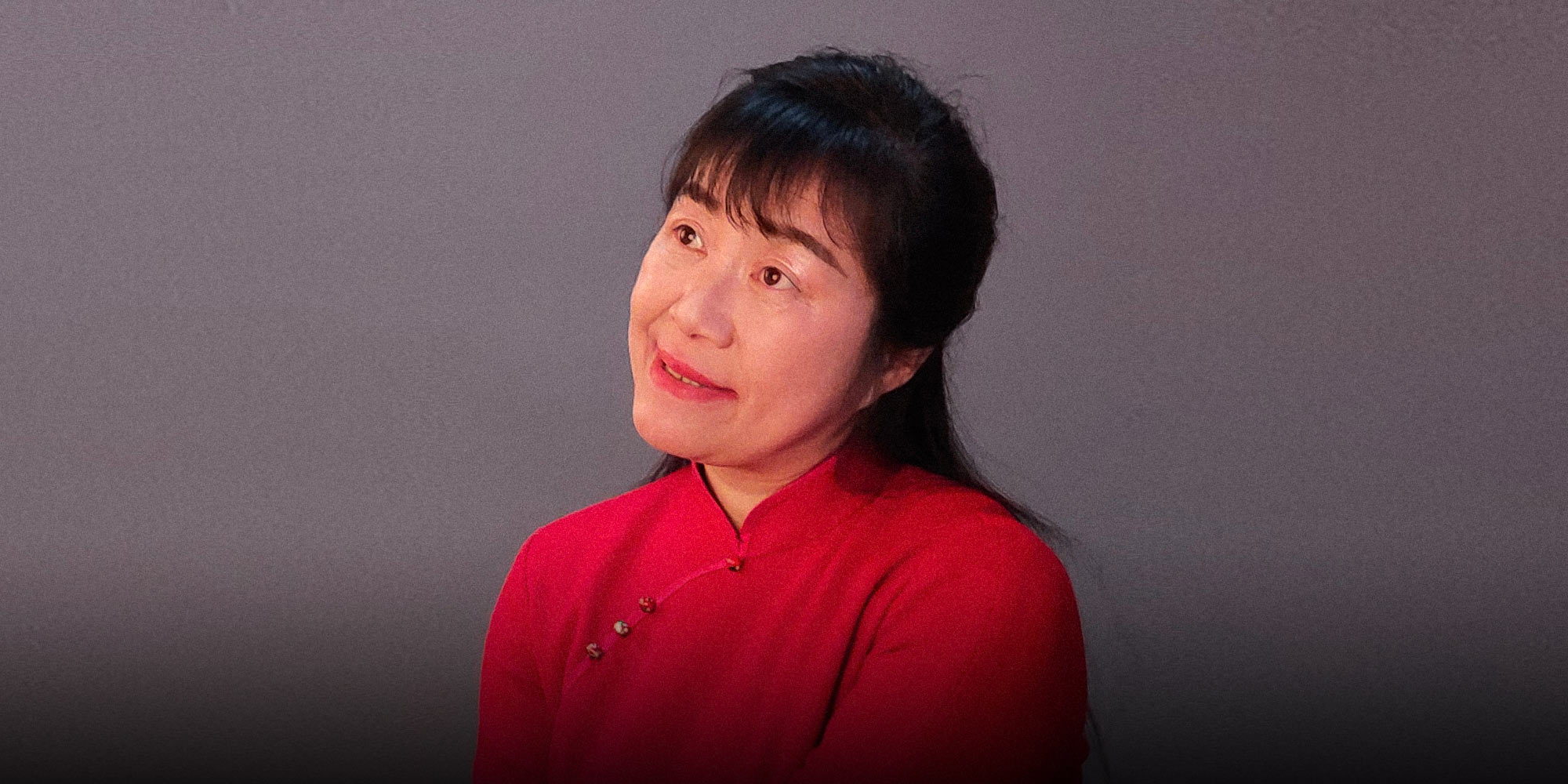 NEWS
A Disabled Chinese Poet Falls Victim to Domestic Violence
Yu Xiuhua has split with her partner two months after sharing pictures from her bridal photo shoot with fans.
Yu Xiuhua, the poet praised for her unabashed views on sex and relationships, gushed about her newfound love and posted photos of her bridal photoshoot two months ago. But their romance was short-lived.
Yu said she had broken up with her partner, Yang Zhuce, after becoming a victim of domestic violence, according to a widely circulating screenshot of her Weibo post which was deleted within two hours on Wednesday. The poet wrote that Yang physically assaulted her on several occasions since May.
"He's actually very good to me, just grumpy," Yu wrote, adding that her partner choked her once and slapped her multiple times. "Maybe I'm not good enough for him. I thank him for his company and wish him luck in finding someone better."
Born with cerebral palsy in the central province of Hubei, the 46-year-old turned from a farmer to a famed poet often writing about the paradoxical relationship between disability and desire. After rising to fame in 2014, Yu divorced the man she had been married off to by her parents the following year and met Yang during a livestream event in the winter of 2021.
Yu quickly went public with her new relationship in a series of articles on social media, where she portrayed Yang as an admirer of her spiritual world and literary works. She candidly described the pleasure she derived from his love and their passionate sex.
Yu's deleted post on domestic violence has outraged fans and once again underscored an issue usually considered "a family affair." The poet's case is one of many incidents involving domestic violence that has shocked China in recent years, including a woman burned to death by her ex-husband during a livestreaming in 2020.
China enacted its landmark anti-domestic violence law in 2016 and offers protection against abuse while punishing perpetrators. The man who burned his former wife was sentenced to death last year.
However, experts believe that inaction from relevant institutions, including the police and local units of the All-China Women's Federation, often prevents many victims from seeking help or taking legal measures against their abusers.
In Yu's case, officials from the local women's federation reached out to her in person on Thursday morning, but the poet reportedly didn't seek any help, according to Sixth Tone's sister publication, The Paper. The officials also confirmed that the couple hadn't legally registered their marriage yet.
That same afternoon, Yang posted an apology letter on the short video platform Douyin, where he admitted beating Yu, saying that he "broke down mentally" after Yu's verbal abuse. He added that he still loves her and breaking up was the best option.
"I have always said that I am not a good enough lover," he wrote, referring to Yu using her nickname Xiaoyu. "I turned my disenchantment into vicious words which scared Xiaoyu. Although I love her with all my heart and soul, I still can't give her the life she wants. I hope she can meet a better person."
Yang also told one domestic media outlet that he had slapped Yu a dozen times after she verbally assaulted him and his family members after consuming alcohol.
"If (I) had gotten out of control, she wouldn't be able to post on Weibo," Yang said in the interview. "Is it really just my fault when she forced the person who loves her to turn violent?"
In a separate interview to The Paper, Yang accused Yu of being in the relationship "just for sex" and would have had no qualms in abandoning him.
Sixth Tone's interview request to Yu went unanswered by time of publication.
However, many of Yu's supporters lashed out at Yang's defense. They alleged that he was trying to blame the victim even though he had admitted to hitting his partner.
"Since you beat her, that means you don't love her," one Weibo user wrote. "You are just as disgusting as other domestic abusers."
But some of Yu's detractors have meanwhile mocked the poet following the incident. Many of them said Yang was only after the poet's money and derided Yu for publicizing their relationship mostly out of "vanity."
Liu Xinda, a Shanghai-based writer and director, labeled Yu as "fake, ugly, and evil."
Yu hasn't made any additional remarks about domestic violence, but has hit back at Liu in her latest Weibo post.
"I have endured extreme hardship in life," Yu wrote Wednesday night. "I have had to grit my teeth to get through it. If I can no longer hold on, I hope Liu Xinda, the person who insulted me, and the person who beat me will be held legally responsible."
Editor: Bibek Bhandari.

(Header image: A photo of Yu Xiuhua. From @余秀华 on Weibo)