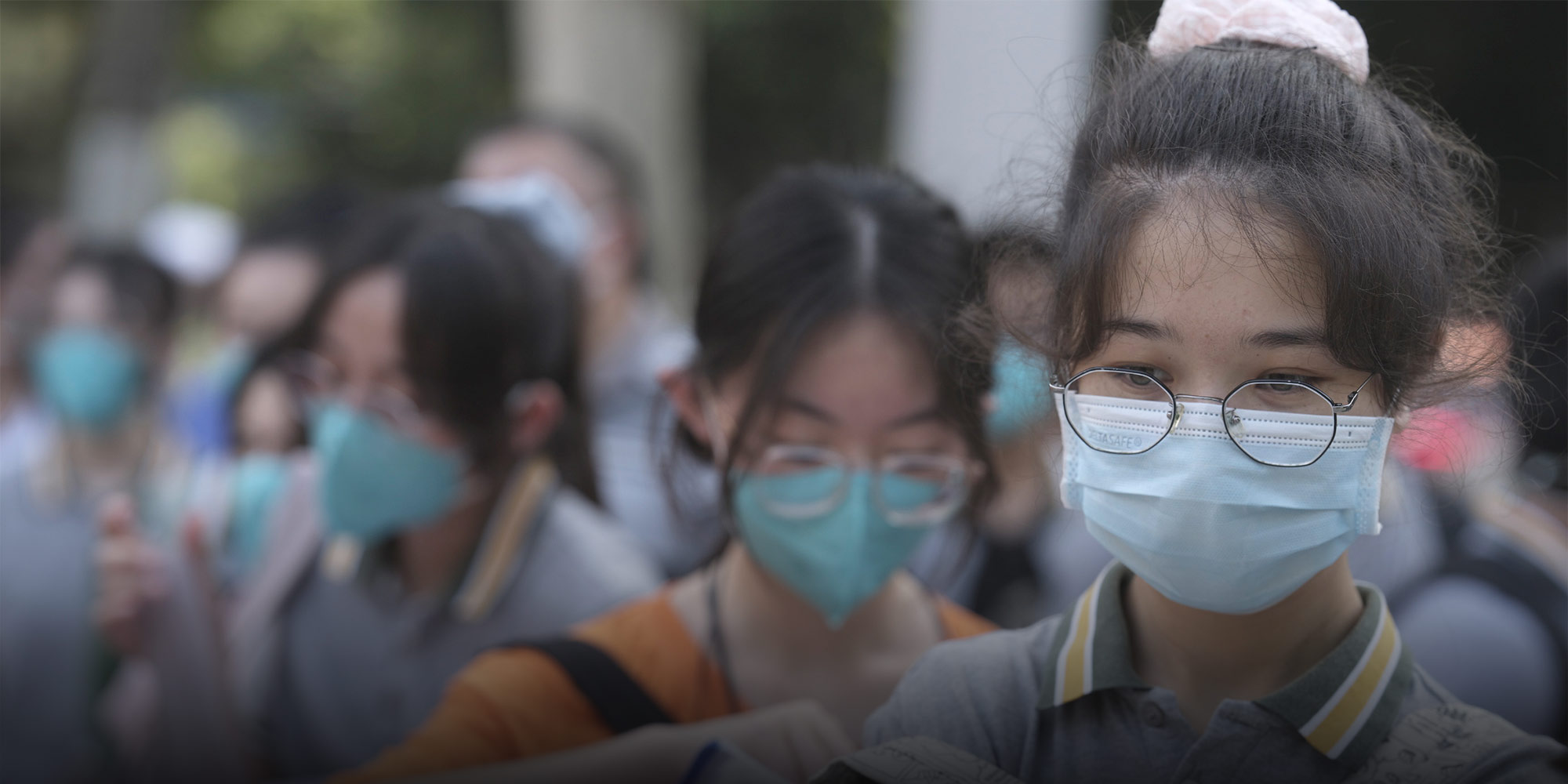 NEWS
Anxiety Abounds as Shanghai 'Gaokao' Starts A Month Late
The national college entrance exam was postponed amid the city's COVID-19 outbreak.
SHANGHAI — At around 8 a.m. on a muggy Thursday morning, hundreds of high schoolers and their parents gathered outside a school gate in Hongkou District. Some students were reviewing their notes for the final time, while others chatted with classmates.
About an hour later, they would be sitting the crucial national college entrance exam, or the gaokao. They would be among more than 50,000 students in Shanghai whose exam was moved by a month due to the city's COVID-19 outbreak, while it went ahead for the rest of the country as scheduled in June.
Shanghai students are sitting for the exam just as coronavirus cases are gradually rising again. They were required to have two nucleic acid tests three days before the exam, including one on Wednesday, and an antigen self-test before leaving for the exam venue. Those with "abnormal" COVID-19 test results or those in quarantine would be provided with separate rooms to sit the exam, according to local authorities.
The college entrance exams are a culmination of over a decade of rigorous preparation, both for students and parents. The exam score usually determines whether or not a student can enter the country's prestigious universities.
A mother surnamed Zhu, who stood outside the school gate dressed in red, said she made her son coffee and steak for breakfast before venturing out to the exam venue. She said she chose to wear red, as it symbolized luck in Chinese tradition.
"I'm sure he'll be fine," she said. "He's not nervous because he's taken so many exams before."
"I told him to take it easy," said another parent, surnamed Ma, whose son appeared to be nervous before taking the exam. "These students have experienced so much. I would not blame him if he doesn't perform well."
Many students sitting the tests have missed months of in-person classes, as schools switched to virtual lessons on March 12. When classes resumed on June 6, some said they were ready to put in extra work for the lost time.
"When I left, I thought I would be back in two weeks," said Sun Leyi, a gaokao candidate who returned to her school dormitory on June 5. "When I was taking online classes at home, my concentration seriously declined," she admitted.
"I'm concerned some students taking the gaokao might make more progress given that they've had an extra month, which puts me at a disadvantage," said another student, Lu Ling, who hopes to study computer science.
When classes resumed in early June, students were advised to avoid using public transportation as much as possible, with parents usually dropping their children at school. They also had to take regular COVID-19 tests — some teachers were trained to do this — and use the high-grade N95 masks on the way to and from school.
"I think the quarantine policy was more stressful for some teachers," Lu said. "We have an older math teacher who has difficulty breathing with a mask in class."
A high school teacher surnamed Xu said the students were in good shape after resuming in-person classes. Most of them, however, still showed signs of fatigue as the exam approached.
"There was a general feeling that it would be better to finish the exam sooner rather than later," said Xu, whose child was also taking the exam. "I hope to hug him at the gate and then watch him go into the examination room."
Editor: Bibek Bhandari.

(Header image: Students wait to enter the exam room for "gaokao" in Shanghai, July 7, 2022. Xu Haifeng/The Paper)