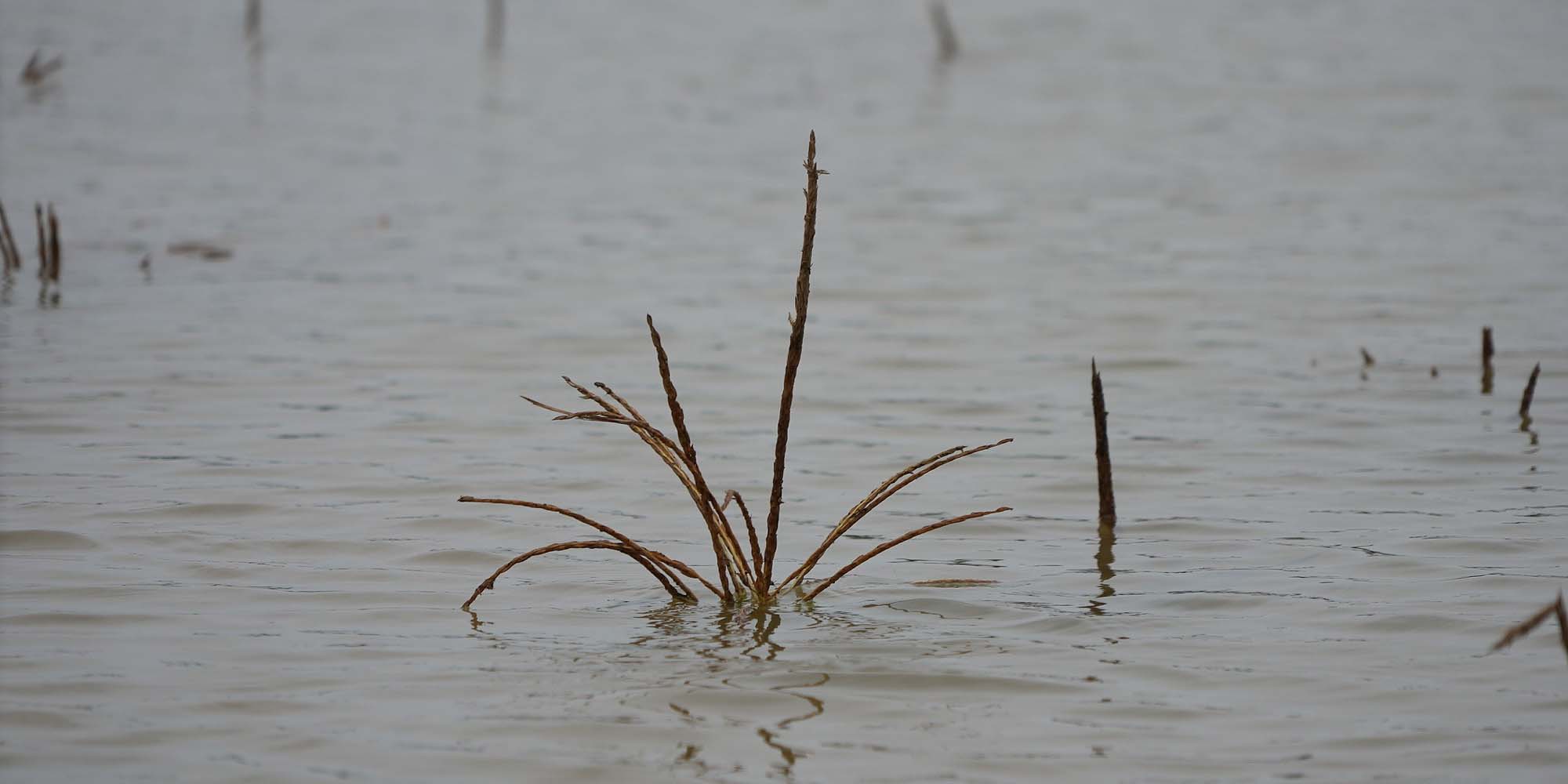 NEWS
In South China, the Early Summer Harvest is Washing Away
Erratic weather is causing sporadic crop failure across China.
GUANGDONG, South China — Walking through the muddy fields, Li Zhongxiang carefully checks bok choys, watermelons, and corn under upright rain shelters. The farm saw almost half its summer crop flooded in recent weeks.
The Yinlin Eco Farm, outside the provincial capital Guangzhou, has plastic tents to protect crops from rain, and drainage ditches to mitigate flooding. But after weeks of continuous rain and a typhoon, the soil got too wet for many vegetables.
Erratic weather is adding to farming challenges across the country. Authorities report increasing numbers of weather-related crop failure. But recent years have not matched the losses seen in 2013, when floods, storms, and other water problems wiped out 11 million hectares of crops. With earthquakes and other disasters, 31 million hectares were lost overall.
The Yinlin farm will recover, said Li, an employee. Guangdong farmers expect a challenge from the early summer "dragon boat rains," and plan their year around the prime fall and winter growing season.
"Summer in Guangdong is not the time to hope for good crop yields," said Li.
Excessive rain and little sunshine have dominated the weather of Guangdong for weeks. Though the heavily industrialized province is not an agricultural powerhouse — it's 19th in food output — it has many rural communities growing vegetables, fruit, and rice, which have been hit hard by unrelenting rains and floods.
In Yinlin, the grimmest time came in June, when constant rain swamped the lower fields and turned roads into rivers. The farm's rain shelters managed to keep out some water, but much of the soil was still soaked. As a result, almost half of the farm's some 80 mu (5.3 hectares) of produce were affected, though some vegetables survived. The dishcloth gourds looked lively, while bok choy and melons were wilted or deformed.
"It was just impossible to see the sun. Every day, there was either rain or clouds," Li said, adding that the wet conditions are not good for crop growth.
Insurance claims for agricultural losses rose sharply after flash floods swept across large swathes of Guangdong, reaching 328 million yuan (about $49 million) as of June 23, according to the provincial department of agriculture and rural affairs. The damage was further exacerbated by Typhoon Chaba, which landed in Guangdong Saturday, flattening crops. According to a preliminary estimate, 592,000 mu (39,427.2 hectares) of rice fields were damaged or destroyed. That's an area around the size of Shanghai's Jiading district, or the city of Fort Worth, Texas.
While the country's southern part was reeling from floods, heatwaves hit central and northern provinces starting in June, hot enough to blister and crack cement roads in Henan province. Scorching temperatures left newly planted crops in Henan parched, raising concerns for the crop yields in the province that is known as China's granary.
Food security is a top priority for Chinese authorities as China attaches growing importance to self-sufficiency. Agricultural authorities reported a "bumper harvest" of wheat despite pandemic restrictions and heavy autumn rains last year. Amid rampant global inflation and concerns for food shortages, Chinese Premier Li Keqiang said in late June that strong wheat production is essential for ensuring China's food security and stable consumer prices. He also urged local authorities to be prepared for more extreme weather and improve flood controls and emergency relief.
According to the international Food and Agriculture Organization, between 2008 and 2018, natural disasters caused an estimated 976 billion yuan of economic loss to China's agricultural sector, with droughts estimated as the most threatening disaster, followed by floods and hail.
Amid farmland degradation and stressed water supplies, increased risks from extreme weather due to climate change are increasing the pressure on China's food supply. As global temperatures warm, seasonal droughts could reduce yields of China's three staple crops — rice, wheat, and corn — by 8%, according to the World Resources Institute.
Growing climate risks have made farming more unpredictable for rural communities. "Traditional farmers may not necessarily describe the changes with (climate) language, but they all feel that the weather is getting more erratic, and the traditional wisdom is no longer as useful as it used to be," said Chang Tianle, the founder of Food Think, a Chinese food and environment reporting network headquartered in Beijing that focuses on food production.
Editor: David Cohen.
(Header image: Flooded corn fields in Yingde, Guangdong province, June 22, 2022. VCG)