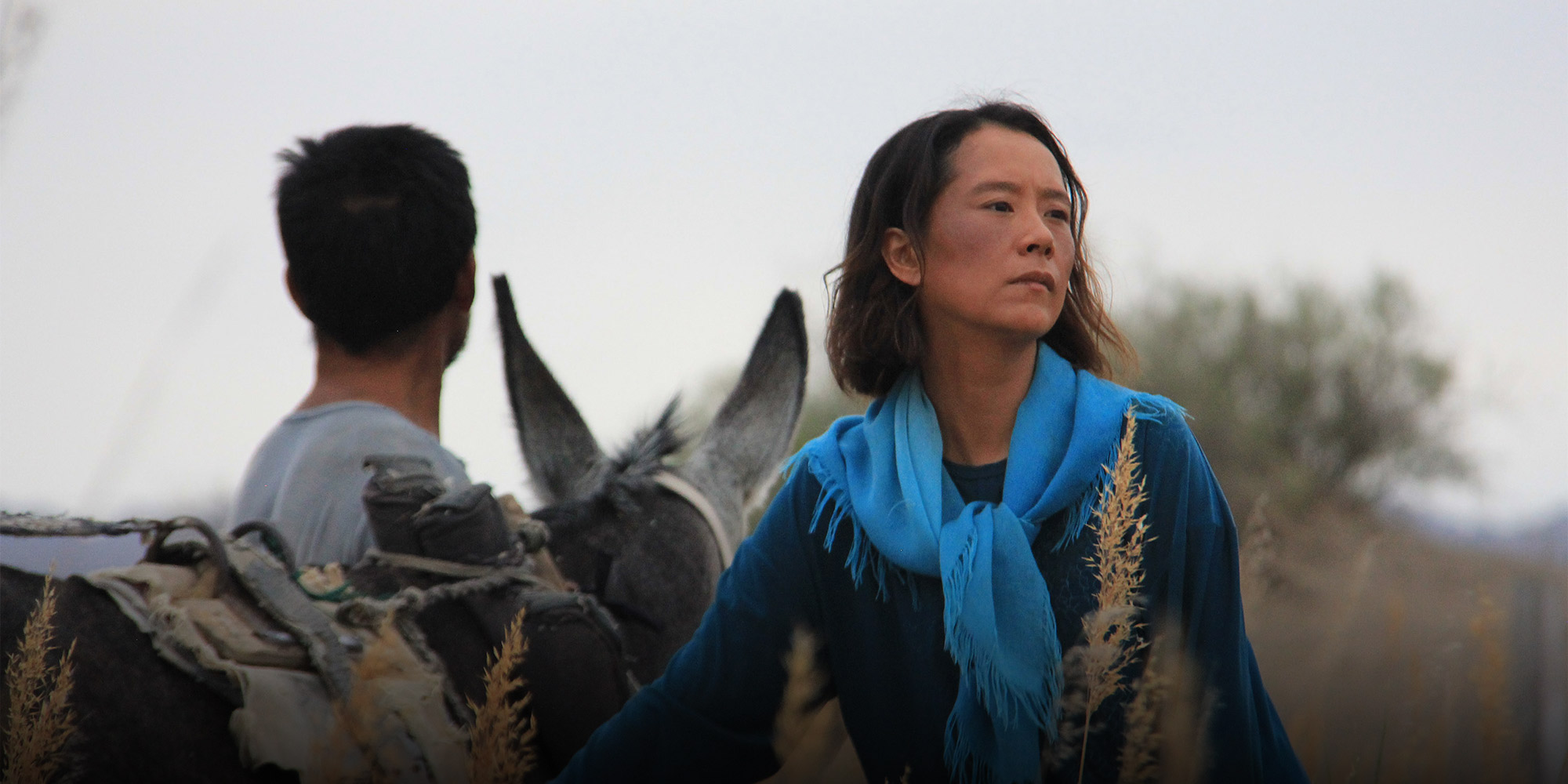 FEATURES
'Return to Dust': The Chinese Film Pushing Realism to New Extremes
Filmmaker Li Ruijun was determined to capture the essence of life in a remote Chinese village. So he made his cast live on a farm in Gansu province — for a year.
Li Ruijun has spent much of his filmmaking career trying to capture the reality of life in rural China. But in his latest feature, "Return to Dust," the director has taken his commitment to authenticity to a whole new level.
Before shooting began in 2020, Li issued a startling demand to his cast and crew: they would all need to spend the better part of a year living — and working — in a remote town in the northwestern province of Gansu.
The film's female lead — acclaimed movie star Hai Qing — was required to move in with the man who would play her husband: a local untrained actor named Wu Renlin.
To ensure she was a convincing farmer, Hai was taught how to till soil, harvest crops, and tend to a donkey. She also helped the rest of the team build the mud-brick house that sits at the fulcrum of the story.
Li, who grew up in rural Gansu, says he was determined to make every scene in "Return to Dust" 100% real. Any inaccuracies, he believed, would represent a betrayal of the community that had raised him in the 1980s.
"My inspiration comes from the life and the land that I know so much," the director tells Sixth Tone. "The only way to portray that is to be there, to shoot the film there, and to live there."
This approach produced remarkable results. "Return to Dust" has emerged as one of the standout Chinese films on the festival circuit this year, with Chinese and international critics hailing it as an extraordinary achievement.
Set on the fringes of a city that is seeing its surrounding farmland swept away by urbanization, the film tells the story of a couple — Ma Youtie (Wu) and Cao Guiying (Hai) — as they are thrown together in an arranged marriage. 
The match is presented as a way for the couple to escape their lives of solitude, but we soon see the move has potential benefits for others, too. In the background hovers an issue familiar to many in rural China: the authorities' voracious hunger to clear land and fuel more urban development.
"Return to Dust" made its world premiere as China's only representative in competition at this year's Berlin International Film Festival in February, before picking up two audience awards at the Far East Film Festival in Italy this April.
The Hollywood Reporter described it as "an elegiac story, a humanistic metaphor for a vanishing world." Screen Daily wrote: "Anchored by an authentic relationship, Li Ruijun's portrait of provincial China is his most moving yet."
Now, moviegoers in China are finally set to see for themselves what the buzz is about, with "Return to Dust" set for a nationwide release on July 8.
The nationwide Omicron outbreak that swept China in the spring forced Li to push back a planned opening in April, as well as cancel plans to travel to a series of international screenings. But the director hopes audiences will warm to the film's nuanced tale of two misfits in society.
"This film is a love story," says Li. "But it's a film about love in many layers. There's romantic love, but also love of the land, love for other people, love for the world and the environment, love for animals, and love for family. This is a film about the greater things in life."
Li knows all these things intimately. He grew up in Gaotai — the Gansu town where the film is set — within an extended family that had been farming the land for generations. As a child, a career in film seemed barely plausible.
"There are about 160,000 people in my county. I'm the first one to become a filmmaker," says Li. "There was no electricity in our village until the 1990s, so we were lucky when we could watch movies … Everyone loved watching them, but I never thought in my life I could have something to do with film. This was something so far away from me."
But Li showed an artistic flair from his early school days. Then, he received an opportunity that would change his life: a spot on a training program at the National Radio and Television Administration in Beijing.
These lessons would sow the seeds of his later filmmaking career. Li recalls being mesmerized during screenings of classic French New Wave and Italian neo-realist films. One movie in particular stood out: the 1948 Italian film "Bicycle Thieves," which was shot entirely on location in Rome featuring a cast of untrained actors.
"The journey started (then)," says Li. "I realized that cinema is such a fascinating form of art, and that I could make films about my home and my community."
Li's previous films — such as 2012's "Fly With the Crane," which premiered in Venice — also focused on his roots, telling tales of ordinary characters struggling to get by in rural China. He would often enlist friends and family as part of his cast, believing untrained actors add to the realism.
But "Return to Dust" takes the director's oeuvre to new heights in terms of artistic scope and drama. The difference lies not only in its meticulous attention to detail, but also in two command performances from the film's leads.
The gentle, often almost silent scenes between Ma and Cao allow their relationship — and their intimacy — to evolve naturally, as these two abandoned souls find solace and security in each other. Off-camera, the preparation for these scenes had — again — been extensive, Li says.
Hai Qing and Wu Renlin, who play the couple, couldn't have had more contrasting backgrounds. Hai is a famous actress who starred in the hit rom-com "Finding Mr. Right;" Wu is Li's uncle from Gaotai, who farms and helps out his nephew with his films for a living. But after weeks of living together, the pair formed a genuine bond.
"I've known Hai Qing for many years, and she said she'd always wanted to try something different," says Li. "When I showed her the screenplay, I told her she had to actually live there. She immediately made that commitment, and I could see her changing every day. She learned the local dialect, she became friends with people in the village, she learned the skills needed. She was devoted."
"At first, my uncle was very shy around her," he continues. "He thought, how could he perform next to this big star? He couldn't even look her in the eye. But they talked about the screenplay, he even taught her about farming, and slowly they became friends."
Li — who wrote, directed, edited, and was co-art director on "Return to Dust" — says the long shoot was also crucial to achieve the visual effect he wanted. Throughout the film, the seasons change slowly as the characters' romance evolves, the earthy brown tones gradually brightening. 
Li and cinematographer Wang Weihua set their cameras for static camera shots to highlight the changes in the landscape. The style was inspired by traditional Chinese landscape paintings, Li says.
"Traditional Chinese landscapes are different from the Western style because it's a very, very large frame study — like a steady camera shot," says Li. "You see the landscape, the people in the landscape, and the scene unfolds gradually. I think it's a very cinematic way to present the world.
Li and his team ended up shooting "Return to Dust" during the height of China's initial coronavirus outbreak in 2020, when travel was heavily restricted. But Li had always wanted the cast and crew to be on location for months, so he could capture the natural evolution of life in Gaotai.
"This film is about two people building up their connection, their relationship, and their home together," says Li. "So this process of construction — of the house, of the farm — is a beautiful process for me. I want the audience to feel the flow of time in a very natural way. I want them to see this process of change visually."
"That's the beauty of cinema," he adds. "It's like a window. By making films, I want more people to see how other people are living, to expand their horizons a little bit, and to help them understand the world we're living in together."
Editor: Dominic Morgan.
(Header image: A still from the film "Return to Dust." Courtesy of Far East Film Festival)