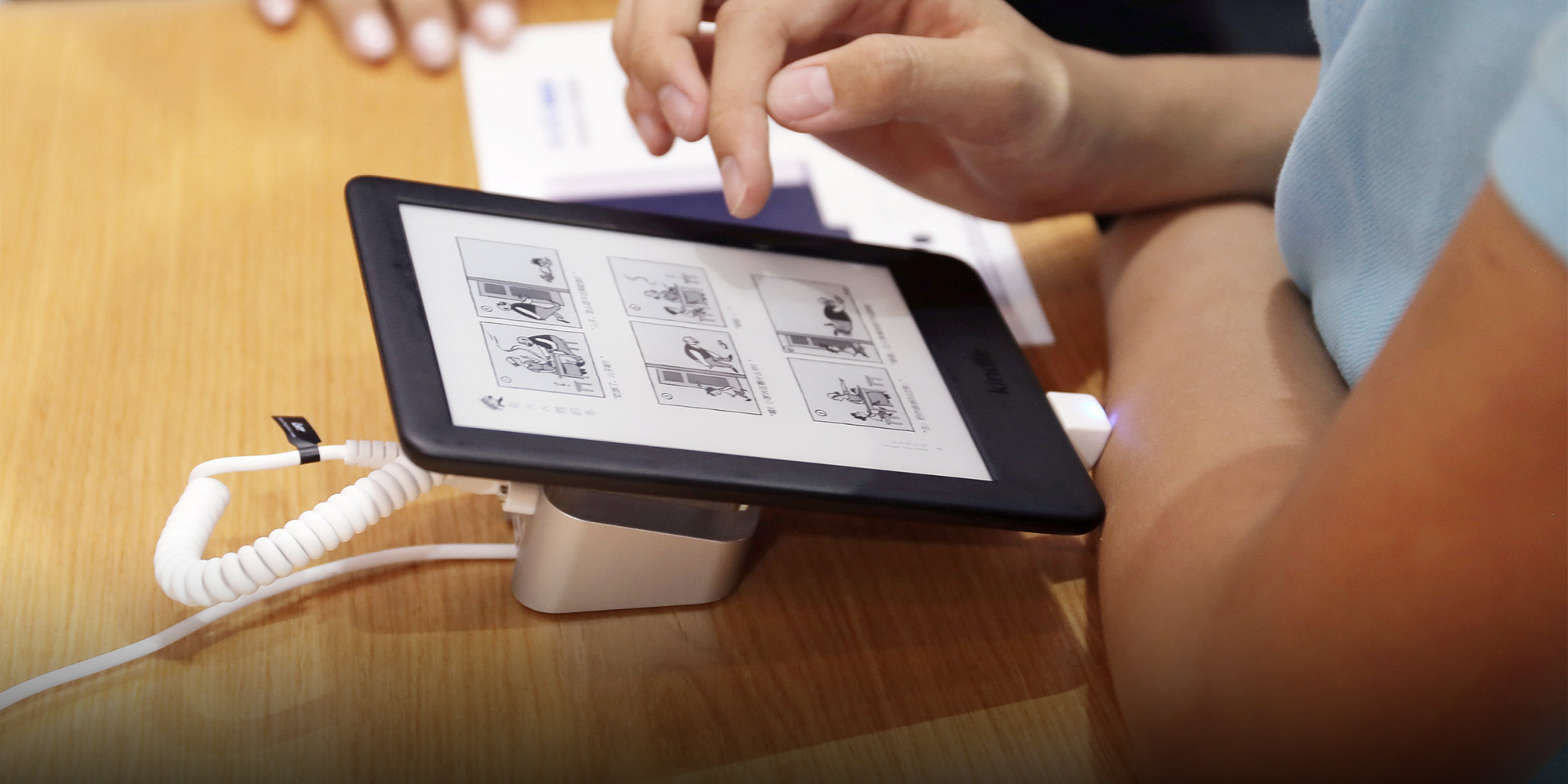 VOICES & OPINION
How the Kindle Lost China
The popular e-reader seemed poised to dominate the Chinese market, but mounting competition and a decade of questionable business decisions ultimately spelled its doom.
Almost exactly one year from now, Amazon's Kindle e-reader service will exit the Chinese market, possibly for good. Reactions to the move have ranged from indifference to confusion — online, many joked that they only learned the e-reader was for sale in China by reading Amazon's withdrawal notice — but as a rare Chinese Kindle fan, I couldn't help but think what might have been.
It's easy for outside observers to chalk up the Kindle's failure as inevitable. Amazon is hardly the first major company to struggle to crack China's online markets. In the face of competition from Chinese platforms like JD.com and Taobao, Amazon itself abandoned most of its retail business on the Chinese mainland as early as 2019. Yet unlike Amazon's other offerings, the Kindle had a devoted, if small fandom among Chinese consumers. For many Chinese, myself included, it was our introduction to the world of e-books, and even a decade of bad business decisions couldn't dim our enthusiasm for the device.
Admittedly, I'm a poster boy for the Kindle lifestyle. I bought my first Kindle — a Kindle Touch — while living abroad in 2011. When Kindle formally entered the Chinese market two years later, I immediately upgraded to the Paperwhite. I added an Oasis in 2016. By the time Kindle announced its exit from China this June, I had two different Kindle models in rotation, had the Kindle app installed on 28 devices, and a library of 360 books purchased from the company's Chinese e-book store.
One of the platform's key selling points in the early days was Amazon's good relationship with Chinese publishing houses. Although the company has a fraught relationship with publishers elsewhere, its negotiations with companies like the CITIC Press Group and Commercial Press were a success, with both sides leveraging the other to improve their market position.
With its industry-leading hardware, good service, and publisher support, the Kindle seemed poised for success in China, but Amazon was never able to build on its early lead. The Kindle didn't die in China last month, but slowly, over the course of a decade. As the Chinese e-book market changed and evolved, the Kindle did not. It offered no new surprises and made no adjustments to better fit the habits of Chinese readers.
Don't get me wrong; the Kindle remains an excellent e-reader. But in a highly competitive Chinese market saturated with niche brands, it was rarely the best option for any given user. For academics, brands like Boox and Dasung offer desktop-sized e-ink screens meant for reading PDFs. At the other end of the spectrum are lightweight, iPhone-sized e-readers from companies like Moaan, which call to mind popular, pocketable bunkobon Japanese paperbacks. A few Chinese brands have even introduced color e-ink screens for reading comics or full-color books.
Not helping the Kindle's case was Amazon's "walled garden" approach to the platform's software. Buying a Kindle locks you into Amazon's ecosystem, whereas most competing e-book readers in China run Android. It's easy to pick up a locally developed e-reader with multiple built-in reading apps, covering almost all major Chinese e-book companies.
This diversity is particularly important when accessing one of China's most important and profitable digital publishing industries: online fiction. Take a subway or bus anywhere in China, and odds are that at least one of your fellow passengers will be reading a web novel, whether it's a tale of martial arts, fantasy, or urban romance. Although Kindle secured an agreement with the major online literature publisher China Literature to offer a selection of its online novels, Amazon never treated online literature as a major focus.
I'm not sure why the Kindle neglected online fiction, but the choice signaled Amazon's growing distance from Chinese users. As did the platform's poor smartphone support. In a country where most readers use apps as their primary e-book platform, Kindle's lack of features common on Chinese services like social networking and social media integration suggested that Amazon put too much emphasis on hardware over software. Even many Kindle users I know told me they didn't know there was a Kindle app until they read about it in the withdrawal announcement. Meanwhile, Amazon's lack of browser support for its e-books in China and poor notes compatibility frustrated users accustomed to more open ecosystems.
If it ultimately disappointed power users, the Kindle also failed to win over price-sensitive readers. Unlike in the U.S., print books in China are often cheap and easy to order online, leaving retail e-books with limited price advantages. For instance, a physical copy of the best-selling science fiction trilogy "The Three-Body Problem" will run you about 51 yuan ($7.60) on e-commerce platforms, compared to 39 yuan for the Kindle version. Amazon does offer its Kindle Unlimited service for 12 yuan a month, making it far cheaper than in the U.S., but the service's selection hardly lives up to its name, at least in China. Popular titles like the "Harry Potter" series, for example, are either incomplete or missing altogether.
Compare that to the smooth user interfaces, easy shareability, better notes organization, larger selections, and cheap prices of Amazon's competitors, which are all far less likely to leave readers high and dry by pulling out of the China market.
The Kindle store will close in China on June 30, 2023, though purchased books will still be available to download for another year after that. I'll miss the Kindle, but I won't mourn it. It introduced me — and China — to the joys of e-reading. But those joys have never been tied to any particular device. Rather, they're derived from the pleasure and knowledge that comes from the act of reading. That's what drove the Kindle's initial success in China — and losing sight of it is what caused its eventual failure.
Translator: Katherine Tse; editors: Cai Yineng and Kilian O'Donnell.