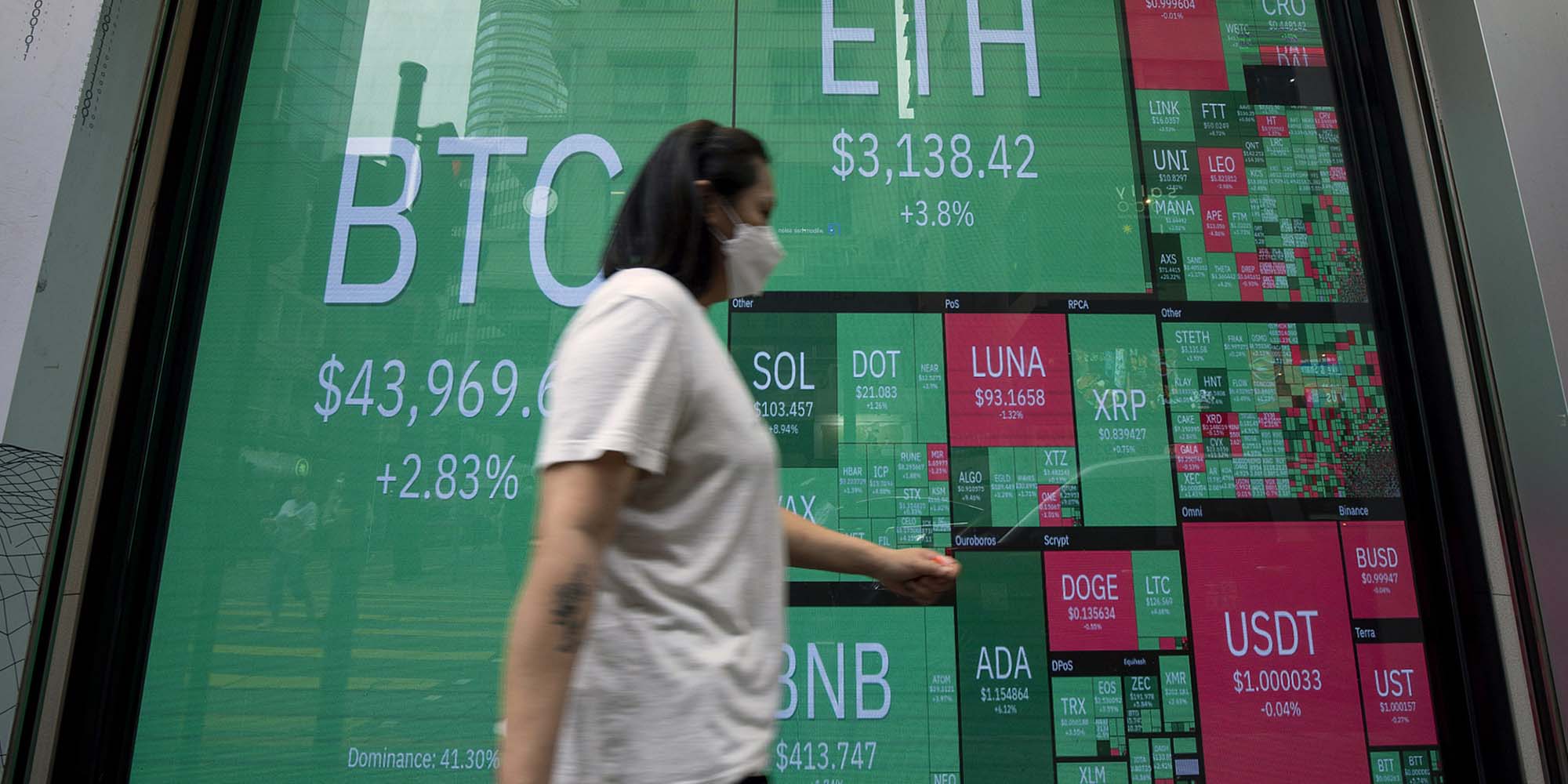 NEWS
Battered Chinese Crypto Fans Still Plan to Buy
They've already stuck with crypto through crackdowns on trading platforms and mining. What's a $1 trillion crash on top of that?
It's not easy being a Chinese cryptocurrency fan. Buying and selling the faddish digital assets has been strictly limited in the country since the country banned trading platforms in 2013. Mining, the energy-thirsty process that creates most crypto "tokens," was driven out of China in a 2021 crackdown. And now prices are plummeting in a global cryptocurrency crash that's vaporized over $1 trillion in on-paper wealth.
Chinese crypto fans who outlasted the bans aren't letting a little thing like a trillion-dollar financial catastrophe faze them either, several told Sixth Tone. But in the short term, it can be an expensive faith.
Despite the clampdown, China is believed to have a sizable community of crypto investors. China was the source of around 10% of the traffic for major crypto derivatives trading platforms OKX and Deribit, according to web analytics company SimilarWeb, although it did not crack the top three for major exchanges Binance and Coinbase in the same study.
The Chinese public is certainly interested in crypto. The crash has made headlines and topped social media threads. State media have used it to claim vindication for the government's no-crypto policies, saying it proves cryptocurrencies are "nothing more than a string of digital code" and that the regulations have protected Chinese investors from losses. Meanwhile, individual investors have poured out complaints of losses in public and private forums.
The collapse of the Terra and Luna coins, which promised no-risk, high-interest savings accounts, was the spark for the crash. "A lot of people bought in with high leverage after seeing an 80% fall. They wound up deep in the swamp a few days later," said Huang Zijian, a Shenzhen-based part-time cryptocurrency investor. He escaped unscathed with a few well-timed sales, but a friend lost around 400,000 yuan ($59,840) in two days. Huang gave a pseudonym, citing the sensitivity of the matter.
"We were very much caught off guard. I've never seen big institutional players fall this hard in the past," said Huang.
On investor forums, boasts of gains have given way to self-mocking jokes about being forced to "lie down," a Chinese catchphrase for giving in to fate, said Cai Zhuoheng, a cryptocurrency enthusiast who requested to use a pseudonym for the sensitivity of the matter. The 23-year-old, who first tried crypto in June 2021, got his losses in early and avoided the big crash. He lost 30,000 yuan several months ago, and sold out all his digital assets.

"I couldn't have survived this crash even if I had made a profit before," Cai said. "The meltdown actually made me feel better; I realized no one could stay afloat in such a downward spiral."

But in spite of official warnings and the crash, many investors appear unfazed. Despite short-term pessimism, Cai said many have kept holding the coins and waiting for a rebound.
Mining investors, many of whom remain in the field after moving their operations offshore, are particularly sanguine, said Cai.
"Those who flip out over the loss tend to be short-term traders, but if you look at miners or people placing mining-related investments, they are much calmer and won't get out of the business until it's completely unprofitable," he said.
Huang also plans to stay in the market, he said. He's only used spare income from side jobs, so he can avoid taking some risks.

"Just like the internet, Bitcoin has also grown with mockery, doubts, and rejection over the past decades, but overall its price is rising and it's winning more and more recognition around the world," Huang said.
Li Xueying, an online video producer, said she's considered getting into the market while it's down. She got interested after meeting a group of veteran crypto investors at a new job.
"When you're surrounded by veterans who are able to feed you credible market information, that increases your confidence to go ahead despite the risk." The 24-year-old requested to use a pseudonym due to the sensitivity of the matter.

Cai also said he would buy in again after he finished reflecting upon his previous investments, but he felt the market has lost its early idealism as new money has crowded in.
"For us, the new joiners, we viewed it as just a money-making game. Just like any other financial activity, you accept the risks and benefits once you place your bet."
Editor: David Cohen.
(Header image: A digital screen displays the prices of cryptocurrencies in US dollars in Hong Kong, March 25, 2022. Paul Yeung/Bloomberg via Getty Image/VCG)