Shanghai residents have mostly been prohibited from traveling freely domestically since the COVID-19 lockdown was lifted and infections began to wane. Now, with summer in full swing, a few places are welcoming them again, with increased precautions or more relaxed restrictions.
In the neighboring province of Anhui, those arriving from "low-risk" areas in Shanghai will only need to monitor their health for seven days. Zhejiang province only requires those from residential complexes with COVID cases in the past 14 days to be quarantined after arriving.
Twelve cities in another nearby province of Jiangsu, including Suzhou and Nanjing, have allowed people from low-risk areas to move around without restrictions.
The sporadic COVID outbreaks have dealt a heavy blow to the country's domestic tourism industry. Major national holidays during the spring — including the Labor Day holidays — were heavily disrupted due to heightened travel restrictions in major cities like Beijing and Shanghai.
On Thursday, the island province of Hainan allowed quarantine-free travel for most Shanghai residents. Only those from Minhang, Baoshan, and Jing'an districts, which are still deemed at-risk, are now required to self-isolate for three days after they arrive and take two nucleic acid tests during that period.
The number of flight tickets to the resort town of Sanya increased by 93% last weekend compared with the previous one, according to data from travel booking site Qunar.
Zhou, who lives in Pudong New Area, told Sixth Tone that he booked a Sanya vacation with his wife and daughter a day after learning about the new policy. The family only had to do a quick nucleic acid test at the airport and declare they hadn't visited the so-called risky districts in Shanghai before leaving for their seafront hotel.
"Compared to previous trips to Sanya, I was more perturbed before I departed," said the 39-year-old who vacations in Sanya every year. "But I didn't feel any difference after arriving at the airport. We could really leave the airport without any restrictions — it made me feel comfortable."
The southwestern Sichuan province relaxed entry policies for people from low-risk areas in Shanghai from Monday. Cities in the province no longer require visitors from districts except Jing'an and Fengxian to undergo a seven-day home quarantine upon arrival.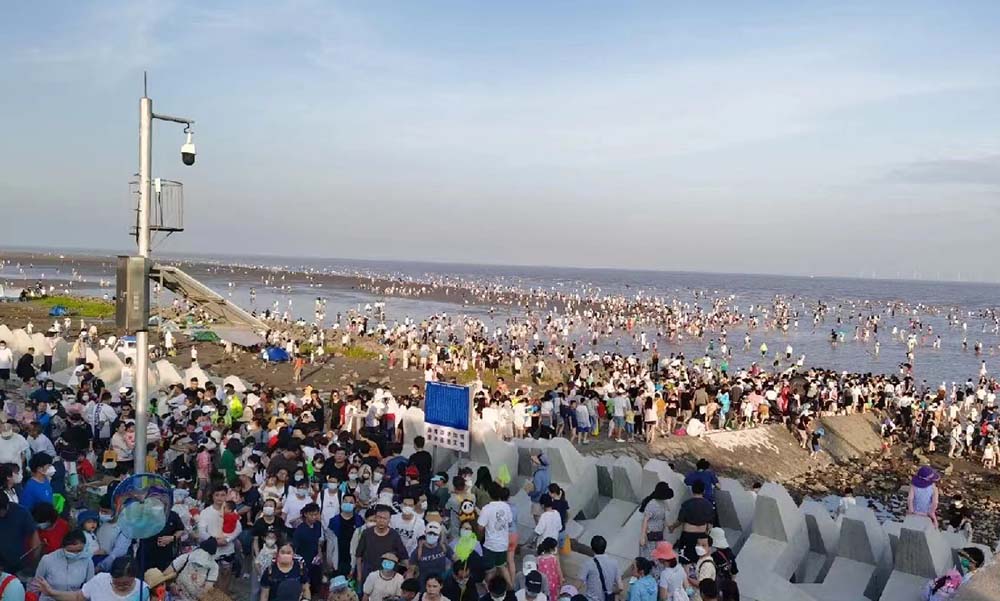 People enjoy summer time at Nanhui Beach in Shanghai, June 25, 2022. From @小红书493006728
The relaxed travel policies have appealed to tourists nationally, leading to a 26% rise in the search popularity of inbound flights to Chengdu on Monday compared to the same period last week, according to data from online travel operator Trip.com. In June, the number of flight tickets to Chengdu increased by nearly 50% from last month.
The southern Guangdong province has also adopted fairly relaxed entry policies for those arriving from Shanghai, except those from Minhang, Baoshan, Fengxian, and Jing'an districts who are required to have seven days of health monitoring.
Travel is gradually picking up as coronavirus infections decline nationally. China only reported one locally-transmitted symptomatic case for Monday, with none reported in Beijing and Shanghai.
On Monday, the number of domestic flights across the country increased by about four times to 8,419 from a low period on April 4, according to civil aviation data provider VariFlight. Among them, 148 domestic flights took off or landed in Shanghai, compared to merely three daily flights in late April.
Hotel bookings nationwide are also picking up, with the figure from the past weekend exceeding that from the same period in 2019, according to Qunar. Hotel bookings in the cities of Changsha and Haikou increased by 58% and 29%, respectively.
Meanwhile, those still waiting to travel to other destinations that are yet to welcome Shanghai residents were seen rushing to nearby scenic spots for glamping and kayaking. On Tuesday, Shanghai Disneyland also said the theme park would resume operations with limited daily capacity from Thursday.
Editor: Bibek Bhandari.
(Header image: A woman kayaks at Chenbo Village, Qingpu District, Shanghai, June 27, 2022. From @小红书385356727)