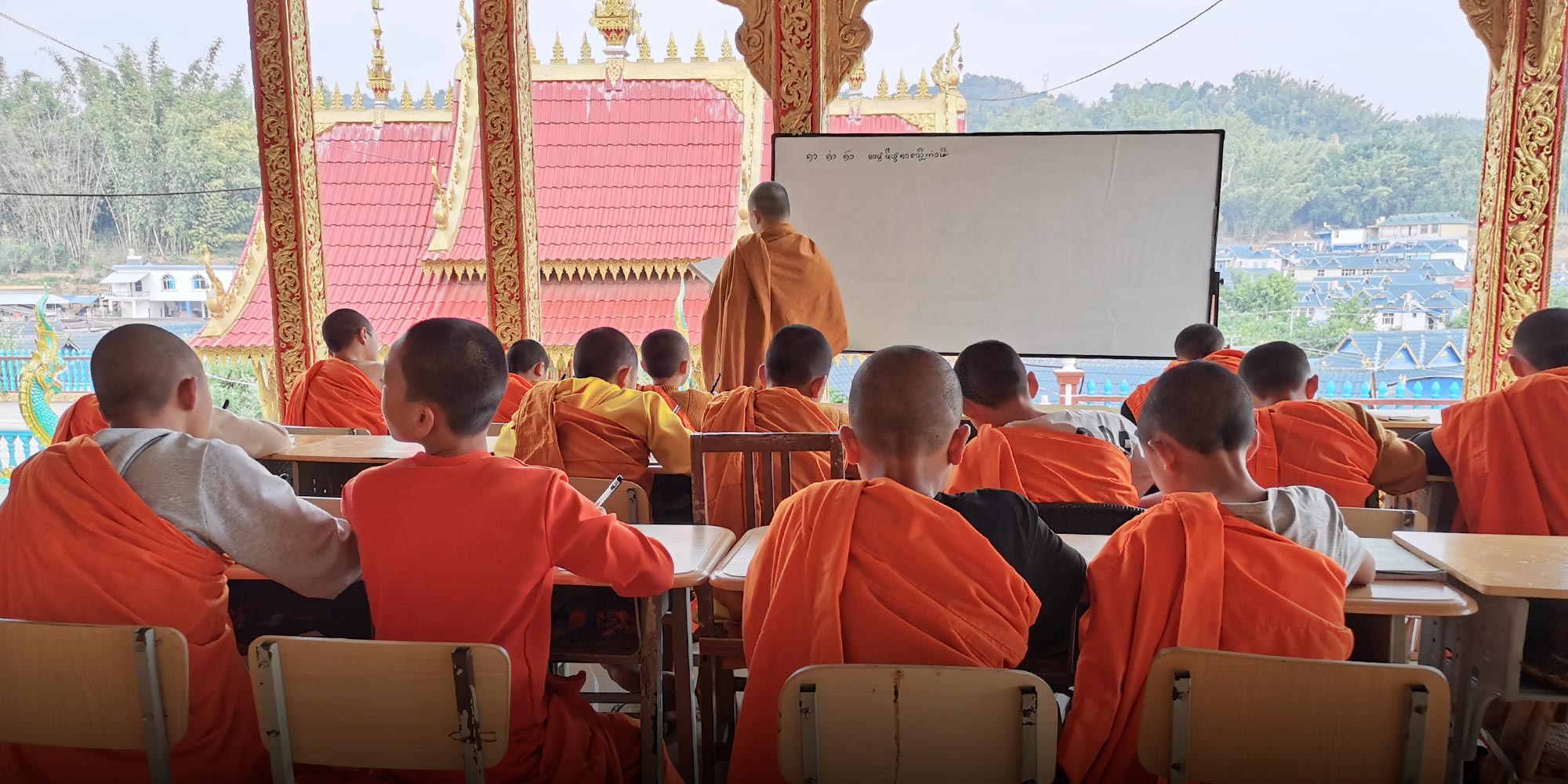 VOICES & OPINION
Southwest China's Migrant Monks Face an Uncertain Future
Monks from Myanmar and Laos helped keep Xishuangbanna's Buddhist tradition alive, but tighter border controls could force them out.
The spectacular vermilion temples that dot the hills and valleys of Xishuangbanna, a tropical region at the southernmost tip of China's southwestern Yunnan province, are a testament to Theravada Buddhism's importance in the area. Built and patronized by members of two ethnic groups — the Dai in the valleys and the Bulang in the hills — they are part of a heritage that stretches back hundreds of years.
Many of them now sit empty. The rapidly changing social milieu of the surrounding areas has led to an acute shortage of trained monks in southern Yunnan. More than one-sixth of the 589 Buddhist temples in Xishuangbanna have no resident monks; in nearby Dehong, almost 90% of temples have no monks. To fill the gap, residents have turned to monks from across the border in Myanmar and Laos. But this solution has proven increasingly tenuous as China tightens its border control and migration policies. Many migrant monks have been forced to choose: go through the lengthy and expensive process of regularizing their immigration status, or leave their communities and return to their home countries.
The dominant Buddhist tradition in present-day Xishuangbanna dates back 700 years to the Lanna Kingdom in northern Thailand. Today, its practitioners reside in a vast area stretching from Xishuangbanna in the north to Shan State in eastern Myanmar and Thailand in the south.
After the ravages of the Great Leap Forward and Cultural Revolution, Buddhism in Xishuangbanna's Dai and Bulang communities underwent a rapid revival. Beginning in the early 1980s, monks could cross the porous borders between China, Myanmar, Laos, and Thailand with relative ease. Almost every Dai and Bulang village in Xishuangbanna rebuilt the temples and pagodas that had been destroyed or fallen into disrepair over the previous decades. The number of temples in the prefecture, which had fallen from 465 in 1953 to under a dozen by the late 1970s, rebounded, eventually hitting 526 in 1991.
Starting around the late 2000s, however, Buddhism in Xishuangbanna faced new challenges such as the region's accelerating urbanization and marketization — and the growing popularity of public education. In the Theravada Buddhist tradition, boys are ordained as novices at eight years old. Their time in the monastery ranges from one month to several years. Only those who stick with monastic life until they turn 20 are ordained as monks. Over the past decade, the number of young men willing to adhere to this lifestyle has dropped, as families opt to send their kids to public schools instead. The local economy has boomed since the 2000s thanks to new cash crops like pu'er tea, allowing residents to fund lavish temple renovation and construction projects. But without monks, many are empty — hollow shells of their former selves.
The decline in religious clergy may be a global phenomenon, but it has hit Theravada Buddhism in Southwest China particularly hard. Researchers have found that, by 2010, 86% of temples in Dehong Dai and Jingpo Autonomous Prefecture, approximately 40% in Lincang City, and 25% in Pu'er City had no resident monks.
By that standard, Xishuangbanna is relatively fortunate. Based on my own research, only about 100 of the prefecture's 589 temples are vacant, in large part because villages have actively recruited monks from Myanmar and Laos. According to my fieldwork in the region, by October 2018, monks from Myanmar or Laos resided in 296 of the prefecture's temples. Together, they have helped keep the Dai culture and religious practices alive.
When I first met Dubi Jen, a monk from Shan State who presides over a temple in a Dai village in Xishuangbanna's Menghai County, he was helping two middle-aged locals install a Dai language input system on their mobile phones. (To protect his identity, I have given him a pseudonym.)
When I expressed surprise that the men would travel an hour to see a monk for tech support, they told me that Dubi Jen was the only person in the area who knew how to install the needed software. Before they left, they handed the monk a bag stuffed with 20 more smartphones entrusted to them by their fellow villagers — all of whom wanted the same program installed. They promised to come back the next day to pick the phones up.
Such requests were a recurring event during my two stays in the village, in 2018 and 2020, respectively. The Buddhist sutras used in the region are all written in an old Dai script, which only a few laypeople are literate in. Villagers who want to know how to write or translate the words and keep their traditions alive are thus reliant on a dwindling number of monks like Dubi Jen.
Dubi Jen arrived in the village in 2011, when he was not yet fully ordained. Like other migrant monks, he was first invited by the village bozhang, a disrobed monk who specializes in Buddhist ritual services. Eager to persuade him to stay, all the families of the village came together and organized a lavish ordination ceremony when he turned 20 in 2012. He has been the village temple's sole monk ever since.

In addition to his tech support responsibilities, he and other migrant monks carry out a variety of religious services for the locals. In his mind, his most important duties are teaching and providing spiritural guidance. He teaches newly ordained novices the Dai script every summer and winter vacation, during their breaks from public school. He also chants Buddhist sutras at traditional ceremonies, such as the Dai New Year, known as Songkran in Dai and Thai, or the beginning and end of the three-month Vassa "rain retreat" season, as well as at the request of villagers who make donations to him or the temple.
Like many of his peers, Dubi Jen's fluency in the Dai, Thai, Chinese, and Pāli languages; his knowledge of Buddhist sutras and rituals; his patience in teaching novices; and his sonorous voice have all earned him the respect and loyalty of the villagers.
But the status of even longtime resident monks has become increasingly precarious in recent years as China tightens its border control policies. Some of these measures predate the pandemic. Beginning in late 2018, local authorities asked migrant monks in Xishuangbanna to provide their certificate of ordination, passport, ID card, and numerous other legal documents. Many of the monks who returned to their countries of origin to get the required documents found the process too onerous and expensive, and opted not to return to China. Others who tried to stay in Xishuangbanna without complying with the new rules were repatriated.
With the support of his host village, Dubi Jen was one of the few to procure a temporary residence permit in 2019. However, the COVID-19 pandemic and China's decision to close its borders have left him feeling hopeless. He has stayed in the village throughout the pandemic, but he worries that if there are any problems with his residence permit, he will have to leave Xishuangbanna, his home for the last 11 years.
Dubi Jen is anxious about his future in China, as are the residents of his host village. His potential departure is a frequent topic of conversation. Many residents worry that if he does leave, they will not be able to find a replacement, and their beautiful village temple will be left empty, like so many others in the region.
"Maybe some old bachelors will shave their heads and stay in our village temple to chant for us," an old Dai man who helps manage the village temple told me, only half-joking. There has indeed been an emerging trend in Xishuangbanna of old, unmarried, or solitary men who choose to join a temple later in life. "But re-ordained bachelors are different from monks," the man added after a long pause. "It's ok if that is the only solution. But it feels like, how do I put it, drinking plain water in place of tasty soup."
Editors: Cai Yiwen and Kilian O'Donnell.
(Header image: A monk from Shan state (center) teaches local Dai novices in Yunnan province, March 2020. Courtesy of the author)