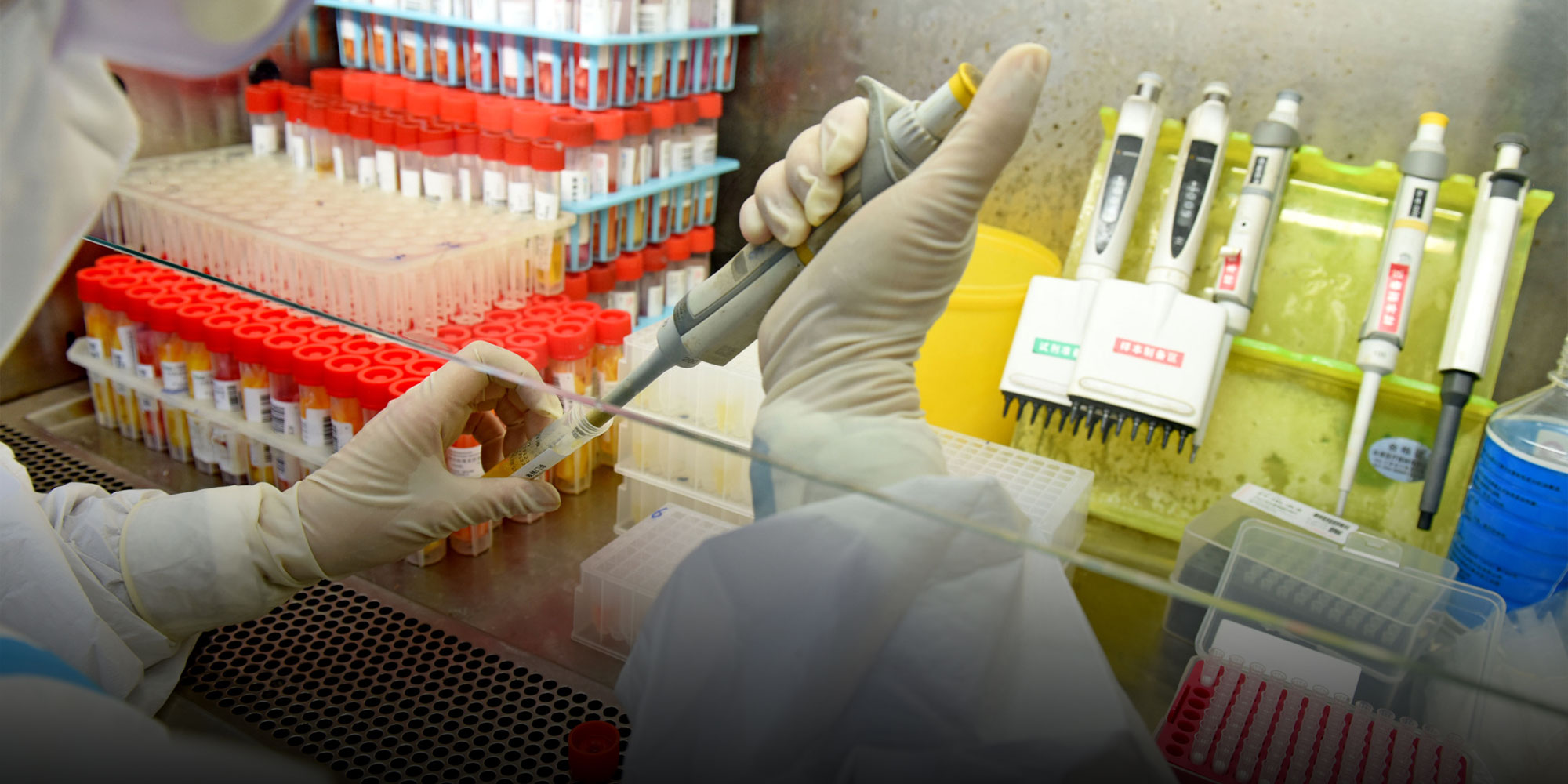 SIXTH TONE ×
As COVID Lingers: Extract, Test, Seal. Repeat, Repeat, Repeat
Burdened with unending nucleic acid tests, lab workers are stretched to the limit.
23:17:01. The time blinked on the screen at the hotel entrance opposite the lab Xiaozhou was posted at. On that late night in May, she pulled out her phone and took a photo of the flashing red clock.
She had just documented the end of another long workday in a county-level city in the eastern Jiangsu province. Xiaozhou had just spent over eight hours at a PCR lab.
The monotony was mind numbing. Stretching out her arm, Xiaozhou picked up a test tube, unscrewed the cap, and used a pipette in her other hand to transfer the sample into a small well less than 7 mm in diameter on the reaction plate. Then repeat — several thousand times. "I'm an emotionless sample-testing machine," she says.
As a nucleic acid tester reassigned from her township to support the city, she was overwhelmed: on that day in May alone, the lab had received 232 batches of test samples — that's more than 20,000 tubes.
Across the region, Xiaozhou isn't alone. Almost every nucleic acid tester interviewed described their current mood with the same refrain: "assembly line."
They see themselves as the new line workers — from collecting samples to dispensing reagents, testing, and applying films, nucleic acid testing is a labor-intensive process with low levels of automation.
Xiaozhou's city, like many others, implemented a "normalized" testing plan. Each time it was enforced, the city carried out roughly 220,000 tests, generating over 100,000 sample tubes. Since travel resumed, the number of people returning from out of town skyrocketed, and with them, so did the number of samples required.
But the county-level city comprised just six qualified laboratories, including two large nucleic acid testing bases, two tertiary-grade hospital labs, and two township hospital labs.
According to Xiaozhou, professional testers are in short supply, totaling only about 120 staff. So she was temporarily transferred from her job in the township hospital lab — her third such transfer this year already.
Such reinforcement personnel are put under closed-loop management, entailing collective quarantining with daily testing. After late night shifts, they stay at a hotel, often a 10-minute walk away.
Amid the new COVID-19 wave, comprehensive nucleic acid testing is more widespread than ever, resulting in the rapid expansion of third-party testing facilities and attractive job postings circulating online.
But in smaller cities and the vast countryside, the heavy burden of testing falls on the shoulders of public hospitals, and, in particular, their lab workers, who toil under pressure for low salaries and paltry benefits.
Sample fatigue
Xiaozhou, 22, joined the hospital just a year ago. In college, her parents pushed her to opt for medicine, but she resisted because she was not a fan of all the gore.
She was eventually talked into medical lab science. After graduating, she would most likely work with the "three usuals" — blood, urine, and stool samples — in what would be a more tranquil job.
But by the time she graduated last year, the pandemic had not only multiplied the lab's workload but Xiaozhou also found herself on the frontline of the battle against the pandemic.
With only eight people, her lab is now the most strained department in the entire hospital. But they aren't the only ones; almost all hospitals are in the same boat.
Xiaozhou says that in township hospitals without labs, the department only leaves one person in charge of the outpatient clinic and transfers everyone else to the city. Working hours are divided into tight schedules.
This past spring came and went without her realizing the change in weather, and she has hardly taken any time off since March. On her birthday, her mother sent food to the hospital for her, but Xiaozhou could only wolf it down quickly before rushing back to work. Her birthday wish was simple: that the pandemic would end soon.
After clocking out and returning to her room in the hotel next door, Xiaozhou felt like she reeked like a moldy can of meat. Her arms were so sore she could barely lift them, and her fingers were full of blisters from twisting caps off.
Left so exhausted that she had no desire to wash her hair, she planned to tie it up the next day and tamp it down with a hat. She prayed she could get off early because she had to go back to her office to catch an 8 a.m. shift the day after.
Stress test
Contrary to popular belief, most aspects of testing rely on manual labor, and not automation. Testers repeat the same, dull work every day — in other words, an assembly line.
Broadly speaking, PCR labs can be divided into three clear stages that encompass the entire chain, from collecting samples all the way through to uploading digital results. Most use a shift system that keeps the lab running 24 hours a day.
The first stage deals with the reagent configuration, and is mostly done manually. Based on the number of samples projected that day, the technicians assess the amount of reagents needed and prepare them in advance.
The actual samples go directly to the second section, which thus runs the highest risk of infection. Testers must wear airtight protective suits while carefully repeating the same steps: extract, test, and seal. This is widely recognized as the most strenuous part of the process.
Automation appears only in the final stage. The tester puts samples into the amplification equipment and then waits for over an hour to determine whether they are positive based on the reaction curve the machine generates. The test results are then uploaded.
A senior lab worker with two decades of experience says that if the result of a pooled testing tube — samples from several people together — returned positive, they would need to be reviewed in the lab first.
Positive results are then reported to the local Center for Disease Control and Prevention (CDC) for further review. Next, individual tests are administered to people in this pool to pinpoint those actually infected. Such a review process is meant to avoid false positives.
To alleviate the stress and break the monotony, some labs pooled money for an annual subscription to music platforms. But it's hard to hear the music over the drone of all the equipment.
"You can't afford to get too distracted, either," says one Zhejiang-based tester. If your focus slips even a bit and you add the sample to the wrong well with the pipette, the whole plate will have to be junked, and the process must start from scratch.
Stress intensifies even more during the holidays. In nearly every city, people have had to take nucleic acid tests before traveling out, leaving labs with up to twice as many samples to handle.
The testers have to keep tabs, by hand, every day: when samples were taken, when they were delivered to the lab, and the latest by which they require the results.
Outside the lab sits one staff member dedicated solely to watching the time, and uses the intercom to issue reminders about the upcoming deadline on a batch of tests. If a deadline is missed, the delay is noted, and then criticized by higher-ups.
Diminishing returns
Nobody is beyond the call of duty: neither newcomers, nor even the pregnant or employees about to retire.
Xiaozhou's body was signaling change. She noticed pimples on her nose for the first time, and her period grew irregular. Her work and eating routine was completely upended. Time in the lab dulled her senses, keeping her from feeling hunger until she walked outside, and late nights became the norm.
And fatigue could strike anytime. Once, she was in charge of unscrewing the caps while a colleague worked the pipette. They clearly sensed that her movements had slowed, and when they looked again after a while, she was leaning against the glass of the biosafety cabinet, fast asleep.
She believes she has mastered the skill of sitting while sleeping. "You just fold your arms in, like sleeping in class," she says. "Now I even dream about testing samples or drawing blood."
According to data from the National Health Commission (NHC), China now has about 150,000 nucleic acid testing technicians nationwide. Compared to what is required for normalized testing, that's not nearly enough.
Almost every lab worker interviewed at a public hospital underscored that their department was struggling to recruit testers. Plus, PCR certification requires applicants to have completed a medicine-related major and pass the NHC's training.
It's a considerable threshold. One lab worker says that the offer is frankly not that appealing, given the limited number of bianzhi — official, full-time positions similar to tenure — and the middling compensation package.
Given the shortage of manpower and time constraints, one senior technician at a county public hospital bluntly says, "There are times we just can't do it to the right standards."
This was the technician's eighth year in a profession she had enjoyed since college, but now, she thinks every day about quitting. "I'm exhausted," she says. "My hands shake every day after I get off work."
The high wages and benefits of nucleic acid testers made headlines some time ago; Xiaozhou explains that those are third-party facility offers, however, and that most testers were public hospital personnel like her, earning a subsidized 50 yuan ($7.50) per day of testing.
At one public hospital lab in Jinhua, a city in the eastern Zhejiang province, Yiran says she wasn't paid even that 50 yuan. With accumulated work experience of 20 years, she spoke of a policy in 2020 that provided subsidies to frontline workers.
But then she and her coworkers found that lab technicians and the outdoor test collectors were ineligible, as "frontline" referred only to medical staff in direct contact with confirmed patients.
Moreover, the pandemic has in turn affected the hospital's daily intake, leading to a de-facto decline in the overall performance of its laboratory department. At the local level, nucleic acid tests are a loss-making venture. "There's no profit at all," rues Yiran.
The director of the lab department at a public hospital concluded that these tests have turned into an endeavor with no returns.
It has left Yiran feeling exploited. Medical lab science was supposed to bridge clinical medicine and basic medicine, a job where experience can improve liver and kidney function tests, or the more difficult tumor markers and cell testing. Nucleic acid testing, on the other hand, involves a very low degree of specialization and is just plain tedious.
Xiaochen, a nurse in Shanghai's Fengxian District, refuses to become a "sampling machine." Instead, her approach is to treat people coming for tests as individuals. When she encounters a child, she praises them with a grin. During breaks, she lets her mind wander.
Both samplers and testers want this state of mechanical work to end sooner and return to a more professional and fulfilling job.
Besieged
Unlike these public hospital labs, third-party nucleic acid testing facilities have dramatically gained ground.
Xiaoli, who works at a prefecture-level public hospital, was initially excited when she saw a job posting at a Shanghai facility for 1,800 yuan a day. But she knew it meant longer working hours, more intense and repetitive labor, and having to make it solo in the big city. She passed it up, for now.
A woman who worked part-time as a nucleic acid sampler in Shanghai recently understood what it meant to pay the piper. The price offered in the job posting did not come in full, nor did the promised meal allowance. She was fired a few days ago and nobody explained why.
As competition intensifies in the testing market, some institutions have begun falsifying and violating the rules, which in turn placed a new burden on public hospitals. Out of distrust of third-party agencies, Xiaoli's city started sending more samples to public hospitals. The heightened pressure eventually resulted in two of her colleagues opting to switch to administrative work.
Meanwhile, 23-year-old Chen Yu decided instead to join the frontline.
After majoring in nursing, she successfully became a nurse following graduation and worked in a hospital for two years. Early this year, she saw a CDC recruitment ad in Jinan, capital of the eastern Shandong province, for nucleic acid testers.
Anybody with a medical background could take the recruitment test and be posted upon passing training. "Competition was fierce," says Chen. Of the 100-plus applicants, only 20 were ultimately selected, including her.
In addition to enjoying bianzhi, they work out of a newly constructed fangcang, or shelter hospital. The staff come from a range of backgrounds, from nursing to biosafety technology, and they are all young, with the youngest recruit aged 22.
When she started in April, this fangcang, located in a patch of undeveloped land downtown, was only half-built. Though now completed with an isolated testing area, separate offices, bathrooms, laundry room, and a break room, it still can't shake off the appearance of a temporary structure.
For her, it is better than the hospital. Back in her nursing days, having to deal with people was like being set adrift, never knowing where the next conflict or turmoil might arise. "I felt drained every day," she says.
She prefers what she does today, sitting on a stool in front of the biosafety cabinet. "The assembly line is easy, and there's no chance of conflicts erupting between medical staff and other people," she says. The mechanical repetition lent her a sense of security.
She heads into the fangcang everyday at 7:30 a.m. and emerges at 12:30 p.m.; a second group works until 6:30 p.m. Then she goes back in, from 6:30 p.m. to 11:30 p.m. Chen had just worked four days the week before this interview, and she says she wasn't feeling too tired.
Thanks to her bianzhi, she feels confident in her ability to get another post within the system, if and when the pandemic ends and testing stops. She heard that the CDC lab department used to work on infectious diseases like AIDS, so she figured people like her would likely do that as well.
At meetings, managers spoke of a bright future: They might accept contracts for samples from other districts and counties to turn a profit. It will be a very promising and important project for the district.
Chen was sold. Like the new fangcang, her future may well be bright and tangible as well.
Reporters: Yin Shenglin, Zhao Yunling
Per the interviewees' requests, the names Xiaozhou, Chen Yu, Yiran, Xiaochen, and Xiaoli are all pseudonyms.
A version of this article originally appeared in White Night Workshop. It has been translated and edited for brevity and clarity, and published with permission.
Translator: Katherine Tse; Editors: Zhi Yu and Apurva.
(Header image: A worker tests samples at a lab in Huainan, Anhui province, April 5, 2022. Chen Binshu/IC)