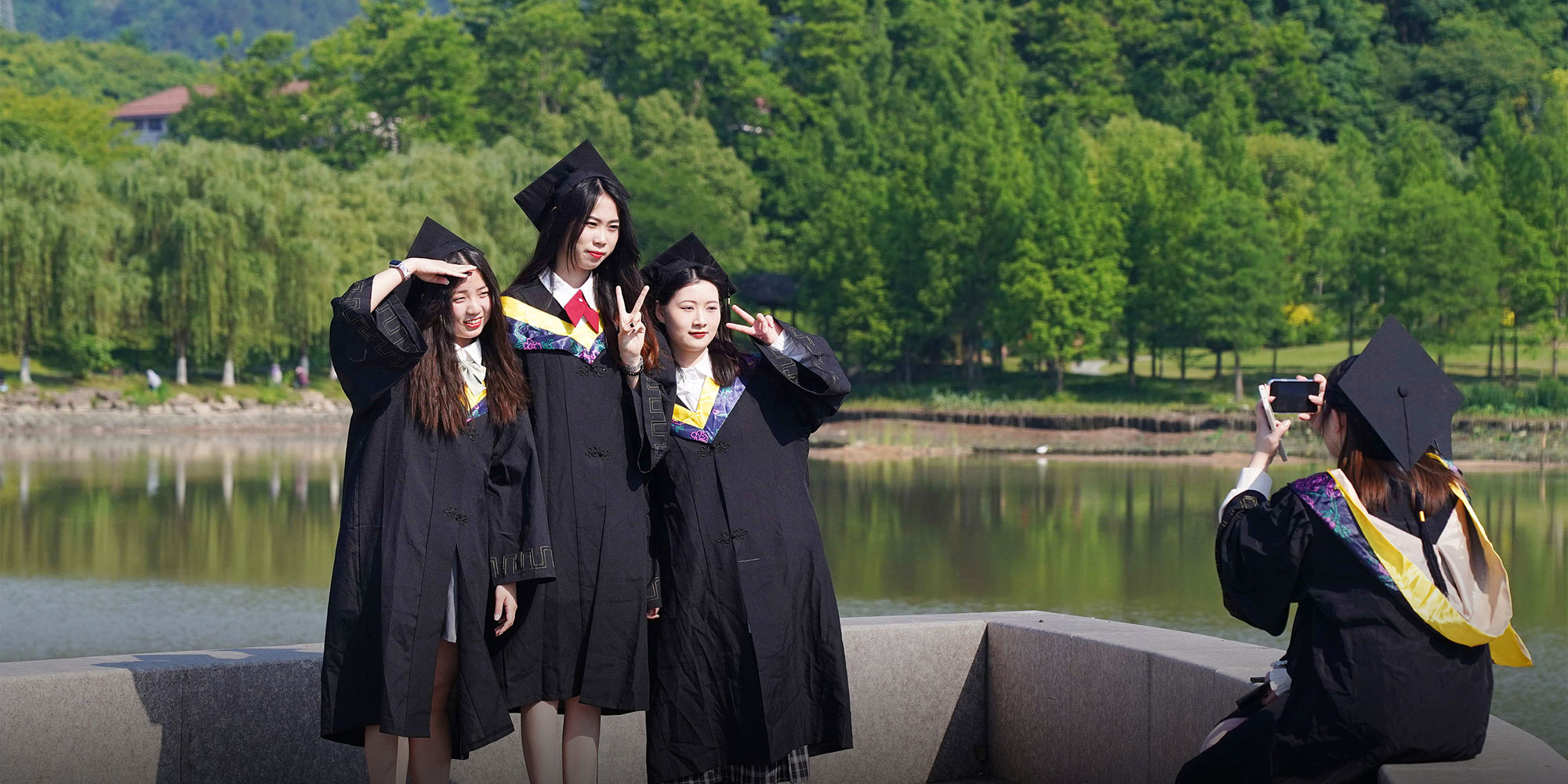 FEATURES
With Jobs Scarce, China's Graduates Dream Small
China's largest-ever graduating class faces the weakest job market in decades.
"If you adjust down your salary expectations, there's always a job for you." Speaking from his locked-down college dorm in Shanghai, Qu Fenghua kept coming back to the same idea. It was already late May, but Qu, who would graduate by June, had yet to secure a job.
"Any job that pays more than 5,000 yuan ($750) a month will be fine," he told Sixth Tone. "The bottom line is earning enough that I can feed myself and save a little bit."
The business management major is one of 10.76 million students graduating from the country's institutes of higher learning this month, a record high.
China's largest-ever graduating class is dreaming small, cutting back expectations as its members face the country's weakest job market in decades. As businesses scale down recruitment due to COVID-19 outbreaks and lockdowns, many undergraduates scramble for places in graduate programs and lower their salary expectations. Meanwhile, many graduates are putting security above all else, focusing their efforts on stable jobs in the state sector.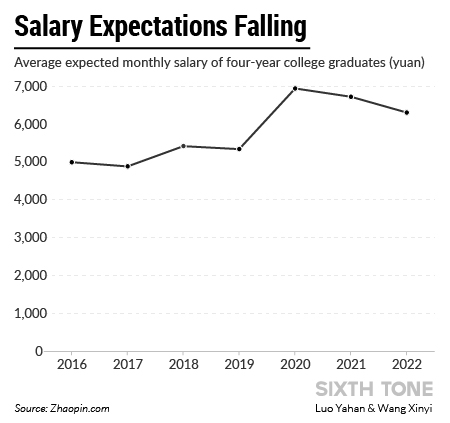 The country's top education authority warned as early as December that these graduates would have to deal with challenges finding jobs. Things got even worse as major COVID-19 outbreaks and lockdowns hit China's largest cities.
By mid-April, less than 47% of the graduates seeking employment had secured an offer, according to a report from online recruitment platform Zhilian Zhaopin. It's a big drop from the 62.8% recorded for the same period last year.
Even some of the 47% found themselves jobless in May when companies including bike rental platform Hello Chuxing, secondhand marketplace Zhuanzhuan, and new energy vehicle makers Li Auto and XPeng reportedly canceled offers already made to fresh graduates.
It's a bad time to be a young person looking for a job. The unemployment rate for urban people aged 16-24 was 18.4% in May, far above the general urban unemployment rate of 5.9% for the same month, according to official statistics. It's the highest rate since the government began tracking urban youth unemployment in 2018.
Local governments and universities have come up with different strategies to ease the crisis. State-run enterprises in Shanghai announced in early May plans for a 50% hiring quota for the city's fresh graduates. The city will also offer businesses a 2,000 yuan subsidy for each fresh graduate they hire. Schools are also making efforts to connect companies with their graduate students by organizing online job fairs.
The head of Shanghai Ocean University, Wang Hongzhou, even started pitching his students via online video shopping. Dressed in business casual outfits, Wang read students' résumés aloud to an online audience of recruiters, with five or six companies committing to attend each session and follow up with students afterward. Wang held more than 30 online sessions this spring.
Failed escape
Qu was quarantined on campus from early March, like thousands of other university students in the city. But with graduation looming, he was anxious to get out for job interviews.
"I missed the fall recruitment season, since I was preparing for the postgraduate program enrollment exams in December," the 21-year-old said.
Starting in September, the fall hiring season is the prime time for graduates to find a job in China. The spring season, which begins in March, is usually used only for supplemental hires.

"I knew I should start job hunting right after the exams. I didn't do well." Qu said.

Around a third of his 40 classmates sat the graduate exams, while others applied for degrees abroad, Qu said. Few tried hard looking for jobs from the very beginning.

"We understand that a bachelor's degree is not competitive in this job market," he said. "Besides, if we stay in school, we will be free from worries about finding a job for another two or three years. Who wouldn't prefer an easier life on campus?" With graduate tuition usually no more than 5,000 to 10,000 yuan per year and campus food and housing heavily subsidized, it's a pretty affordable way to keep out of the job market for a few years.
Higher degrees do seem to pay off. A research team from Peking University surveyed over 20,000 graduates from universities in 19 provinces in 2021, and found that each new degree gives the average student an approximately 50% bump in starting salary: from under 6,000 yuan a month for bachelor's degree holders, to just over 10,000 yuan a month for a master's, to almost 15,000 for PhDs.
But the competition to get into postgraduate programs is also fierce. According to the Ministry of Education, 4.57 million students signed up to take the postgraduate program exams in December, an increase of 800,000 from the previous year.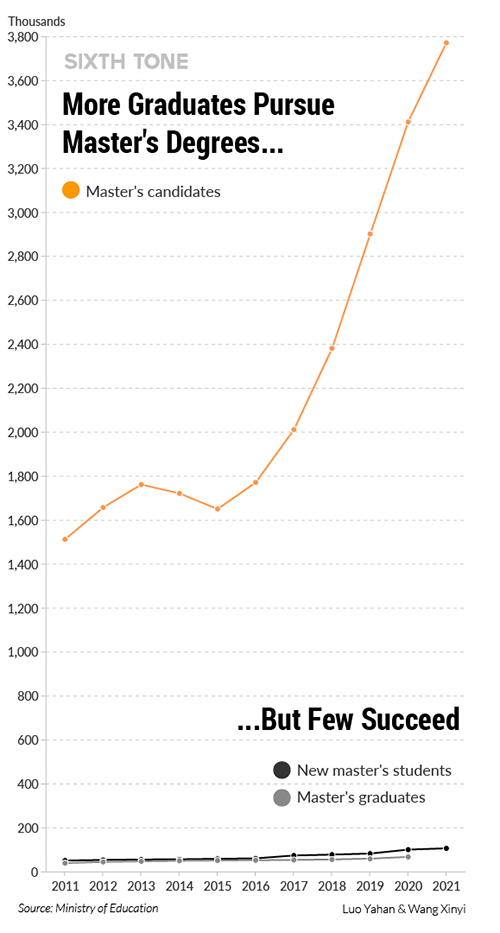 The education group New Oriental released a report in April, estimating the number of seats in the country's postgraduate schools at around 1.2 million. That means no places for over 73% of exam-takers.
Only two of Qu's classmates passed. He wasn't one of them.
When Qu found out he failed his exams, he wasn't sure what to do. Because of the Shanghai lockdown, there would be no job fairs during the spring hiring season. "Our teachers have been as anxious as we are," he said. "They keep passing on information about companies that are hiring in our online chat groups." Pressure is high on universities to graduate employable students, so much so that some schools have reportedly held back students without job offers from graduating.
The young man submitted dozens of applications but received few responses. "The few companies that got back to me didn't seem all that eager to hire new staff. Some never followed up after a brief conversation," Qu said.

Professor Jia Lijun, from the Department of Economics and Management at Shanghai's East China Normal University, said that business was bad for many companies during the lockdown. "Some froze employment plans, and others cut headcount," he told Sixth Tone. "But these are all temporary issues. There's no problem with the economic system. As the impact from the pandemic diminishes, things will quickly get back onto the right track."
Zhao Xinyun, a senior from East China Normal University, wasn't surprised when she failed the graduate school exams.

"It's so common for students to sit the exams two or three times before getting into a master's program," Zhao told Sixth Tone from her hometown in east China's Anhui province, where she's preparing to apply for jobs at local state-affiliated organizations.

"A bachelor's degree is no longer valuable," said Zhao. "But I was forced into the job market after failing the exams."

Li Shujie, a graduate student from Shanghai International Studies University, told Sixth Tone that she saw few undergraduates at this year's fall job fairs. "The involution is very serious," she told Sixth Tone. "When I was a junior, I visited a job fair and saw that most businesses require a master's. I gave up on the idea of looking for a job after my bachelor's."

Like many others, Li failed the graduate exam her first time around. "But the failure didn't shake my determination. It feels like everyone is pursuing a master's degree. It's as natural as going to university after finishing high school," she added.
A steady job
Get a job listed in the official headcount of a public institution, known as the bianzhi system, and you can count on stable work and security.
But competition for these jobs is fiercer than ever.
Shi Sijie, a graduate student in Japanese language studies, aims for a bianzhi job like teaching in a public school. "I'm an introverted person. I've been a quiet girl since childhood, and I want a strong sense of security from a job," she said.
When her university went into lockdown in early March, Shi was devastated but decided to change her mindset.

"I was thinking about preparing for the next fall hiring season," she told Sixth Tone. "If I can't catch the first train like many others, it's just better for me to review what I did wrong in my previous interviews."
Like graduate school, getting into the civil service requires a top score on an exam. Over 2 million people, many of them fresh graduates and young people, signed up for the civil servant exam this year. This number had been fluctuating between 1.3 million and 1.6 million in the previous 12 years. This year, an average of 68 candidates will be competing for one civil servant job.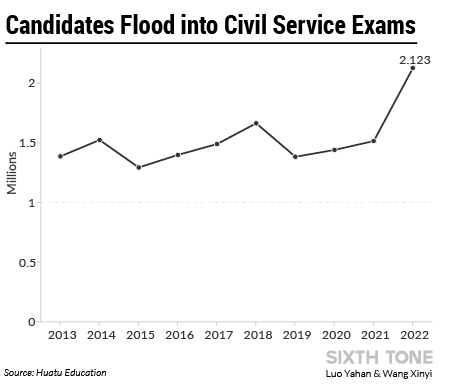 "Apparently, finding a job is getting increasingly difficult," she said. "A few years ago, jobs that were provided for undergraduates are now competitive among postgraduates."
When Shi started job hunting in the fall semester, she went on the road. "I've been to Wuhan, Nanjing, Suzhou, Wuxi, and Tianjin for interviews. I stayed for a minimum of three days for COVID tests, written tests, and interviews," she recalled. "I was kept there waiting for the final results sometimes. There was never good news."
Shi made over 70 job applications between September and May. "It's not that many compared with my classmates, who were willing to take more jobs. They made hundreds of applications."
Zhao, who studies special education, said she could have found a job in Shanghai or Shenzhen, but she's applying only for public sector jobs in her home province of Anhui.
"I'm not an ambitious person. I'd prefer a stable life closer to my hometown, rather than a perfect job in a big city," she said. "I was once sick in Shanghai, and it was an awful experience having no family nearby to take care of you."
A survey conducted among over 1,000 students at the northeast's Heilongjiang University in May found that a bit over half of the interviewees plan to go back to their hometowns after graduating.
After her university went into lockdown in March, Shi received even fewer responses from potential employers. "I was so depressed. And my teachers noticed," she recalled. "They sat down with me, helping me analyze how I could improve in my interviews, like how to fully present myself in the short interviews with many other candidates," Shi said.
At the end of May, Shi got an offer from a high school in Shenzhen. She finally let out a sigh of relief. "I'm no longer afraid of conversations about job hunting," she said. "I can 100% feel my classmates, who are still looking for a job. I'm extra cautious when chatting with them."
Preparing early
The pressure to find a job starts long before senior year. Students are taking on increasing numbers of internships and pre-professional activities in earlier years in the hope of building an edge in the job market. According to the Zhilian Zhaopin report, 74% of the graduates this year had internship experiences, an increase from 57.9% last year.
Li Shujie studies finance. She was lucky enough to secure a job late last year.
"The job market is very competitive. Many of my classmates started to intern with different companies since the beginning of our postgraduate studies," she told Sixth Tone. "Many businesses in the finance industry attach great importance to both a candidate's academic background and their internship experiences."
Chu Zhaohui, a researcher at the state-run National Institute for Education Sciences, said university students are doing internships earlier and more often during their campus years. Many students spend three or four days a week at a company while taking classes.
"However, those experiences don't necessarily decide their future employment," he told Sixth Tone. "We need to look at the issue more rationally. Interning too early or too frequently will impact a student's academic learning for sure. Schools should never compromise academics for students' internship needs."
Li started interning after the first year of her postgraduate studies. "I was at a loss when looking for internship opportunities last summer. I sent around 50 applications and most went unanswered," she recalled.
"I think companies are very cautious about offering internship opportunities to students in their final year in graduate schools because they are hoping to stay for the job, not just as an intern," she added.
During the fall recruitment season, Li received an offer from the finance company, where she had been interning in the human resources department. "This is my only internship experience. It's actually quite rare among my peers," she said. "I'm really lucky."
Li said the business had slashed its campus hiring headcount by around 60% after the pandemic hit.
"The main reason is we can't have in-person interviews," she explained. "Online interviews cannot provide clear impressions and the company is afraid of hiring the wrong people.
Although she hasn't officially signed her contract, Li said she's not worried that her offer might be taken back.
"I work in the human resources department, which is the first to learn about the company's plans to cut headcounts or lay off staff," Li said. "And big companies, especially those with a state background, care about their reputations. If they break their promises, they'll ruin their reputations and students are very sensitive about this. It's going to impact their future hiring."
Li hails from the eastern province of Shandong. She admits postgraduates in Shanghai generally have high expectations for their salaries. "I would say 10,000 yuan a month after tax is what we normally look for," she said. "It's reasonable for students from our school." Li said her current job offer can live up to her salary expectations.
In early June, soon after Shanghai removed its citywide lockdown, Qu eventually received a job offer to work in the marketing team of a medium-sized company. "According to the job description, it seems all I need to do is fetch and carry for the team," he said with a bitter smile. "But it actually pays more than the 5,000 yuan that I was expecting. At least I can support my life now."
In the meantime, Qu said he will not stop preparing for the next round of graduate school exams, which will be held in December. "The cost of doing nothing but preparing for the exams is too big. No one can guarantee you that there won't be another failure," he said.
Editor: David Cohen.
(Header image: Graduates take a group photo at a university in Hangzhou, Zhejiang province, May 17, 2022. Chen Shengwei/VCG)