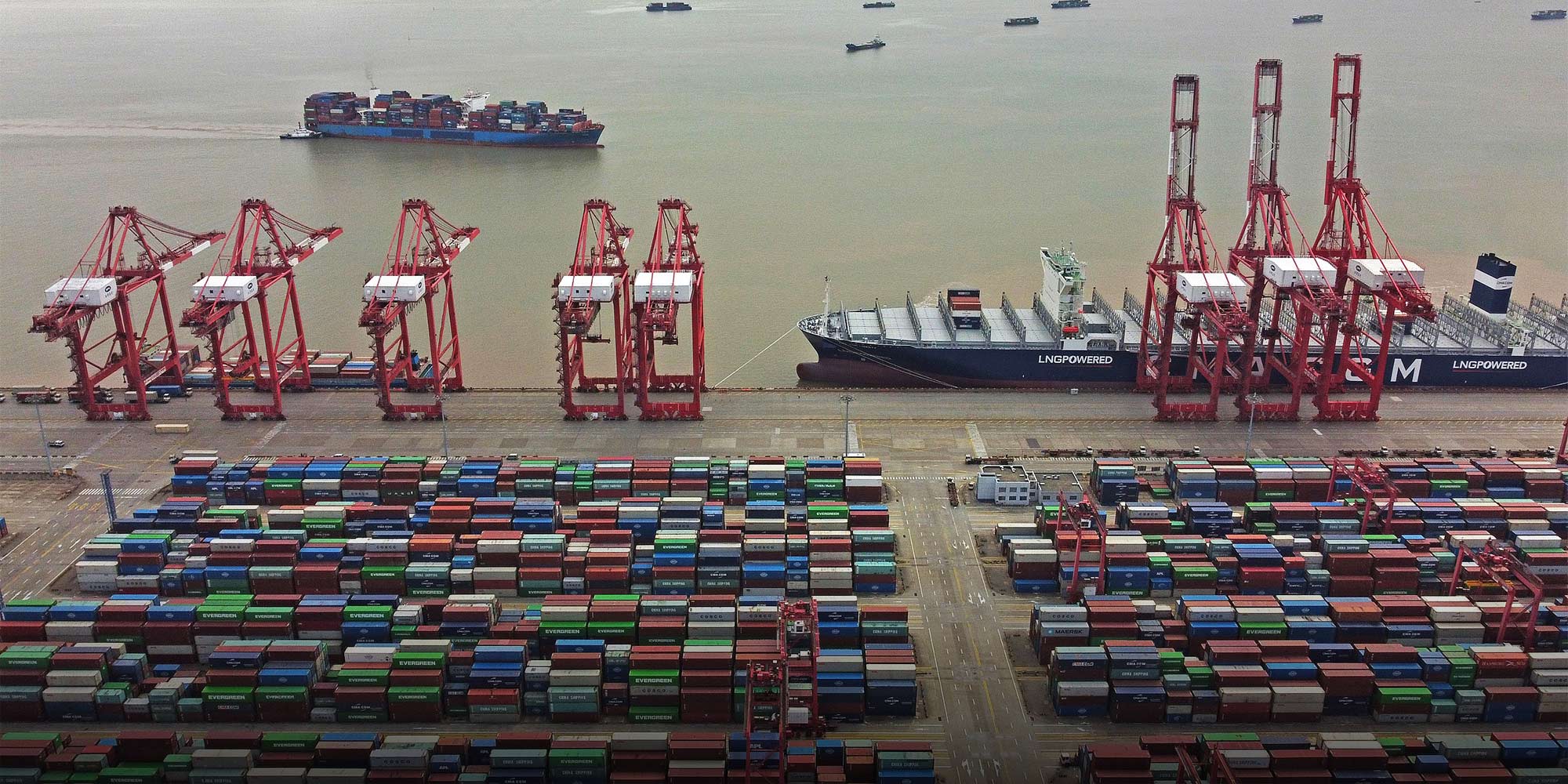 SIXTH TONE ×
Freight or Flight: COVID Wake Leaves Shanghai's Port High and Dry
Though some restrictions have been lifted, container ship schedules remain unstable.
On May 25, Shanghai's Jinshan District announced the removal of traffic checkpoints across its various towns and sub-districts. On hearing the news, Li Ting, who until that point was locked up in her clothing export and trade company, drove immediately to the nearest customs office.
Driving through the jampacked roads, she momentarily felt "everything had gone back to normal," until she remembered that citywide restrictions were still in effect and she couldn't get back to her home located in another district.
But at the time, the customs paperwork was more important. She needed to get it done and sent to clients overseas. Two months after the lockdown in Shanghai, her company's operations were slowly limping back to normal — Li did not want to lose momentum.
And with no paperwork being dispatched, deliveries not coming through, and some overseas clients' shipments unable to clear customs on time, Li knew it was an uphill battle. Such was the backlog since the COVID-19 outbreak began in Shanghai in March that stranded cargo ships besieged the city port in a semicircle.
Though the lifting of restrictions came as a relief, ship schedules are still quite unstable. And for two years now, ever since the COVID-19 pandemic began, factories, facing untenable delays, clients demanding discounts for future orders, and restless factory workers, are yet to return to full operations.
The long haul
Shanghai is home to the world's largest port. In 2021, its throughput surpassed 47 million standard shipping containers: the twelfth consecutive year that it ranked first.
But on May 11 this year, China's Ministry of Transport revealed that April saw just 3.085 million standard containers — a 17.6% drop compared with the same period last year.
Over the past two years, entrepreneurs were forced to queue up ahead of time at nearby container yards when ports were shut, and then waitlist the cargo until they could be weighed and taken out to sea.
If they just waited for ports to give them the green light before queuing up, they could have ended up either missing the ship, or having their containers rejected due to last-minute glitches.
Shen Qiang is a proxy handling customs logistics on Li's behalf. He says that, during the lockdown, yards near the port got even more crowded, with containers often stranded for several days — something he only saw during the hectic Spring Festival period.
Naturally, finding available yard space became a top priority, and a hassle. Some restricted the hours that large trucks could ply, leading to long jams.
On one occasion, Li's containers had only just been accepted, when they were notified that all yards had to take turns shutting down for three days. Her goods were, thus, left in limbo.
Hoping to get them back out as soon as possible, Shen quickly contacted Li to ask if she had a backup plan. But at the same time, he worried that, wherever they moved, the shutdowns would just repeat ad nauseam. They ended up choosing to stay put.
Already under the strain of countless backed-up orders, Li's assembly line was stretched to the limit. She provided her employees, whose lives were essentially restricted to the factory grounds, with bed and board. Only early in April, when lockdown measures were at their most stringent, did they finally cease all production.
She recalls that when production gradually resumed, the biggest problem was to get travel passes for trucks ferrying raw materials. Through contacts in the logistics network, Li got in touch with some vehicles that had passes to deliver lockdown supplies.
After they completed their designated tasks for the day, they brought over some raw materials for her in what was a side hustle of sorts. But under-the-table odd jobs like this came at a steep price — Li's overhead expenses surged.
Moreover, regular trips that cost 3,000-4,000 yuan ($447-$600) began billing for over 10,000 yuan. The numbers gave her a headache.
On May 26, her factory still wasn't fully operational. One of the machines broke down, and spare parts were stuck in an industrial park in another district. She had no choice but to wait until the lockdown had been lifted citywide.
Industrial parks function basically like residential communities. Every factory fretted about food: the quality of group-bought supplies was deemed subpar, so many instead depended on nearby villages. In private, they grumbled about the lack of work and the nonstop, mandatory nucleic acid tests.
The designated testing site was two or three kilometres away from the premises. Every factory had to categorize their production zones from low to high risk — employees in "high-risk" zones were required to do daily tests.
Early in May, Jinshan District, an industrial powerhouse in Shanghai, announced a new measure on their pandemic prevention app: if registered employees failed to comply with testing plans, there'd be a warning.
Li says that, on the factory floor, low-level cadres adopted a softer tone with floor managers, almost pleading, "please do it on time."
The math
For factories, whether or not to ship cargo amid the lockdown is a mathematical tour de force comprising several variables. On top of the unstable sailing dates, long waits at the port, and the risk of missing out at the last minute, the entire journey is fraught with difficulties.
Another freight logistics proxy, Liu Zhan, recalls that, from mid-April to May, trucks driving to the neighboring Jiangsu Province to pick up goods always had trouble exiting the expressway.
It meant he'd get grief from all around: drivers felt the long and uncertain delays had to be reimbursed, while factories constantly asked him to hurry the drivers up. Most of the time, he had little influence over traffic authorities and on-site factory security personnel. All he could do was wait.
After doling out the extra overheads, factories also have to take a hard look at how much goodwill they had left with their clients. Such things are often difficult to ascertain and they therefore take precautions.
A former technician at Li's factory messaged someone at her facility that one of Li's clients had begun ordering from the technician's new employer. "I can only speculate but perhaps this client was not satisfied with online product inspection alone and preferred an in-person inspection, which the rules forbid," says Li.
"For the moment, all I can say is that I hope to reel them back in after the pandemic," says Li. From now on, she just wants to focus on production two to three months ahead — anything long-term is just too frustrating. At the end of last year, she had actually made a plan for 2022 — it did little good.
Liu Zhan learned that in early May, it cost at least 1,000 yuan more per truck to divert cargo from Shanghai to the port of Ningbo, about 90 nautical miles away. Getting a container into Shanghai cost 50-80% more than usual.
Who foots the bill?
In stark contrast to exporters like Li, importers hope the container ships take their own sweet time drifting in.
Chen Kan works at an international trade company, helping domestic clients import into Shanghai. He says containers have piled up at the docks. With deliveries of bills of lading — a legal document issued by a carrier to acknowledge receipt of cargo — on indefinite hold, and company seals locked away in offices, nobody could collect their imports.
After some time, shipping companies that temporarily held on to them often demanded demurrage fees.
Having been there a few times, Chen has developed certain insights. Some shipping companies are more reasonable and might waive the fee, while others turn a blind eye.
Digitizing bills of lading proved complex too: without a hard copy, some shipping companies require multiple written guarantees and additional fees; others demand large sums of security deposits. In the end, many clients chose to "lie down" — that is, forget about collecting during lockdown.
Chen says, "During the pandemic, ships are like futures — everyone bets on the chances of the outbreak coming under control by the time the goods arrive." For the sake of his clients, he hopes that they go slow.
He jokes that the past two years have "put [his] skills to the test." However, he promptly adds: "With some things, you either luck in, or luck out."
Now, he needs plans for all sorts of contingencies. If the port is too overcrowded and you need air freight, then the land routes also need to change. If new cases are detected at your airline or airport, then planes are grounded and nothing gets in or out. Every option is risky — including the backups.
Budget readjustments never stop, down to the time spent disinfecting goods at ports. He rarely sleeps well these days. If he makes a mistake that causes a client's production to halt, he'll have to face their wrath, and dole out compensation.
He's been lobbying everyone to convert to digital bills of lading, but some of his colleagues don't feel the same sense of urgency. With Shanghai's delivery services slated to resume operations, they are confident it'll get back to business as usual. However, after two years of extreme uncertainty, Chen just wants to rest.
On May 29, the city government announced policies stabilizing foreign trade, such as offering increased export tax rebates and short-term credit insurances, as well as encouraging shipping companies to reduce fees for container storage and oversight.
Whether it will help stabilize foreign trade, shipping, and manufacturing remains to be seen.
Reporter: Ge Mingning.
At the requests of the interviewees, Li Ting, Shen Qiang, Liu Zhan, Chen Kan are all pseudonyms.
A version of this article originally appeared in The Paper. It has been translated and edited for brevity and clarity, and published with permission.
Translator: Lewis Wright; editors: Zhi Yu and Apurva.
(Header image: Shanghai Yangshan Deep Water Port, April 24, 2022. Yin Liqin/CNS/VCG)