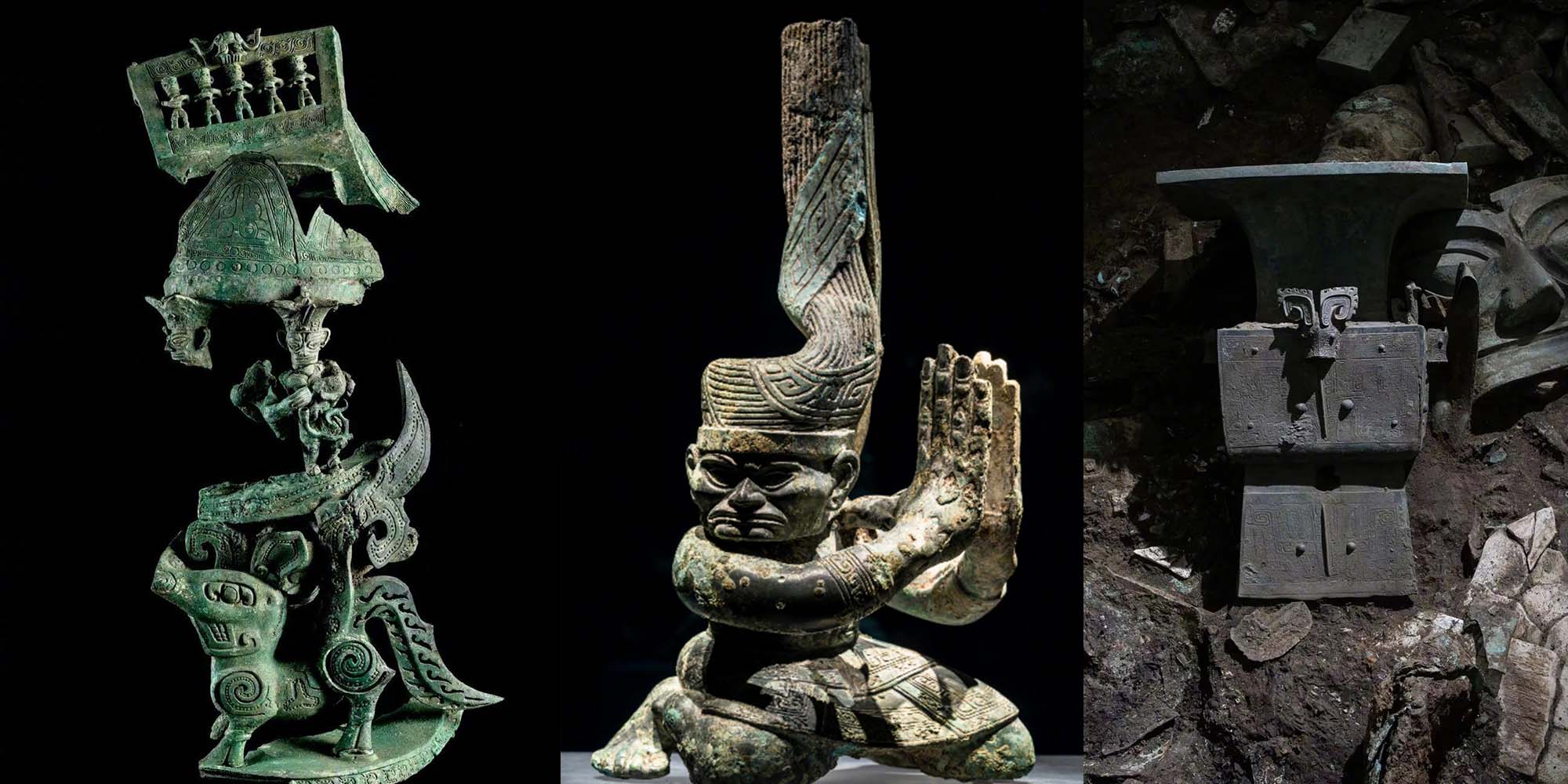 NEWS
New Sanxingdui Relics Offer More Clues of Ancient Civilization
Nearly 13,000 artifacts have been excavated from the site in southwestern China so far.
Chinese archaeologists have excavated a new treasure trove of artifacts at ruins in Sanxingdui in the southwestern Sichuan province, just over a year after the largest findings at the site shed light on an ancient civilization dating back more than 3,000 years.
The artifacts discovered in the latest round of archaeological excavations included a tortoise-backed lattice-shaped bronze vessel and a deity of a mythical creature, among others, officials from the Sichuan Provincial Institute of Cultural Relics and Archaeology said during a press conference Monday. So far, nearly 13,000 artifacts have been excavated, of which 3,155 were relatively complete.
The Sanxingdui Ruins, located about 40 kilometers from Chengdu, attracted massive public interest after archeologists and researchers from various Chinese institutions unearthed more than 500 relics last March. It was the largest discovery since the first major excavation took place in 1986 that included the remains of a gold mask.
The highlight of the latest unearthing is a tortoise-backed vessel, with archaeologists calling it the "Moonlight Box" — a reference to the fantasy movie "A Chinese Odyssey Part I" where the magical treasure allows people to travel through space and time. The vessel's exterior consists of four dragon-like handles and bronze ribbons while its interior contains a lime-colored piece of jade in a matching size and shape.
Using trace evidence analysis, archaeologists reasoned that the bronze vessel may have been wrapped in silk on the outside.
"Even the best designers of today may not be able to create such bold and imaginative works," archaeologist Guo Ming told Sixth Tone. "These strangely shaped artifacts that have never been seen before may open new ideas and perspectives for our knowledge of the cultural landscape of Sanxingdui, and will renew our understanding of the richness and diversity of its history."
The discoveries last year were made in the six "sacrificial pits" numbered 3 to 8, while the recent relics were excavated from pits 7 and 8.
As of May 2022, pits 3 and 4 are in the final stages of excavation, while field excavation has been finished in pits 5 and 6, which is now undergoing an archaeological cleanup in the laboratory, Ran Honglin, the site manager at the current excavations at Sanxingdui, told Sixth Tone. Meanwhile, buried artifacts are still being extracted from pits 7 and 8.
During Monday's press conference, archeologists said that they have also been able to resolve a controversy dating back decades that involves the timeline of the Sanxingdui sacrificial pits. A radiocarbon dating analysis conducted on nearly 200 samples showed the burial date to be from the late Shang Dynasty about 3,200 to 3,000 years ago.
"The published dating data does not alter our previous understanding, but the data is more accurate, which provides a premise and foundation for conducting related research." Guo said.
However, some archeologists are still skeptical on the timeline, saying they need to carry out more work before coming to a conclusion.
Chen Chun, an archeology professor at Shanghai's Fudan University, told Sixth Tone that the new round of archaeological work was more sophisticated in terms of excavation and analysis, but the current evidence was not enough to reveal the context of these artifacts. He added that archaeologists needed to study more on areas ranging from settlement pattern to the relationships of humans and the environment, the interactions or competition between peer polities at that time, and the issue of the rise and fall the civilization as well.
"This kind of analysis is not like physical and chemical tests on materials that can yield direct results, but rather like a detective's analysis," Chen said. "To understand the technological, economic, and social structures behind material phenomena requires integration and logical reasoning among various pieces of evidence to construct a chain of evidence that can support each other."
Editor: Bibek Bhandari.
(Header image: New findings at Sanxingdui, June 13, 2022. Xinhua)