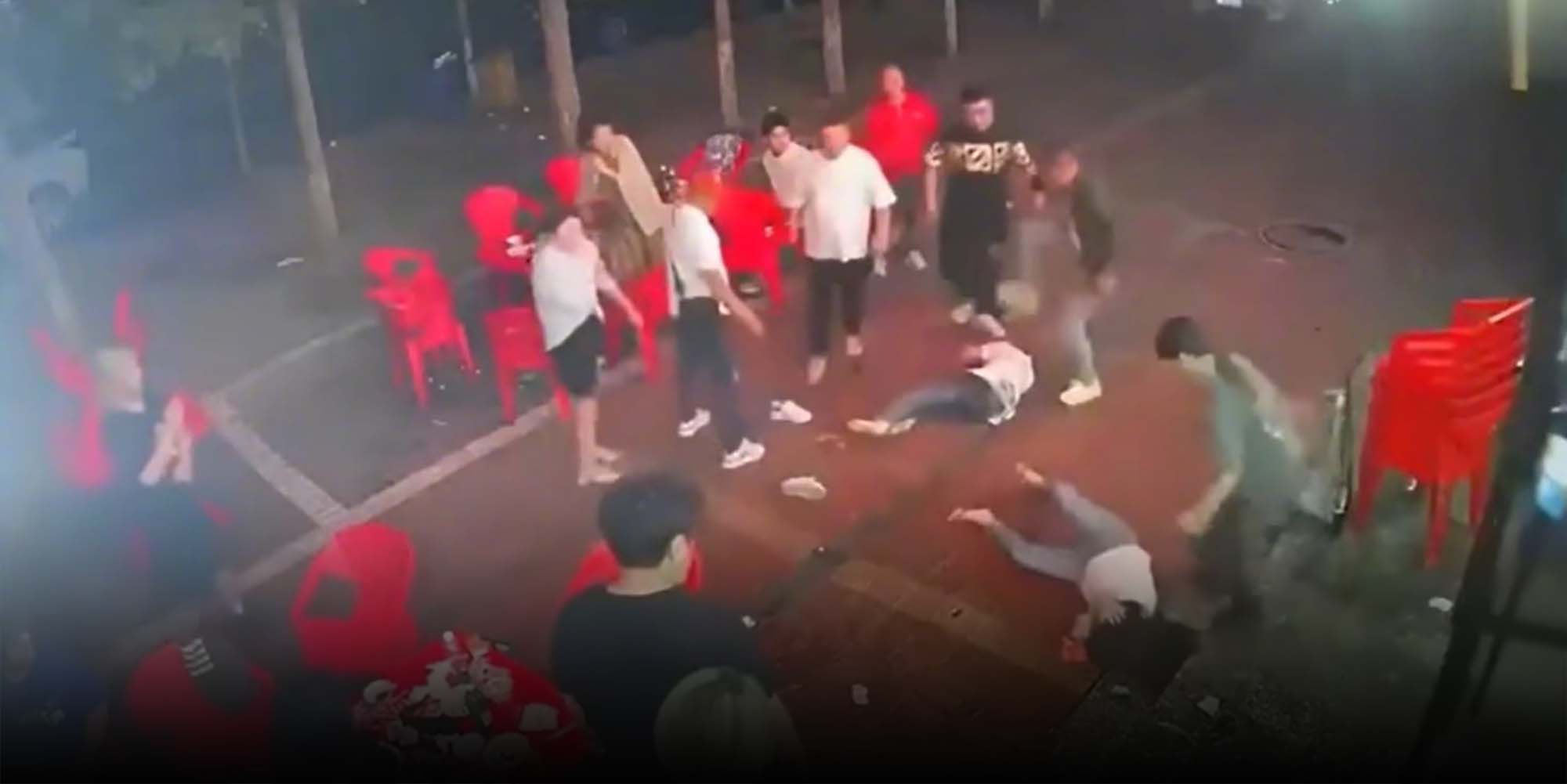 NEWS
Growing Calls for Women's Safety as Video of Assault Shocks China
Nine men have been arrested after footage of a brutal attack sparked public outrage.
A video showing a group of men physically assaulting four women at a restaurant in the northern city of Tangshan has led to multiple arrests and calls for campaigns to improve women's safety and better protect them from gender-based violence.
Local police arrested nine men on Saturday, a day after the video went viral on social media platforms and shocked the nation. Five of the nine arrested had prior criminal records, police said.
Surveillance footage from a barbecue restaurant in Tangshan, Hebei province, showed a group of men viciously beating four women who were dining and minding their own business at around 2:40 a.m. Friday. The assault started after a man made unwanted advances toward a female diner before she pushed him away.
The man is then seen slapping the woman's face before her companions tried to resist. By then, more men join in to punch and kick the women, with one of them dragging a woman by her hair outside the restaurant.   
While the incident took place, no other customers eating at the restaurant appeared to intervene, though police said one of them called for help. All four women were injured, but two of them had to be hospitalized and are said to be in a stable condition, according to media reports.
While the original video has been mostly scrubbed from Chinese social media platforms, the incident has prompted several campaigns calling for women's safety in public spaces. On Xiaohongshu, a social platform dominated by female users, users are commenting about this incident under trending posts to call for more attention and awareness.
"We, women, should all fight for our rights after seeing this incident," a Beijing resident surnamed Wang, who is joining the initiative, told Sixth Tone. "We have to understand she (the woman being beaten) and we are the same. We just happen to be the survivors, and she just happens to be the victim."
Friday's incident has once again sparked women's anxiety about their safety, both at home and in public spaces, following a spate of headline-grabbing incidents of abuse. They include a Tibetan woman in the southwestern Sichuan province burned to death by her ex-husband while she was livestreaming last year. He was later sentenced to death.
However, many say such punishments have done little to protect women who are repeatedly abused and attacked at workplaces and schools, and when using ride-hailing services.
"I was furious when I saw the video," a 19-year-old woman surnamed Zhou, who is also participating in the initiative on Xiaohongshu, told Sixth Tone. "The men harassed the women first. She was just trying to resist but suffered such violence. How is it possible that no one in the restaurant tried to stop? Women's rights should be protected."
Friday's attack is currently being investigated due to the suspects "picking quarrels and provoking trouble" and violently harming others and has now been handed over to the higher authorities in the city of Langfang. On Sunday, officials in Tangshan said the city will start a half-month campaign to crack down on criminal activities, including the assault of women.
Editor: Bibek Bhandari.
(Header image: Surveillance footage shows the attack at a restaurant in Tangshan, Hebei province, June 10, 2022. From Weibo)