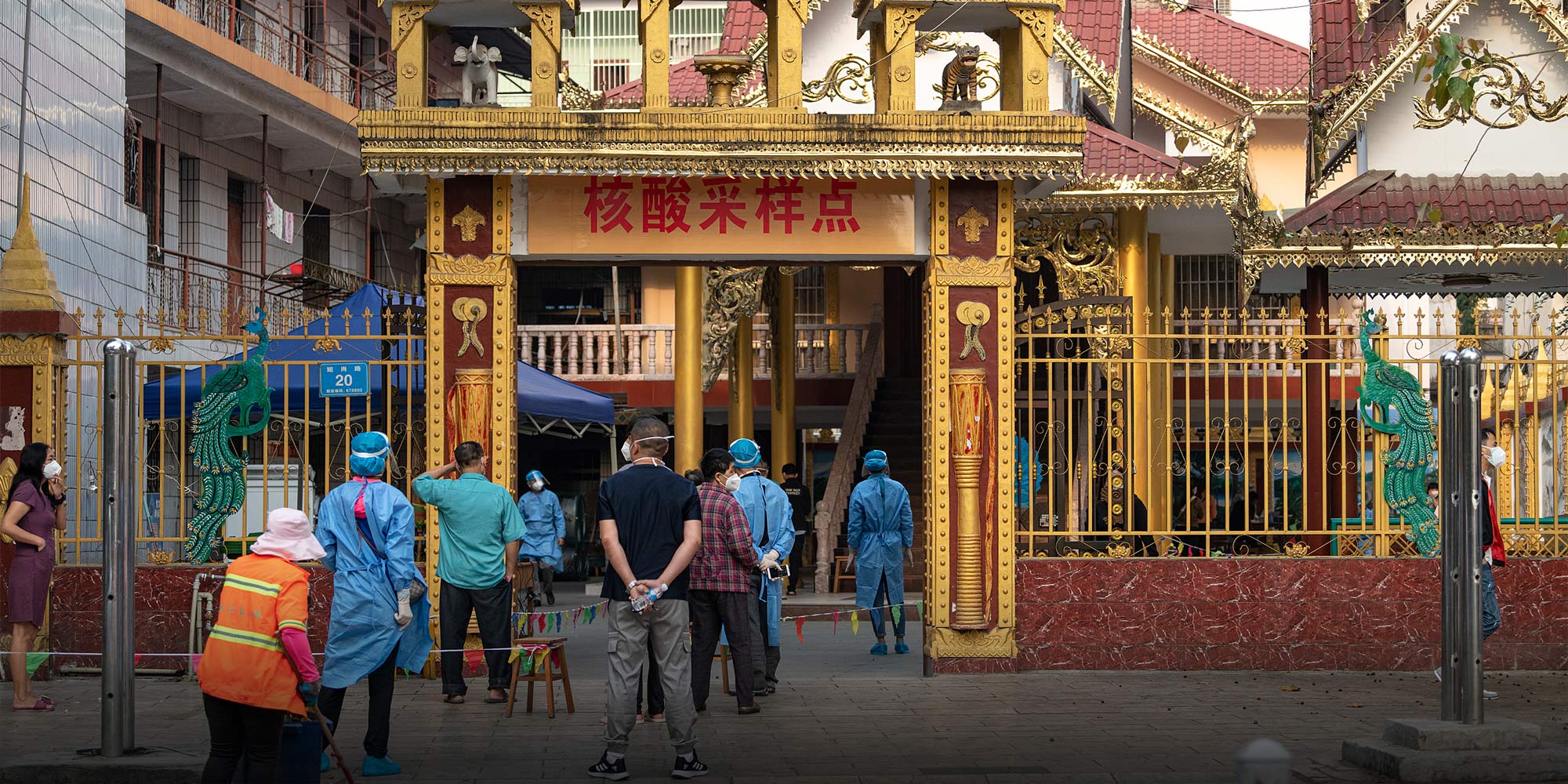 VOICES & OPINION
China's 'Zero-COVID' Policy: A View From the Border
Ruili boomed in the 2010s thanks to its close proximity to Myanmar and the jade trade. Then the pandemic came, and the city found itself cut off, not just from the border, but also the rest of China.
As China struggles to contain multiple new outbreaks of COVID-19, observers have naturally focused on the large-scale lockdowns being implemented in major cities like Shanghai and Beijing. But nowhere has been harder hit by COVID-19 quarantines than the country's border regions.But arguably nowhere has been harder hit by COVID-19 quarantines than the southwestern border town of Ruili.
Prior to the pandemic, Ruili's economy was built around the cross-border jade trade. Its proximity to the border attracted jade cutters and sellers from across China, as well as laborers and merchants from Myanmar. Unlike the more established jade industry in Guangdong, commerce in Ruili was dominated by small- or medium-sized enterprises and individual merchants who made frequent trips across the border in search of high-quality jade for their networks of clients.
I've made 10 fieldwork trips to the city over the past half-decade and know many of its merchants well. This February, as Ruili's jade markets finally reopened after a year and a half of inactivity, I decided to see for myself how life there had changed during the pandemic. The crowds of shoppers that once clogged its streets are gone, and many of the merchants I knew have left for greener pastures. A few of them are already trickling back. Starting afresh in a new city is not easy for members of China's insular, network-dependent jade industry.
One of my long-time research participants, Meng, moved to Ruili from Beijing in 2010, just as sales in the city were taking off. Arriving with little more than 100,000 yuan ($14,800) in start-up cash and a dream of hitting the big time, the couple spent the next eight years building a successful jade trading business. By 2020, they had bought a house in the city, and both of their sons were studying in nearby schools.
The pandemic took them by surprise. When I asked them what they thought about Ruili's markets reopening, they seemed to care more about what the new rules might mean for freedom of movement: They had not seen their eldest son, a middle-school student in the nearby city of Mangshi, in almost a year. "If the markets are reopening, that gives me hope that lockdown will soon be lifted," Meng said.
Due to their proximity to the border, Ruili residents have spent nearly two years living under some of the most stringent pandemic prevention measures in the country.Ruili first locked down in September 2020, after two Myanmar citizens who had illegally crossed into China tested positive for COVID-19. More lockdowns followed. The current order has been in place since July 2021.
The impact on the jade industry, which depended on a constant flow of people and goods between China and Myanmar, was devastating. Many merchants and carvers lost their only source of income overnight. In April 2021, 353,000 people were taking part in the city's mandatory COVID-19 testing program; by July, this figure had dropped to 238,000. While numbers fluctuate, this suggests as many as 115,000 people left the city in the space of just a few months.
For some in the jade industry, however, leaving can be costlier than digging in. There's a waiting list to get out of the city, and those who do make the list are often required to undergo lengthy quarantines — at their own expense — once they arrive at their destination.
Once there, they can struggle to find a market for the skills they honed in Ruili's jade industry. Ma, who made a living in Ruili as a jade livestreamer, said he jumped for joy when he learned that he could finally leave the city. But when he returned to his hometown in the central Henan province, he was unable to find a job to his liking. "I lived in Ruili for six years; most of my friends and connections are there," he said. "And with the pandemic, business is difficult everywhere. The only difference is that I'm a little freer at home." He plans to go back to Ruili after its lockdown is completely lifted.
Chen, who has been in the jade industry for 30 years and is fluent in Burmese, had a similar experience. She worked her way up the ranks in Ruili to become one of the city's most successful sellers of high-quality jadeite ring gemstones. She transferred her business to Guangdong during the pandemic, but had a hard time adapting to the region's business culture. "In Guangdong, people have their own rules for doing business as well as their own factions," she said. "How can we possibly compete? What's more, it's all large companies. A few have already monopolized the market. There's no room for us (individual traders)."
The city's Burmese traders have fared no better. Those who had to leave Ruili and return across the border were often forced to pay various "road tolls" by northern militias. The majority decided to liquidate their inventories in the city before returning to their home country. Meng's business has survived in part because she was able to acquire large stocks of uncut jadeite from Burmese traders, who pay her a commission to sell the stones to vendors in Guangdong like Chen.
For Meng and many others who once had high hopes for life in Ruili, making ends meet in a now-stagnating economy is only part of the challenge. The lockdown's impact on everyday life has been overwhelming. Meng's eldest son is gearing up for his crucial high school entrance exams while completely cut off from his family. "One day, he called me up in tears and said he wanted to come home and eat the noodles I make," Meng recalled. "I couldn't stop crying.… All I could do was reassure him that it'd eventually be over. But I don't know when 'eventually' will be."
Meanwhile, although her younger son is still by her side, she worries that if anyone tests positive at the jade market, she and her husband will be sent to centralized quarantine, leaving their 7-year-old with no one to care for him. Meng doesn't dare leave the house whenever the city reports new cases — instead, she sends her husband to make pick-ups and shipments.
Meng's family isn't her only concern. During her time in Ruili, she became close with a Burmese trader, Aw, who worked at the counter next to hers and used to be her neighbor back when Meng's family was living in a rental home. The two have known each other for many years and are on very good terms. After the pandemic broke out, Aw was forced to return to Myanmar when her husband's exit-entry permit expired. "She's the closest friend I've made in all the years I've spent in Ruili," Meng said. "Now that she's left, I don't know who I can turn to when our family needs help."
After Ruili's jade markets reopened, some of the livestreamers and traders who had relocated to other cities, including Chen, returned to the city. The outbreaks haven't stopped, but the residents I spoke to seem to take them stride. It's become popular to joke that, "Nowhere else in China can you get a COVID-19 swab more authentic than the ones in Ruili." As long as the markets remain open, all the city's merchants can do is put on a mask, open their stalls, and wait and see if their city can recover its former glory.
To protect the identity of her research participants, the author has given them all pseudonyms.
Translator: Lewis Wright; editors: Cai Yiwen and Kilian O'Donnell.
(Header image: Residents line up for COVID-19 tests in Ruili, Yunnan province, March 31, 2022. VCG)