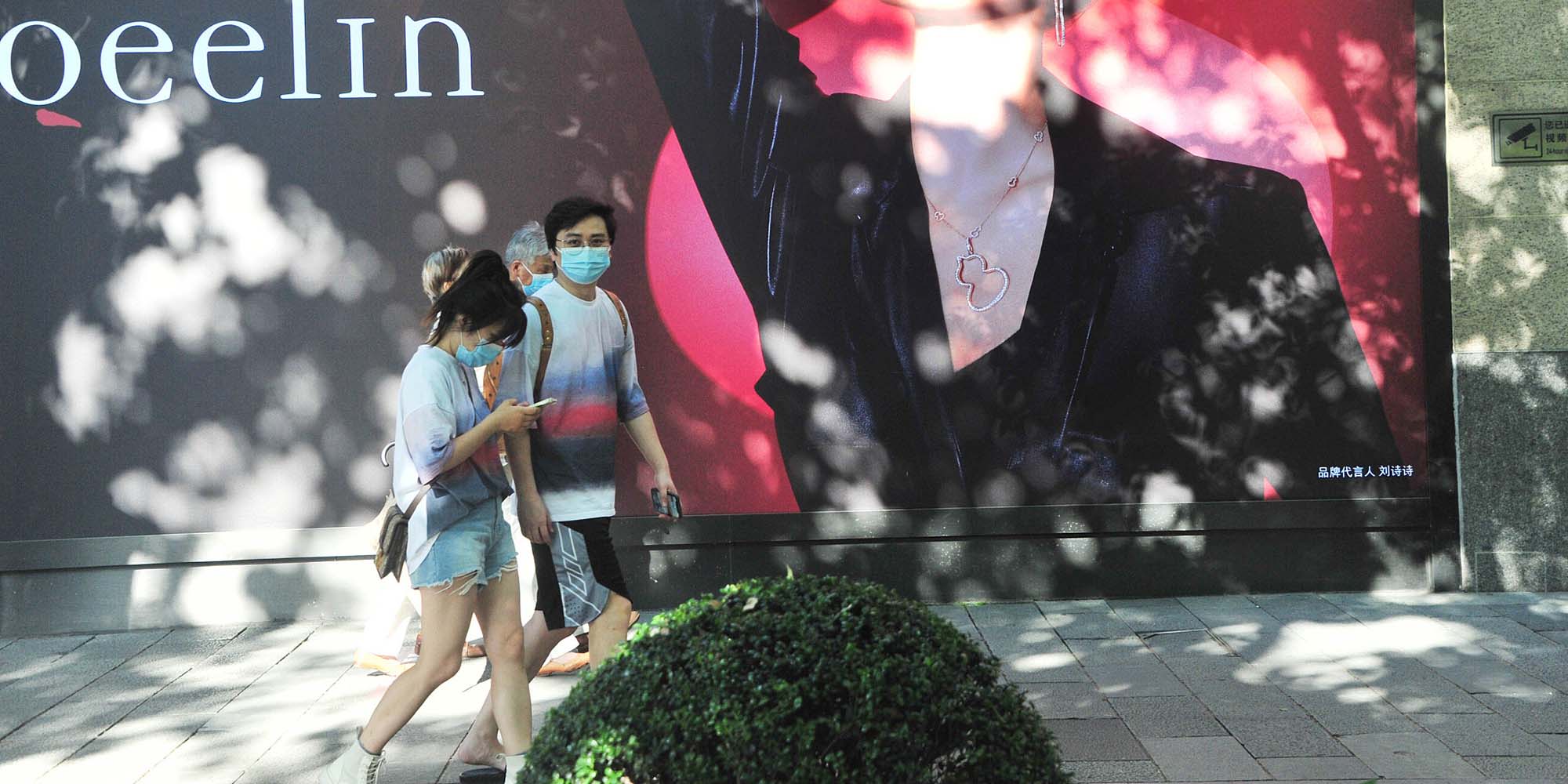 NEWS
Shanghai Spring/Summer 2022: The Season That Never Was
China's most fashionable city missed the entire spring season. That means a lot of unsold harem pants.
SHANGHAI – Wenwen has a lot of extra harem pants. Not to mention extra shirts, hoodies, and jeans.
She runs a beloved, budget-priced boutique in Shanghai's former French Concession since 2008. It's the top-rated clothing store in Shanghai, on Yelp-like app Dianping. This year, the market skipped straight from winter to summer.
"I had just ironed all my spring clothes before the lockdown," she told Sixth Tone. "There are hundreds of items, all still unsold," she said.
As China's most fashionable city ends a season-long lockdown, clothing merchants say that their business is coming back slowly. On Wednesday, Sixth Tone visited over a dozen clothes shops in Putuo and Xuhui District. Most stores were back to work on June 1 and officially reopened Monday. Summer clothes are on the shelves, but many merchants say customers are slow to return after two months of lost business.
Wenwen said the lockdown had cost merchants the best sales period of the year. The peak season for Shanghai clothing sales runs from March to May, with the May 1 Labor Day holiday usually the year's strongest period. She estimated that she lost about 60,000 yuan ($8,971) in revenue.
She considers herself lucky because she lives above her store, which allowed her to go downstairs to clean it during the lockdown, and even arrange some delivery orders for existing customers. She owns the space, so she didn't have to pay rent.
When the city reopened, Wenwen ordered and put summer clothes on the shelves. Since it's already June, she purchased less than usual.
In the first three days after the resumption of work, customers were not allowed to try on clothes in the shop, but some frequent buyers still came and asked Wenwen to take the clothes out so that they could pick them out outside the shop.
The store had usually 50 to 100 customers per day prior to the epidemic, but now only five to 10 customers visit. "I don't think [the city] is really alive yet, it hasn't recovered yet, and there are still a lot of people who are working in a closed-loop, or they're still locked down, or they're worried, and there's really no sense of resumption of work."
She's hoping to move spring inventory next time the weather is cool.
"It's mostly classic styles that won't go out of date and can be sold again in the fall," Wenwen said.
At LING+ Collection, on Meichuan Road in Putuo, owner Lin Lingling is working to get her shop summer-ready.
On Wednesday evening, Lin's shop smelled of burning mugwort. The sofa in the center was strewn with clothes, many of which were just delivered for fall, while the store's displays still consist of spring and summer clothes. On Wednesday evening, Lin and three employees were working hard to prepare new displays.
During the lockdown, Lin did not earn any income. "There was a customer who ordered a lot of spring clothes. However, when the delivery finally recovered, the customer no longer wanted them," she said. Now they are contacting factories and brands to place orders for fall and winter, as per their usual pace.
"Many clothing stores aren't able to survive any longer," she said. About 300 meters away from her shop, another clothing store seems to have closed, with cardboard boxes, fake flowers, and naked mannequins stacked inside.
Lin previously opened a social media account to promote her clothes, but it hasn't gained many followers. Most of her customers prefer trying on the clothes in the store before buying them. "I'm still concerned about the future. After all, we mainly rely on offline sales," she said.
On the same street, two blocks away from Lin's store, twenty-something Liu runs an off-price clothes retailer. He moved his store here just six months ago. On March 13, he suddenly received a notice from the subdistrict to close the store amid the COVID-19 outbreak in Putuo District.
Now the store sells half T-shirts and half long-sleeved clothes. People come and go, and they are basically passersby attracted by the discount. When Sixth Tone was talking to Liu, a man bought two discounted T-shirts in the store without much hesitation.
"There was not much impact, just two months of making no money," Liu shook his head, adding that he had to keep paying the rent during the lockdown.
Putuo designer Lu Yangyang and her team officially returned to their studio on Monday to resume work. Their brand, Gigiwawa, provides matching clothes for pets and their owners. "When I was told I could go back, I was happy, but it felt abrupt as well," Lu told Sixth Tone.
During the lockdown, the team could only do a little online work, Lu said, such as working with various media platforms to promote their clothing and products.
In mid-March, there was an outbreak in Putuo District. At that time, their studio was closed for a few days. Therefore, when the government announced that it would be locked down again on April 1, Lu thought it would last only four or five days. At that time, they wrote a promising post on their social media account: "When the epidemic is over and the spring is here, we will meet again."
But they waited until summer. "We were very optimistic at first, believing that one day of lockdown in Shanghai would cause a big economic loss, so we didn't expect it to last for two months," she said. After about a month of the lockdown, Lu finally informed the dealers and customers that they could not deliver goods and they didn't know when they would be able to.
Even though work has resumed, Lu said, express deliveries are still blocked at many places, and deliveries are taking longer than usual. These days, they are mostly focused on developing fall and winter clothing.
Lu's biggest concern is that offline markets and events won't resume soon, which will affect sales and promotion. "We love offline face-to-face communication with pets and their owners, which is our preferred means of promoting the brand," she said.
Just like the shop owners, some customers are eager to return to shopping in their favorite stores. On Wednesday, 25-year-old Shanghai resident Gu Yu visited a boutique shop in Xuhui District near her home for the first time since late March. She used to shop there at least twice a month. She said she made sure to put on her finest outfit even for the COVID-19 tests in the compound during the lockdown.
"I'm so happy that I can finally touch new clothes and try them on," she said, carrying a bag full of new summer dresses.
Others said the lockdown had changed their priorities. Zhang Lianqi, 33, said the pandemic made her question whether she needed so many clothes.
"The other day I was sorting out my closet and I realized there are so many clothes I've only worn once or twice, and then I just totally forgot about them," Zhang told Sixth Tone. "Food is essential during the lockdown, but clothes are not," she said.
These days, the area where Wenwen lives is carrying out mass COVID-19 tests again, and there is a newly locked-down area less than two kilometers from her. The public restroom across the street is also sealed off.
"I don't know if there will be a repeat of the outbreak. If so, there may be another round of lockdown and many brick-and-mortar stores will be shut down," she said. "But unless I move, I will keep this shop open for the rest of my life."
Editor: David Cohen.
(Header image: A couple stroll down at Xintiandi, Shanghai, June 2, 2022. VCG)