SHANGHAI — A district in Shanghai announced a temporary lockdown to test all its residents for the coronavirus just over a week after the city lifted nearly all COVID-19 restrictions, while several apartment blocks in multiple areas have been sealed.
All 2.65 million residents of Minhang District will be required to undergo a nucleic acid test Saturday morning, according to an announcement Thursday. A lockdown throughout the district will be imposed during "the screening period."
Songjiang District will also require its 1.9 million residents to participate in a nucleic acid test on Saturday and Sunday, officials said. However, it's unclear if the district would be locked down.
Shanghai lifted its citywide lockdown on June 1 after being shut for two months, halting economic activities in the country's financial hub. The city of 25 million has since reported 107 COVID-19 infections, and authorities have cautioned residents over the possible resurgence of the virus.
"With the resumption of work and production accelerating and people moving frequently, the city is still at risk of the rebound of an outbreak," Zhao Dandan, a city health official, said at a press conference Tuesday.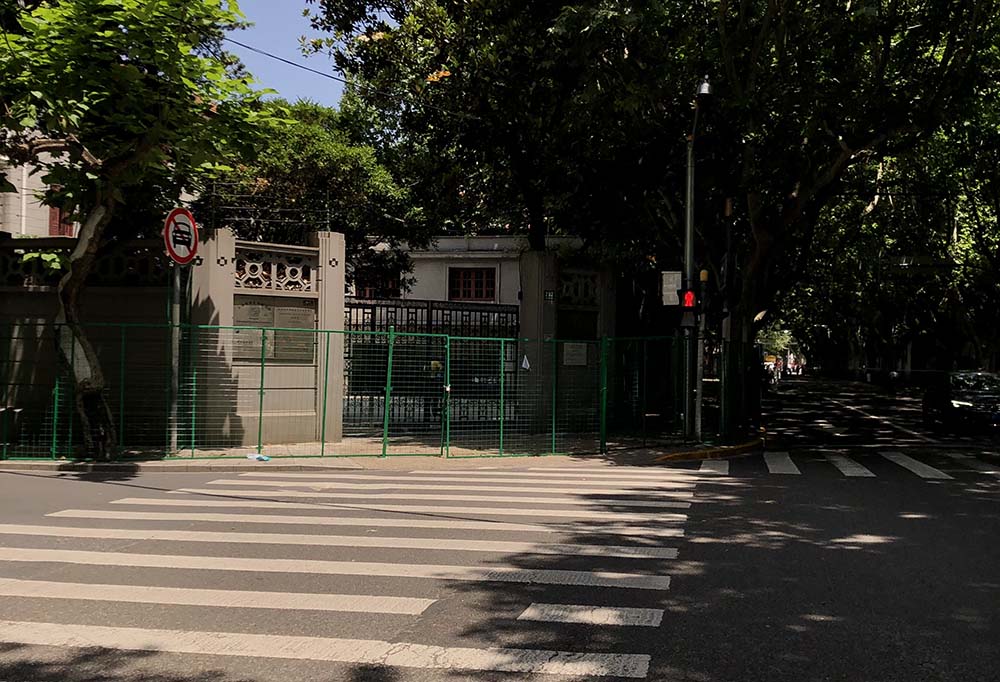 Green fences seen around residential blocks in Xuhui District as Shanghai reports new COVID-19 cases after the lockdown. June 8, 2022. Bibek Bhandari/Sixth Tone
In the past week, several residential compounds in different districts have been sealed after coronavirus cases were detected in those areas. The city now has 20 "medium-risk" areas scattered across eight districts, and residents there are required to stay at home for 14 days and get tested every day.
On Wednesday, the city reported nine local infections, all detected inside quarantine areas. Officials said on May 31 that fewer than 200,000 people would remain in areas designated as "quarantine" zones after the lockdown.
In downtown Xuhui District, several residential blocks have been placed under a 14-day or seven-day lockdown, local officials said.
Some buildings had green fences installed, barring residents from leaving and resembled the early days of lockdown in April. Community volunteers in full hazmat suits were seen guarding the area Wednesday morning, as delivery drivers passed packages through the fences.
Behind the green fences, people described confusion and pressure to leave home for quarantine centers. Residents Miranda Tsetskhladze and George Mocea told Sixth Tone that they had a "traumatic" experience, as hazmat-suited workers surrounded them on the street and stopped them from leaving in an effort to push them to get on a bus to a quarantine hotel.
Their compound was locked down Saturday after a case was discovered at a compound whose rear wall abuts theirs. Although the block did not appear in the day's list of medium-risk areas, dozens of workers in personal protective clothing banged on doors and ran a constant announcement through a loudspeaker urging residents to leave "for their own safety."
Few complied.
When the two longtime Shanghai residents walked out to the barricade to receive groceries, they said they were surrounded by people in hazmat suits, who prevented them from returning home for about 30 minutes and suggested that refusing to leave could cause trouble with their visa status. Eventually, the two managed to get back inside their homes.
Some residents in Xuhui told Sixth Tone that a few apartment blocks in proximity to areas deemed at-risk were barricaded. The broader shutdown was announced only on a subdistrict WeChat public account, three days after fences were installed.
It's not clear how many other places could be subject to similar quiet lockdowns. But as concerns over another large-scale lockdown grow, authorities denied rumors about a new round of citywide mass testing, domestic media reported Thursday.
Shanghai has largely resumed all business operations, including public transport since the lockdown was lifted last week, though the city is far from bustling again. Residents are required to show a negative COVID-19 test result from the last 72 hours, or proof that the test has been taken in the past 24 hours, to access most public venues and transportation.
Additional reporting: David Cohen; editor: Bibek Bhandari.
(Header image: COVID-19 prevention workers at the entrance of a locked down residential compound in Xuhui District, Shanghai, June 8, 2022. Bibek Bhandari/Sixth Tone)