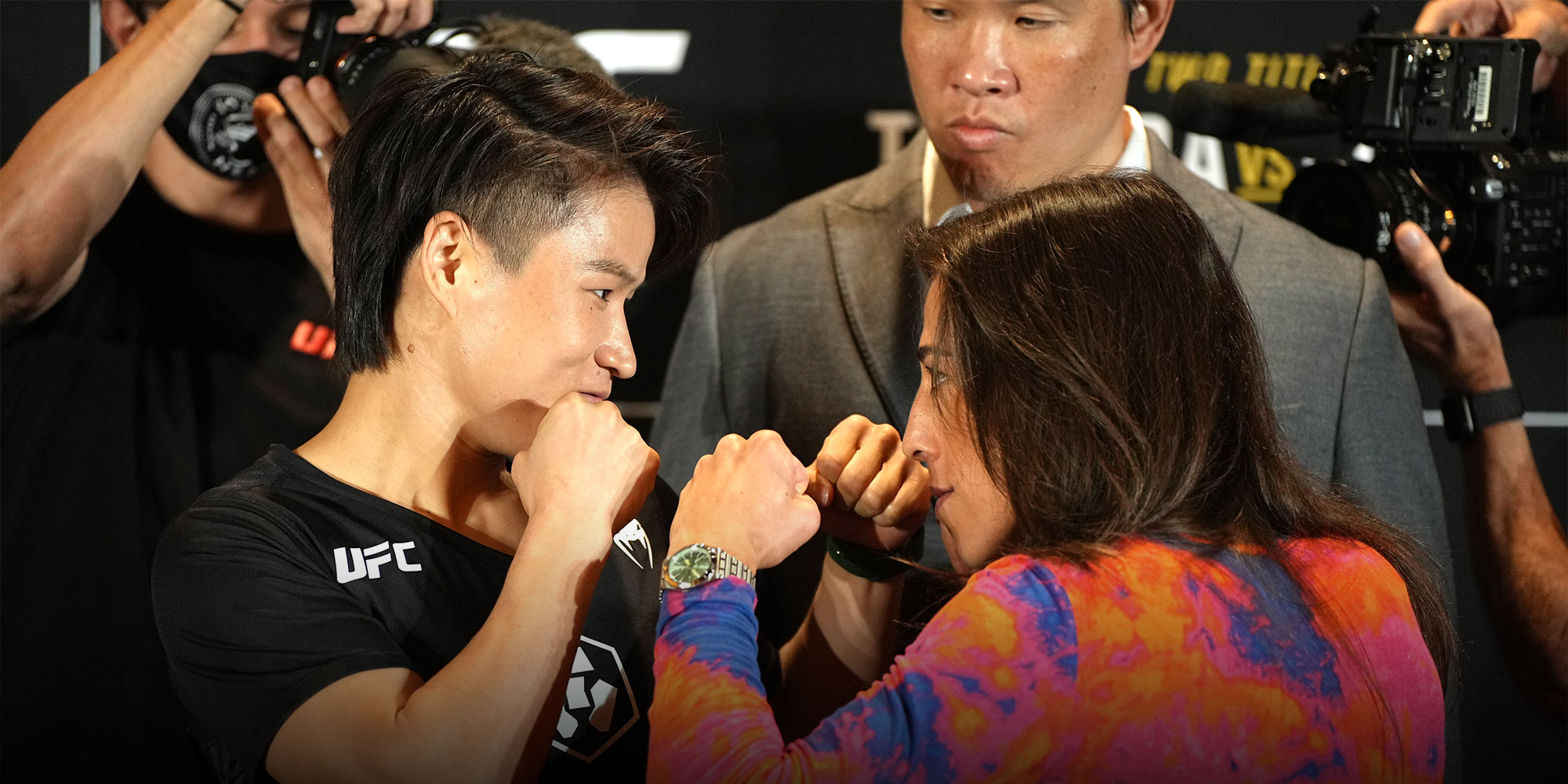 FEATURES
China's Top UFC Star Prepares for the Fight of Her Life
After two bruising defeats, Zhang Weili returns to the octagon for a highly anticipated rematch against Joanna Jedrejczyk on Sunday. The stakes could not be higher — both for her and the Ultimate Fighting Championship.
Zhang Weili has learned to live with the white noise that surrounds athletes who compete at the very highest level.
As she rose to become China's first-ever world champion in the Ultimate Fighting Championship, the mixed martial artist embraced the fame and attention that came with it.
But when she lost her title last year, the 32-year-old was forced to confront the haters and the doubt that creeps in when an elite fighter tastes defeat on the biggest stage. The experience has only sharpened Zhang's focus.
"I think today that I just know MMA better and deeper than ever before," she tells Sixth Tone. "I know myself better, too."
Zhang is in Singapore for Sunday's UFC 275 event, where she's set for a rematch against another former strawweight champ: Poland's Joanna Jedrzejczyk. It's a clash that's generating massive hype — and not only because the winner will get a shot at reclaiming their title from the current queen of the UFC's strawweights, the United States' Carla Esparza.
The last time Zhang and Jedrzejczyk met — in Las Vegas in March of 2020 — it was a five-round war that left fans inside the T-Mobile Arena breathless, and the two fighters' faces battered almost beyond recognition. UFC fans quickly hailed it as the greatest MMA fight of all time. Period.
It was a bruising encounter, but one that Zhang says ultimately reinforced her love for the sport to which she has dedicated her life. A native of the northern Chinese city of Handan, she grew up immersed in the local martial arts culture that stretches back centuries.
"During the fight, my thoughts were simple: I just wanted to win," says Zhang. "But what struck me the most was when Joanna and I touched each other's fists at the beginning of the fight, and then our hug at the end of the fifth round … Even though we were fighting, we respected each other more and more throughout the fight. It's like an old Chinese saying that goes, 'Out of blows, friendship grows.'"
Zhang has experienced the ultimate highs and lows of the UFC over the past three years. She won her title — in China's southern city of Shenzhen in 2019 — in just 42 seconds, after unleashing an overpowering barrage of punches, elbow slams, and any other blows she could muster to knock out Brazil's Jessica Andrade.
The Chinese star then defended her title in that epic against Jedrzejczyk. But in April 2021, she lost the belt in similarly dramatic style against the American Rose Namajunas, knocked out by a left foot to the head in just over a minute.
This past November, Zhang met Namajunas again and pushed the champion hard over five torrid rounds. She lost the fight, however, via a split decision from the judges that left a fair share of those watching scratching their heads.
Zhang appears to have taken the losses in her stride. She returned to China, and took some time out to see her family and friends in Handan. Then, she got back to work, training in isolation in Thailand ahead of her upcoming fight.
"I have kept improving my skills and techniques," she says. "Over this time, I have been practicing a lot of basic stuff, because I think for any sport, fundamentals are very important."
The outcome on Sunday will have huge ramifications not only for Zhang, but also for the UFC's ambitions to grow the sport in China. The strawweight's title win came at the perfect moment for the Las Vegas-based promotion: Just three months earlier, it had opened a $14 million Performance Institute in Shanghai — a facility designed to train and nurture future Chinese UFC stars.
Zhang quickly became the face of the UFC in China following her victory — and that brutal title defense against Jedrzejczyk. Commercial deals with the likes of cosmetics giant Estée Lauder and automaker Audi followed, and she became a well-known public figure in her home country.
"I know there needs to be someone to stand up and represent Chinese MMA because we are still a little bit behind the rest of the world," she said ahead of the Jedrzejczyk fight in 2020. "I am here to do that. I am the ambassador."
But then Zhang lost her crown, and COVID-19 put all major sporting events in China on a hiatus from which they have yet to fully emerge.
UFC 275 sees the promotion return to Asia for the first time since the pandemic struck. The event is being staged at the Singapore Indoor Arena with an early morning start to accommodate the sport's massive North American audience. But it's also being staged with an eye on the growth of the Asian market.
The fight card features a wealth of Asian talent. Zhang will be joined by two other Chinese mainland hopefuls — fellow strawweight Liang Na and lightweight contender Maheshate — as well as Hong Kong bantamweight Ramona Pascual. South Korea has two representatives; Mongolia has one.
The two main events, meanwhile, both include fighters with connections to the region. Kyrgyzstan's flyweight champion Valentina Shevchenko — who will defend her belt against Brazil's Taila Santos — previously spent a decade in China's domestic fight leagues. Czech light-heavyweight Jiri Prochazka, set to face reigning champ Glover Teixeira of Brazil, was an MMA champion in Japan before signing with the UFC.
But in reality, the only fight Chinese fans are talking about is Zhang's. UFC President Dana White shares their excitement, despite diplomatically trying to deflect attention elsewhere on the card.
"Weili is an incredible athlete who just continues to get better and better every time," says White, speaking with Sixth Tone via video link from his Las Vegas office. "As a person, I love her to death. She was literally the perfect person to be our first big Chinese star … And not to mention the fact that she put on probably the greatest fight anybody's ever seen in combat sports. This is a very important rematch, and it's just a big, big fight."
Zhang knows the stakes better than anyone. She ends the conversation with a message to her fans, who have followed her loyally through the ups and downs of the past few years.
"I really hope I can inspire more people," she says. "My message is that we need to have goals; we need them in everything we do so that we don't get lost … It's never too late to take action, and changes can start from now. As long as you have targets, you can become better and better."
Editor: Dominic Morgan.
(Header image: Zhang Weili (left) and Joanna Jedrzejczyk face off during the UFC 275 media day in Singapore, June 8, 2022. Jeff Bottari/Zuffa LLC)