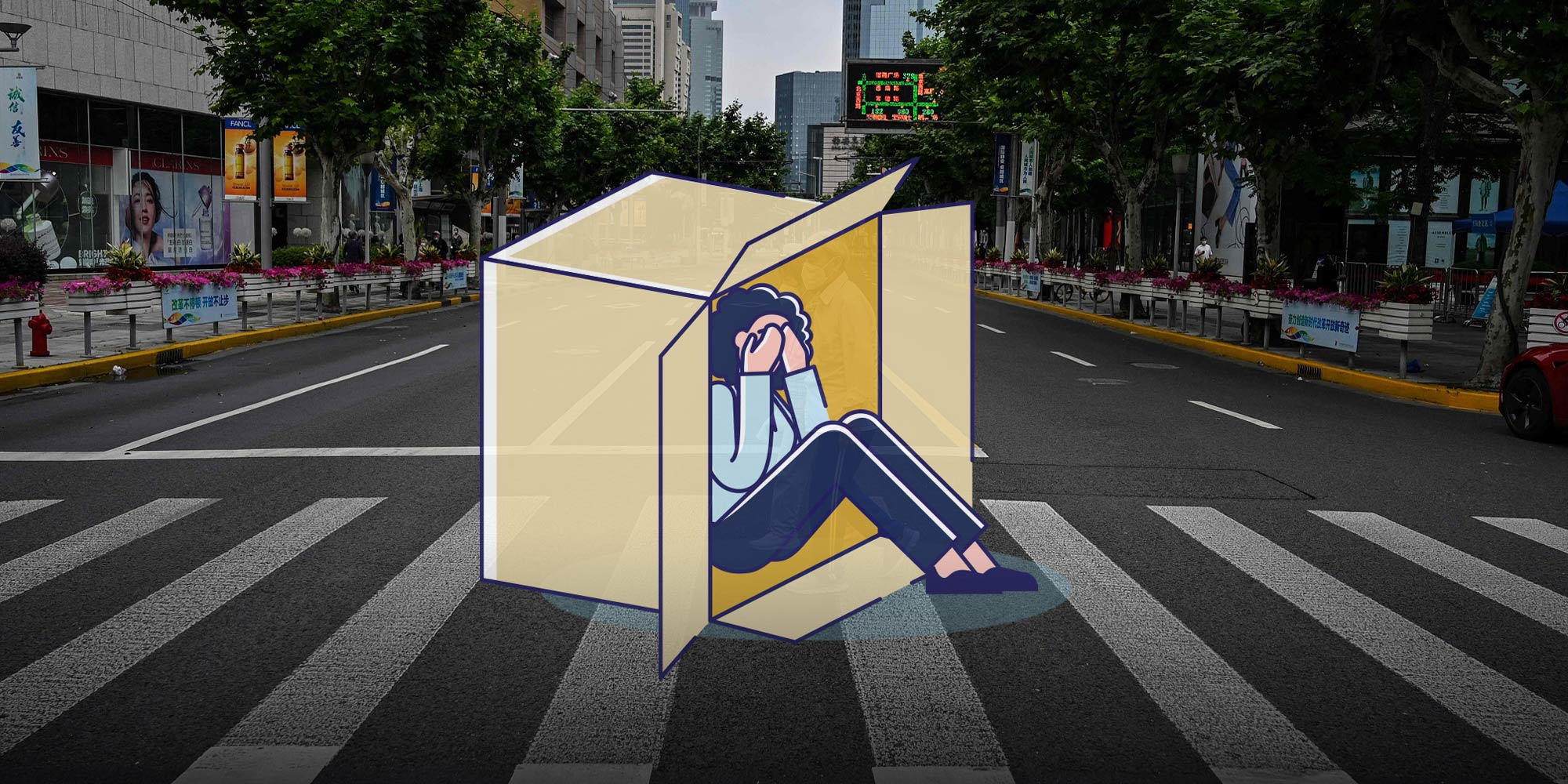 NEWS
Some Shanghai Residents Worry About 'Post-Lockdown Social Anxiety'
An online buzzword has captured the mood of people wary of the uncertainties that lie ahead.
Shanghai's decision to lift its COVID-19 restrictions from Wednesday has come as a relief to millions of residents who have been cooped up indoors for two months. But some are also experiencing what they call a post-lockdown syndrome compounded by social anxiety.
Hours after local authorities announced the city's reopening plan Monday evening, thousands of people have shared the possible uneasiness that may emerge while interacting with people face-to-face. And many online are using a catchphrase to express that feeling or a state of mind: jiefeng shi shekong, which loosely translates as "post-lockdown social anxiety" in English.
"I've been used to this life during the past two months, and now suddenly things will change," a Shanghai resident surnamed Shao told Sixth Tone. "For example, thinking that I have to squeeze into the subway during peak hours to go to work sounds so surreal to me. I have no idea what the outside world is like."
Shanghai's 25 million residents have been confined to their apartments since the city shut down on April 1 to contain its worst ever COVID-19 outbreak. While some have had the luxury to occasionally step out of their residences and see familiar faces in recent days, most have been stuck with virtual communication with limited in-personal interaction.
The lack of human interaction has changed some people, with the lockdown shifting their behavioral patterns. Even those who were once outgoing and called themselves extroverts are now struggling to cope with pre-lockdown life in a post-lockdown era.
Xingxing, using a pseudonym to speak with Sixth Tone, said she has been quarantined since March, due to her apartment complex being sealed early as the virus swept the city. So when she read the government notice on reopening the city and resuming work, the director of livestreaming at a cosmetic company felt more anxious than excited.
"I used to be a very outgoing person, but now I feel uneasy about talking to people in real life," Xingxing said. "Also, I haven't worked in the office for two months. I'm afraid I will not be able to cope with the high pressure of work once I'm back."
This behavior, experts say, is common.
Hu Bojun, a psychologist at United Family Counseling Center, told Sixth Tone that many Shanghai residents have been accustomed to a certain routine for the past two months or more. Outside of working remotely, their daily routine included going downstairs for COVID tests, trying to purchase supplies through group buying, and getting updates on the city's coronavirus outbreak.
"Even though (lockdown life) is abnormal, there's a sense of normality that they know what to expect," according to Hu, who has been working with lockdown support groups in the past two months. "With the sudden end of lockdown, all that normality that they've just established suddenly seems to go out of the window."
Hu said the feeling that many people are experiencing could be attributed to the transitionary period that comes with a certain degree of post-lockdown uncertainty. For example, getting a COVID test, as the city now requires a 72 hour test result to access public services and enter offices, the fear of getting infected or identified as a close contact, and the pressure to perform even better at work, among others.
This triggers anxiety for some even amid seemingly good news, Hu said.
The lockdown has greatly affected people's mental health over the months, with the city's hotlines receiving a large number of calls from residents. Many called with lockdown-related issues that triggered anxiety and depression.
But with the lockdown now ending, Hu said that it was equally important to recognize the post-lockdown trauma that affects people's mental health in the long term. Those who have been directly impacted by the lockdown, such as people who've lost family members or jobs, could be more vulnerable and that self-care is crucial.
"Post-lockdown is a period of transition and learning," she said. "It's a period of finding out what worked and what doesn't work … to not rush into answering these questions, to actually use this time to think about what are my priorities in my life, because I think it's a good time for reflection during the transition."
Editor: Bibek Bhandari.
(Header image: A deserted street in Shanghai, May 30, 2022. Hector Retamal/AFP/VCG; Illustration from zuperia/VectorStock/VCG)