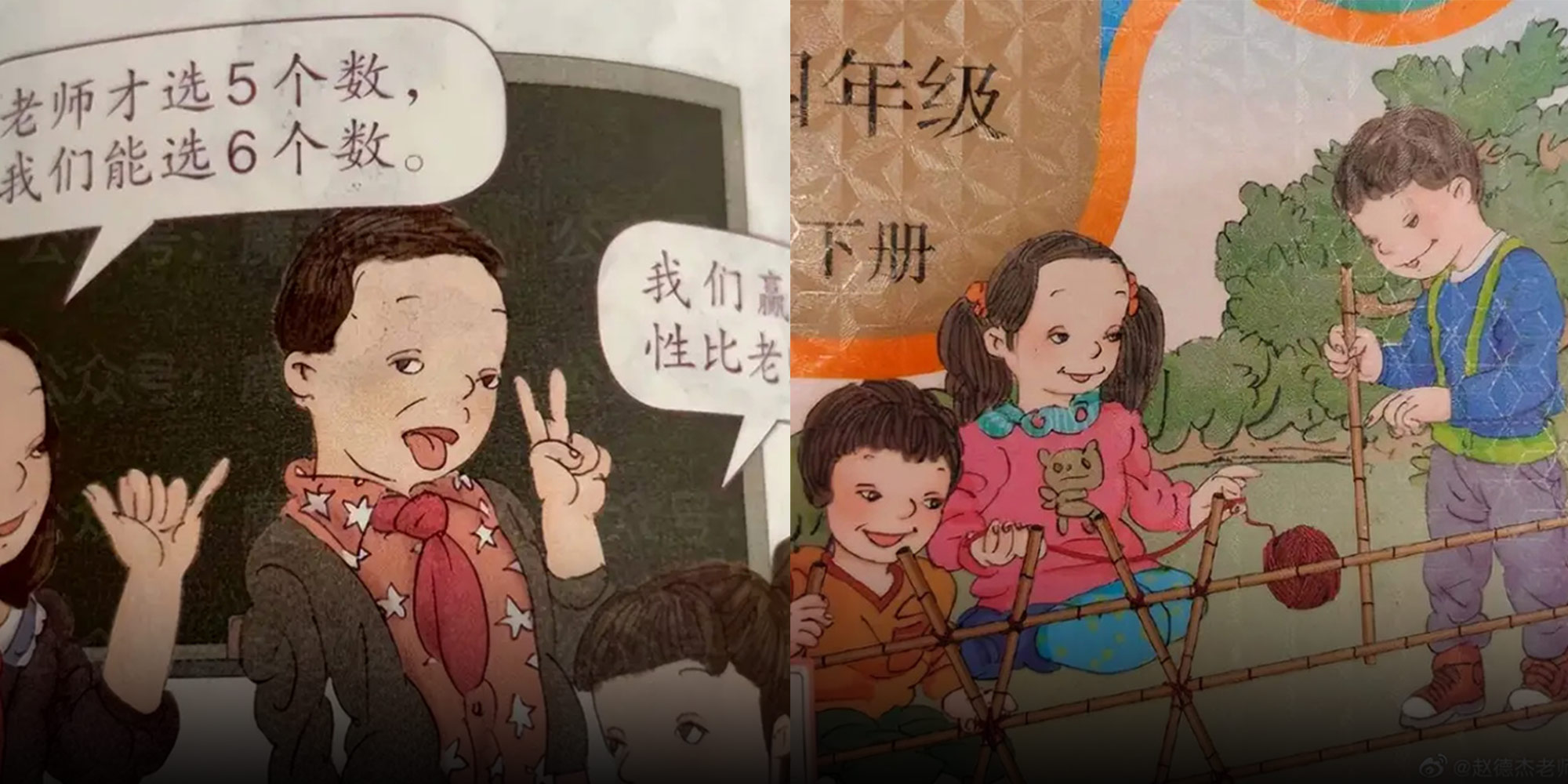 NEWS
China to Review School Textbooks After Questionable Illustrations
Authorities have ordered one publisher to redo the drawings after a public uproar.
China's top education authority plans to review all primary and middle school textbooks after some illustrations were deemed "ugly" and "ideologically infiltrating" with seemingly American features by many online users.
The Ministry of Education said Saturday that it has ordered the publisher of the textbooks in question — People's Education Press — to "redraw the illustrations professionally" and "strictly review" the process by the start of the new semester in September. Earlier that week, the ministry had announced it would improve the quality of textbooks by clarifying the responsibilities of different parties involved in the publication process.
Discussions over the illustrations in the sixth grade math textbooks took over Chinese social media platforms after they went viral on microblogging platform Weibo on Thursday. Some depicted characters with small eyes, flat noses, and large hands, while certain scenes also revealed the underwear of female characters and boys pestering them.
Many online said the book covers and illustrations of the characters showed children with atypical facial features that were "spooky," ugly, racist, and "exuding negative energy." Others said that certain pictures were sexually suggestive and had clothing that resembled the American flag.
"Those pictures don't look like creations of someone with a great drawing technique. They look horrifying and inauthentic, " Fanmo, a mother of an 18-monthold child, told Sixth Tone. "I am worried how my son will interact with such pictures in the future as children seem to pay a lot of attention to visuals in the learning process."
Illustrations in textbooks have long courted controversy over aesthetics-related issues or inaccuracies. On Friday, a non-academic children's photo book also apologized and pledged to retract photos showing two boys licking sweat off a girl's abnormally long hand.
"The quality of the illustrations is very much related to publishers, who are the decision-maker in the whole process," Ma Lili, an elementary school teacher in the eastern Jiangsu province, told Sixth Tone. "The publishers need to garner expertise from others and revise continuously to make textbooks better."
Following the ministry's order on Saturday, People's Education Press said it would select a new design team to work on the revised illustrations for the math textbooks and also solicit public opinions during the process. The publisher had apologized over the illustrations Thursday after they went viral.
In the wake of the controversy, Xiong Bingqi, deputy director of 21st Century Education Research Institute, called for a more transparent mechanism with more involvement from teachers and parents.
"Those (illustrations) only reflect the aesthetics of textbook writers and reviewers, and not of the public," he said in a public post Thursday. "Such mistakes could be avoided early on if reviewers received opinions from teachers, students, and parents. Giving parents and teachers the right to choose textbooks for children could also improve their quality."
Editor: Bibek Bhandari.
(Header image: Illustrations on the cover of the questionable math textbooks. From @赵德杰老师 on Weibo)