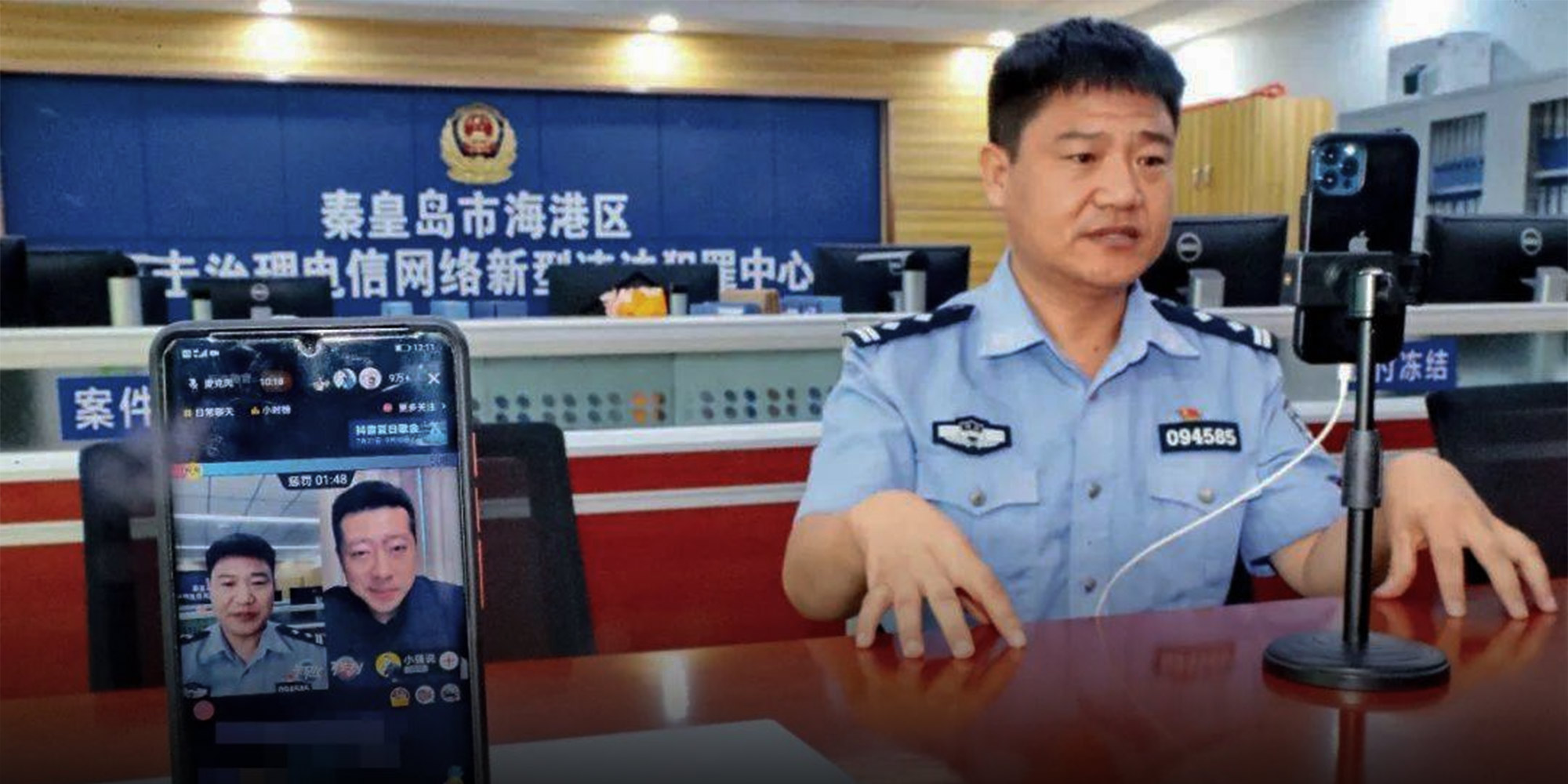 SIXTH TONE ×
Why China's Influencer Cop Is Turning in His Verified Badge
When an officer builds an online persona, the pressures are invisibly overwhelming.
In 2021, China initiated a sweeping crackdown on rising telecom and internet fraud cases across the country. The campaign sparked privacy concerns when it utilized controversial methods such as an app aimed at tracking potential fraudsters or restricting international phone calls and texts.
Since last September, Chen Guoping, a 44-year-old police officer from the northern Hebei province, has been the campaign's poster boy online. Armed with over seven million fans on Douyin, China's version of TikTok, Chen often dropped into popular livestreams unannounced in police uniform, taking both the streamer and audience by surprise before explaining the dangers of online scams.
But about six months later, he suddenly quit the police force, and the livestreams. On April 8, in a short video message, Chen only said he was tired of being wrongly accused of the very scams he had so sought hard to prevent.
Breaking point
The trigger event was a Douyin livestream Chen hosted on March 27 to raise funds for COVID-19 prevention and control. That evening, one fan sent him 333 of the platform's most expensive gifts — in all, it totaled close to one million yuan ($150,000).
Combined with similar gifts from other fans, the event raised around 1.2 million yuan. It left Chen speechless. On air, he just managed to mutter, "In the whole nation, this is today's greatest... uh..."
As always, he donated the entire amount to charity, keeping nothing for himself. He also uploaded the donation certificate and details of all the transactions on his online profiles.
For some online users, however, the transparency alone wasn't enough. His ability to gather astronomical sums of money in a matter of moments only fueled controversy.
Though the vast majority of comments online were supportive, a wave of accusations ensued too, alleging that he was profiting off his identity as a police officer. Comments such as "Chen has fallen to corruption!" or "Do you think what you're doing is right?" began to weigh heavy on his mind.
Chen worked at the Anti-Fraud Center in the Harbor Division of Qinhuangdao City's Public Security Bureau in Hebei before his dizzying ascent to fame half a year ago. Since then, he has received endorsements from the likes of renowned TV host Benny Sa and news anchor Bai Yansong, and also appeared on several hit variety shows.
During livestreams, he often crashed into other streamers in the middle of their act. Upon seeing a man dressed in a police uniform, livestream hosts were invariably stunned, much to the delight of viewers, who loved seeing Chen self-righteously ask: "Did you scam people?" and "How did you scam them?"
The spotlight lasted just over six months. During this interview late in April, Chen had already stopped his livestreams 15 days earlier, and had been staying put in his Qinhuangdao home.
His replies hung heavy with exhaustion and pain. On some occasions, he thought long and hard before giving short answers; on others, he just sidestepped questions entirely.
"I can only describe my feelings as quite depressed," he says. "I hope that things will calm down soon; even better if it all just fades away."
Severance
For Chen, the accusation of fraud after the fundraising livestream in March was only the last straw. The downward spiral began fewer than 10 days before that event.
On March 18, a Douyin user encouraged him to link with another streamer named "Xiaoliu in Cambodia." As his handle suggested, this streamer was based in Cambodia and claimed to own a local business. Many in China, however, suspected that he was involved in telecom scams.
As in the past, Chen held a calm and cool-headed conversation, trying to get the streamer to talk more. It ended amicably after the streamer shared some of his personal information. However, Chen drew a deluge of criticism, claiming that he shouldn't have been so "nice" to a suspected criminal, and that he wasn't fit to police.
A few days after he quit, his account's name changed from "Anti-Fraud Officer Old Chen" to the simple "Harbor Division Anti-Fraud Center."
Incidentally, Chen first drew criticism last year when another Douyin user filed a complaint with his division saying that police officers shouldn't be allowed to livestream. That complaint affected Chen little, but this year, he feels that the torrent of negativity has crossed into cyberbullying.
When an officer establishes an online presence, the pressures are invisibly overwhelming.
Chen's detractors mostly focused on what he potentially stood to gain from livestreaming. His rebuttal was quick and vehement: he would never exploit this opportunity for personal gain.
"I'm not an influencer," he underscores, but for most people, that was exactly what he had become.
Chen says: "People may think that, no matter what I do, my goal is to make money. They may think that I've become famous because of my identity as a police officer, and now I'm looking to make a profit. They don't understand the real pressure I'm under. Profit? As it is, it's hard enough to live a normal life."
He went to great lengths to separate his online persona from his day job: he appeared on camera in uniform and used an account verified under his division's name. So it was inevitable that he would be perceived as a representative.
However, he only livestreamed after his shift ended. He did not include it in his job evaluation, nor did he accept any kind of commendation for it.
The only support from his division was an office that he used for filming. However, maintaining this balance was a delicate tightrope act that eventually proved impossible to pull off.
He had two livestreaming accounts. On his viral "Anti-Fraud Officer Old Chen" Douyin account, he was always in uniform and mostly publicized anti-fraud messages and the National Anti-Fraud Center app. This account did not allow followers to give gifts — with the exception of March 27's fundraising event.
On "Old Chen's Life," his second Douyin account, he wore civilian clothes and often just talked about his everyday life. Though the gift function for this account was enabled, he donated everything he received to charity, and shared the transaction invoices with followers.
But suspicion only grew.
He told his wife about the resignation only after the fact. She didn't object. "She said I was never around before, and that it's a good thing that now I get to spend a bit of time with her at home," says Chen.
His job kept him busy for most of the day; livestreaming had to wait until he was off duty, when he'd stay at the office and film until late at night before going home. Even after he began receiving occasional invitations to appear on TV, his wife wasn't very thrilled.
Family elders do worry — quitting such a steady job after so many years made little sense to them. They wondered if he had done something wrong and got fired, but didn't dare pry.
"The truth is, I shouldn't have quit," says Chen. "But I think things like this need to be done, which serve as cautionary tales for other people."
The ascent
At a New Year's gala that a popular online stand-up variety show organized, celebrity guests from various walks of life told jokes for a few minutes each.
Chen was among the acts, and his jokes did well. "In 2017, my superior asked me to form an anti-fraud squadron with just three people. You can't call that a squadron, so I figured we needed to bluff." After an artful pause, he continued: "Turns out even people who want to fight fraud have to fake it till they make it."
Laughter rippled throughout the crowd, a testament to his popularity online. The gala was just three months after he'd garnered fame online.
Incidentally, he began filming short videos about preventing fraud in 2018, and first tried livestreaming in 2020. Then, his straight-laced, buttoned-down content was lackluster at best — only a few hundred people watched each time.
Then, on Sept. 1, 2021, he crashed into the livestream of a Douyin user named "Xichang Yuhuatian," who was dressed in a historical costume resembling that of a court eunuch, and has over 460,000 fans. At Chen's appearance, in full police uniform, the streamer's smile more drained than faded.
"I'm an entertainer, please … I haven't done anything wrong. I live by the law," the streamer pleaded. After lecturing him on the anti-fraud campaign, Chen sought his support in raising awareness.
At the time, Chen didn't suspect that this would launch him into fame. Chen turned the exchange into a five-minute video, which quickly went viral.
The platform took notice and immediately reached out to him. They planned another livestream the same night, where he would contact a streamer at random and hopefully elicit the same reaction as Chen did from Xichang Yuhuatian.
Two days later, he streamed back and forth on two video platforms for a total of six hours. The number of people simultaneously viewing the streams peaked at 780,000, while the total number of views surpassed 80 million. A few more livestreams later, his follower base had grown close to two million.
Later, Chen checked in with Xichang Yuhuatian again, and discovered that he was indeed helping, asking other streamers to download the National Anti-Fraud Center app.
"I've received an important mission. Ask your followers to download it, okay?" Xichang Yuhuatian told his audience. Chen realized then that beyond mere entertainment, interacting with streamers and celebrities could play an important role in spreading awareness about the national anti-fraud campaign.
He developed two catchphrases: "I'm an anti-fraud streamer, may I ask what kind of streamer you are?" and "Have you downloaded the National Anti-Fraud Center app?"
This dovetailed perfectly with the app's nationwide official push: according to an official website hosted by the Ministry of Public Security, Chen's livestream helped generate more app downloads, and even pushed it to the top spot on the Apple App Store.
Authorities saw Chen as a success story in innovative anti-fraud messaging and online PR. Over the last few years, more and more government agencies have jumped on the social media bandwagon. And every time something proves successful in driving traffic, it's immediately picked up and emulated.
After Chen, other officials joined Xichang Yuhuatian's streams too — the traffic police and the fire department, among others — all seeking his help in improving publicity.
However, such PR efforts require careful oversight, particularly if a streamer is embroiled in scandals and ends up becoming a liability. For government officials, who can scarcely afford to have their authority and public perception damaged, this has proven a major challenge.
On Sept. 7, one follower urged Chen to link with the celebrity couple Huang Shengyi and Yangzi. When he first called in, they were busy selling goods over livestream and didn't pick up.
Only after Chen's followers flooded their livestream did Yangzi stop selling goods to invite Chen. Waves of comments rolled in, accusing Chen of contacting the couple beforehand and that he staged this whole mishap as a stunt.
The incident forced Chen into hiatus for over half a month.
In an interview with CCTV, China's state broadcaster, Chen lamented: "It's all gone sour. People impose their view of things on you, and everyone has their own selfish motives. I lost heart."
The renowned news commentator Bai Yansong followed up too. He said on his program: "I don't know what pressure Chen was under, but what he does is a type of volunteer work for the digital age that should be encouraged, not criticized."
Chen eventually returned to Douyin on Sept. 24, hoping to help more people. That night, Chen chatted with a young man during the livestream who had been defrauded of 160,000 yuan.
He urged him to get over this difficult experience and move on. He told the young man: "After all, it's easier to bounce back from these things when you're younger."
Chen decided to dedicate himself to public service messaging after noticing that telecom scams were on the rise and difficult to solve. Sometimes, even when the police crack a case, the stolen funds cannot be retrieved since the suspects were based overseas.
When he first established his anti-fraud squadron, they spent 200 days or so a year traveling the country, securing evidence from local banks, chasing suspects, and preventing funds from leaving the country.
But often, they were just too late. He gradually realized that prevention is paramount. "Even if just one person can learn something about fraud from my livestreams each time, then it's still worth it," says Chen.
During his livestreams, some confessed to crimes, others spilled their hearts out as victims. On one occasion, Chen even talked a caller out of suicide.
The caller was a young man who had saved up 200,000 yuan working factory jobs, plus a 200,000-yuan compensation payment for the demolition of his family home. But he lost it all to an investment scam.
In despair, he asked Chen: "What's the best way for me to end it all? Jumping into a river? From the top of a building? Electrocution?" It took more than an hour, but a patient Chen managed to dissuade him.
Shock effect
A few days after he quit, Chen appeared as an "anti-fraud expert" on a TV program, where he explained how antique fraud worked.
He shared excerpts from this TV appearance on short video platforms, captioned "Old Chen's first appearance since resigning." Just one month before, he had taken part in CCTV's 315 Gala — an annual consumer rights show — sitting in the very same place, in uniform.
But now, he understands that without the uniform, the "shock effect" is gone for good. Just how long can he ride on that fame? "It's harder as just a civilian. From now on, it'll just be one part of what I do, but by and large, I'll stay focused on sharing positive energy," he says.
According to Chen, for the moment, platforms haven't reached out to collaborate. "They are on the fence," he says.
In his short resignation video, he measured his words carefully. He said that public service is his dream, but that he does not want to create problems for his division, and so decided to resign.
He says he understands that his decision will dilute his hard-fought support online, and may even lead to more accusations and online abuse. Moreover, it also cost him the stability that comes with being a public servant.
Now, he says, he feels "wronged, restless, and bitter." The calm he yearns for still eludes him. "I'm in a bad mood. My reactions may seem strange, but it's actually quite normal, given the circumstances," he says.
He recently visited his hometown and checked in on his parents. "I'm putting my phone aside and spending some time in nature," he says. For the moment, he has no new long-term projects lined up.
And on continuing public service in some capacity — he admits it's a long shot.
Reporter: Ni Wei.
This article was originally published by China Newsweek. It has been translated and edited for brevity and clarity, and published with permission.
Translator: Lewis Wright; editors: Zhi Yu and Apurva.
(Header image: Chen Guoping at work in Qinghuangdao, Hebei province, Sept. 5, 2021. China Newsweek)