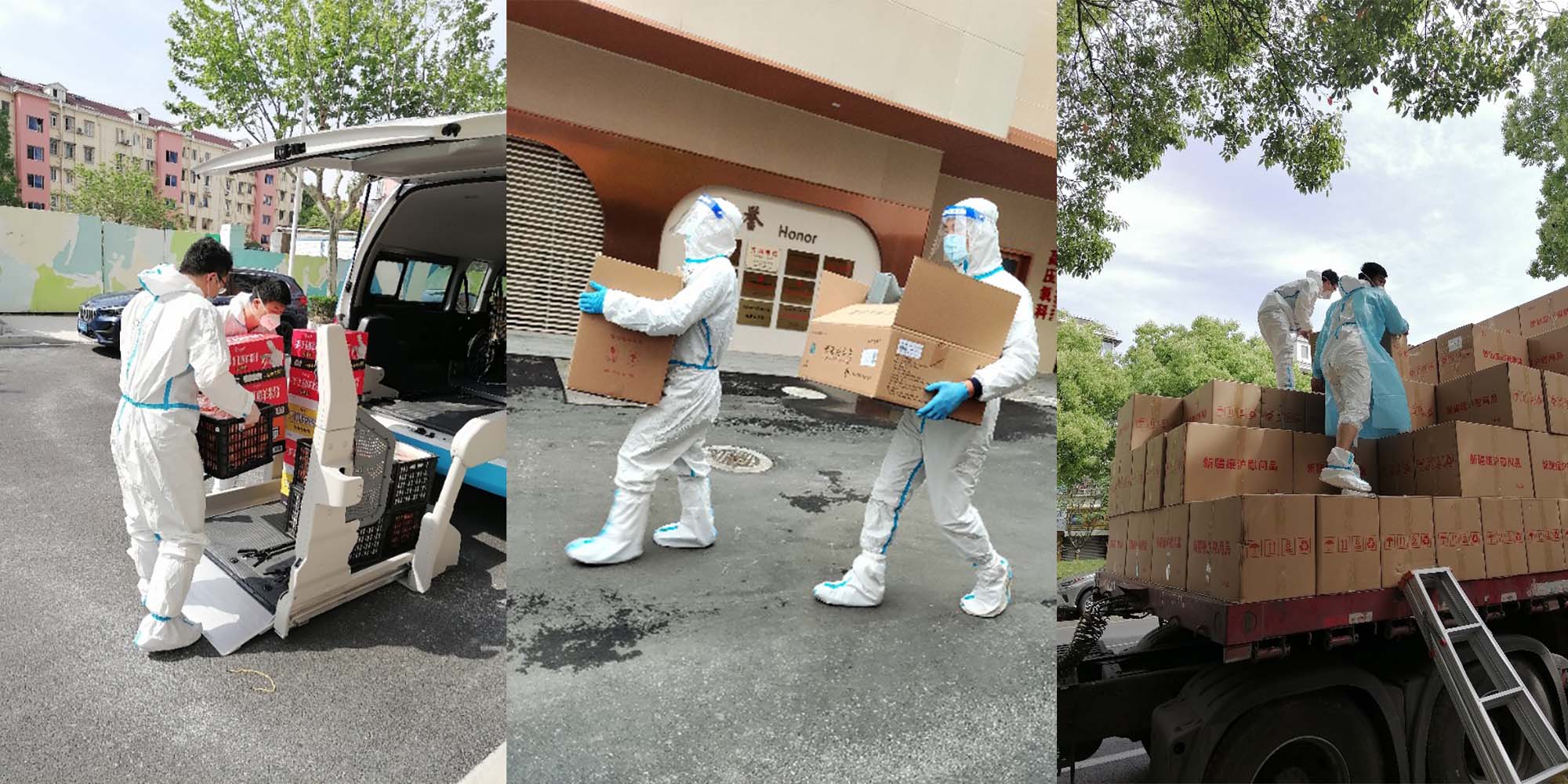 NEWS
A Community Worker's Account of Life on the COVID-19 Frontline
"I left home thinking the outbreak would be over in at best two weeks. We were dressed in winter clothes, but it's almost summer."
Shanghai hunkered down for a citywide lockdown on April 1. While the city's 25 million residents are mostly cooped up at home, it is the volunteers and delivery drivers, among others, who are venturing out and becoming the veins of the city.
Lü Shujuan is one such person. A member of staff at Fuyuan Huamu Elderly Service Center in the Pudong New Area, 36-year-old Lü left home in early April to help secure supplies for elderly people in nursing homes and residential communities under lockdown.
Originally from central China's Henan province, Lü was a rural school teacher in Gansu province in the northwest, and a product manager in the tech sector, before going to work at the government-affiliated care center full time.
The following is an account of Lü's life during those two months. Still working on the frontline, she described her struggles, feats, and heartaches away from her family.
This interview has been edited for brevity and clarity.
I was told about the task during the Qingming Festival in early April. Like many others, my community went into lockdown when Shanghai sealed off the entire city. My boss asked me to leave my home and help out. I have been living in the community service center for almost two months now.
In Huamu Street, which is where I work, there are four nursing homes — three public and one private — housing over 200 elderly people. Only the private nursing home has an in-house infirmary. All four have been quarantined since early March. Nobody comes or goes, in order to prevent a COVID-19 outbreak. Before the pandemic, my job mainly involved helping with little day-to-day problems for elderly people in residential communities. Now, with the elderly and staff in nursing homes all cooped up inside, we have become an indispensable form of support to get them food and medicine.
In April, there was a shortage of supplies in the nursing homes and other neighborhoods. My boss at the subdistrict asked me to help solve the problems, but we had to figure it out on our own.
When all is ready, we gradually form our work routine of working from 9:30 in the morning till dawn, or at night. Elderly people have been facing many difficulties during the pandemic. Many of them are not familiar with smartphones and can't participate in community group buying. All they could do is to wait at home. Many also have underlying illnesses and usually store some medications at home. But during the month-long lockdown, their medications were running out. One of the main jobs for us is to secure medicine supplies for them. We coordinate with the residential committee and staff at the nursing homes directly. They ask the elderly people what they need and send us a list. We then go to collect their medical records and health insurance card and go find what they need.
The first week was the toughest. I was working with two retired colleagues, both aged almost 60. We didn't have a car, and neither of us knew how to drive a scooter. Under pressure to deliver, we borrowed a tricycle and I forced myself to learn to drive it. Luckily, it was pretty easy to drive. But we were only on the road for two days before we got a flat tire.
We were all on our own, but the tasks were mounting. Huamu Street has six major communities, with 54 apartment compounds. We help unload goods that were donated from all over the country and coordinate with the communities to meet the needs of elderly people. I asked for help from a long-term business partner of our company. They have a car, and their staff have all been cooped up at home.
I thought some of them might be willing to venture out. Many people signed up to volunteer with us, but many were either on the other side of the Huangpu River, or living in complexes where there had been positive cases, or unable to convince their families to stay out for two weeks. Finally, we got two people to help. It took us two days and quite an effort to get them out. We had to get them each an official letter proving what they were doing and that they would be there to help. They also needed to sign a letter promising they wouldn't cause trouble to their residential communities.
I remember there was a period in April during the shortages when the government offered carrots and pumpkins. Seeing this same combination of vegetables several times, some of the elderly people were unhappy and they called the 12345 city hotline to complain. I guess these two vegetables reminded them of their previous suffering. Back in the 1950s and 1960s, when food was scarce, often all there was to eat was carrots. After we learned about their dissatisfaction, we discussed this issue with residential committees and they then helped the residents purchase other types of food. Later, the food supplied by the government also became more varied.
I didn't realize that residential committees would have so many duties until I started to work for them. There are no more than 10 people on each residential committee, but they have to carry out both virus-prevention duties and help with the daily needs of residents. They also need to submit COVID-19 data to their superiors every day, including the number of people infected and close contacts. To compile the data, they work every day till midnight. I once saw some news on Weibo about a residential committee going on strike because they were under too much pressure. I understand how they feel.
I have two kids. My daughter is in elementary school, and my son is in kindergarten. We talk over the phone every day. My husband has been on a business trip and I need to work outside. Both of us are away from home and my mother-in-law and a relative are taking care of the kids.
I left home thinking the outbreak would be over in at best two weeks. We were dressed in winter clothes, but it's almost summer. In April, the future seemed very uncertain for us.
I was a little pessimistic when the COVID-19 numbers rose every day and broke into five digits. We had been working so hard every day, and we wondered: Why is it still like this? For a time, I stopped reading the numbers after they passed 20,000 a day.
When I had the opportunity to go home to pick up some supplies, it was always tough to say goodbye to my children. Once, my son blocked the door to stop me from leaving. I couldn't help but cry. They only cheered up when I promised to bring home gifts. The kids couldn't understand what was going on in the outside world, and didn't know why I had to leave. I used to push my daughter to study diligently, but now, I just want her to be happy. It doesn't matter if she falls behind in her studies, we can make up for it later. Psychological traumas are more difficult to address.
There have been too many unforgettable experiences during the past two months. The hair of all my colleagues has grown long, and I think I have more gray hair now. Though we are still working at the heart of it all and don't know when it will end, at least the toughest days have gone.
Editor: David Cohen.
(Header image: Volunteers help pick up and carry groceries in Shanghai. All photos were taken in April and May, 2022. Courtesy of Lü Shujuan)