SHANGHAI — Dressed in a blue hazmat suit and a white N95 mask, Huang Yi stepped out of her university compound for the first time in 76 days. It was 5:56 a.m. on Saturday, and she was finally able to leave Shanghai for her hometown in the northwestern Shaanxi province.
"Everything was so surreal," said the sophomore at Shanghai Normal University, describing the deserted streets on the route from her school to Hongqiao Railway Station.
Huang is among the students leaving the metropolis in recent days, though no official numbers have been released. Universities in Shanghai are now encouraging and organizing students to return home, as the city gradually lifts the lockdown which has dragged on for over 50 days.
Most of Shanghai's 25 million residents have been confined to their residential compounds since April 1. But some apartment complexes and most universities had been locked down from as early as mid-March after some schools detected infections.
Students have since described a multitude of lockdown-related issues, with their health codes often determining their movements within the campus. Some complained of a lack of privacy while others said they faced problems ordering food.
"It was draining to live a life of just taking online classes, eating, and sleeping," Huang said, adding that she was not even allowed to get a shower during this difficult time.
Several universities have now issued guidelines, allowing students to leave the campus as long as their residential buildings have been free of COVID-19 cases for the past 14 days. One screenshot claiming to be an official notice listed 52 major cities as key destinations and railway networks increasing capacity to ensure the homecoming process and has been widely circulating among university students.
In response, several cities have announced free centralized quarantine for returning students. On Monday, Chengdu in the southwestern Sichuan province became the latest city to exempt accommodation fees during quarantine for students coming from areas with COVID-19 surges.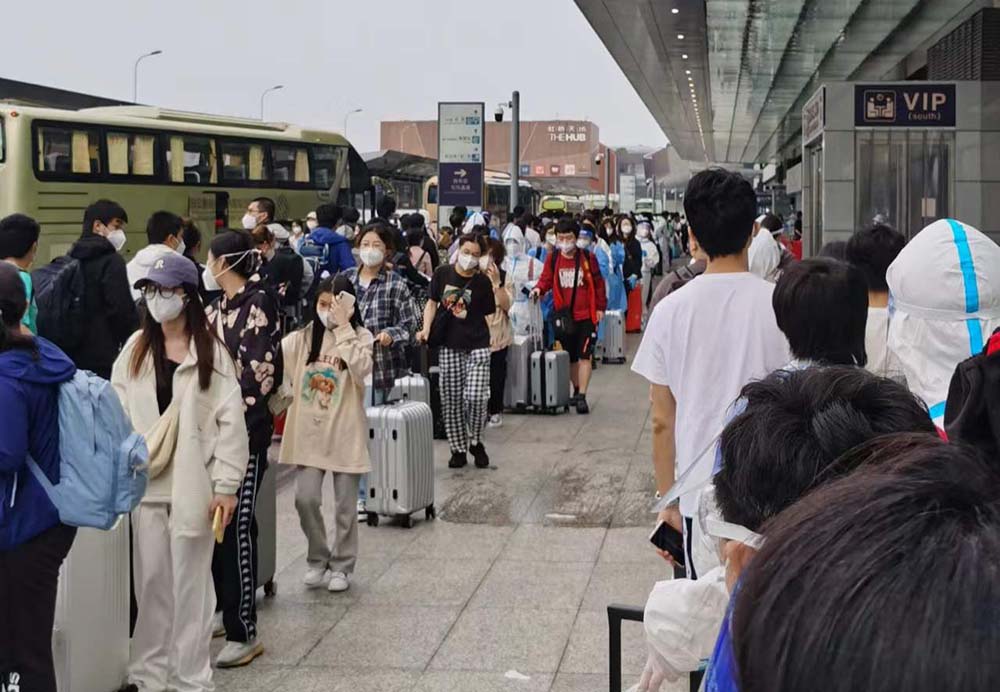 Passengers wait to enter Hongqiao Railway Station in Shanghai, May 23,2022. Courtesy of He
Wang Ying, a postgraduate journalism and communication major at Shanghai University, said she booked a train ticket and applied for an exit permit from the university as soon as the school notified students of the policy on May 19. She is leaving for the eastern Shandong province on Thursday and has been busy packing and preparing for the journey, as well as comparing notes with peers on the same trip and calling government offices and the neighborhood committee back home to ensure there would be no hiccups.
"When you see someone bartering instant noodle seasonings in the WeChat group, you know you're not living a normal life," Wang told Sixth Tone, adding the nearly three-month long restrictions have been exhausting. "I am aware that my current life needs to change, despite growing used to it."
But not everyone has been able to plan their trips home so smoothly. Some students said they have changed their plans to leave Shanghai over steep quarantine fees in their hometowns, which they need to pay on their own.
Several students from the neighboring Jiangsu province asked for more understanding from local governments in an open letter that went viral Monday. The post said some cities, without naming any, were asking students to wait another 20 days before making their trips home, while some 14-day centralized quarantine sites cost 800 yuan ($120) per night.
Some students also told Sixth Tone that they have been delaying their travels due to inconsistent and vague local policies for returnees. They fear that the situation in Shanghai may change at a moment's notice and fear being stuck inside their dormitories again.
He Qiqi, a postgraduate student at Fudan University who left for Guangzhou on Monday, said she had signed up for a government-run seven-day quarantine in her home city of Huizhou. But the bus that was supposed to pick her up never arrived at the train station, and she was requested by local authorities to stay in a quarantine hotel in Guangzhou until she would be picked up.
"Everything was a mess on the railway platform," He said, adding that the authorities from home told her they were unaware of her arrival when she called.
But while some students are leaving in droves and others are planning their departures after enduring months of restrictions, a few of them are also determined to stay in Shanghai. Some of them still need to finish coursework and others are either waiting for job interviews or starting employment after graduating in June.
Shen Lingyi, a final year postgraduate at Shanghai University, found a job after fielding 150 applications, so she decided to stay put.
"I feel fine staying here because it probably isn't that bad living off campus," she said."But I'm afraid my college life is really likely to end in silence without any celebrations."
Wang, who is leaving for Shandong, said she was ready to leave Shanghai physically, though she isn't yet mentally prepared to bid farewell to the city she called home for a few years.
"I wish I could have a meal with my mentor before leaving because she's helped me a lot in my two-year graduate life," she said. "But I told her that no matter what, I will definitely come back and visit her in the future."
Editor: Bibek Bhandari.
(Header image: Passengers at the Hongqiao Railway Station, May 22, 2022. IC)