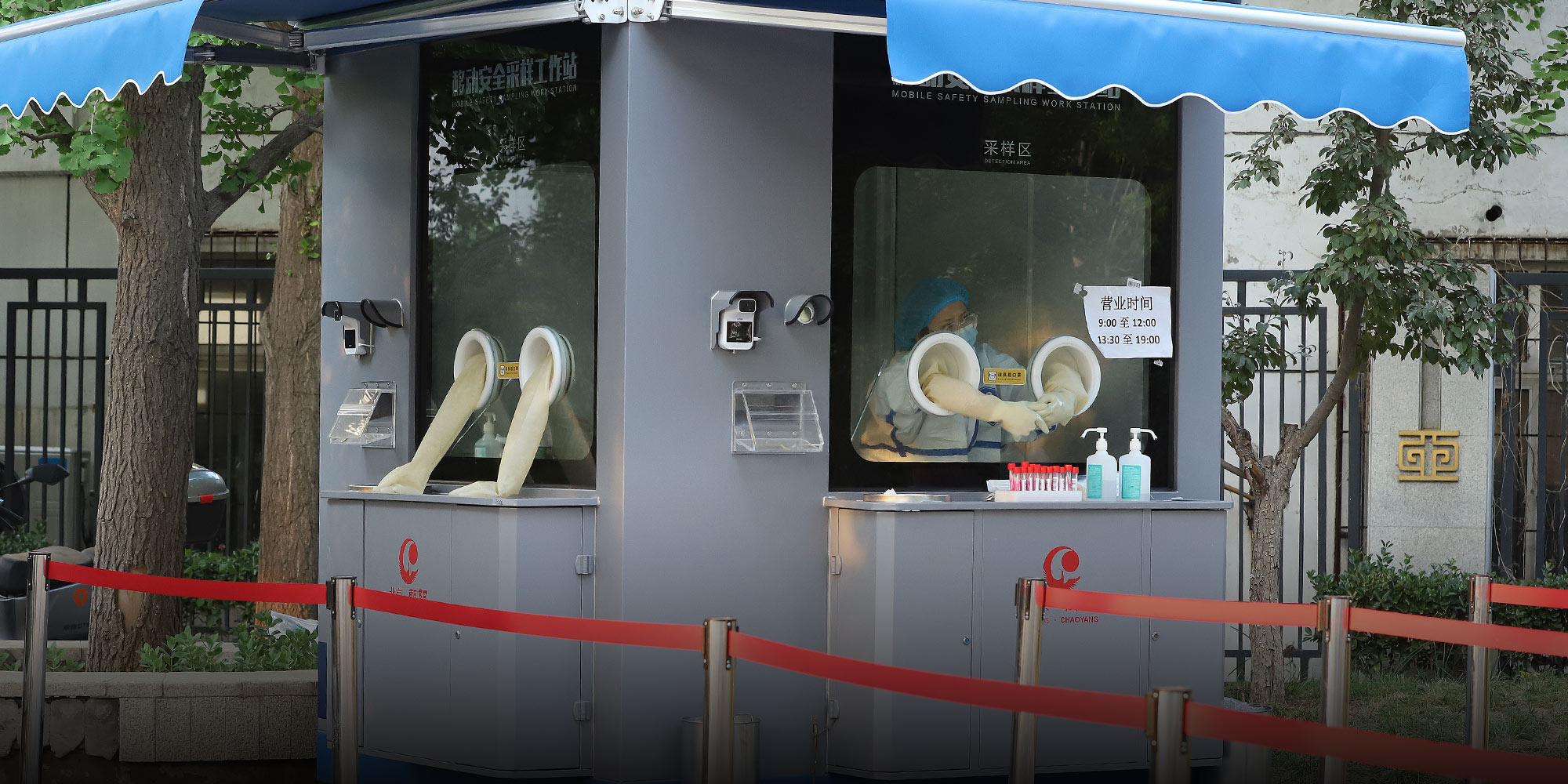 NEWS
Chinese Cities Raise Testing Frequency to Catch COVID Cases Early
A negative test result is required to access public transport or crowded spaces.
Some 20 Chinese cities and five provinces have implemented a policy of at least one weekly COVID-19 test, making negative results mandatory for all residents to access public transport and enter crowded spaces, as the country ramps up efforts to curb infections.
Megacities such as Beijing and Shanghai now require residents to show a negative test result from the last 48 hours before entering public venues and using buses or metros. Residents in Hangzhou have been taking a regular COVID-19 test every two days since the end of April. Smaller cities such as Shijiazhuang in the northern Hebei province and Wuhu in the eastern Anhui province require residents to take a test every few days.
The tests are free and part of the central government's "normalized" testing plan to detect the coronavirus and cut off transmission chains swiftly. The highly transmissible Omicron variant has mostly led to asymptomatic infections lately, adding pressure on the authorities to catch such cases before spilling into a larger population.
"Regular nucleic acid testing in areas where no outbreak has yet occurred but with a high risk of imported cases can help provide early warnings, better monitor any flare-ups, and detect potential risks earlier," an official at the National Health Commission said Friday.
Earlier this month, the central government vowed to set up thousands of COVID-19 testing stations in major cities. Residents would be able to access such booths around a 15-minute walking distance from their neighborhoods.
"There are two testing spots near my home and I can almost take the test as soon as I arrive," said Xu Yanran from Hangzhou, which now has over 10,000 testing stations. "Initially it was a hassle thinking about it, but I soon got used to it."
Many local governments have announced their own rules to streamline testing and punish those evading the tests.
Some cities, including Dalian in the northeastern Liaoning province and Cangzhou in Hebei, are testing male and female residents on separate days of the week to better detect infections within families. Meanwhile, officials in Siping, in the northeastern Jilin province, said anyone missing a COVID-19 test would be fined an amount equivalent to the cost of a certain number of previous tests, according to media reports.
A nucleic acid test now costs no more than 28 yuan ($4) compared with 200 yuan in early 2020.
"Many local governments are using third-party agencies for regular testing, but the falling price of tests can result in less active participation," Tan Xiaodong, professor at the School of Public Health of Wuhan University, told Sixth Tone. "Local authorities should also build up their own testing force."
However, analysts say that the government-funded mass testing could avoid leading to strict lockdowns and dealing a heavy blow to the economy. Nevertheless, costs involved in testing the entire population would also add pressure to the fiscal revenue of local governments.
The regular testing mandate for all of China's first and second-tier cities with some 505 million people combined could cost up to 1.7 trillion yuan a year, or 1.3% of China's nominal gross domestic product last year, according to a May report published by Soochow Securities, which is less than the estimated economic impact caused by lockdowns.
Shanghai, which is battling its worst outbreak since the early days of the pandemic in 2020, has been locked down for over 50 days, though restrictions are gradually loosening. In April, the city's retail sales fell 48.3% year-on-year, while industrial production was down 61.6% as most of its residents were confined indoors, city authorities said Friday.
Editor: Bibek Bhandari.
(Header image: A medical worker takes a break inside a COVID-19 testing booth in Beijing, May 22, 2022. Guo Haipeng/VCG)