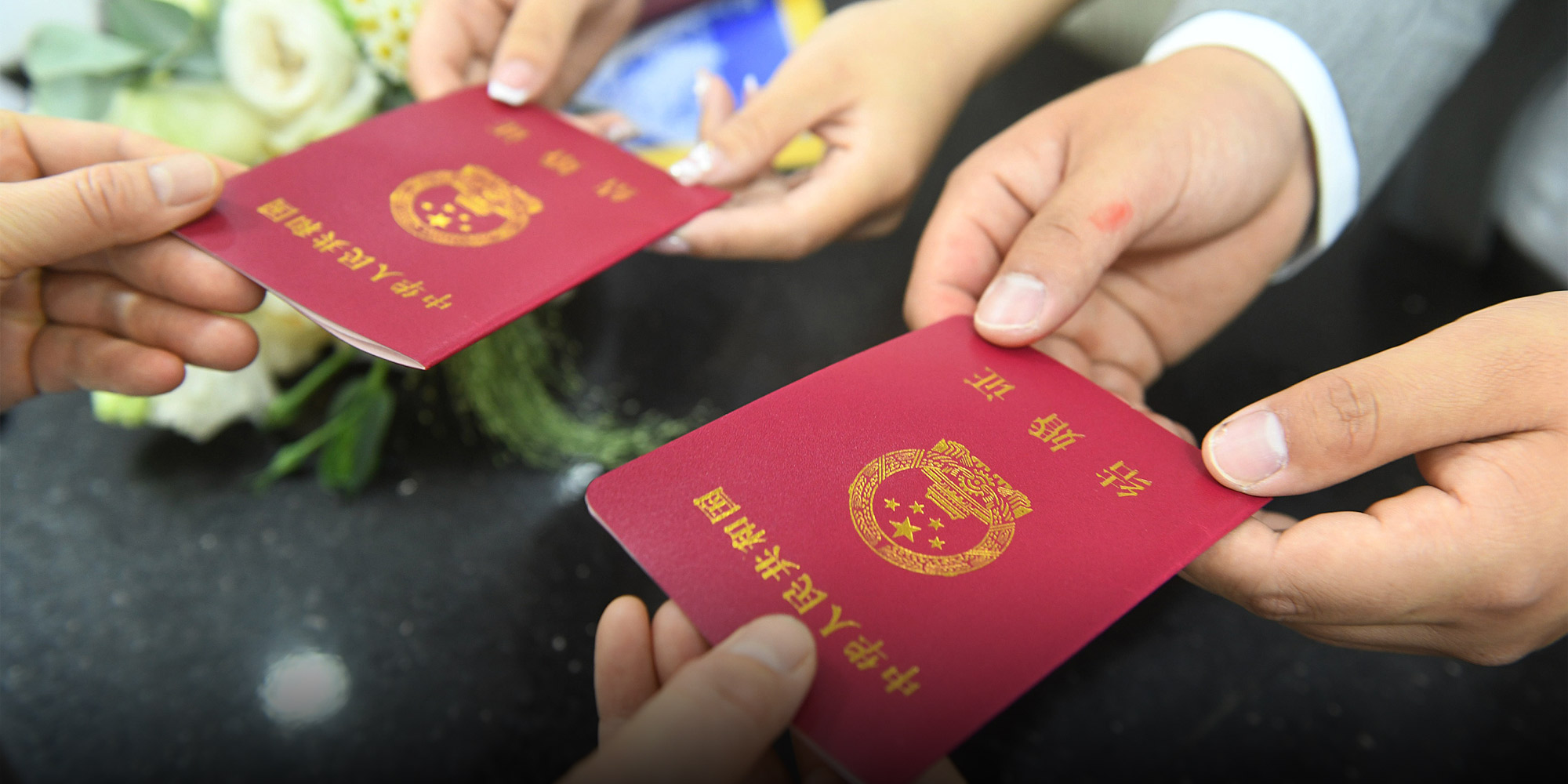 NEWS
Shanghai Lockdown Disrupts Wedding Plans on Day for Lovers
With marriage registration offices largely shut, thousands of couples had to postpone their weddings scheduled for the special day.
Shanghai's COVID-19 lockdown has spiked the plans of thousands of couples hoping to tie the knot on the country's unofficial day dedicated to love.
Most of Shanghai's civil affairs bureau offices remained closed due to the lockdown on May 20, limiting couples from registering their marriage. Many couples across China pick "520" as their marriage registration date as its Chinese pronunciation sounds similar to "I love you" in English.
Last year, 2,232 couples in Shanghai registered their marriage on May 20, according to official data, which is 10 times more than the city's daily average number. But only a handful of couples from the city's suburbs, where restrictions were relatively loose, were able to do so this year.
In Chongming District, at least two couples were able to register their marriage on May 20, Sixth Tone's sister publication, The Paper, reported. The local civil affairs bureau there had partially resumed work that day.
Clair Cai in Pudong New Area was told by her local civil affairs bureau on May 18 that the office was yet to resume work. An officer on the other end of the line asked her to postpone the wedding instead.
The 26-year-old told Sixth Tone that she had been planning her 520 marriage registration for a year. Last month, she stayed up late to secure a slot that usually gets taken in seconds.
"Of course I felt very disappointed," she said. "There is only one May 20 in the entire year. This will likely be my biggest regret of 2022."
The frustration of many couples not being able to get married on their desired date comes at a time when the country is witnessing a record low marriage rate. Only 7.6 million couples registered their marriage in 2021, a historical low since 1986 when the government started to record such data, according to official data published in March.
In Shanghai, another woman surnamed Tang also said that her local civil affairs bureau in Yangpu District canceled her marriage registration scheduled for May 20. She said the couple also had to cancel their wedding reception planned for May 21.
"I was emotional for two days," Tang said, adding she hasn't met her fiancé for two months. "We have now postponed all of our wedding plans to the second half of 2022."
Tang said she and her partner now plan to register their marriage on July 15, the seventh anniversary since they met. But she didn't let this year's 520 go to waste.
On Friday, she decided to do her makeup, put on her wedding dress and veil, and took pictures. She then posted it for the world to see.
"I don't want our preparation to be in vain, so let's take some pictures!" she wrote on her account on lifestyle platform Xiaohongshu.
Editor: Bibek Bhandari.
(Header image: A newly-married couple receives their marriage certificates in Fuyang, Anhui province, May 20, 2022. VCG)